Session recording
Put yourself in your visitors' shoes. Session Recording enables you to video record visitor interaction. Watch mouse movements and clicks in real-time. Video feedback often shows where there is room for improvement: bugs, friction, navigation, blindness, etc.
Heatmap
Find out which elements of your site are particularly active. Heatmapping can reveal what information may not visible to the visitor and should be enhanced. A good approach is to build a strong hypothesis and then compare the heatmaps of each variation.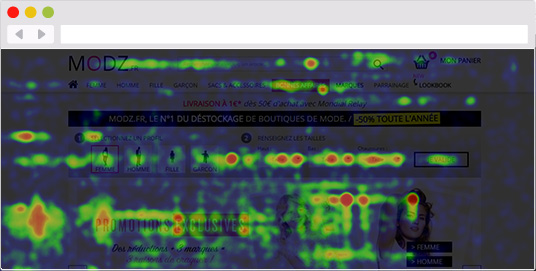 Page flow
Does a promotional banner really drive more traffic to discounted products than the original page? Our unique Page Flow indicator offers an overview of the funnel and helps you understand where visitors go after seeing a specific variation.
Net Promoter Score (NPS)
Are your customers Promoters or Detractors? Have you worked out what is making your customers happy / return buyers? Monitor, Measure and Adapt your brand's growth potential and customer retention with AB Tasty's Net Promoter Score (NPS) Survey.