We recently teamed up with CXL for their fourth annual State of Conversion Optimization report.
They asked almost 400 optimizers in 50+ countries about their challenges, priorities and work-life.
Their recap article (where you can also download the full report) does an excellent job of highlighting the major takeaways, if you've only got a few minutes to spare for the big picture.
For an added perspective on some of the more nuanced points, check out our own, complementary sum up below:
CRO is a Young Man's Game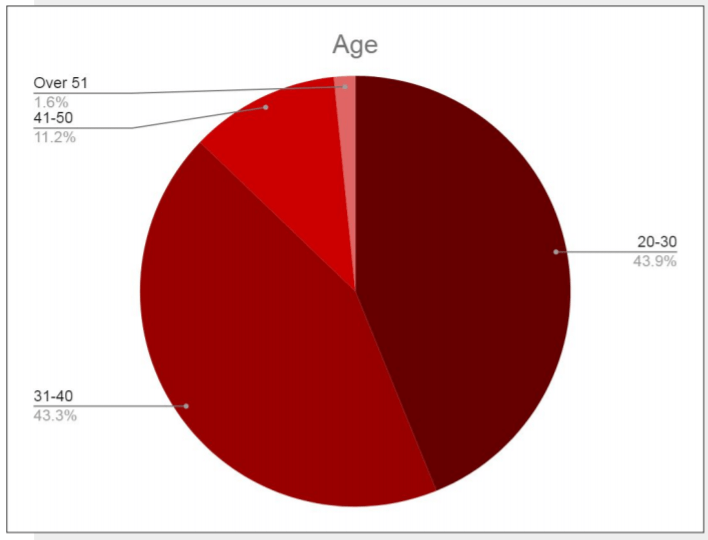 The demographics are pretty flagrant – 73% percent of the conversion optimization respondents identified as male (27% female), and 87% were under the age of 40.
Our take on it? Conversion optimization is a relatively young discipline altogether, so it makes sense that most practitioners will be on the younger side – indeed, respondents with over 5 years of experience were few and far between.  As the first couple waves of CRO professionals come to maturity, they'll hopefully be able to mentor and bring to the fore new and more diverse generations, especially as initiatives which aim to bring women into traditionally male-dominated industries continue to gain ground.
Process is Still an Issue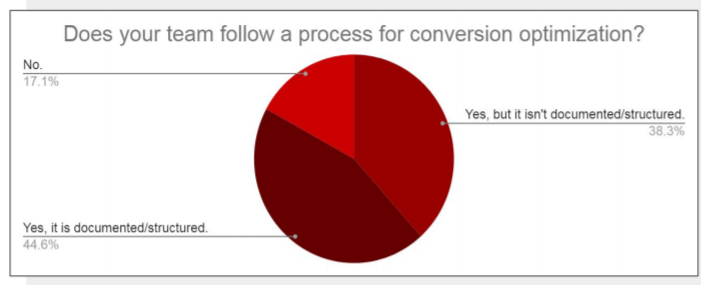 A majority of respondents said that they either had no conversion optimization process, or followed one that was not well structured or documented. This was especially prevalent for in-house CRO professionals, as opposed to those working in agencies.
Our take on it? This is where working with an agency or the Customer Success team of your CRO platform (especially if you're an AB Tasty client 😉 ) can be extremely beneficial. Investing in a conversion optimization tool is an excellent first step, but nobody will deny that solid, respected processes are going to show you your full return-on-investment. 
There isn't a one-size-fits-all answer to how you should structure your CRO strategy, but having someone, whether it's an agency professional or a dedicated customer success manager, run through options and help you coordinate a system that works for you is like gold. Because of this, we invest heavily in our global solutions partner programs, local CSM teams and the launch of the CRO Academy.
Personalization is on the Horizon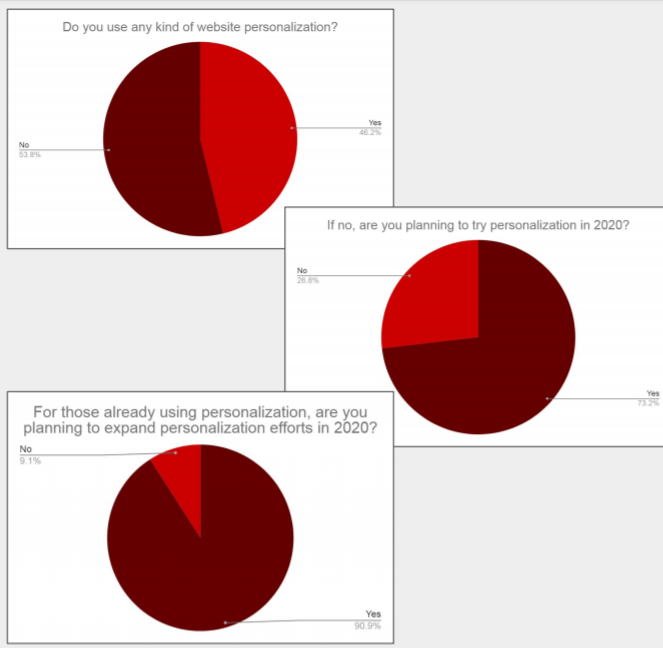 Though a slight majority of respondents said they didn't currently use any website personalization, 73% did say they were planning to try it in 2020. Of those that were already implementing website personalization, 91% said they were planning to expand those efforts in 2020.
Our take on it? If I was feeling lucky, I'd say that the reason about half of these survey respondents haven't yet started with website personalization is that they're intimidated by the seeming complexity of the endeavor. Do we have enough data? Where does it come from? Is it compliant? How do I start building my audiences and campaigns? How do I prioritize them? How can I measure the results? At AB Tasty, we're convinced that unnecessary barriers to entry have been erected regarding personalization – a sort of 'hype cloud' that makes it seem more difficult than it really is. Our advice is to start simple and build on an already existing experimentation process. 
Takeaway
We've only started to scratch the surface here – there's plenty more to dive into regarding this fourth edition of, The State of Conversion Optimization. Download the entire report here and be sure to share your thoughts.