Up to the present, all of the conversions measured by AB Tasty have followed a deduplication method. If a user accessed your conversion URL twice, we would only count one conversion for that web user. This was the case for URL and event type objectives, such as click tracking. The transaction objectives were the only exceptions, which were specifically set by our e-commerce tag. For these objectives, you have the option of displaying the conversions in the reporting in deduplicated (by default) or duplicated mode.
The deduplication method is best suited if you want to track macro-conversions, such as a subscription to a service. Ultimately, you wish to know whether or not your modifications had an impact on your ability to, more or less, convert your users into subscribers.
For micro-conversions (e.g. add to cart, access to content), the duplication method offers a complementary perspective. For example, in the case of user interactions with your interfaces, you may wish to measure whether your tests allow more users to use an element of the interface, but also whether it generates a lot of use. The conclusions of a test consist of emphasizing a new functionality would be different if, despite the increase in users accessing it, it does not create any repeated use (the concept of "stickiness"). The deduplication vision responds to the initial question, whilst the duplication vision responds to the second.
Many of you have asked us to use this double approach and we have well-understood your needs. Our research and development team worked on this subject and produced important work to adapt our data collection infrastructure. Today, you have been heard and we are proud to offer you the opportunity to display campaign reports with both individual or multiple objectives. This comprises a URL and event type (click tracking) objectives. This functionality does not require any action on your part and will be implemented progressively alongside our clients, in the weeks to come. If you see the interface shown below in your reporting, you are already benefiting from it.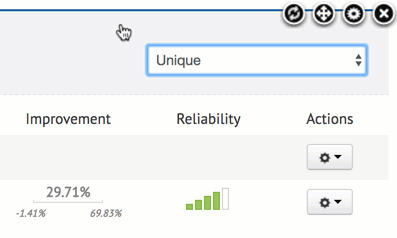 Using this function couldn't be easier. All you have to do is choose your desired view in the scrolling menu present in each objective, as indicated below. The results are automatically updated.