Part 1
User experience and CRO: a match made in heaven
Whenever site performance is mentioned, two phrases are sure to follow – conversion rate optimization (CRO) and user experience (UX). While both terms are commonly used, rely upon comparable analysis and reach similar end goals, CRO and UX are not, in fact, the same thing.
The dictionary definition:
Conversion rate optimization (CRO) is a practice that consists of continuously improving your site (website or mobile) or landing page with the aim of converting visitors to leads or clients. CRO ensures that the message of your site is as clear as possible, in order to achieve your final objective.
CRO is about discovering what your users are looking for and delivering it to them. — @qualaroo
User experience (UX) is defined as the overall experience your users have throughout the use of an interface, digital appliance or more generally an interaction with any device or service.
Now that we've got the formal definitions out of the way, how are these disciplines actually put into practice, you might wonder?
Why is UX a crucial part of conversions?
The aim of UX is to improve the design of a site so that it is simpler, clearer, more coherent and more user-friendly. In short, it aims to make site navigation as easy as possible.
The term "user experience," although commonly used in the technical sense, (i.e. when describing a website or app) can actually also be applied to daily experiences and interactions out there in the "real world."
Think back to a memorable experience. Maybe it was a product that was super easy to use, a time when you received exceptional customer service or a site where you quickly found exactly what you were looking for. Nothing pop into mind? What about a negative experience that left you feeling frustrated, aggravated or impatient? Maybe a restaurant made you wait an hour for your food, or a company sent you an automated response when you submitted a complaint?
The point is, user experience can be defined as the experience a user has interacting with a product (or service, or website – and so on.)
Now that we've expanded upon what constitutes the definition of user experience, you can begin to understand why a positive user experience can improve a site's conversion rates!
A user interface is like a joke. If you have to explain it, it isn't that good. —  @MartinLeblanc
The idea behind this quote is that if we have to explain our interface to our users, then there is a problem with our interface design.
A visitor who doesn't understand your interface is a user who will leave the site midway through a purchase funnel, with no intention of returning. A disappointed client is a lost client.
UX + CRO: how does this pair work?
Identify obstacles, test them and continuously optimize them to ensure that you always perform well – as per CRO guidelines. When your test is based on a UX approach, the results are significantly better. We will explain why using a specific example from a client we've worked with.
For French insurance provider MAIF, every action on their website is considered a micro-conversion – from the point of arrival, all the way through to subscription. Among all the possible conversions, the MAIF team's focus was on the house insurance tariff simulator. It is a flagship service for the company that generates a lot of traffic, however, they thought its conversions could be optimized.
We noticed that the action to "request a quotation" form was accessible via the "subscribe online" button. We hypothesized that this wording did not suggest that it is a call request for a quote. By changing the wording of the button to "request a quote", MAIF was able to increase its rate of quotes requested online by 89%.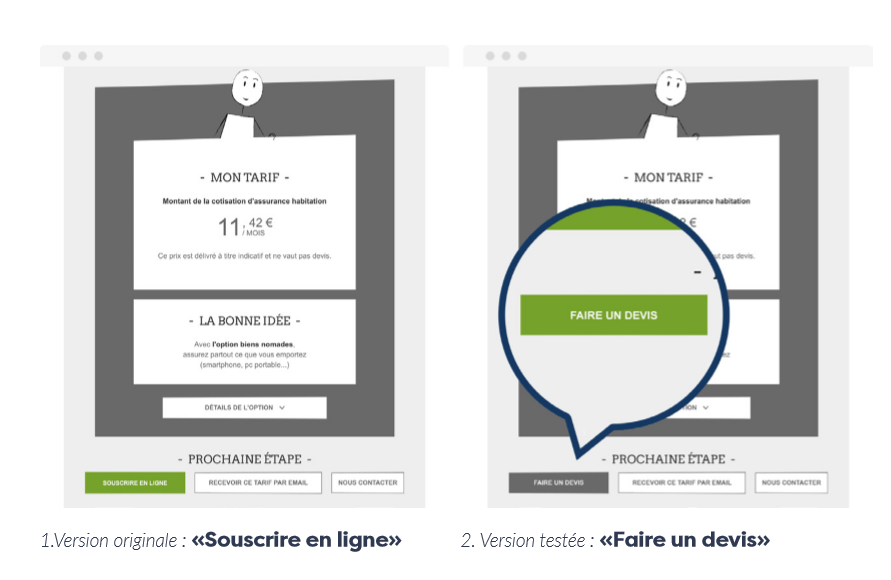 To sum it up, an impactful site (web or mobile) is a site that knows how to combine conversion optimization with an irreproachable user experience. Both of these practices should work together, because, after all, the end goal for both is the same!
Want to learn more about this subject? In the next article, we will share a few tips on how to improve your user experience and increase your conversion rates