AB Tasty's note: This is a guest article by Rich Page, conversion rate expert and author of two books on the subject: 'Website Optimization: An Hour a Day' and 'Landing Page Optimization'.
Have you realized yet that you need much more than just an A/B testing tool to really increase your website conversion rates and sales? A/B testing is much harder than it seems, and unless you are an expert, unfortunately, most of your A/B test results won't have a winning result or will only gain a small 1-2% increase in conversion rate.
While having an A/B testing software is vital for determining which versions of your web pages and content convert more visitors, it's an even more important step before that to create higher converting A/B test ideas – that ultimately leads to many more sales or leads from your visitors which will be music to your ears!
Instead of just relying on the best guess, case studies or listening to your boss for what to improve on your website, there are many better ways to generate A/B test hypothesis that will win much more often – and convert at a much higher rate.
After optimizing countless websites in recent years, I've learned many ways to create higher converting A/B test ideas, and here are 7 of the best for you to take advantage of:
#1: Get feedback from usability testing your target audience.
Getting quality feedback from your website visitors is essential for creating better test ideas. In particular, you need to ask questions of your target audience to hear what they think about using your website and offerings. One of the best ways to do this is by running usability tests using a service like Usertesting.com several times per year and on at least 5 participants that match your target audience.
In particular, you need to ask your usability testers what they like most and least on your website and ask them to try to complete key tasks on your website, like finding a specific product or checking out. Their answers and usage of your website can be a real goldmine of feedback that you can then turn into higher converting test ideas. For example, you may realize it's very hard for them to use your internal search, or find more details on something they are interested in.
#2: Use your web analytics to find your highest potential landing pages.
It's important to understand which of your pages have the highest potential to A/B test and improve first. Rather than A/B testing random pages, to get better results you should find and test pages that have the highest potential to improve. These should be your poorly performing pages that get high amounts of traffic and are directly arrived on most often (visitors often judge these entry pages and will leave if they are confused or can't find they are looking for).
The best way to find these high potential poor performing pages is to use the top landing pages report in Google Analytics and then find which of your pages have highest bounce rates (over 50%) or lowest conversion rate in comparison to your website average. Then focus on A/B testing these pages first because you will get much bigger and quicker improvements to your conversion rates and online sales.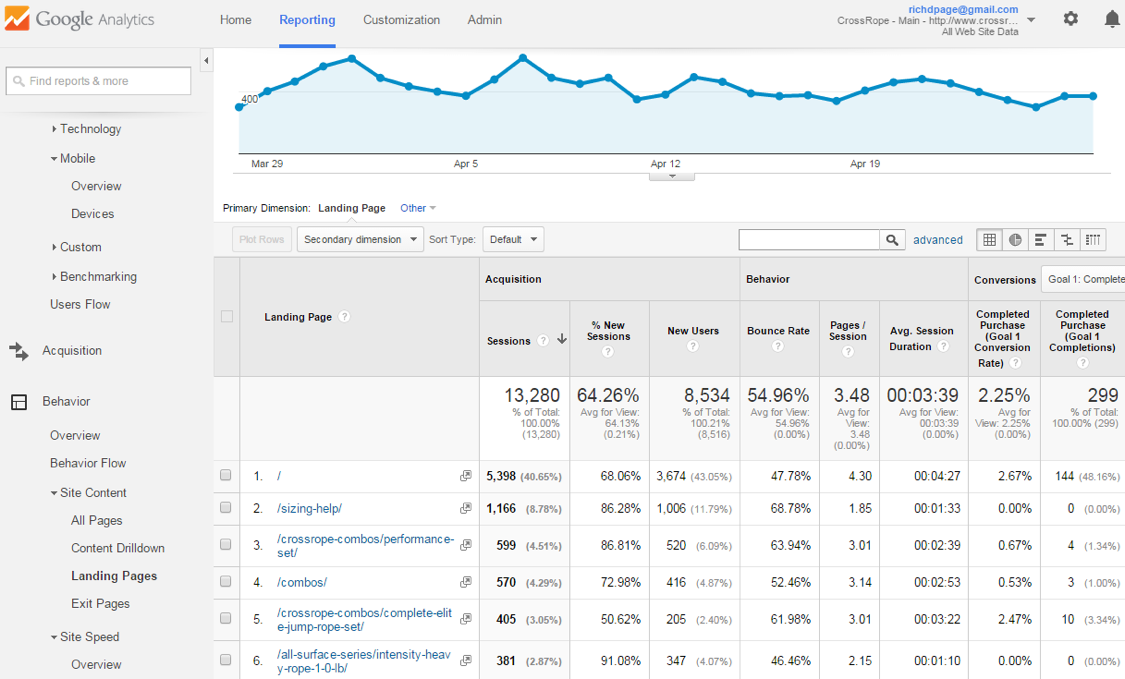 #3: Learn from your previous test results.
As you learned earlier, unfortunately, many of your A/B tests will fail to get a winning result unless you are an expert – some reports even say that only 1 in 7 tests wins. Instead of simply throwing away these failed tests and hoping you get better luck next time, you can learn a great deal from these failed test results and create more successful future A/B tests. This is known as test iteration.
A great way to do this is by brainstorming with your colleagues (particularly folks from marketing) to try to understand why the A/B test failed and to create a better follow up test. Setting up a regular quarterly review meeting is essential to maximize learnings from A/B tests. Also, make sure you do some visual click map analysis and usability testing on the page that had the failed test to find out why your visitors might not have converted better than the current version.
#4: Get some CRO help from experts.
It may be tempting to try to do CRO all by yourself. While you may get the occasional great A/B testing result, you will need expert CRO help if you want the best results from your A/B testing efforts. These experts have many years of experience spotting high potential website improvement ideas and are great at providing a very valuable outside perspective of your website. They are also particularly valuable if you are just starting out to help you learn CRO best practices while you build your own in-house CRO expertise.
These CRO experts come in many types, from those that specialize in website recommendations and test ideas like the CRO services I offer, to full-service agencies like RedEye who handle the design and technical setup of the A/B tests too.
#5: Gain feedback from visitor session recordings.
To get a much better understanding of what your visitors really do on your website, you need to get a clear picture of their journey – and it's often different than you might expect! One of the best ways to visually understand this is by watching recordings of visitors interacting with your website. This way you can see their most common mouse and scroll movements, which pages they progress through and where they seem to have issues. There are many great tools like AB Tasty that offer these visitor session recordings.
To help you create high-impact A/B test ideas, these recordings are essential for finding which parts of your website your visitors have most problems with and need improving. For example, maybe you see your visitors often get stuck on a particular part of your checkout or don't seem to notice important navigation links you want them to click.
#6: Target tests for your highest value visitor segments.
Rather than running A/B tests that your whole website audience sees, you can create better tests by targeting the most valuable groups of your visitors with more relevant content. As an example, let's say you want to target visitors who haven't purchased yet – you can do this with a targeted A/B test to offer them a first-time visitor coupon. Targeting new visitors to prominently show unique value proposition and website benefits is another example of creating high impact targeting for A/B tests.
Doing this targeting for your A/B tests means you can greatly increase the relevance of messaging to different audiences and increase conversion rates and forms the first steps of doing personalization on your website. This is simple to do in most A/B testing tools, including A/B Tasty.
#7: Get feedback and ideas from single page questions.
As you have probably realized by now, your visitors are one of the most important sources of A/B test ideas. Another way great way to get feedback from them is by using website surveys – particularly using single question surveys on key pages instead of longer surveys. Doing this means you get specific feedback about a page you are looking to test and improve, and you get much higher survey completion rates because you are only asking one question to your visitors.
For an example, let's say you have a pricing page, you can use a tool to ask one question about what your visitors think of your pricing. This feedback will then give you some great insights into what you could test improving or changing regarding pricing on this page.
So there we have 7 ways to create much better A/B tests for you to get started with – which of these will you try first?
About the guest author: Rich Page is an expert conversion rate optimizer and author of "Website Optimization: An Hour a Day". He offers a free website conversion toolbox, and over the last 10 years has helped 100's of websites increase sales and conversions with his conversion services, from Disney.com to startups.