Mythbuster: SEO (Search Engine Optimization) and CRO (Conversion Rate Optimization) don't actually compete, they go together.
For most digital marketers, SEO is all about gaining visibility in a given market: what happens next regarding sales and conversions isn't really SEO-related.
Although they're not fundamentally wrong, SEO has become a lot more complex in recent years, partly because Google implemented changes in their algorithms to include new ranking factors such as mobile friendliness, page loading time and overall user experience.
As of 2018, SEO encompasses tons of digital marketing factors that can genuinely contribute to improving conversions and revenues.
Without further ado, here are 6 powerful ways to align your SEO strategy with your conversion rate optimization efforts. If you are just kickstarting your CRO program, read our Beginner's Guide to Conversion Rate Optimization first.
Design your SEO for every step of your sales funnel
Every good SEO specialist will tell you this: traffic at all costs doesn't make sense in 2018, it's all about gaining qualified visitors with a purchase intent.
Think about it: would you rather have 100,000 monthly visitors with a 0.5% conversion rate or 50,000 visitors with a 2% conversion rate?
Although the first situation might comfort a marketer's ego, you should aim for the second one: it could bring your company two times the sales on a monthly basis.
In order to bring more qualified traffic to your website, you should implement a funnel-based SEO strategy that will focus on every step of your ecommerce sales funnel.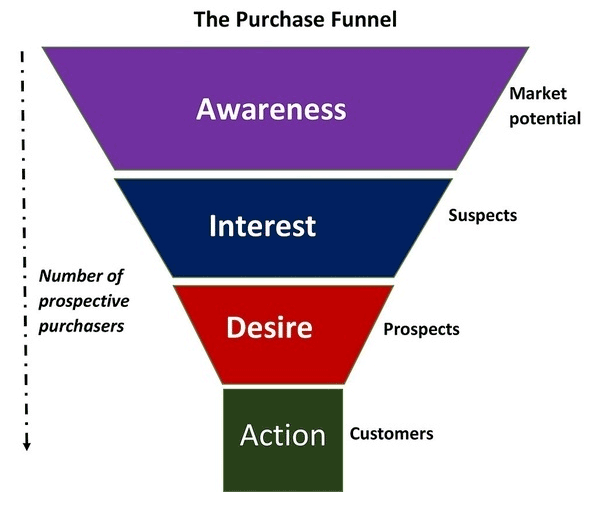 If you have any digital marketing experience, you probably know that visitors have different intents: some visitors know your websites, some know your products and some know nothing (we're not referring to Game of Thrones, or are we?).
The point is, never assume that your visitors will automatically convert once they land on your landing page.
As a marketer, you should then design an SEO funnel that will bring qualified visitors based on their intent to cover every step of your website's sales funnel.
Respond to Top-of-the-Funnel queries
At this stage, we're referring to broad queries: potential visitors have questions that need to be answered in the most complete, insightful way possible.
In order to do so, you'll have to scrutinize your market in order to identify top-of-the-funnel queries (TOFU queries).
These questions differ from one industry to another: it's all about identifying needs and questions.
In this example, potential visitors are looking for bikes that fit their needs: these potential buyers just don't know the kind of bike they should get.
It's your job to provide them with relevant content to answer their questions.
Provide insightful clues to Middle-of-the-Funnel visitors
At this stage, potential visitors are becoming serious about making a purchase: they're thus extremely valuable to your business.
Middle-of-the-Funnel (MOFU) visitors come with a purchase intent: they know that they will buy; they just don't know what and from whom.
Check out results for "best guitar for…": guitarists are looking for guitars that will fit a certain music genre.
In this example, your job would be to create content that would address these queries: "top 10 guitars for jazz players; The Best Electric Guitars for Metal…"
Once this content creation job is done, you'll have to design amazing product pages in order to convert them into delighted customers.
Convince future buyers at Bottom-of-the-Funnel stages
At the bottom-of-the-funnel stage, we're talking about potential buyers that have repeatedly visited your website, know your product and are almost ready to order from you.
This final step is crucial, as it is the cornerstone of your conversion rate optimization efforts.
In order to convert these potential buyers, you'll have to answer all queries necessary to reassure your potential customers.
Here are some of the main ecommerce visitors' concerns:
Shipping and delivery costs
Customer Service
Packaging
Colors, sizes and custom orders
At this stage, one effective solution to convert visitors is to include customer reviews and video testimonials: this will provide your visitors with meaningful insights from customers.
Think Mobile Friendliness
Since Google rolled out its Mobile First Index, mobile experience has become a primary factor to determine your rankings.
Simply put, Google now ranks your website based on the mobile experience it provides, including:
How fast your website loads
How optimized your images are
How long your visitors stay
How many pages your visitors read
By improving your website's mobile experience, you will both improve your SEO rankings and your conversions.
Knowing that more than 50% of all traffic comes from mobile devices, you should start optimizing your website for mobiles uses now.
First, improving your mobile experience will help you rank higher in search engine results: this will bring in more qualified visitors to your website.
Then, having a mobile-ready website will help you convert more customers: this will increase your sales revenues.
In short, mobile friendliness has reached a point where it's a virtuous circle: ranking higher in search results will bring more customers who will convert better, thus attracting even more new qualified visitors.
Never underestimate Page Loading Time
Page loading time really matters when it comes to SEO.
As a matter of fact, Google recently planned an update regarding its new ranking algorithm: it will now penalize websites that display long page loading times.
Because Google now ranks websites based on their mobile version, page loading time factor has to be considered from a mobile perspective.
Here are 2 free tools to help you diagnose any mobile speed-related issues:
Improving page loading time will bring you many benefits:
Given the new algorithm, improving your page speed will now also help you rank higher (or at least protect you from any Google penalty).
Could you improve your user experience?
Nowadays, improving SEO includes improving user experience.
For starters, you could take a look at these 3 important factors to help you identify any user experience issue that could hamper your website from converting more visitors:
Site navigation issues
Having too many broken links and 404 errors should be a sign that something is turning sour on your website.
Using a SEO crawler tool like Screaming Frog is a good start to pinpoint any broken URL that might affect your website usability.
HTTPS protocol
Displaying an HTTPS protocol is extremely important as Google has started to penalize websites that don't.
Aside from potentially hurting your rankings, not displaying an HTTPS protocol is considered a bad signal for most ecommerce buyers: it just doesn't inspire trust.
Touchscreen readiness
Remember what we said about the importance of mobile-friendliness?
Even though some websites effectively display a mobile version of their website, some often forget to test how buttons, pages and how users interact with content on touchscreen devices.
While optimizing your website for mobiles uses, pay attention to the overall experience on touchscreens: your goal should be to get as close as possible to native applications' user experience.
Merge your A/B Testing efforts with SEO
Conversion Rate Optimization only makes sense when you're optimizing for qualified visitors, which explains why SEO and CRO complement each other so well.
While you run A/B tests, take some time to scrutinize your traffic:
Who are your visitors (buyer persona)
What do they want (intent)
What do they buy? (behavior)
Having identified these 3 factors (persona, intent, and behavior), you'll be in a much more comfortable position to create content adapted to your sales funnel.
Once this content is created and published, run A/B tests in order to uncover the best layouts, designs, and structures that will deliver the most conversions.
Remember: qualified traffic and CRO go hand in hand towards generating more sales for your ecommerce site. [click_to_tweet tweet="It's all about finding the right balance between how qualified your traffic is and how good your user experience is. #CRO #SEO" quote="It's all about finding the right balance between how qualified your traffic is and how good your user experience is."]
Did you like this article? Feel free to share and check out our other in-depth articles on how to optimize your website, ecommerce and digital marketing.
Looking to improve your ecommerce product page performance? Check out our last in-depth article on the subject or request a demo now.