Customer Experience Optimization (CXO) is about creating the optimal experience for every user, every time. With tools like experimentation and personalization, focusing on optimization helps companies streamline their funnels and customer journeys to achieve bottom-line KPIs faster—and more efficiently—than ever before.
Whether it's nurturing a lead to qualification, encouraging a checkout or a fuller cart, or driving the adoption of new features, digital experience optimization can streamline goals for any type of organization with digital assets (and hopefully, that's everyone).
For years, AB Tasty has helped marketers deliver winning experiences to their customers with experimentation, personalization, and user insights. We're excited to announce a foray into a new type of experience optimization—the kind that happens in the codebase.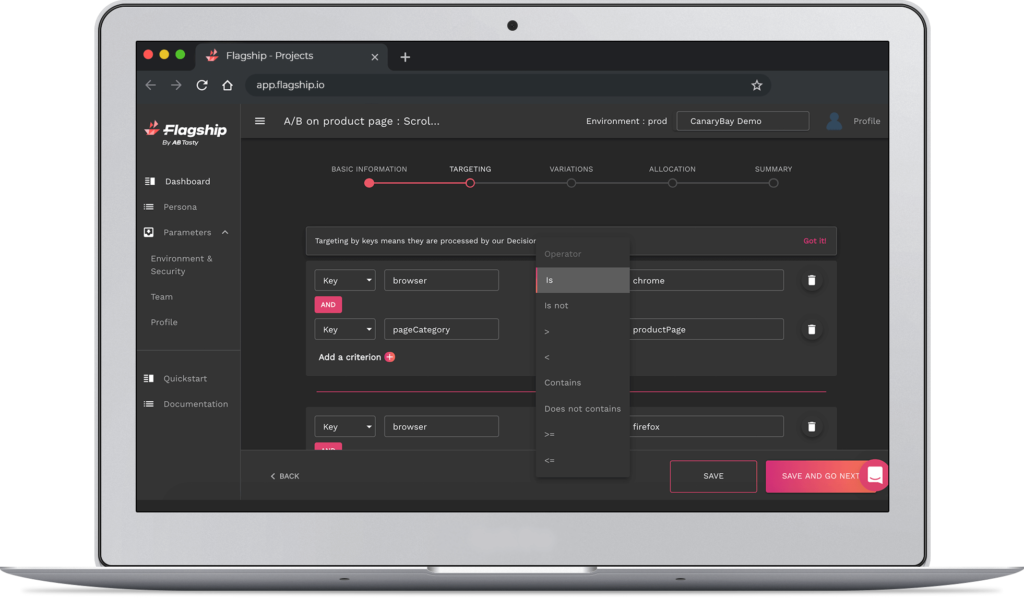 We're thrilled to announce Flagship, a standalone platform for product teams and developers to manage, optimize and experiment with their features while minimizing risk of a negative user experience. Our new platform comes with an entirely new UI, and includes a use case library for product teams to streamline repetitive processes and deploy faster.
Why Flagship?
Development of Flagship took place in tandem with extensive user research, as well as our own usage of the platform for certain features in AB Tasty (drink your own champagne, as they say). During this months-long process, we noticed in our interviews that product teams and marketing teams have entirely different workflows when it comes to optimizing the experiences of their users.
While marketing teams can be laser-focused on conversions, product teams have KPIs that begin way before a traditional 'conversion' may happen: feature adoption, usage frequency, bug count, and many other KPIs that can be intertwined with the code deployment itself. Therefore, we built a platform designed around enabling risk-free deployments with easy-to-use methods like feature flags, progressive deployment, and rollbacks.
To share a full list of capabilities, Flagship enables product teams and developers to:
Run deep, back-end experiments on any device and on any digital channel by leveraging server-side experimentation
Personalize the digital customer experience by rolling out to specific Personas
Significantly minimize risks associated with new feature releases with rollbacks, feature flags, and progressive deployment
Maintain on-time feature rollouts and avoid lost revenue due to delays
Ensure customers' feedback is quickly integrated into product workflows and decision-making
Our VP of Product, Jean-Yves Simon couldn't have said it better:
"Today's consumers don't differentiate between browsing on a brand's website or mobile app, engaging with their IoT devices and using their web application. All of these touchpoints contribute to the overall customer experience, which is why it's essential that Product, Tech and Marketing teams work seamlessly together to continuously experiment on, optimize and personalize these interactions. That's what we're offering our present and future clients with Flagship."
Experience Optimization is Happening—Everywhere
Customer Experience Optimization is on the rise, as more companies are realizing the huge value to be gained from optimizing the buyer journey in tandem to today's unprecedented investment in top-of-funnel traffic.
According to WiderFunnel's recent report on experimentation, 80% of fast-growth executive teams see the value or are fully bought in experimentation. As we've seen first-hand, experimentation is the tip of the iceberg in creating fully-optimized experiences that win and delight customers. With Flagship, we're bringing our experimentation expertise into the world of product development—and enhancing it with all the tools a developer could need to deploy winning experiences.
To get a demo of Flagship and see how it can help your product team deliver winning experiences, request one here.