Facebook boasts 2.32 billion monthly active users, with 74% visiting the platform daily. It's an unparalleled giant in the social media world, and any marketer that overlooks how to create a compelling Facebook ad (that converts) is making a massive business mistake.
Thanks to the wealth of information Facebook has on its users, its ads can be extremely targeted. This only increases your chances of gaining highly qualified leads for your brand.
However, between choosing the right ad format, a scroll-stopping headline, and crafting a compelling CTA, creating a high-converting Facebook ad can feel like an art. Get this process wrong, and you'll fail to see a return on ad spend (ROAS) and meet your marketing goals.
Luckily for you, we've nailed it down to a science. Bookmark this as your ultimate guide to creating a Facebook ad that converts.
1. Choose Your Most Important Conversion Goal, Then Stick With It
Before we get into ad design, it's important to define the one conversion goal you hope to see. Ads that try to do more than one thing are usually unsuccessful.
In this case, conversions are the action you'd like your audience to take. An easy way to identify your goal is to consider at which stage of your sales funnel you'd like to see an improvement: awareness, consideration, or decision.
Conversions can take the form of increased web page visits, email newsletter sign-ups, purchases, and a host of other events. The copy that accompanies your ad should directly relate to this goal.
2. Engage One Buyer Persona per Ad
People should be able to see themselves in your ad and see your brand as their specific solution.
Audience segmentation will help you craft a more personalized message that has an increased chance of making a connection. Depending on your desired conversion, you may want to segment by age, location, or if they're a repeat customer.
For example, let's say you have customers that travel for business and others that travel for pleasure. Ad segmentation ensures the people who would rather see an advert for a drink by the pool aren't offered a hotel business center.  
3. Select an Ad Format That Makes Your Content Easy to Enjoy
Facebook provides a variety of ad options, making it easy to choose a format that best suits your product or service. Your choices include:
Images
Carousel
Collection
Video & Slideshow
Catalogs
Stories
The one that is right for you depends on your brand and what your marketing goals are.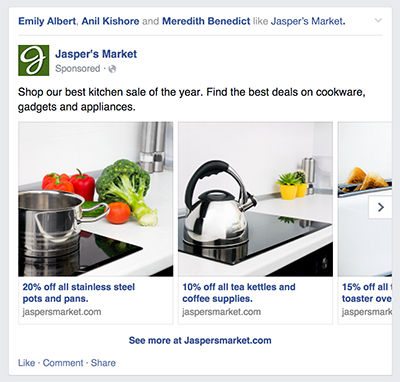 For example, if you're an e-commerce business with a variety of products, a carousel allows your audience to scroll through up to 10 images. If you run a recreational business, a video of your service might be more eye-catching than an image. Use Facebook Stories to engage your audience and show them some behind-the-scenes.
If you're having trouble deciding, put yourself in the shoes of your buyer persona. If they were trying to show off your product or service, how would they share it with a friend?
Although there are many choices for formatting your ad, don't worry. The same basic rules increase the chance of engagement across all formats.
4. Take Your Audience Somewhere Fun, Functional, and Relevant
Even if your Facebook ad receives a high click-through-rate (CTR), people will turn away if the ad destination is difficult to navigate or unrelated. For example, if your ad showcases beautiful flowers, the link shouldn't direct them to vases.
Ensure that the language or promise used in the ad appears on the page. This helps with message consistency and indicates that the reader arrived in the correct place.
Many successful Facebook ads have the side benefit of increasing your Facebook followers. Sometimes, people will prefer to check your profile before heading to your website. If your Facebook page isn't well managed, people may assume similar things about your product or service.
Therefore, it's important that your Facebook business page is up-to-date and has relevant and engaging content readily available. For more consistent messaging, try pinning posts relevant to your current campaign to the top of your business page.
5. Ensure Your Ad Is Scroll-Stoppingly Good with These Design Elements
People are scrolling fast—your ad needs to be eye-catching, easy to understand, and actionable, all at a glance. When designing your ad, consider these three elements:
Keep your copy short & clear. It can be tempting to outline several benefits or unique aspects of your brand. Instead, choose the most compelling one for your target audience.
Show off your brand's personality and ethos by connecting your copy to your larger brand identity.
Avoid jargon or industry-specific words to avoid isolating your audience or creating confusion. If appropriate, use "You" or "We" to make an instant connection with your reader.
Design your Visuals
Research by Kissmetrics shows that photos get 53% more likes, 104% more comments, and 84% more clicks on links than text-based posts on Facebook.
Choose high-quality images or video to accompany your copy. It should be easy to understand the image even if it's a fraction of the size. This ensures it will work across different screen sizes.
In addition to your copy, you can add a small amount of text on your actual image. Text overlay is best used for making the value proposition of your ad clear, such as a free eBook. Facebook has a limit on how much text your image can have. Use their Image Text Check to ensure your ad gets approved.
If using video, be sure to preview your ad on different mobile devices to verify it appears correctly.
Include a Call to Action
The call to action (CTA) on Facebook should be related to your conversion goal and compel readers to take a specific action.
Include action words such as: get started, sign up, download, contact us, or reserve your spot.
A great CTA should include some value proposition. This makes it clear to the reader what they stand to gain from following through.
If applicable, include an aspect of urgency. Negative reinforcement could include limiting the quantity available of the product or service. Positive reinforcement could include adding a bonus discount or other reward for a limited amount of time.  
6. Measure Your Success in AdManager
Whether your ad was a success or missed the mark, an important part of ad success is measuring results. By analyzing your results, you can try to determine how or why your ad performed the way it did.
Facebook's AdManager allows for highly detailed analysis of your campaign.
The Customize Columns tab allows you to filter by 15+ metrics, including social reach, delivery, the amount spent, and more.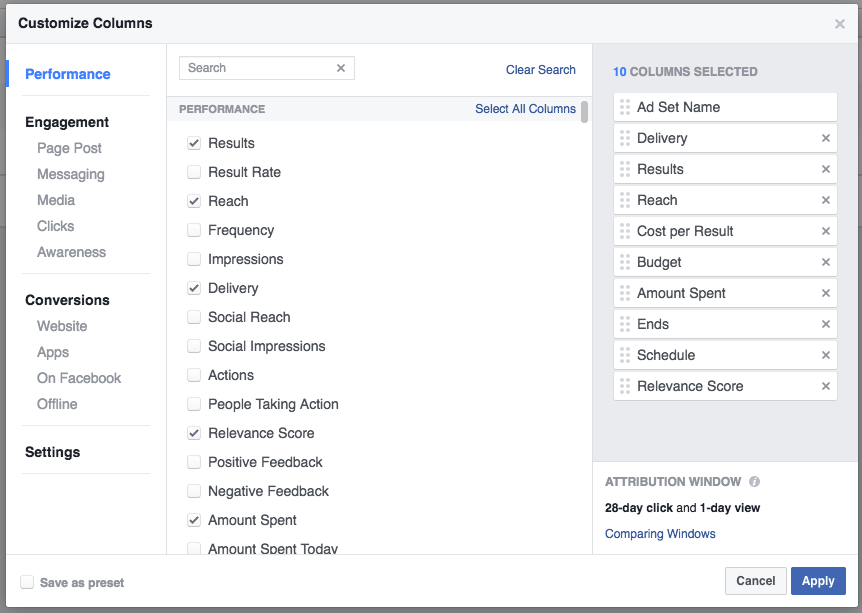 Breakdowns allow you to see the demographics of your reached audience, including their age, where they viewed your ad, what device they used, etc.
The AdManager also helps you visualize your data through charts of performance, demographics, or placement. You can save your filters for easy monthly reports and future decision making.
7. See What's Working with Split Test Ads
Split testing your ads is critical to improving your process and continuously pushing ad campaigns that convert. Even if your first ad doesn't perform, split testing can help confirm which aspects of an ad are important to your success.
For example, if you suspect the image you chose to accompany your ad was the downfall of your campaign, try switching the photo and hold all else constant. If the results are improved, you know not to use that old image again. 
Once you've finished your campaign, keep a file of the ads that were the most successful. In the future, you can split test a new Ad against your old, successful campaign (or, control), and see which yields better results.
Conclusion
In this guide, we outlined seven steps that will help you continuously craft high converting Facebook ads. Not every ad is going to be a hit. But, your ability to get creative, analyze your results, and split test will bring your brand long-term success.
If you need help getting creative with your next ad campaign, try our free Creativity in Experimentation Toolkit. In the toolkit, we share our best-performing test ideas from clients, templates you can use to track performance, a roadmap worksheet, tips on staying ahead of your competitors – and more! Check it out before you plan your next campaign.