For many, online shopping is a double-edged sword. Sure, there's an endless digital sea of possibilities when it comes to finding the right product. Consumers can – and do – spend hours surfing the web, comparing deals, checking reviews, discovering new products. Often it's a fun, recreational activity.
But it can also be exhausting and confusing. It's no wonder 'decision paralysis' has become a real scourge on society, from couples trying to choose what to watch on Netflix to brides-to-be hesitating between 20 varieties of wedding cake. When the options are infinite, it can be hard to make a choice, to the point of sucking the fun out of shopping.
This is why so many people really and truly appreciate website personalization.
Why Personalize?
A well-personalized website will streamline the shopping process, highlighting the truly relevant options for the visitor. This doesn't mean it cuts off potential purchases – far from it, since upsell and cross-sell are major parts of most personalization strategies. But it does mean that it makes the browsing experience more relevant and contextual. It's less like putting blinders on, and more like receiving self-adjusting binoculars. Does a 17-year-old girl really need to see ads for discounts on men's razors? Or a slew of Apple products if you've been devoted to Android for years?
As we found when we asked our LinkedIn followers what form of personalization they most appreciated, brands that can anticipate shoppers' needs are the ones that are really ahead of the game: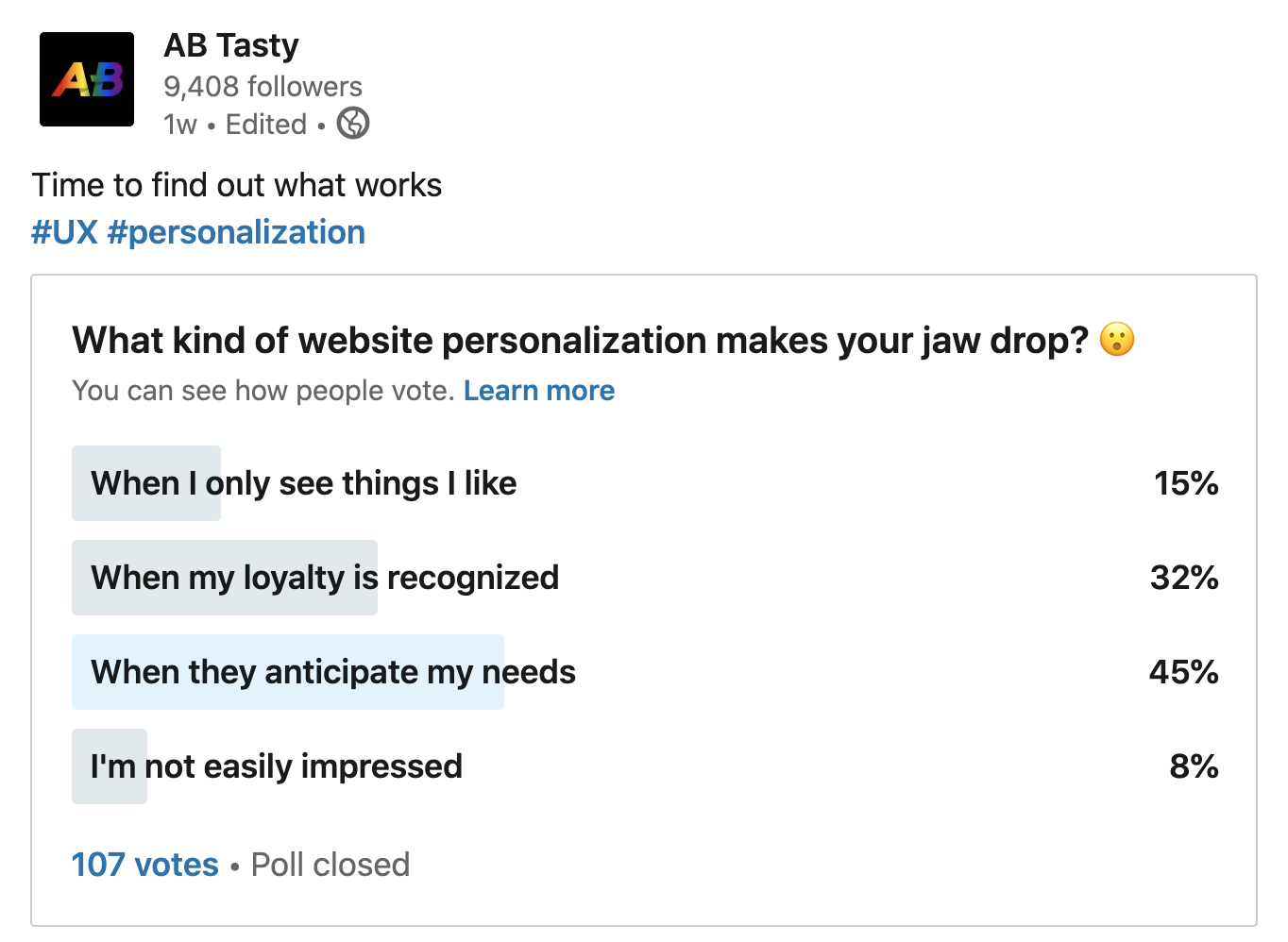 For shoppers, the value lies in:
Time-saved (now or later). An email or pop-in that reminds you that you're probably soon out of shaving cream will save you a 7am run to the nearest convenience store.
Avoiding disappointment. Did you ever order a toy for your kid, only to realize when it was delivered that you forgot to get the batteries?
A smoother shopping experience. Especially for the goal-driven cohort, getting shopping done quickly and efficiently is priority number one.
Product Recommendations to the Rescue
For a lot of brands, product recommendations are the answer. Based on behavioral and transactional data, companies can suggest products or services relevant to those that are already being considered or purchased by a customer.
Is someone spending a while on a product page for a juicer? Suggest they purchase the specially designed brush to clean all the nooks and crannies – the one you can't get anywhere else and that everyone realizes they desperately need 10 juices in. Or what about the woman about to click 'buy now' on that pair of 4 inch stilettos – might she consider the perfectly matching clutch? What about a banner to let a FitBit fan know the next version is coming out in T minus 3 days?
No matter how you set up your campaigns, personalization strategies that effectively anticipate shoppers' needs are great ways to both improve customer satisfaction and experience, along with average order value and transaction rate.
If you're an AB Tasty client, you can dive into our Product Recommendation API feature or our Content Interest segmentation criteria in Audience Builder to craft these kinds of campaigns.
Rewarding Loyalty
When there's always another brand to turn to, loyal shoppers appreciate recognition. This was indeed the second most popular answer in our survey.
If you're easily able to segment your website visitors by how engaged or loyal they are, you can put the spotlight on VIP discounts, requests to become brand ambassadors, or gifts for loyal customers, among a million other ideas. For AB Tasty clients, this is easy to do with the Engagement Level segmentation criteria in Audience Builder.
The Takeaway
The vast majority of website visitors appreciate personalization – especially the kind that anticipates their needs and rewards their brand loyalty. For companies, the challenge is to keep up with this consumer demand and set up personalization scenarios that respond to these consumer needs, as well as business objectives. If you're already an AB Tasty client, head to Audience Builder to see how you can use Content Interest and Engagement Level to start personalizing, or try out our Product Recommendation API.