Hello world! My name is Aaron Stillman and I joined AB Tasty 2 months ago as the Director of Storytelling….I mean Product Marketing.
You'll be hearing from my team with each market launch, like this SPRING RELEASE! I am very excited to introduce the world to all the value our hardworking R&D teams have produced for this Spring Release.
At AB Tasty, our North Star and guiding light for everything we offer the market, including what is in this Spring Release, is ease-of-use and automation via cutting edge technology such as Artificial Intelligence, Machine Learning, and Natural Language Processing. Ease-of-use can range from intuitive self-service tools delivering a great user experience to the amazing thought leadership and professional services delivered by our famous Customer Success Team and our world-class partner agencies around the globe. As a customer optimization experience company, our all-in-one platform gives marketing, product, and engineering/IT teams the ability to collaborate efficiently on the one KPI that all departments share, optimizing your customers' experience.
In this age of consumerism, brand interaction is digital and your customers' expectations have never been higher when engaging with your brand via many different channels and devices. The Spring Release delivers several new and enhanced CXO capabilities that empower our customers with brand new personalization capabilities and enhanced experimentation, insights, and server-side capabilities. Optimizing your customers' experience just keeps getting easier and more automated with AB Tasty!
What's New
Personalization and Experimentation Audience Manager
Say hello to our shiny new Audience Manager! You can now build super relevant segments in a few clicks, either from scratch, by importing them from your Data Hub, such as a DMP or CDP, or by selecting from our brand new template library of pre-built ready-to-use segments. Launch experimentation and personalization campaigns with ease, and clearly see the conversion rate and traffic percentage per segment. It's never been faster or simpler to personalize and experiment with AB Tasty:
Build a segment from scratch with Audience Manager…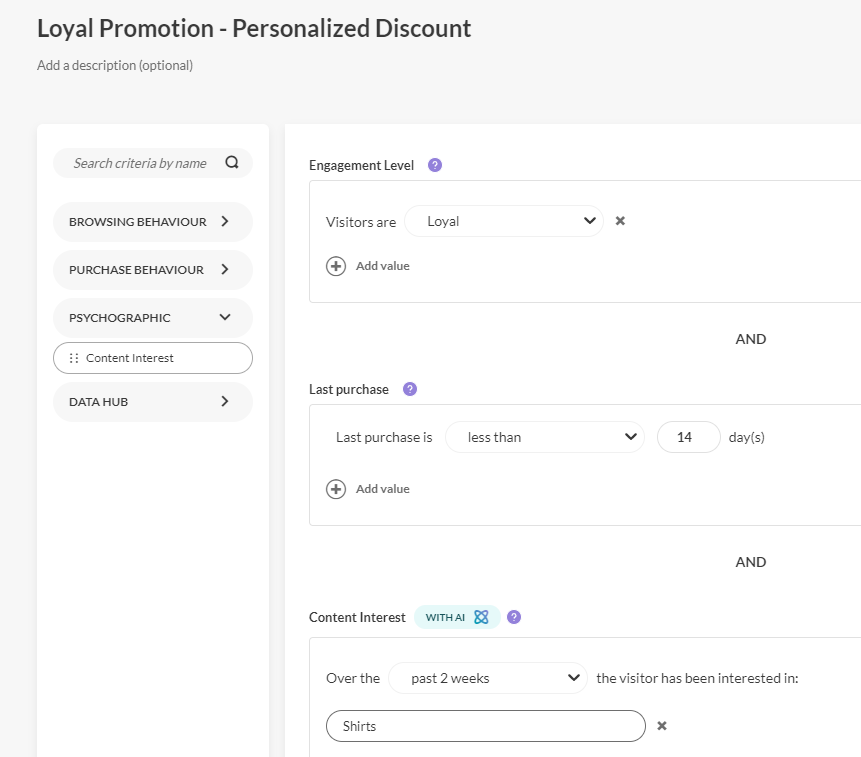 …or choose from a wide array of templates.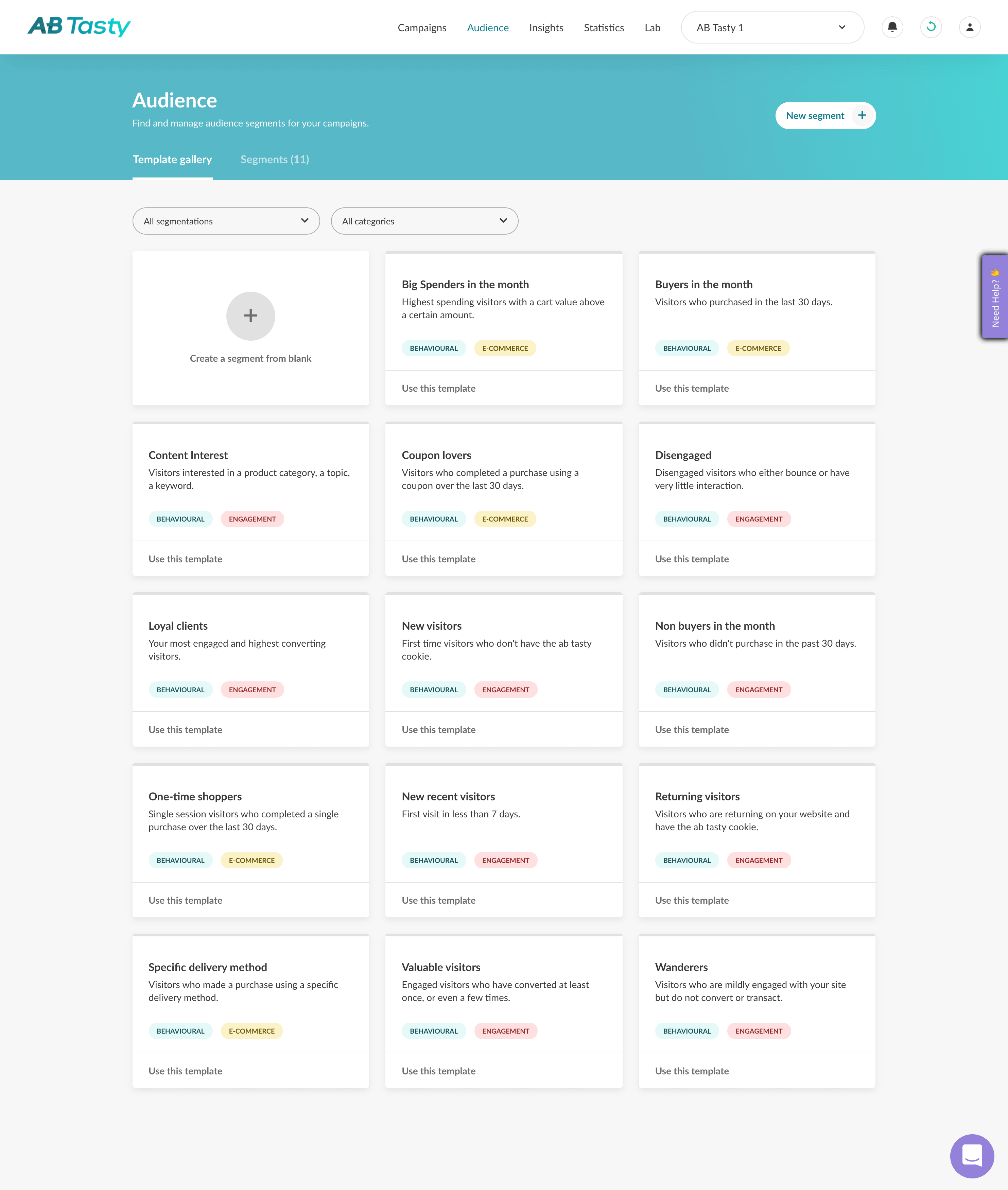 Get an overall picture of your segments, their conversion rates and associated traffic. Create a new personalization or experimentation campaign right from the Audience Manager.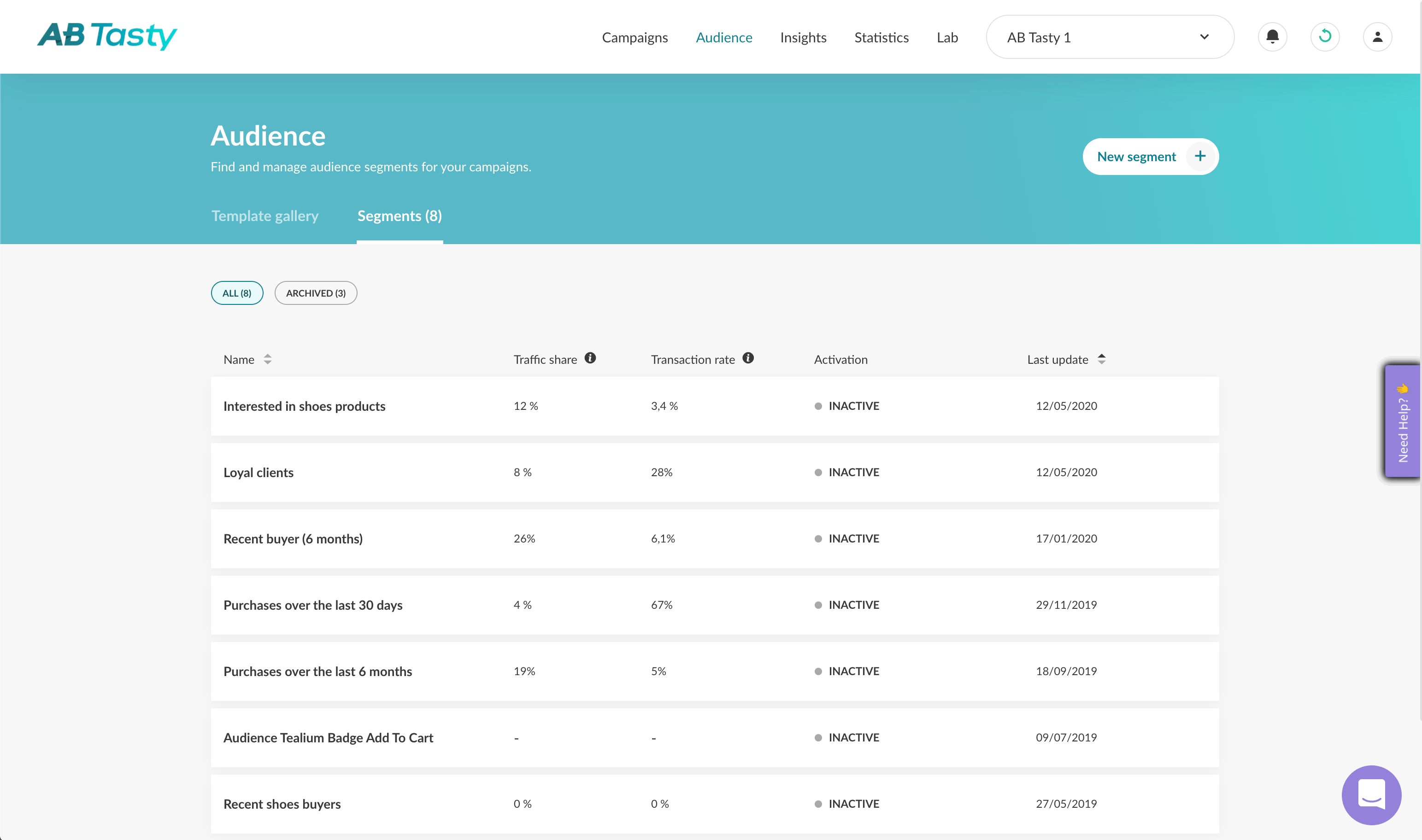 Segmentation Criteria – Content Interest
You'll definitely want to start playing around with this brand new segmentation criteria. Based on Natural Language Processing and keyword matching tech, you can now build audience segments based on your visitors' content interests (psychographics). Easily deliver ultra relevant content at the right time and watch your conversion rates and leads soar.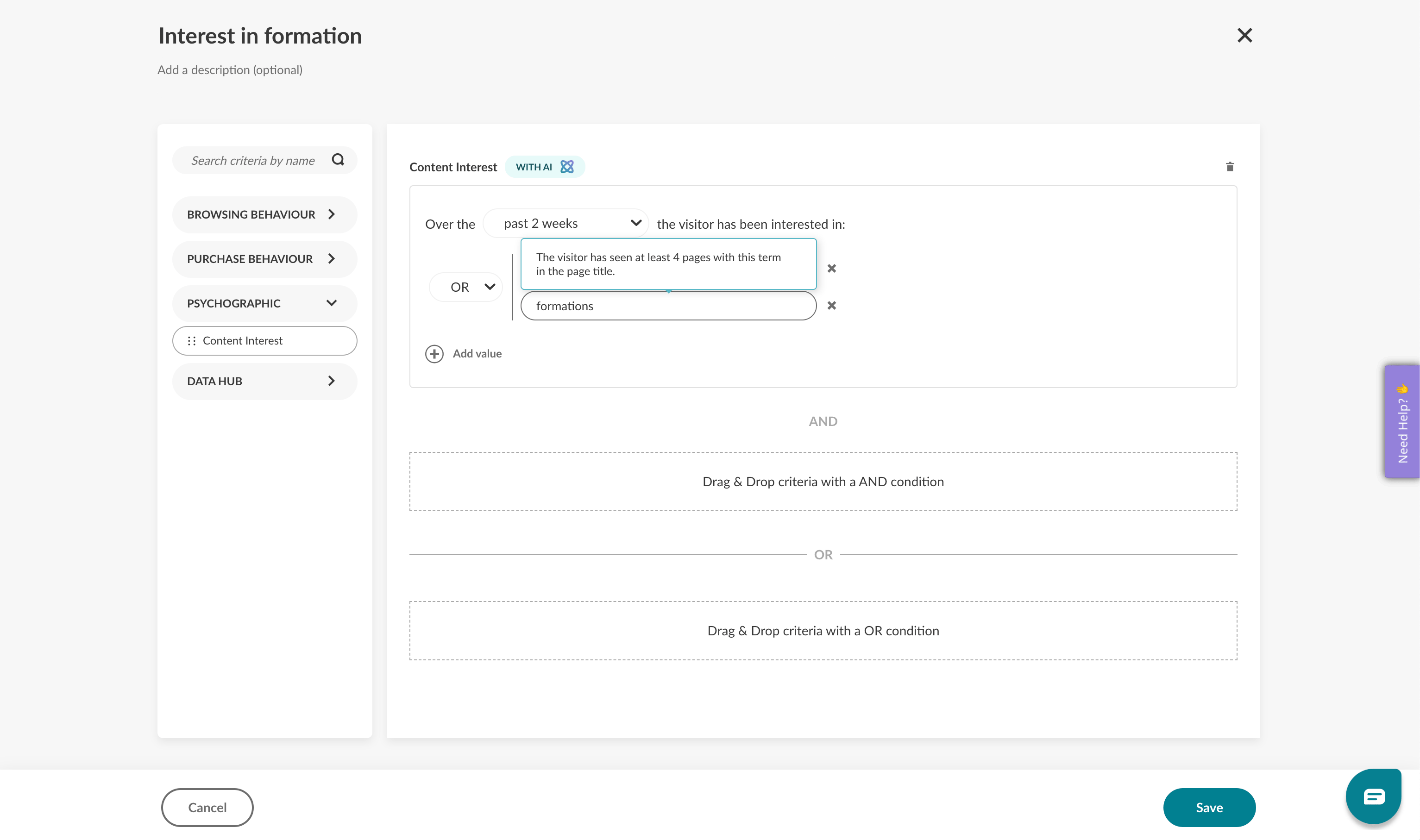 Segmentation Criteria – Engagement Level
With our new Engagement Level segmentation criteria, you don't need a team of data scientists to know which visitors are loyal or disengaged with your brand. You can easily leverage four types of audience segments for your personalization and experimentation campaigns: Disengaged, Wanderers, Valuable Visitors, and Loyal Clients. Our machine learning algorithms crunch your consumer data, so you can take advantage of them with one click.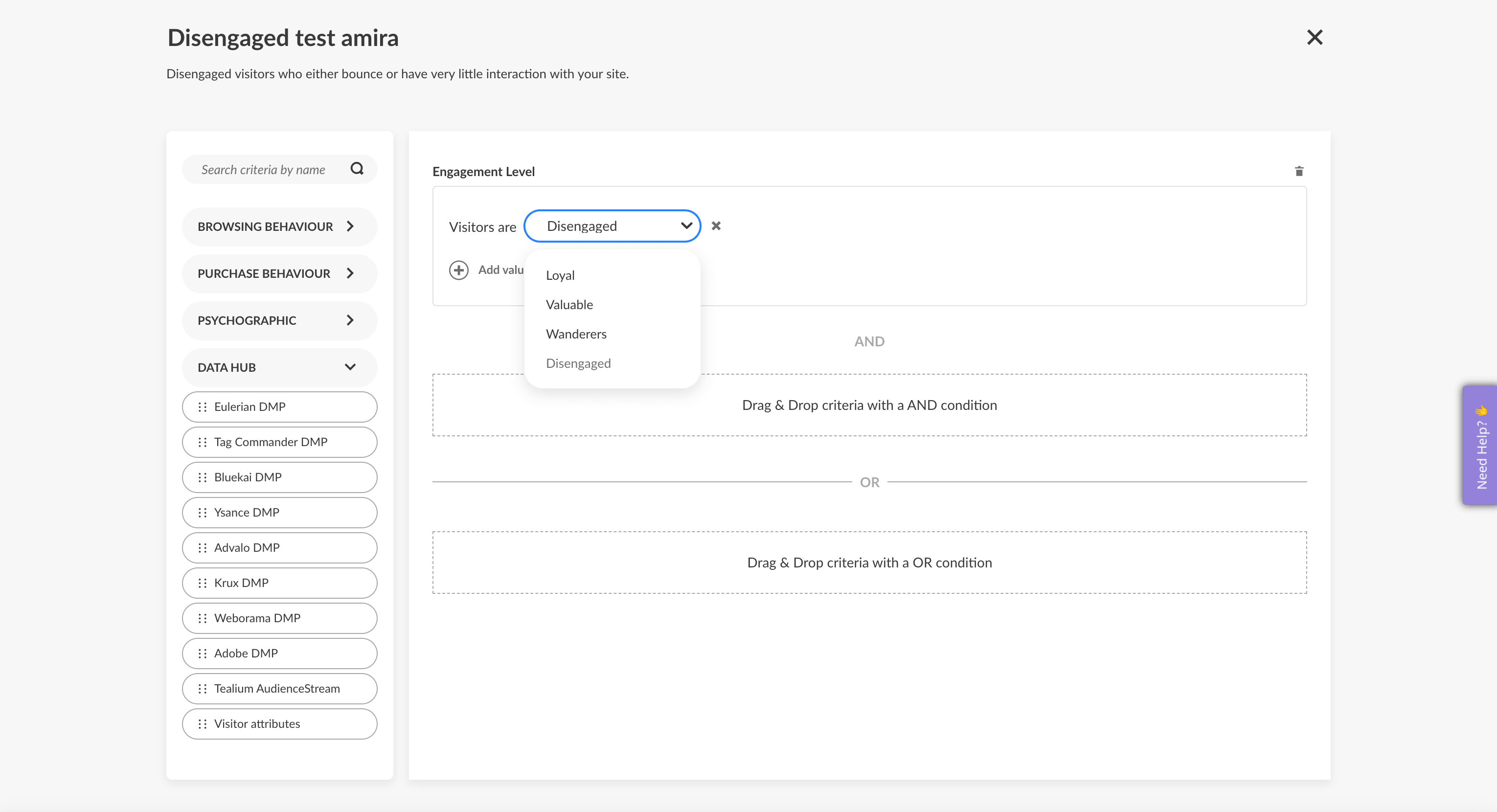 Personalization and Experimentation Campaign Management
We've enhanced our targeting capabilities for experimentation and personalization campaigns. You can easily define who will see the campaign (ex: 'display to all visitors'), where the campaign will be seen (ex: 'display on specific pages'), and when to trigger the campaign (ex: 'always trigger the campaign'). Enjoy more flexibility and granularity when building your campaigns, for a truly contextual and real-time customer experience.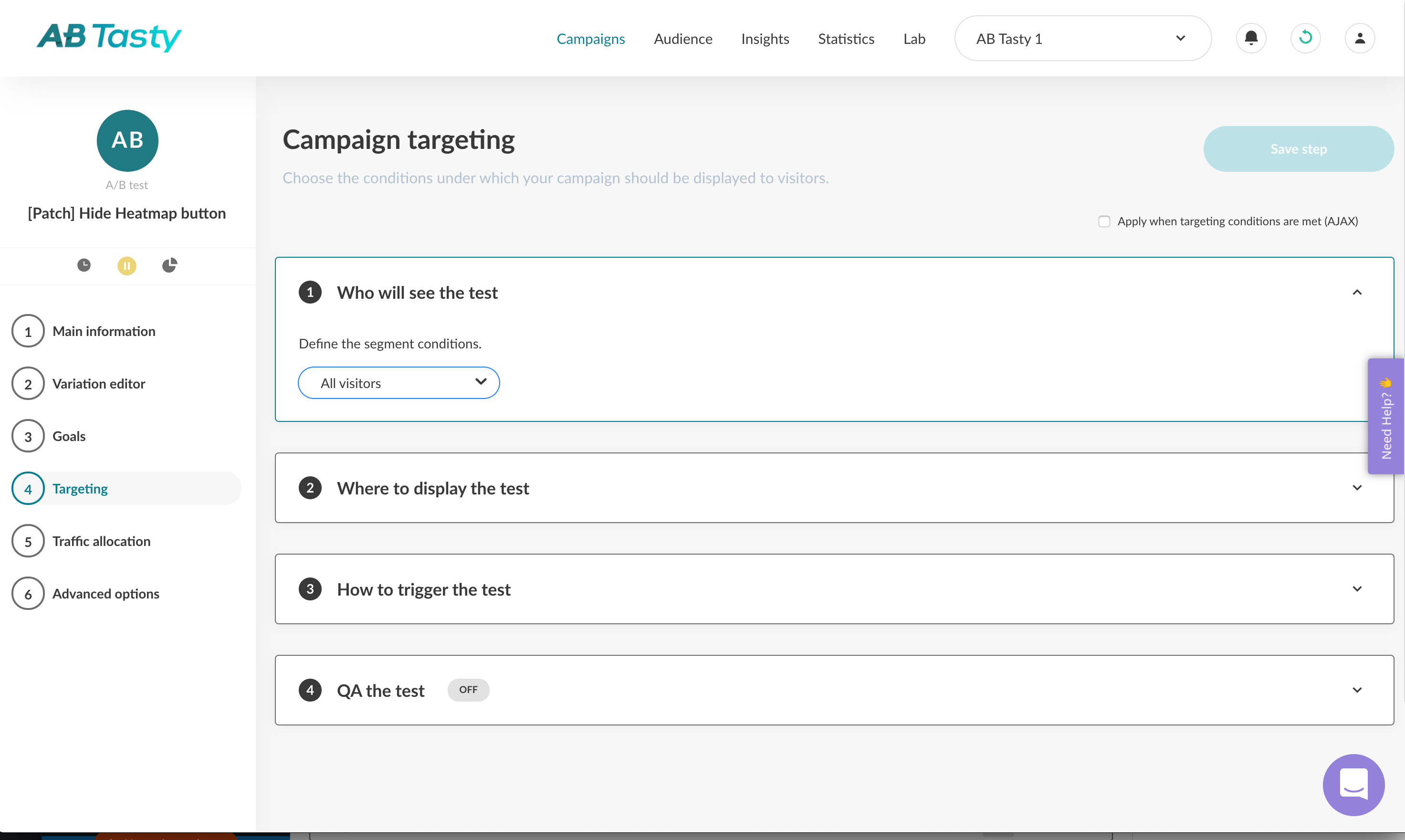 Contentsquare Integration 
Hip hip hurrah! Thanks to our latest integration, you can improve the KPIs that matter most with AB Tasty's customer experience optimization capabilities and Contentsquare's next generation behavioral insights solutions. Access the data associated with your client-side experiments and personalization campaigns in Contentsquare.
Progress Bar Widget 
Give your visitors that 'just crossed the finish line' feeling! Our growing library of widgets is one of the many ways we deliver automation and ease-of-use. Just drag and drop our new Progress Bar Widget to help your consumers understand how far or close they are to finalizing a task that you've defined. For example, visually indicate how close someone is to having enough in their cart to get free shipping. Subtly nudge your users to convert in a few clicks. And guess what? This works great on SPAs, too!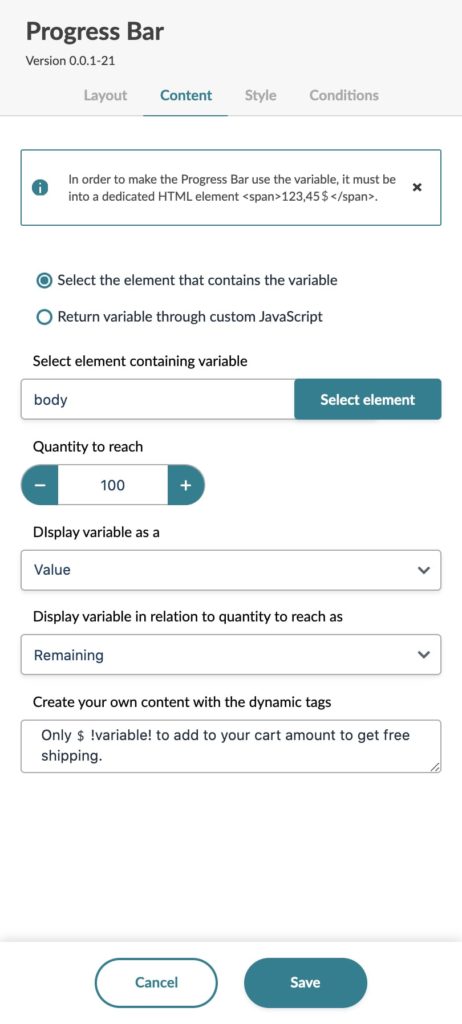 This widget can also be used for product reviews (minimum number of words or characters) as well as long scroll content posts to show progression.
• Offers a colorblind mode (stripes)
• A variable to base progression can be selected within the wysiwyg editor or by writing your own asynchronous function, returning a promise.
Deferred Campaigns
You can now flip a switch within each campaign to include or defer the campaign in the tag. In addition to delivering outstanding performance with SPA compatibility, this new Deferred Campaigns feature empowers you to decide which campaigns need to be in the tag and which can be loaded asynchronously when needed. Lighten the tag based on your business needs!
Product Recommendations API
Thanks to our focus on automation, it's now possible to recommend complementary products to your customers via our API! Encourage shoppers to consider complementary products to the one they are currently purchasing or considering purchasing. Timely product recommendations can go a long way in increasing revenue, conversions and average order value.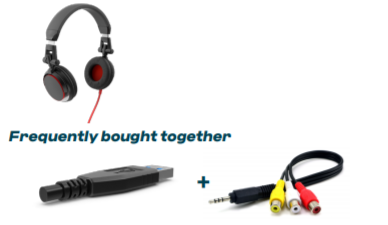 Software Development Kits
SDKs are now available for JS/Node.JS, Reactjs, React Native and Python. You can now integrate your applications in these languages with Flagship without the need to configure our amazing Decision API. Use built-in methods to quickly set up feature flags, experiments, and personalization campaigns. Free up your development resources to optimize your customers' experiences without sacrificing performance.
Bucketing
Perform at lightning speed, reduce costs and optimize your customers' experience regardless of where they are in the world with bucketing:
• Hosted on a serverless infrastructure with AWS
• Relies on the MurmurHash function to hash the userID
• Ability to download the bucketing file from a content delivery network (CDN)
What's Improved?
Multivariate Testing
Try out the new UI and crystal clear reporting layout – you'll be impressed by how easy and intuitive the new set up is.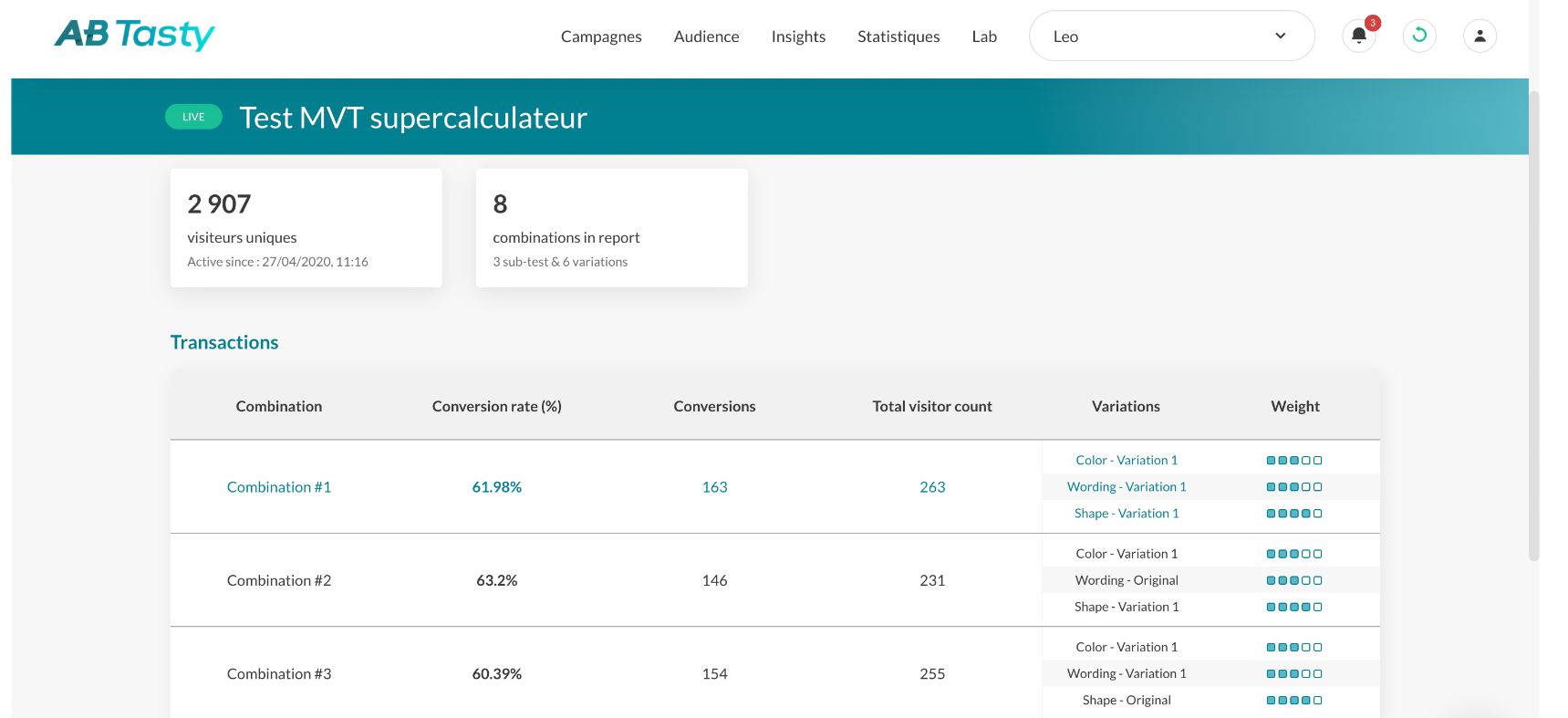 Heatmaps
Easily get the insights you need to round outyour campaign analysis with our enhanced heatmaps feature. You can now gain valuable knowledge into each variation associated with your experiment (or compare two variations simultaneously), view the aggregation of clicks on buttons and CTAs on the page with zoning, and export your heatmap as an image. Use this feature all on its own, or as a complement to your existing analytics vendor, or one of our best-in-class partners…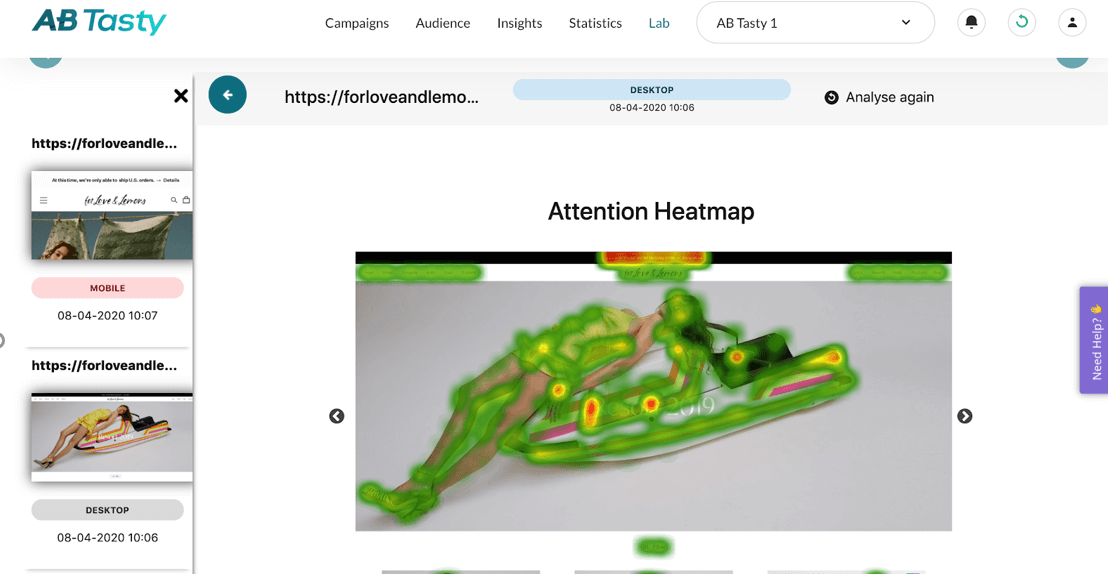 What's in the Innovation Lab?
The innovation lab is where our Innovation Team gets to work cooking up some delightfully novel ideas to run by our clients! You can currently try out:
Page Flow
Better understand the user journey through your site with this detailed journey mapping feature.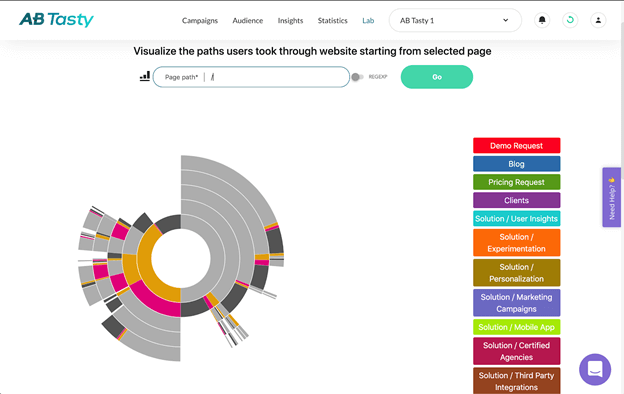 Eye Tracking
This includes a brand new UI and the ability to analyze a desktop, tablet, or mobile version of a page.
ROI Dashboard
Includes additional engagement analytics regarding transactions and more details about the ROI calculations of your campaigns.
So, get your hands dirty giving these features a test drive and let us know what you think- popular features just might end up on the product roadmap. Remember, these features are still in the 'lab' stage, and there might be a bug or two along the way! It's all part of the innovation process.
---
Aaron Stillman is the Director of Product Marketing at AB Tasty and has spent over a decade working for SaaS companies specializing in digital consumer engagement. Aaron's passion is focused on delivering and articulating value to the market through the art of storytelling.