If you're a marketer, you've likely heard the term growth hacking. In recent years it's become something of a buzzword, but what does it really mean? And how does it benefit your business?
Rather than a singular strategy, growth hacking refers to a combination of techniques used to grow a business as quickly and cheaply as possible. In other words, the core aim of growth hacking is to generate as many customers as possible for as little money as possible, making it a favorite among bootstrapped and lean startups. 
Generally, growth hacking uses non-traditional marketing strategies to gain new customers. Instead of focusing on one marketing discipline, growth hackers work across a variety of skills including SEO, content marketing, social media, and email marketing. The job of a growth hacker is to use ingenious yet affordable strategies to find and keep new customers. 
In the words of Sean Ellis, the Godfather of the growth hacking movement and CEO of GrowthHackers, the definition of a growth hacker is as follows:
"A growth hacker is a person whose true north is growth. Everything they do is scrutinized by its potential impact on scalable growth."
Measuring Your Success
While the aim is to "hack" growth through any means necessary, this doesn't mean that the process is sloppy or haphazard. Growth hacking is highly analytical, and the strategies employed should be measured, analyzed, and tested to measure success and scale growth.
The focus is very much on measuring and testing the success of strategies, however unconventional they may be. To get the most out of these growth hacking techniques, make sure to execute these steps first:
Hypothesize:

Understand your important growth metrics and funnel data and then create a hypothesis outlining which growth metric will be affected and how.

Measure:

Track and record the metric that is impacted (e.g. sales) and also measure the entire funnel including website traffic, bounce rate, sign-up rates, conversion rates, and so on. 

Analyze

: Analyze the performance of the strategy and compare it with a controlled set or historical data. 

Leverage:

Once you understand the results of the strategies, identify which ones have been successful and double down on your efforts. 
Rinse and repeat. 
With this process in place, you'll be able to clearly see the impacts of the techniques you implement.
Growth Hacking Examples in Practice
Growth hacking is concerned with hacking growth as cheaply as possible. While the definition is simple enough, how does growth hacking work in practice? 
First, we're going to discuss businesses that are killing it by growth hacking, and then we'll dive into some actionable growth hacking strategies that you can steal for your business. 
Dollar Shave Club
Dollar Shave Club used humor to growth hack its way to success. The company took a fairly dull topic (shaving) and managed to create a hilarious video campaign that skyrocketed the company. The video went viral, gaining 19 million views and 12,000 customers in the first hours after its launch.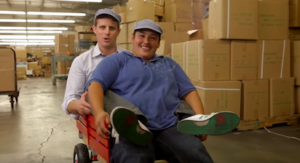 Fast-forward one year, and the company had grown to more than 300,000 customers and become a household name. Dollar Shave Club not only made incredibly funny viral videos to hack its growth, but the successful company also built a viral loop to generate more customers. The razor brand offers customers one month's free razors if they refer a friend who signs up. If you think that's smart, Dollar Shave Club also encourages its customers to share their experience on Facebook, Twitter, and via email to get even more free razors. 
Monzo
The rise of the challenger banks has been phenomenal in recent years. Fintech startups like UK-based Monzo tapped into social psychology by using what they call the "queue jumper" growth hack to grow to 250,000 users in just two years. When a new user signed up for Monzo, they were placed in an electronic queue. They could see how many people were in front and behind them. 
Throw in some FOMO – "demand for Monzo has been incredible and we're producing cards as fast as we can" – and the option to beat the queue – "bump me up the queue" — and they designed the ultimate growth hack.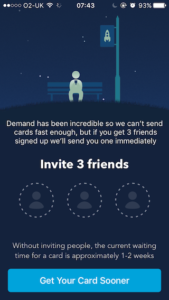 Monzo went a step further and designed an eye-catching neon orange bank card, increasing the buzz around the bank and, ultimately, increasing customer acquisition. 
OptinMonster
A simple but effective growth hacking technique is employed by OptinMonster. The company adds a "powered by" link at the bottom of each of its landing pages, which is set to display by default but can be disabled easily by users.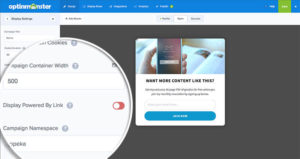 It can be used by website development companies, embedded content tools, or other widgets that are installed on websites. It works by linking back and sending interested users back to the company's landing page and, according to some companies, it's responsible for 30% uptake in signups. 
Growth Hacking Techniques and Tips to Boost Conversions
Now you've seen how the big brands are using growth hacking, let's delve into some simple techniques you can start using right now. 
Piggyback on Other Companies' Audiences 
If you have an audience of, for example, 10,000 social media fans and you know of a company in a similar, but non-competitive, industry, then consider joining forces. By working together, they can reach your audience and vice versa. 
This won't work for competitors for obvious reasons, but there are tons of ways you can build relationships with other companies. For example, if you own a bedding company, consider contacting a bed retailer and asking about buddying up. 
You could make the following suggestions:
Tagging each other on social media

Offering bundles of products

Offering discounts for purchases on both sites

Recommending each other to existing customers
A/B Testing
As we've already mentioned, growth hacking is an umbrella term for a mixture of disciplines that work together to scale a business. In other words, growth hackers care less about the method and much, much more about the result: growth. But that doesn't mean that it's done without care and attention. Far from it. 
Growth hackers are highly analytical. Measuring and testing the results is a huge deal for growth hackers. If you're experimenting with multiple 'hacks,' you need to know which ones work and which ones don't. 
That's where A/B testing comes in. 
We're big fans of A/B testing (obvs!) and we recommend testing everything you do, but we're also realists. Start by testing the areas on your website that account for the most conversions, such as these pages: 
Home page

Service pages

Contact forms and page

Product pages 

Blog posts 
By understanding how your customers behave on your website, where they drop off, and where they convert, you can learn how to iterate your growth hacks and generate more customers and sales. 
Create a Free Tool
Everyone likes a freebie, but people love a freebie that is insanely useful. How can your business offer a free tool that aligns with your business goals and pleases your customers? Crack that and you're on your way to growth-hacking glory. It's not easy, but the results can be excellent when done well. For example, real estate agents, like Zillow, might offer a mortgage calculator or a free home evaluation tool. 
Neil Patel offers a free keyword research tool to help you conduct SEO analysis via Ubersuggest.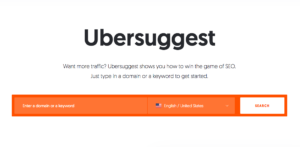 If the thought of creating a tool sends you running for the hills, consider whether you could build a free toolkit or ebook which offers invaluable information. Whatever your industry, you need to design a free tool or toolkit that your target customers would love. 
While the idea is to provide something valuable and free, if you've done your job correctly, these freebie hunters will likely come back to you at a later date to upgrade, make a purchase, or get in touch. 
Referral Schemes
Statistics show that consumers prefer to purchase something when a friend or relative has recommended it.
When referred by a friend, people are

four times

more likely to buy. 

Almost half

of customers will buy a product when they've learnt about it from friends on social media. 

Eighty-four percent

of customers either completely or somewhat trust referrals from people they know (e.g. friends, family, or co-workers).
Businesses can capitalize on this by creating customer referral schemes that reward existing customers for referring the business to a friend. Uber gave a $5 credit each time a user used their referral code. This scheme is now widely adopted amongst other ride-share apps due to its popularity. 
Airbnb gives the original customer and the new customer a $25 credit once the new customer has completed their trip. 
PayPal's referral scheme helped the company to achieve 7% to 10% daily growth, increasing its customer base to more than 100 million members. The technique was simply to pay people to invite their friends. 
Summing Up
It's hard to grow a business, especially if you're in a competitive niche. You need to expose your audience to innovative marketing strategies to succeed. While growth hacking isn't any easier than traditional growth methods, it can be more effective. That's the beauty of growth hacking — it's affordable, creative and designed to scale your customer acquisition. 
Be brave and try multiple new techniques until you find the winning formula. However, keep your hacking data-driven and performance-related.