It's been a little over a year since we opened our office in Singapore, AB Tasty's first in the APAC region. It's a milestone we were excited to celebrate, having more than doubled our team in this time while developing a client portfolio that spans 10 countries and multiple industries—and includes companies like Pan Pacific Hotel Group, Seafolly, and HKBN.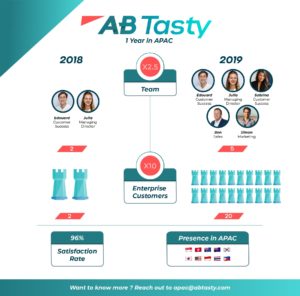 Today, we're proud to say that our customer satisfaction rate in APAC is at 96%, which we believe is largely related to our customer-centricity. In fact, one of the driving forces behind AB Tasty's global expansion was to provide personalized and localized support to our clients. This is why we decided to celebrate one year in APAC with a series of events for our customers: a Learning Week on Customer Experience Optimization.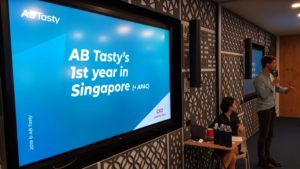 Highlights of the week included our webinar,  10+ Marketing-Friendly Techniques for Increasing Web Conversions, which covered best practices for customizing user experiences and a Lunch & Learn session on using UX principles and data to fuel optimization. For the latter, our Product Designer Constance Maree and Customer Success Manager Sabrina Ooi discussed how the design thinking methodology complements AB Tasty's test-and-learn approach — and why this process continues to secure wins for our clients like Sephora, Seafolly and Power Buy. (For a more comprehensive overview of this topic, click here).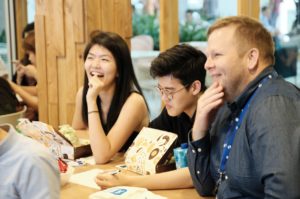 Our goal for this week-long event was to have an open dialogue with our clients on industry-specific challenges, current and emerging trends in user behavior, and AB Tasty's vision—using the insights from these conversations to refine our larger strategy. We're happy to say it was a success. 
Here's to another great year!