You may have heard our great news: AB Tasty has raised $40M in Series C funding!  It's exciting, invigorating, challenging…there's so much to do and we can't wait to get started.
Before we dive full steam ahead into our plans for growth, R&D and continued innovation, we wanted to stop for a minute and reflect. This has been an amazing journey, and to mark the occasion, we decided to pick the brain of our fearless leaders, Alix de Sagazan and Rémi Aubert:
---
AB Tasty has changed a lot since you founded it. What's different now and what has stayed the same?
Alix:  If I'm joking, I'd say our logo has changed the most (for the better) – I'm looking back at the first iteration with the bite out of it! But more seriously, our product has really evolved in such an extraordinary way, I think I would have been blown away to know we'd have gotten this far. But the company values haven't budged an inch, and I'm so glad for that.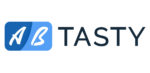 Our 'tasty' logo has come a long way – and we've even added a new product to our portfolio.
We're proud to show our support of Black Lives Matter and Gay Pride month.
Rémi: What's changed? Our offices! Comparing our set up now with the 'start up in a garage' feel that we had when we just started…it's easy to be nostalgic for those days but it's also nice to have the space and location that comes with being a true scale up. I think the attitude and mentality has really stayed the same though – we still see ourselves as part of a family, we still value team bonding, we still put a lot of emphasis on company culture.
Software is eating the world – how does Flagship fit in?  
Alix: Can you think of a brand you absolutely love – but when you downloaded their app, you were sorely disappointed? Or a brick-and-mortar boutique you can spend hours in, but when you visit their website, you're horrified? Flagship will help brands deliver exceptional experiences and products across all touchpoints.
Rémi: This has become even more true during the Covid-19 era – all brands need to act more like successful software companies. That means being agile, quickly testing and learning from new ideas, and not being afraid to step out of your comfort zone to innovate. Flagship is the strategic partner for brands looking to 'move fast and break things' – but at the same time minimize their risk 😉 It also allows product teams – and this is crucial – to focus on outcomes, not outputs. Instead of churning out features and going down a checklist, Product Managers and their teams are empowered with Flagship to deliver business outcomes linked to revenue. This really allows them to show their true value and ensure they have a seat at the table.
Alix, you've lived in NYC for over a year now, so we have to ask – bagel or baguette? 
Alix: Baguette! You can take the woman out of Paris, but…🥖
You saw that Elon Musk's SpaceX launched their first astronaut – is the next frontier of omnichannel CX going to involve outer space? 
Alix: Probably! I don't know if we'll know exactly when, but the next frontier is going to involve space exploration. Can you imagine buying your next vacation as a roundtrip with your family to the moon? It sounds crazy but it's on the horizon!
Rémi: It's too early to say 🙂 There's already so much to do right here right now that I think we'll be kept quite busy before we have to worry about the intergalactic Internet of Things!
If AB Tasty were a Disney character, who would they be? 
Alix: Simba from the Lion King probably, because of the journey of self-discovery, and because of the great friendships he makes that support him through many trials.
Rémi: Is it too cliché to say Peter Pan? If not I'll go with him, for the youthful spirit, his leadership and camaraderie.
Which company value do you think you personally embody the most – why? 
Alix: Enthusiasm! AB Tasty – the company, the people, the product – it gets me up in the morning and it keeps me going through the pretty strenuous schedule of a co-CEO of a fast-growing company.  I couldn't do it if I didn't love the company to bits!
Rémi: That's tough! Agility I think, tied with Client Satisfaction. Those two are really the backbone of the product.
What advice would you give budding entrepreneurs looking to start their own companies? 
Alix: Never give up and remember your core principles – company culture, values and vision.
Rémi: Entrepreneurship is definitely more of an Iron Man than a sprint or even a marathon. I really find actually doing physical training can help with the mental and leadership aspects – getting moving and setting long term achievable goals is great practice. I've actually rounded up 18 AB Tastiers to train with me at Lanzarote for a triathlon – seeing Team Spirit (and endurance) in action!