You know the frustration of receiving irrelevant advertisements? We do, too.  In fact, 75% of online shoppers say they feel the same way. Websites that push irrelevant content are more likely to drive visitors elsewhere than anything else. Today's customers expect more than relevant ads; indeed, they want personalized experiences, whether online or in-store. One way to serve these custom experiences up is through a 'hyper-personalized' strategy.
Let's Define Hyper-Personalization
Hyper-personalization, also known as one-to-one marketing, is a form of traditional personalization. Utilizing real-time data and artificial intelligence (AI), hyper-personalization displays to your customers specially curated content, products, and services with a high level of granularity, at scale, and often in an automated fashion.
The ultimate goal is to treat website visitors as unique individuals, with tailored and contextual messaging for each. Having complete knowledge of company products and consumers, plus the appropriate data, technology, and resources for implementation, are essential for formulating a specially-made plan.
Benefits of Hyper-Personalization
Using hyper-personalization has many advantages. First, it eliminates obstacles in the sales funnel that may complicate customers' shopping experience, which lessens the effort customers have to do to get what they want.
Secondly, it prevents customers from becoming overwhelmed with a large selection. 39% of customers purchase products from competing companies when they feel overloaded by product choices. Hyper-personalization can prevent choice overload by only showing items, based in many instances on product recommendation algorithms, pertinent to the customer.
Lastly, it can be an effective way for your brand to quickly attract and keep the customer's attention through acknowledging their pain points and saving them time by offering your best solutions.
Many different types of personalization can and do provide these benefits as well – but hyper-personalization aims to reach a level of granularity, specificity and scale that usually only comes with advanced automation and the requisite data and customer knowledge.
The Value of Context
Context gives meaning to finely tuned, hyper-personalized customer experiences. You can't have one without the other. A tailor-made plan might interpret contextual data, such as the type of device used. But the device's location, times of high activity, and even the customer's job are examples of the kind of context needed for an effective plan. Additionally, real-time info like price points and earlier interactions with your brand further increase hyper-personalization experiences.
Traditional Personalization vs. Hyper-Personalization
With traditional personalization strategies, the focus often lies on personal and transactional data like the customer's name, organization, and purchase history. A typical example of conventional personalization is using first names in the subject line of emails or newsletters.
Hyper-personalization interprets customer intentions with more granularity, using methods like AI, machine learning, and IoT-enabled devices. These tools enable companies to deliver relevant suggestions and experiences to users at scale. For example, only send push notifications at times when users are actively using their phone or your company app.
In the past, a brand may promote summer clothing to those who bought related products last season. But you can take that traditional method of personalization a step further by advertising the same items with ads based on the location, time, date, and payment method of the purchase.
Making a Hyper-Personalized Framework
To create a useful framework, one can implement an approach driven by analytics for mapping data on top of the traditional methods that base tactics on data.
Creating a structure that continuously delivers exceptional customer experiences often consists of four steps:
Data collection
Customer segmentation
Targeted journeys, and measurement
Analysis
Knowing your audience is the first and most important part of making a hyper-personalized framework. It's how your company learns who your primary customers are in addition to understanding each one individually.
Knowing your audience means having access to relevant data, and it's especially advantageous for businesses that cater to a broad audience because it can narrow the needs of each group.
The second step in the framework process, customer segmentation, is how your company uses data and knowledge of your audience to scale the personalization process. By segmenting a broad audience into smaller subgroups based on spending, location, demographics, satisfaction, and previous interactions, your brand can now send relevant communication geared to each group, which boosts customer engagement and brand loyalty.
After customers are segmented and their needs are identified, you can develop targeted journeys, which is the communication aspect of the framework. Timing and medium are important parts of engaging with your audience. Getting both down will dramatically improve the likelihood of customer conversion.
Once your company runs a targeted campaign, the last step is using measurement and analysis to gauge its success. Identify which metrics in the campaign customers responded well to and its relation to your business' revenue. Examining these finer details and replicating them in future campaigns generates sustainable results.
In-Store vs. Online Personalization
Hyper-personalization isn't only for e-commerce stores; it can also be applied in the real world as well. The right customer interactions can go a long way to convert leads, even without advanced technology.
Appealing to customers at the right time by recognizing a moment of struggle in the decision-making process.
Continuously offering alternative solutions to solve a problem, which keeps visitors in-store.
Successfully up-selling products or services only if they are relevant to the buyer.
Giving customers the best offer with price matching or offering additional services (i.e., installation) for free.
In-person personalization might be a challenge, but when done in the right order at the right time, it can lead to many positive experiences for consumers.
Brands That Capitalize on Hyper-Personalization
Big-name brands like Amazon, Spotify, and Starbucks now use AI and machine learning to examine the myriad of factors that influence their recommendation engines. Predictive personalization is one tool these companies–and others–use to individualize customer experiences, despite having huge audiences.
Amazon
This online retail giant has perfected the art of suggestion: 35% of conversions come from its recommendation engine. But Amazon's recommendations don't stop at the search bar or its website, it also makes excellent use of its email channel, too.
For instance, if someone searches for sandals, Amazon will send an email of suggested items related to that shoe style.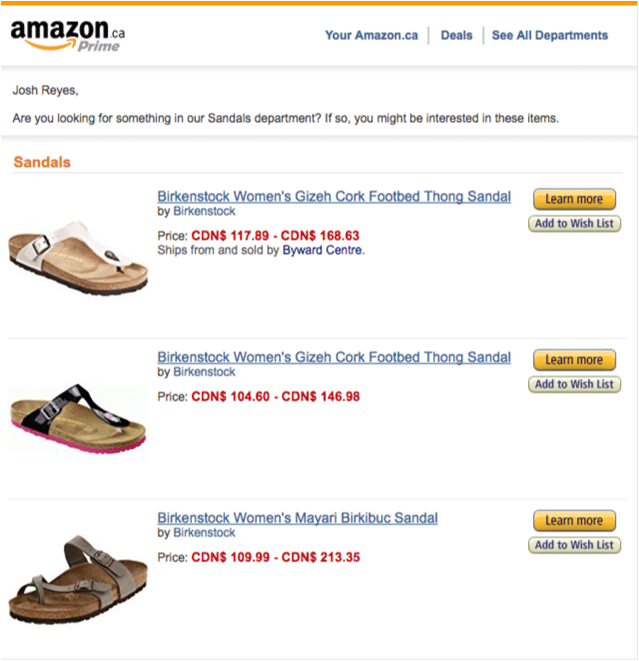 This technique goes beyond the traditional route of including the user's name in the email subject line. Amazon collects data to generate hyper-personalized communication with its customers: Full name, search query, the average time spent searching, preferred brands, other browsing habits, and more.
Before emerging technologies, effectively utilizing this data took a lot more work. But algorithms like Amazon's item-to-item collaborative filtering engine makes the process much more efficient by suggesting items based on four data points:
Past purchase history
Items in the cart
Rated and liked items
Things liked and bought by other customers
This strategy and others is one reason why Amazon's on-site suggestion converts 60% more than other online stores.
Spotify
Spotify is the leading music streaming app, offering a wide variety of playlists tailored to each user's preferences. After cross-analyzing personal music selections with other users who also listened to the same song, Spotify builds highly-personalized playlists for all its users.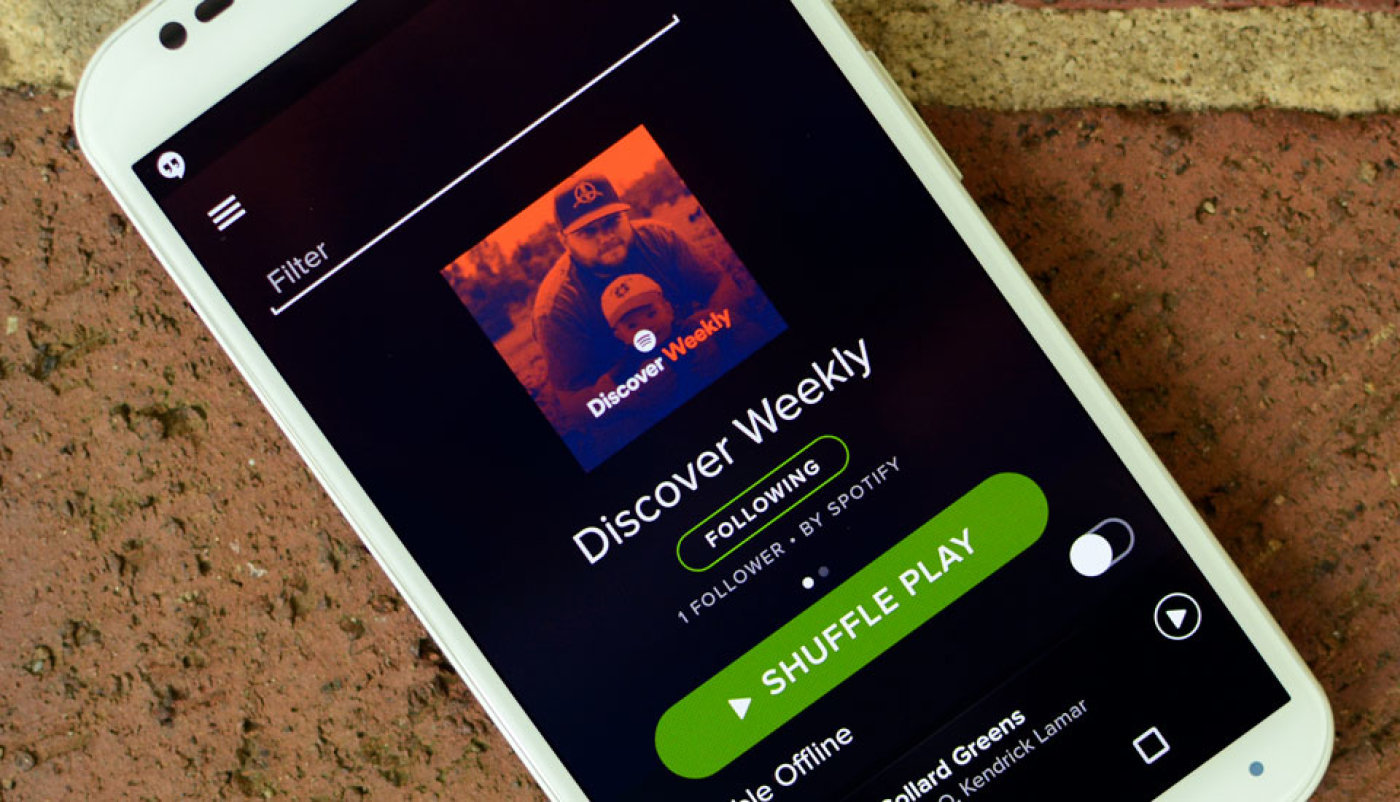 But custom playlists aren't the only method the streaming service uses. The Live Concert Feature sends users emails letting users know about events of their favorite artists as well as the option to purchase tickets.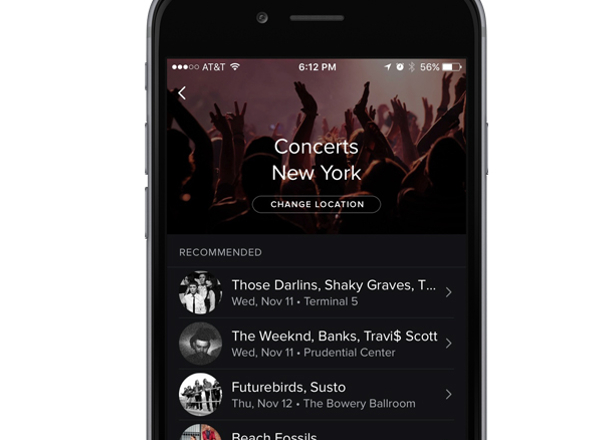 Starbucks
Most people ignore in-app and push notifications, but Starbucks has found a way to use them to their benefit. Thanks to AI and real-time data collection tools, the coffee giant uses these to promote offers relevant to its customers. Additionally, the Starbucks app takes customers' experiences a step further by building an interface for individual users.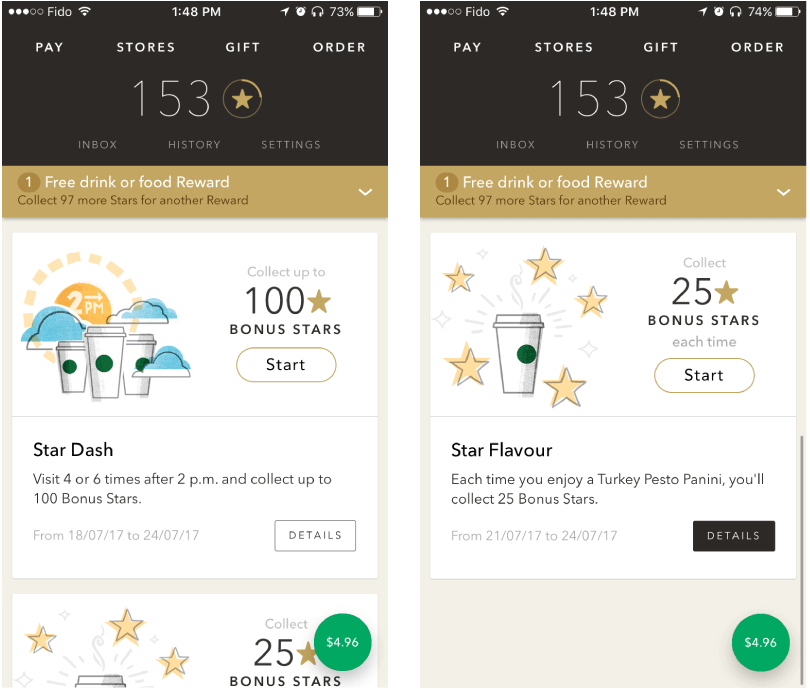 Integrating hyper-personalized communication in nearly every interaction customers have with the company, its app has led it to create one of the most extensive loyalty programs out there. But in addition to specialized offers, the app also recommends food, drinks, and games through email and mobile.
Conclusion
As customers continue to seek more personalized experiences when interacting with companies, personalization, in one form or another, becomes even more critical to your business. Creating an effective personalization strategy can be key to building customer trust and loyalty, which directly leads to improved revenue growth.