It's no secret that today's digital marketplace is highly competitive. Consumers are exposed to an increasingly high number of messages each day. How can you make your message relevant to your consumers and break through the noise?
To capture consumers' attention, brands need to focus their attention on crafting unique user experiences to deliver 1:1 personalization based on data.
Personalization is not the newest trend in the marketplace, but it's increasingly present in marketers' digital communication efforts. One of the most important focal points to convert visitors into customers and build customer loyalty is 1:1 personalization. More and more customers feel less motivated to complete a transaction when they're online shopping if their experience is impersonal. Let's take a look at some data from Forbes:
80% of consumers are more likely to complete an online purchase with brands that offer personalized customer experiences.
72% of consumers explain that they only interact with personalized messaging.
66% of consumers share that coming across content that isn't personalized would deter them from purchasing.
Customers want personalization. Think about when you walk into a physical store and an employee really listens to your needs, helps you find exactly what you're looking for, or goes above and beyond your expectations to help you. That is exactly what customers want in the digital marketplace.
A unique, digital 1:1 personalization experience strategy gives companies the potential to customize messages, offers, and other experiences to each website visitor based on data collected about each user.
Digital 1:1 personalization starts with concrete data. Are you leveraging data to better serve and convert your visitors?
To help you answer "yes" to this question, we'll take a deeper look at:
What is 1:1 personalization?
Delivering a unique (or one to one) experience to each online consumer is a technique known as 1:1 personalization.
By mastering the technique of 1:1 personalization, brands can deliver an exceptional level of customer service by providing personalized messages, product recommendations, offers and specialized content at the right time based on the user's needs and expectations.
This type of unique user experience is only made possible thanks to the availability of extensive customer data. If you don't get to know your customers based on their interactions with your brand and user behavior, you're missing an opportunity to meet your customers' expectations.
One goal of personalization is to create a "wow" effect. This means you should be making the customer think, "wow, they really know me." The more information that a company knows about a certain customer, the more personalized the user experience will be.
Without extensive data, 1:1 personalization isn't achievable.
What data can you collect to know your customer better?
On a wider scale, it's important to understand the location of your customer, their demographic information (age, gender, education level), purchasing habits and website browsing information. However, in the hypercompetitive world of personalization, this surface-level data is not enough.
Brands need to move beyond knowing who the customer is and understand how the customer behaves.
Knowing that your customer is a recent college graduate who lives in New York City and spends a lot of time making Pinterest boards will not be enough information to create a strong buyer persona to achieve a unique and pleasant user experience.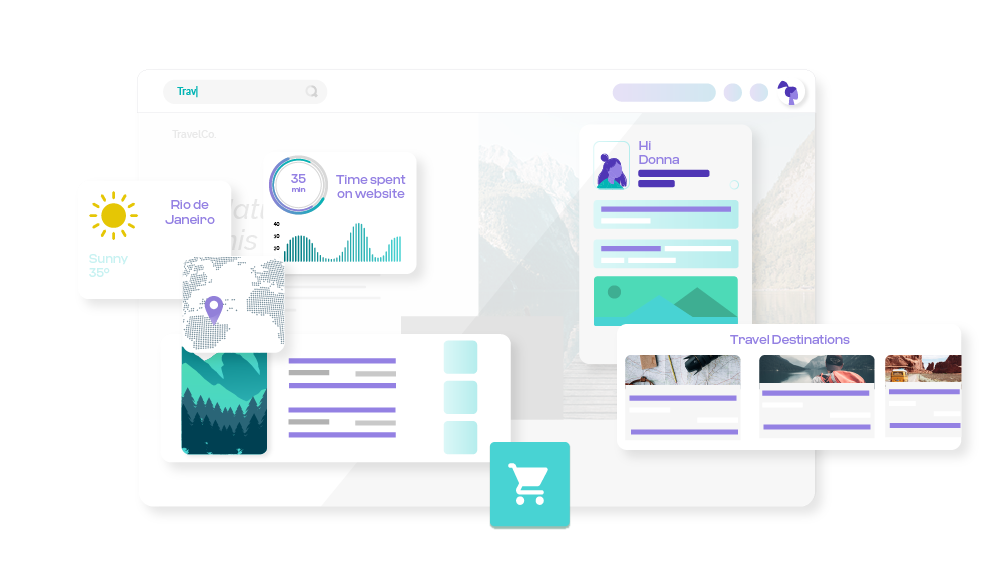 Enhancing your customer's profile will require you to collect relevant data about how your customer interacts with your brand on all channels, what motivates them to purchase and what makes them tick on top of knowing who they are.
More specifically, robust personalized data will help you better understand:
Location and demographics
Interests and hobbies
Shopping and purchasing habits
Device and channel frequency
Where and how they prefer to shop and purchase
Satisfaction level
Likes and dislikes
All of this information will allow you to create a sophisticated customer profile. Understanding their motivations, preferences and expectations helps you characterize users into intricate market segmentations to give them the best possible experience imaginable.
Ideally, the customer will have a positive experience and feel unique based on the information derived from the robust data collection.
How do you find user data?
Extensive data can be found and refined by cross-indexing information stored on separate databases.
For example, you can harvest data from a customer's interactions with your business by analyzing and storing comments on social media sites, ratings on review sites, mobile app usage vs. desktop usage, customer service interactions, download requests and more.
How to leverage 1:1 personalization with data
As you can see, personalization cannot exist without data. To achieve 1:1 personalization on your digital channels, your brand must have the ability to transform the collected data into action.
After monitoring and gathering rich data on your customer's interactions, history and behavior on your site, it's time to convert this data into a refined customer buyer persona to serve your customers better.
By segmenting your profiles, you will be able to better understand your customer's preferences and pain points, which will help you craft these personalized messages and display them at the right time.
Personalizing interactions with customers
Once you have substantial data collected about your visitors, you can determine the best way to interact with them. There is a fine line between being helpful by displaying personalized messages and being invasive.
The difference in these two feelings will depend on the amount of prior engagement that the customer has with you. For example, a customer who is subscribed to every newsletter, has a company discount card, and frequently completes transactions on your website will expect you to know their preferences fairly well, like a regular coming into a coffee shop. On the other hand, a first-time visitor will not expect you to know much about them, but they will expect to be welcomed.
The best way to understand how to serve your customers is by asking yourself how you would want to be interacted with at their level of engagement with your brand. What would make you feel welcomed and what would make you feel overwhelmed or uneasy?
Real-life example
Before the booming holiday season, Clarins, a multinational cosmetics company, saw an 89% increase in their conversion rate and a 145% increase in the add-to-basket metric by implementing 1:1 personalization and gamification with AB Tasty.
On Single's Day, a few weeks before Black Friday, Clarins saw a perfect opportunity to experiment and learn culture by implementing a "Wheel of Fortune" concept in certain countries. The gamification gifts were personalized according to each country's local culture. Any visitor arriving at their website would play the digital game, spin the wheel, and receive a gift automatically in their inbox. This ease of automatic implementation was a great user experience, especially for mobile visitors.
Read the full story here: How Clarins Uses AB Tasty for Personalization and Retention
What messages should you personalize?
The possibilities for personalized messages can stretch as far as your mind (or your software capabilities) will allow.
Think about personalization in a broad sense. Let's say a company wants to put its logo onto personalized gifts for its employees. The company's logo can be put onto t-shirts, pens, stickers, coffee mugs, phone cases, backpacks, sunglasses, golf balls, holiday baskets– the possibilities are nearly endless. The same goes for personalized messages for your own customers.
In marketing communication, some of the most common outlets for 1:1 personalization are:
Emails (subject lines and content)
Intro and exit banners
Pop-up messages
Conversational marketing (chat boxes)
Offers and discounts
Language
Pricing
Greetings
To attract and retain your customer's attention in a market filled with saturated messages, your brand should focus on personalization as much as possible and in as many channels as you can.
What Is Omnichannel Personalization?
Employing 1:1 personalization across multiple channels, platforms and touchpoints is commonly referred to as omnichannel personalization.
Customers crave personalization wherever they are – on a mobile device, desktop, social media platform, mobile app or email. When customers receive a personalized experience, they expect this standard of communication across all channels or platforms that they are interacting with.
Achieving omnichannel personalization requires a seamless flow of customer data from one platform or channel to the next. By gathering information on user preferences, behavior, and interests from all virtual touchpoints, your customer's profile strengthens.
By receiving this consistent level of personalization across all channels, consumers will be inclined to purchase more and to purchase again from the same brand that made them feel seen and heard.
What are the advantages of omnichannel personalization?
Higher conversion rates
Increased average order value (AOV)
Reduced cart abandonment
Improved brand value and customer loyalty
Higher customer lifetime value
Delivering messages at the right time and place
What platform should you use to consistently deliver 1:1 personalization?
The journey to a seamless 1:1 personalization experience for your customers starts with sophisticated and intuitive software to help transform your ideas into reality.
AB Tasty is the complete platform for experimentation and personalization equipped with the tools you need to create a richer digital experience for your customers — fast. With embedded AI and automation, this platform can help you achieve omnichannel personalization and revolutionize your brand and product experiences.
Everyone wins with 1:1 personalization
The data you collect equally benefits your brand and your customers. By understanding what your customers are looking for, you save them time by providing them with informed recommendations, personalized messages and unique experiences to solve their pain points.
Without proper data collection or genuine segmentation, it's nearly impossible to provide users with a 1:1 personalized experience. Loyal customers want to feel like their brand really knows them and what they're looking for. Achieve 1:1 personalized experiences by correctly analyzing and leveraging data. If you're looking to serve your customers, increase sales and build brand loyalty at the same time, you've found your blueprint with personalization.