Do you know what high-performing businesses are doing that you've been keeping on the back-burner? Want to take a guess? It's market segmentation – and they're making use of this tactic for a good reason. Namely, it enables them to meet consumers' growing demand for personalization.
As it turns out, 81% of U.S. consumers want brands to 'get to know' them as well as understand when to approach and when to leave them alone. In fact, 41% of consumers are loyal to brands that give them the opportunity to personalize products to create something bespoke to them. And indeed, the opposite is also true. A survey commissioned by the brand Responsys revealed that 34% of US consumers said they had "broken up with a brand due to receiving poor, disruptive or irrelevant marketing messages."
Clearly, segmentation is extremely useful for increasing consumer engagement and differentiation in the market. This guide will cover how to go about it. So dive right in.
What is Market Segmentation?
Market segmentation is when you divide your target audience into groups that have common needs and attitudes, and are therefore likely to have a similar response to your marketing efforts.

The key to all this is data – an abundance of data will give you insight into what your ideal customer looks like, so that you can target them with personalized content that truly speaks to them. Amazon, Netflix, and Spotify are among a few companies that have cracked the code and aced personalization.
Like them, you can apply segmentation, whether on your websites, ads, emails or social media.
Say you're a celebrated bookstore owner. You have a book launch of a renowned author organized at your flagship store at Times Square. Using email segmentation, target those in your subscriber list that live close to the store. It'll increase the probability of more people turning up for the event, making it a success.
See what I mean?
Different Ways to Segment Your Audience
Demographic
Demographic segmentation is when you slice up your target market based on factors such as age, location, gender, income, marital status, occupation, etc. These help you decode your audience's purchasing behavior so that you chase the ones who are receptive to your messaging and product.
Let's say you're a luxury fashion brand for men. Not only must you know the age group you should market to, but also their income, since it's a telling sign of their purchasing power.
In fact, consider segmentation by generation, as each set is unique and responds differently to your marketing messages. Millennials and Gen Z, for example, are more receptive to personalization, mobile, and online shopping as compared to the Silent Generation and Baby Boomers.
Behavioral
The buyer's journey is never linear. There's a lot that goes on in consumers' minds that makes them think and rethink their decisions. Which is why it's crucial for you to know how they behave on the internet. Usually, the following are considered:
Shopping and browsing habits
Interaction on your website
Price sensitivity/awareness
Benefits sought
Brand loyalty
Knowing the above plays a significant role in optimizing their journey. For example, if their browsing history suggests they're a painter, relevant products can be pitched, such as acrylic colors, paint brushes, etc. If they've added a product to their cart without following through the purchase, you can send them a cart recovery email. If you notice they're looking for more expensive products, then you can certainly upsell and increase their purchase order value!
Only yesterday I signed up for online yoga classes and now I'm swamped with multiple ads on Facebook and Instagram.  
Geographical
Geographic segmentation goes beyond just clustering audiences on the basis of state, city, country and zip code. You've got to look at other factors, such as lifestyle, language nuances, hobbies, cultural differences, time zone, population density, climate, and whether they live in an urban, rural or suburban setting. Equipped with this information, you can write your market content and deliver it at the right time to the right set of people.
For online retailers in the ready-to-wear clothes industry, taking into account geographic variables can help deliver a relevant browsing experience to consumers located in different parts of the world. The weather-based example in the Timberland content below, as you can see, makes for an excellent personalization strategy.
Psychographics
Psychographics refers to the study of a consumer's interests, opinions, activities, values, ethics, lifestyle, and attitude. Applied to marketing, it means you segment your audience on the basis of their psychographic make-up. You'll basically spend time analyzing the not-so-visible characteristics:
What do they do in their free time?
What is their motivation?
What inspires/repels them?
What is their self-perception like?
A couple of ways you can get to the bottom of this is through attitudinal surveys, personal interviews, direct feedback, Google Analytics, social media listening, and customer and sales teams' feedback. By mapping out your buyers' psychographics, you become more likable and relatable. You are also trusted more than those brands that still rely on the blanket marketing approach.
Market Segmentation and Buyer Personas
Once you've mined customer data, use it to create buyer personas.
By definition, a buyer persona is a detailed description of your ideal customer that includes their goals, fears, motivation, behavior, buying patterns, hesitations, and demographics. It might not be a perfect match, but you'll get a fair idea about where they are in the buying cycle.
Speaking of which, you'll get a headstart to adapt your brand voice and marketing strategies to deliver a personalized experience. Here's an example of an interior decorator buyer persona that marketers can use to target similar customer groups.
However, sometimes owing to poor segmentation, buyer personas take a bad hit. For example, if you don't have a huge target audience and you still go on segmenting, then it's likely that you're doing guesswork. And this will spillover to buyer personas, which means you'll end up chasing the wrong person. So be careful when segmenting your audience, for it determines the quality of leads you accumulate over time.
Common Market Segmentation Mistakes to Avoid
Ignoring Miscellaneous Segments
These include life events (graduation, marriage, anniversaries, birthdays), holiday season, customer's preferred communication channels, engagement time, active/inactive subscribers, etc.
Let's assume you're an e-commerce marketer ready to launch into the holiday sale season. A segment of your audience that you can't risk ignoring is early shoppers. That's because Deloitte's Holiday Survey found that early shoppers are likely to spend US$370 more than those who start their shopping later.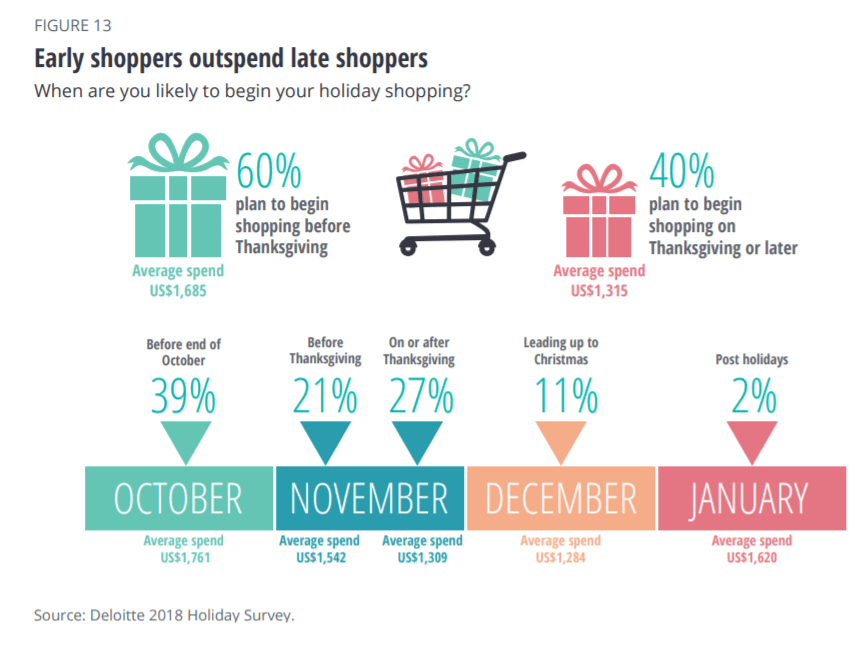 Similarly, instead of reaching out to each segment through multiple social channels, hang out where they spend most of their time. Or when you run an email campaign, consider when your customers are most likely going to read it. Weekdays, or weekends? Early morning or late evening?
Focusing Only On Demographics
Granted, demographics is an important segment, but if you've been paying attention, others add a great deal of value to delivering better online experiences, too. Besides, demographics don't necessarily paint the complete picture. For instance, census data can't highlight customer pain points and frustrations, or what makes them happy. If you really want to know that, you'll have to delve deeper and look at behavior and psychographic data.
Not Auditing Segments
A swirl of political, economic and marketplace dynamics change consumer behavior. And that certainly affects your segment performance. Take Millennials, for example. A brand new study by Deloitte's Center for Consumer Insight found that Millennials are strapped for cash. Another study says that the Baby Boomer, Gen X, and Silent Generation are getting more comfortable with digital technology. Takeaway? Segments evolve, and so must your strategy.
Creating Way Too Many Segments
Testing and optimizing campaigns requires a sizable amount of data, which is impossible to collect if you have multiple segments. Even more problematic is segmenting segments, because the fact of the matter is the results will be of little to no use, as they may get to be too granular at some point.
The ideal number of segments you can have is between four and five. If confused, qualify them on the following grounds:
Is it substantial? Not too tiny to be called a segment?
Is it measurable? Think purchasing power, family size, social status.
Is it accessible? Can you reach out to them?
Is this audience differentiable? Will they respond differently to marketing content?
Is it actionable and not creepy? Segmenting audience on the basis of their hair color when you're selling vacuum cleaners, for example, is inconsequential.  
Is every segment aligned to your business goals? A huge red flag if it's not.
Conclusion
With this information at your disposal, you can begin segmenting your audience. But remember: it's only half the job done unless you use segments to flesh out buyer personas. So get going. In absolutely no time, you'll see yourself getting better at personalization and earning praise from your customers!