Ah, the abandoned cart! Every eCommerce retailer's worst nightmare; a potential customer – or even a regular- has gone through the effort to find a product, pick their size, color or desired option and pop it in their online basket. Then, for no apparent reason, they simply leave the website, abandoning their shopping and reducing your chance of another conversion.
In fact, how many times have you meant to complete a purchase but been distracted? If you're guilty of abandoning shopping carts online it would seem you are not alone – with a recent report indicating a staggering 75% of shoppers abandon their carts before completing a purchase, losing the US retail market an estimated $260 million in revenue each year. 
The abandoned cart online is equivalent to an item being left at the till in a shop, with 75 out of 100 shoppers deciding to leave the item and walking out of the shop, with shopkeepers none the wiser to understanding why. The perks of being an eCommerce retailer, of course, is you can chase those people down and remind them of their near-purchase, enticing them to complete the sale with an offer, free shipping or other perks that may secure the revenue from the abandoned cart. Of course, there is a certain way of reminding someone politely to finish their sale and there is often a reason for their abandonment in the first place; whether it's poor mobile experience, a high-value purchase, a timed-out error on the website or simply a lost wi-fi connection.
With nearly half of all abandoned cart emails being opened, this tactic is not one a retailer should overlook, as we explore some of the best examples of abandoned cart email template that companies use to secure those forgotten sales and increase their online revenue.
UK Retailer Marks And Spencer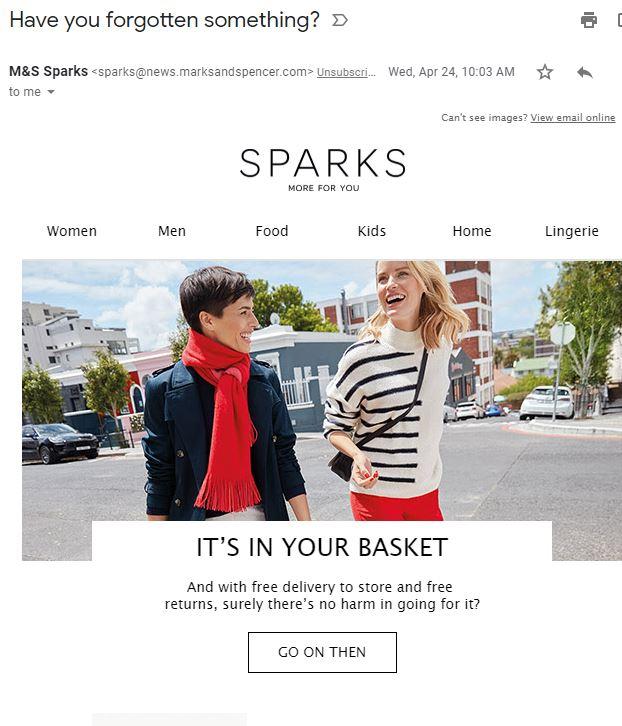 Perhaps the secret to Marks and Spencers' success with this email is their polite reminder of free delivery to store, and then a rather enticing, care-free 'go on then' call-to-action on their large button. The placement is also well-thought-out, with the small message and CTA button being above the fold within the body of the email. The mix of colloquial, familiar language, coupled with a good reminder to 'just buy those things – it won't cost you any extra!' means M&S are onto a winner with their catchy, engaging abandoned cart emails.
ECommerce Giant Amazon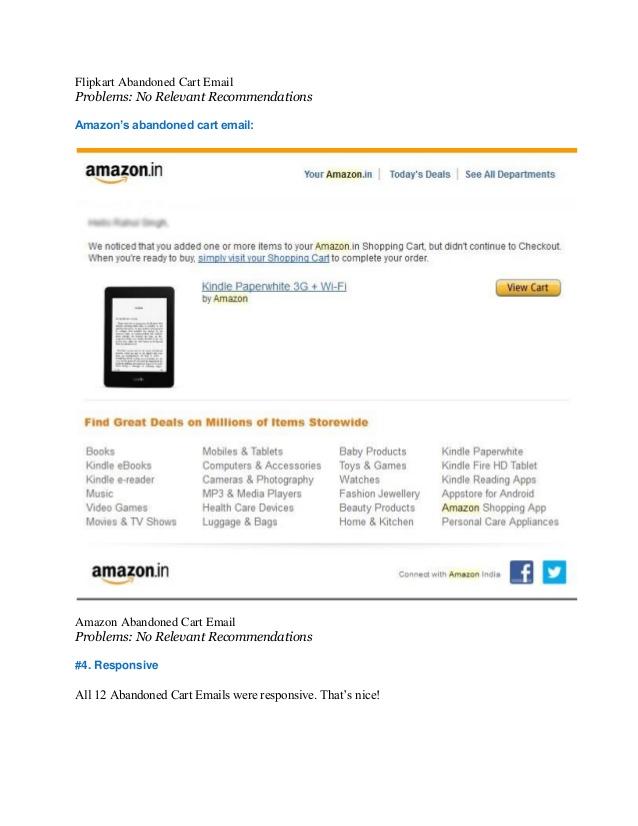 Amazon is no stranger to employing some extra tactics in order to make the sale – after all, they practically invented free next day delivery to give shoppers around the world the most convenient shopping experience. However, their abandoned cart emails are far less persistent than people may think. They merely suggest that items have been left in the shopping cart and politely give the potential buyer the 'power' of choice by stating 'they'll still be here when you come back'. Of course, knowing the majority of the time, the person will definitely be back to purchase!
Stylish Clothes Company Anthropologie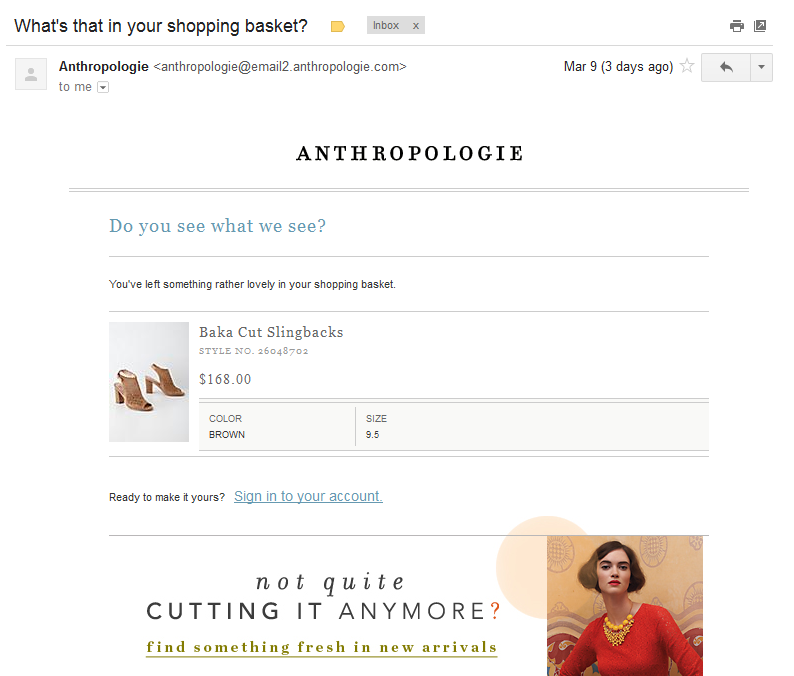 The hip lifestyle and all-around trendy retailer Anthropologie makes an excellent effort to regain those potential sales through their abandoned cart emails with clever placement of the customers' basket in check-out status. Their email headline is cute and definitely worded to target their main audiences; young, professional and stylish women between 28-45. It's fun and suggestive, with an air of 'ooh show me what you've got' that self-confessed shopaholics everywhere will be only too pleased to respond to! Their awareness of their prime market, as well as their direct, engaging copy that prompts a response from the reader through questioning their abandonment, is a recipe for success. They even go as far as to offer a banner at the footer of the email that offers an alternative message – just in case the potential customer could have simply been bored with the original choices and wants to explore further options on the Anthropologie site – another intuitive tactic!
British Clothes Retailer Whistles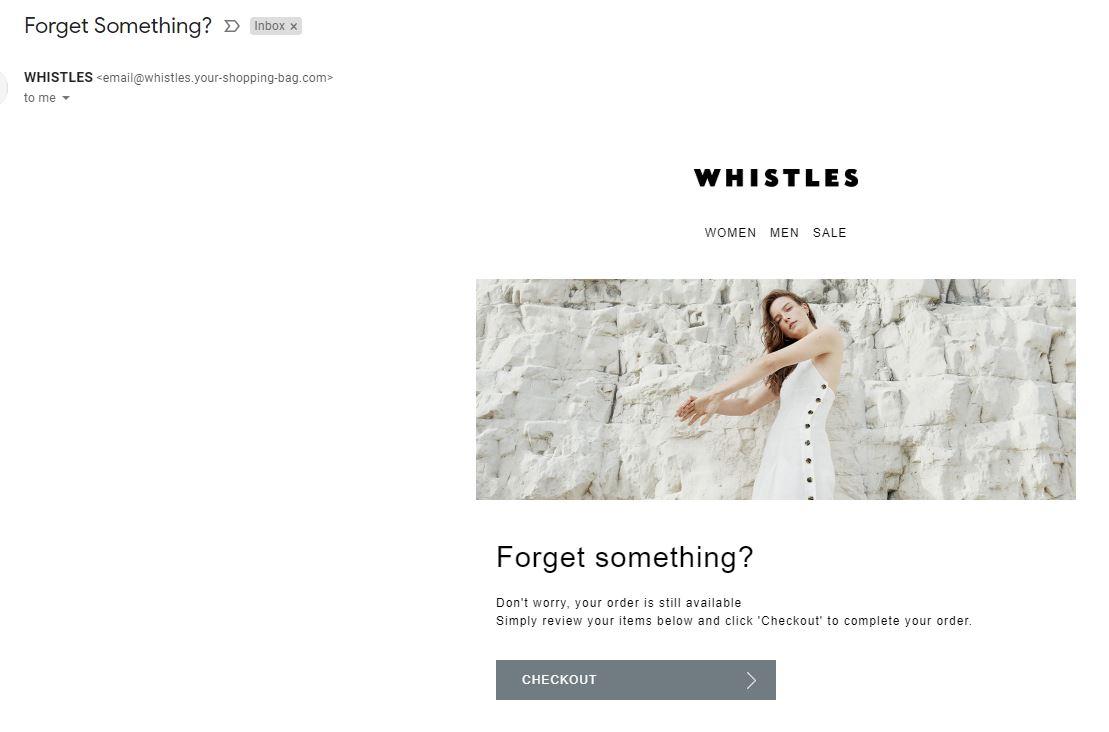 British fashion retailer Whistles take the simple-yet-effective approach with their two-worded email subject – Forget Something? Their short yet precise copy then gets right to the point, reassuring the potential new customer that they're just one easy click away from completing their purchase. The email itself is clean, plain and doesn't distract readers with other offers and noisy copy that doesn't need to be there. Another great example of an abandoned cart email based on simplicity!
Reviews Site TripAdvisor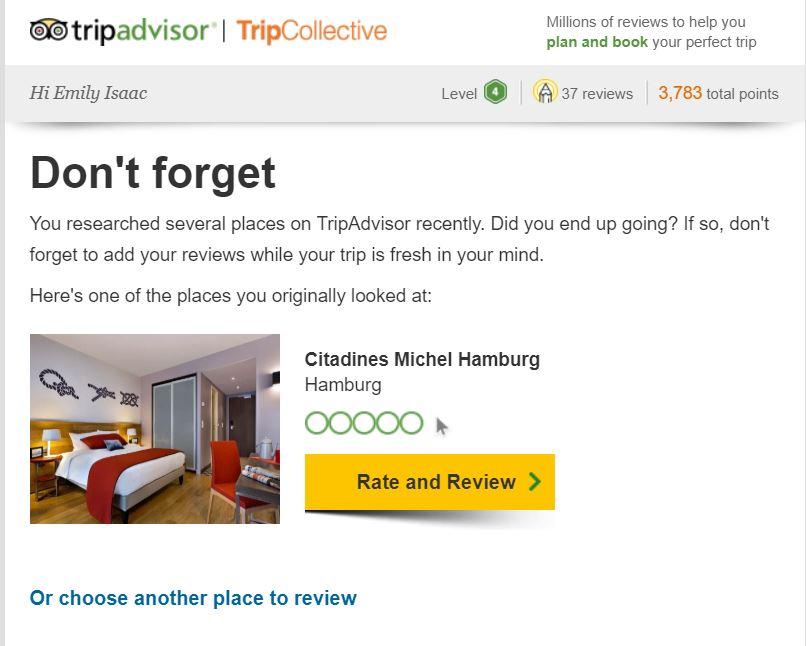 Whilst not strictly an eCommerce site with a shopping cart, TripAdvisor does send engaging and almost heartfelt 'abandoned cart' style emails to their loyal subscribers who may have started writing a review and then left the site. As their main revenue stream relies almost solely on eager travelers and foodies writing reviews for great places to visit, stay and eat at around the world, who can blame the reviews site for trying their hand at their own abandoned-cart approach. With such a high success rate from users clicking through an abandoned message, TripAdvisor is not taking any chances when it comes to retaining those potential revenue-growing reviews!
Men's Tailor Charles Tyrwhitt Showing Wit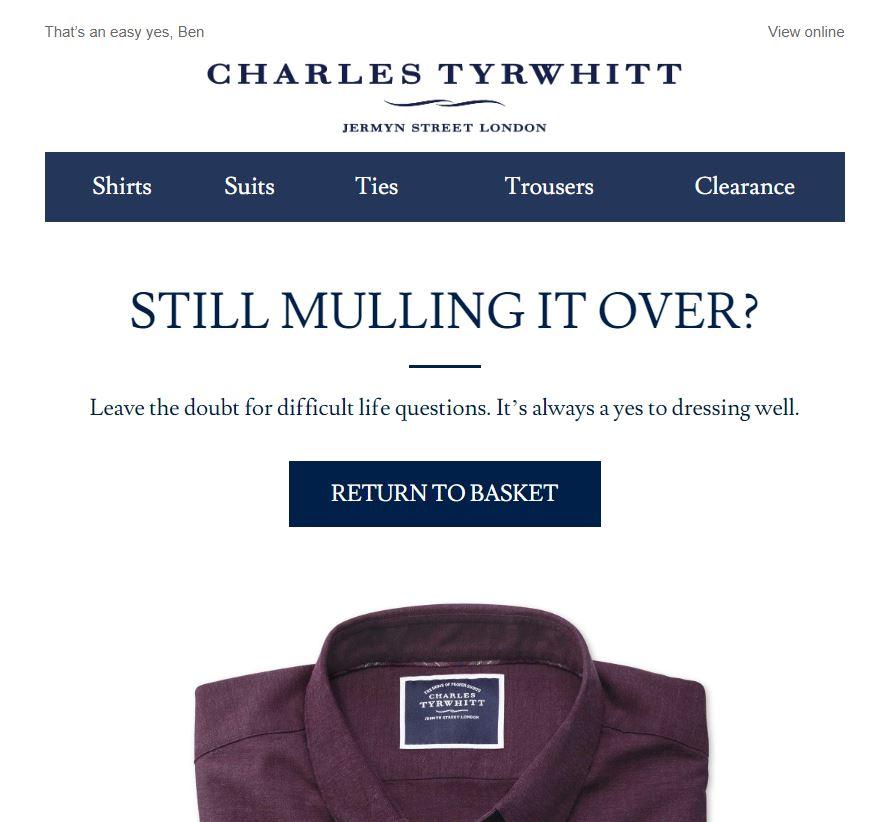 Their direction and to-the-point approach appeal to their no-nonsense shoppers and their desire to dress well with an instructional 'return to basket' call to action. Their almost philosophical line makes the reader feel their decision not to purchase was a bad one, as they almost question their choice not to be well dressed! A very clever tactic from the tailoring retailer Charles Tyrwhitt, who often remain rather understated and conservative with their marketing efforts. Bravo, Charles Tyrwhitt – your wit has not gone unnoticed!
Boutique Online Retailer Not On The Highstreet's Cute Approach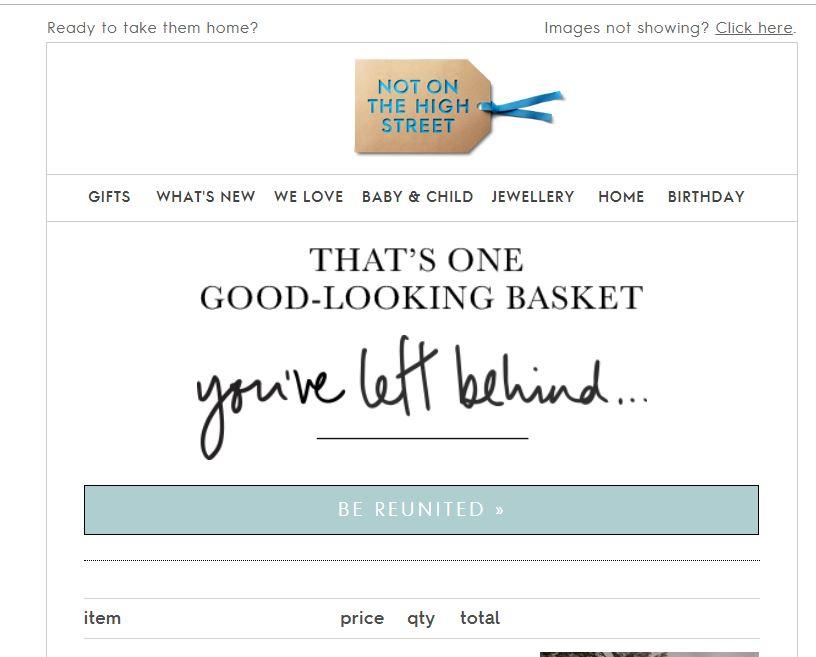 The online retailer, Not on the Highstreet applies a cute factor to their abandoned cart emails with a rather coy approach to addressing readers. By suggesting their items are simply too cute to pass up, the reader is encouraged to be 'reunited' with their abandoned cart and complete the transaction. A bold yet clever move from the digital seller that has a small 'independent' feel and this cute use of language really helps create that image. How could someone not want to complete their sale when the follow-up email is this polite!
Conclusion
Language really matters when it comes to picking the right few words that will encourage someone to return to their basket and make the transaction complete. The examples above work particularly well because the marketer knows exactly who their reader is, demonstrating an in-depth understanding of the demographic and persona of their prime audiences.
Knowing exactly who they are speaking to and how to address them in a tone that won't simply have readers reaching for the junk button is definitely the key to a successful abandonment email template. By showing personality and having fun whilst prompting someone to complete an action, these abandonment emails take the awkwardness out of something that could otherwise be rather annoying – being chased down to make a sale when for some reason you weren't quite ready, the first time. From Amazon's very polite and almost nonchalant reminder of things being left behind, to Charles Tyrwhitt's instructional and suggestive response that leaving their products behind would simply leave you worse-off, there are some great examples here to get you started! And even if your website isn't directly transactional with a physical basket, like TripAdvisor, if you do have a call to action or journey to complete, make sure to follow-up on those abandoned actions. 
If TripAdvisor can create a hugely successful, revenue-making website simply from asking for reviews, there's probably a good chance that your business could benefit from sending a few chase-up emails to potential customers or leads who have shown interest in your brand.