Say hello to Custom Widgets and goodbye to time-consuming back-and-forths when scaling ambitious customer experiences. With Custom Widgets, scale your best CX ideas across teams, brands and markets. AB Tasty has the largest widget library on the market, providing brands with over 25 pre-built ways to quickly engage consumers including scratch cards, NPS surveys and countdowns. But now we're also giving you the ability to build, customize and share your own widgets! 🤩
Optimize the workflow between marketers, designers and developers
Custom Widgets are an innovation catalyst that fosters cross-team collaboration to bring ideas to life. Developers can now create highly customizable widgets following a step-by-step process. They simply code the different parts of the widgets using HTML, CSS and JavaScript and add various configuration options👩‍💻.  This allows designers to easily tailor the widgets and ensure they meet brand guidelines 👨‍🎨.  Marketers can then customize them for their campaign needs 🙋‍♀️.The new possibilities to engage with visitors are endless: wheel of fortune, carousels, lightboxes, etc. These Custom Widgets result in an optimized workflow that saves everyone time but still delivers exciting experiences. 💪
Create and scale a library of your best CX ideas
All Custom Widgets created (by developers, agencies, or AB Tasty) will be available in the widget library shared across all affiliates and accounts of a company. The library, accessible from the dashboard, is a great source of inspiration and ideation that will speed up time to market and facilitate deployment across brands and markets ✨. The widget library will also include our existing widgets with selected use cases from AB Tasty clients to further guide you in creating the best customer journey. And, like with any other widget, marketers can easily customize the content and combine it with AB Tasty's targeting to create powerful personalized campaigns with no coding skills and in minutes 🏃‍♀️.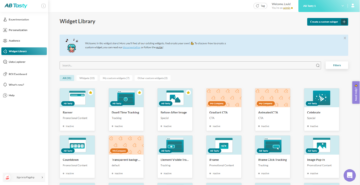 Not sure where to start?
In our new widget library, our users can already enjoy 2 custom widgets available on the platform, a Wheel of Fortune and a gradient CTA button, that they can duplicate and modify to dive into how they work. On that same page they can click on "Create a custom widget" and follow our step-by-step process 🧐. 
Why not try them now? If you're looking for inspiration for your first Custom Widgets, check out our 30 Black Friday Tests ebook. It features successful tests from brands like Degrenne, a French cutlery and tableware retailer whose quality products are a staple in the hospitality industry. They wanted to accelerate the purchase process and provide a consistent omnichannel experience to their consumers. Using our widgets they gave their visitors the ability to see item availability in their local store 👇.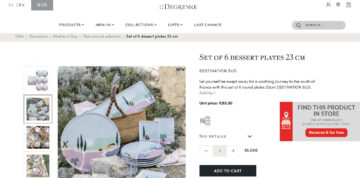 If you want to replicate this, your developers can create a Custom Widget that leverages geolocation data to create a pop-up displaying product availability in nearby stores. Your customers will be able to reserve their items and opt for in-store pickup. Once available in the widget library, other brands or countries you work with can access it, modify it and leverage it to provide their visitors with an omnichannel experience.
To learn more check out the ebook 👇: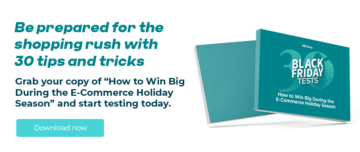 With AB Tasty, let your good ideas take flight!