Delivering smooth online experiences is one of the top priorities for marketers, and with good reason. Nowadays, your customers expect a high level of relevancy when it comes to the ads and content they see and interact with.
Simply put, serving generic ads and non-specific content to your visitors can't be done anymore, especially if your company targets multiple countries or cities.
Because customers' needs and expectations vary from one location to another, marketers are now using geo-targeting to attract more traffic and generate more sales.
What is geo-targeting?
Geo-targeting is a marketing technique in which ads, content, and campaigns are tailored to potential customers based on their geolocation data (IP, Wi-Fi, GPS, etc.) to deliver location-specific experiences.
Geo-targeting can be applied at different levels. Marketers can choose to target specific cities, states, countries or even whole continents (just be mindful of language barriers when targeting larger regions). 
Now that we've introduced the basics of geo-targeting, let's dive into some interesting strategies that could help you deliver geo-targeted experiences to your customers.
Create geo-targeted homepages
This is what the American Airlines website looks like in Denmark:
Now in the USA: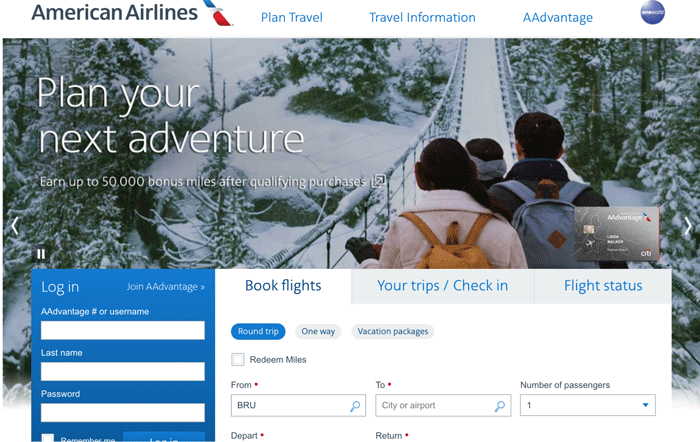 Now in France: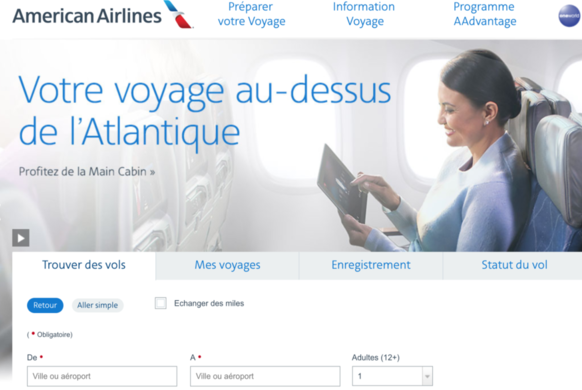 These homepages emphasize a sense of adventure that comes with traveling, particularly when traveling abroad.
The visuals and copy on each page are tailored to align with the expectations and interests of customers in different countries (since going "abroad" is relative to where you're living).
People don't expect the same content to display in different locations, nor are they receptive to the same marketing messages. By crafting location-specific messages and content, companies can achieve greater conversion rates because their content speaks directly to their customers.  
Include local search in your SEO strategy
According to research conducted by HubSpot, companies that have more than 1,000+ employees receive most of their online traffic through direct visitors and organic search.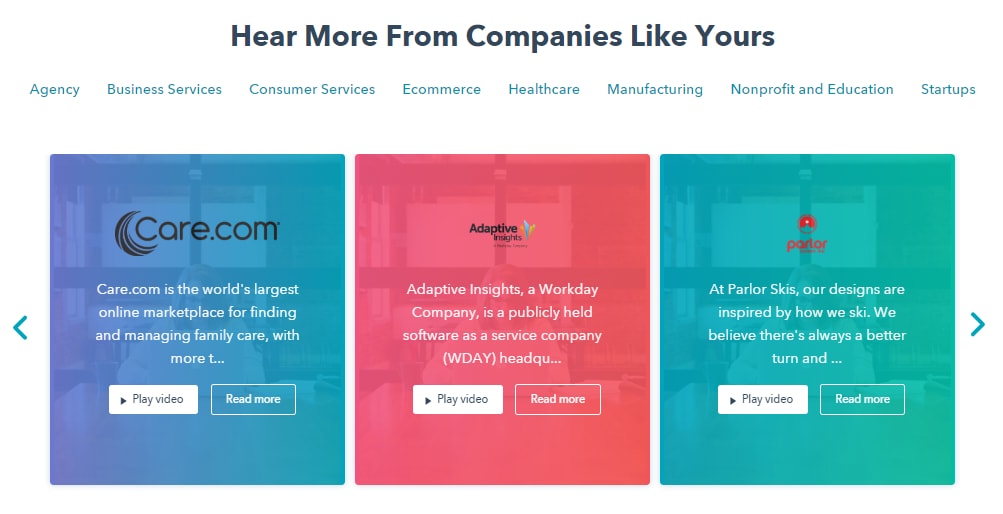 While this isn't groundbreaking, knowing that organic traffic (=traffic from search engines) can bring up to 50–70% of your website's visitors means that geographic targeting should be applied to your SEO strategies.
Most marketers still consider SEO to be "targeting generic keywords," but that's not the case. In fact, generic keywords can show very different results based on a person's current location, even if the language used remains the same.
These are the results when searching "pizza delivery" in Los Angeles: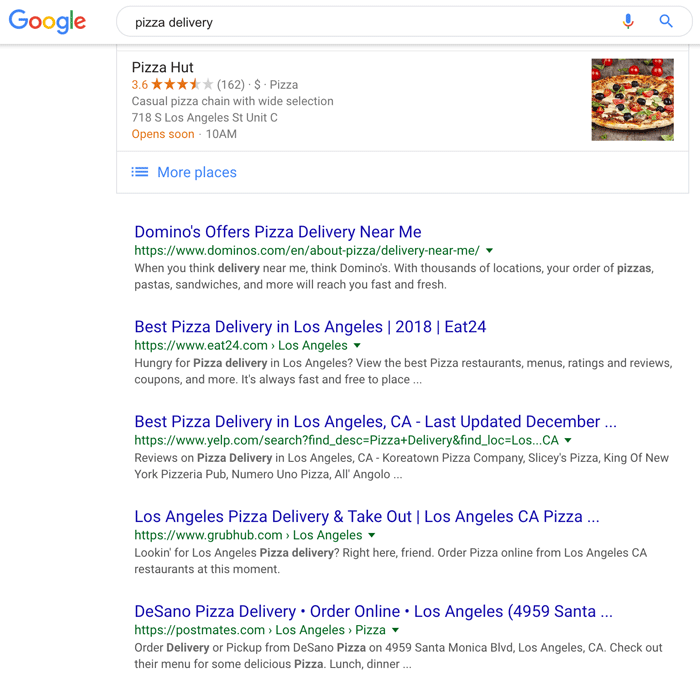 Now the same query searched in New York City: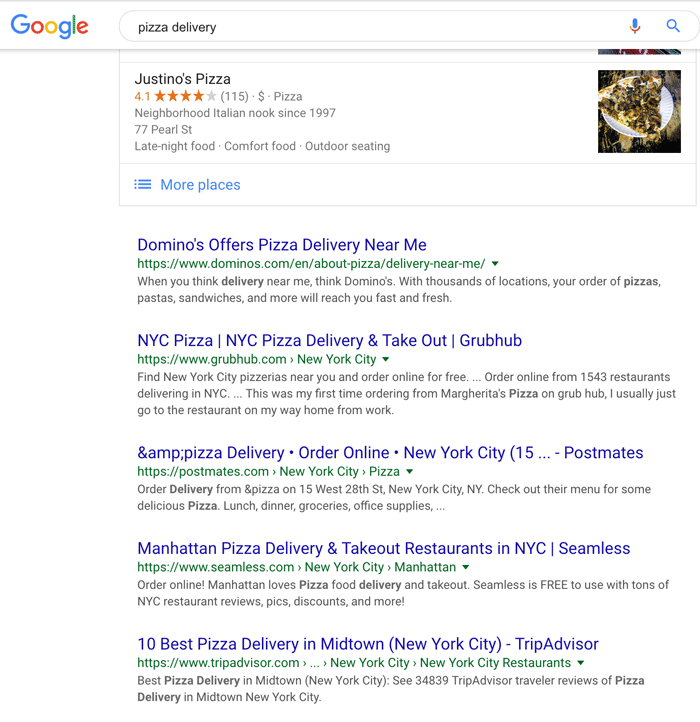 As you can see, even same-country searches don't deliver the same results. It depends on the city your customers are searching in.
If your company operates in several cities, you should optimize your content and pages to serve relevant results in all your active locations. This will maximize your visibility while generating more conversions.
Experiment with geo-targeted PPC advertising
Geo-targeted content is a powerful technique to convert more visitors. But how do you attract those visitors in the first place?
Aside from SEO, you may rely on PPC and display advertising to do so.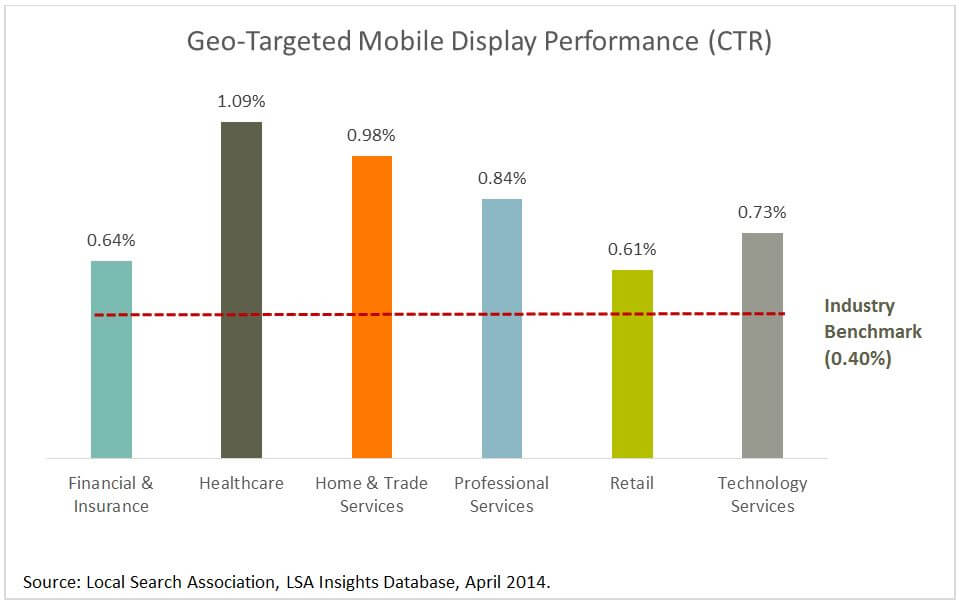 Data from LSA Insights has shown that geo-targeted display ads generate higher click-through-rate compared to non-specific display ads, sometimes achieving as much as 100% more clicks in industries like healthcare, home & trade services and professional services.
Microsoft is one example of a company that has used geo-targeted Facebook ads to promote different offers and products based on their customer's location.
Microsoft Facebook ad from Finland: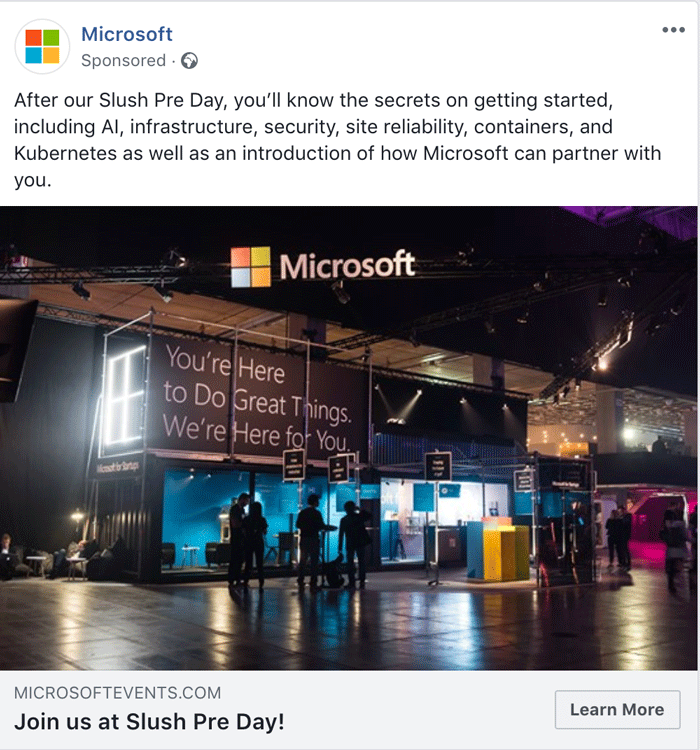 Microsoft Facebook ad from South Korea: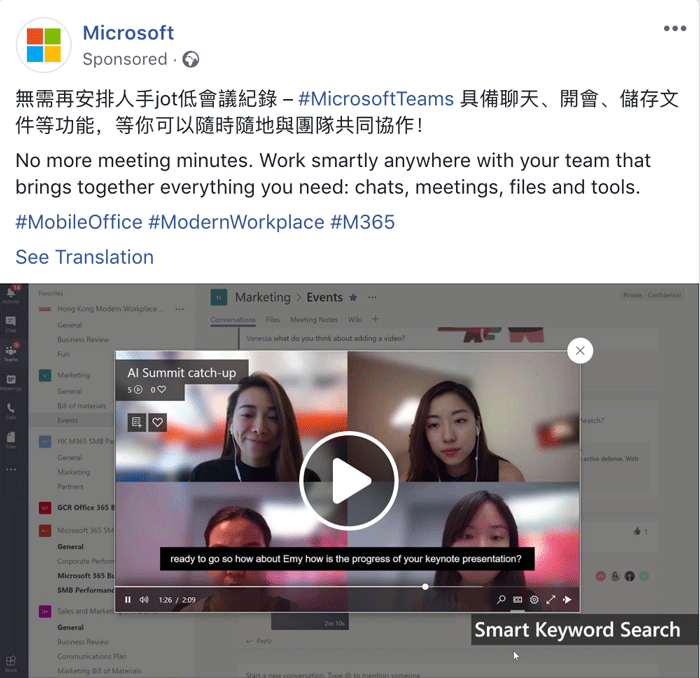 You'll notice that both the ad format and the value proposition change from one country to another. That's because culture, digital consumption habits, and competition vary between countries, creating radically different advertising environments.
Advertising that's worked in one country may not work in another
Add different languages and currencies
The capacity to display multiple languages and currencies on your ecommerce website can yield massive increases in conversions (if this is relevant to your business, of course).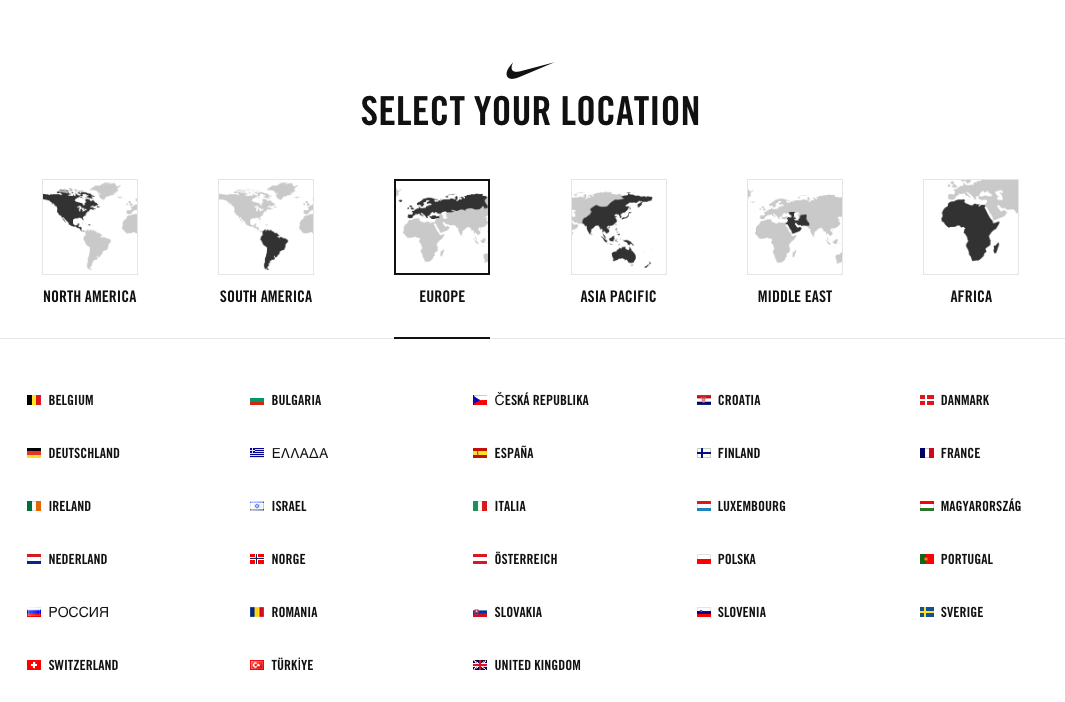 Welcoming customers in their own language and presenting them with products sold in the "right" currency adds relevancy to your offer—which contributes to increased conversions.
However, adding different languages and currencies to your website will have customers assume that your company also provides after-sale services in their native language. Be mindful of this, if you don't have the support in place. 
How to set-up geo-targeting for your own website
There are several options available to you if you're interested in trying geographic targeting. Here are 4 ideas worth trying:
Create sub-domains/sub-folders
Having separate sub-domains or sub-folders for each of your targeted locations will make testing and comparing conversions easier.
Basically, creating sub-domains/folders means that you'll welcome visitors on country-specific URLs such as "es.yourawesomewebsite.com" or "yourawesomewebsite.com/fr."
Besides being an SEO-friendly option, this technique is widely used to create personalized experiences based on your customers' location.
Use IP redirects
Allocate traffic based on your visitor's IP location by setting up IP-based redirects.
It's a widely used option that's been adopted by websites like Airbnb: visitors are redirected to the right website (airbnb.it, airbnb.fr, etc.) based on their current location.
Use location-specific PPC campaigns
Running location-specific PPC campaigns will provide you with valuable insights on both CTR and ROI. You'll know if geo-targeted traffic is relevant for your company once you've run a couple of PPC campaigns.
If you're using geo-targeted PPC campaigns, don't forget to create subsequent relevant landing pages and content. Creating a geo-targeted campaign without location-specific content would not make sense, and result in a poor user experience.
Use on-site dynamic traffic allocation (like AB Tasty's)
What if you could actively send a portion of your online traffic to geo-targeted content while others are sent to generic pages?
Well, the good news is: you can.
Dynamic traffic allocation means that a certain percentage of visitors will be automatically sent to your geo-targeted pages (or any other variations for that matter) while others are sent to generic pages.
With dynamic traffic allocation, you can run conversion tests on your geo-targeted pages and content, and then measure the difference in conversions.
Use A/B testing to see the effectiveness of your geo-targeted content
When it comes to website optimization, testing is key. Here's an example of how A/B testing can be used to analyze the performance of geo-targeted content: 
Let's say you're an American fashion retailer and the majority of your business is done in the US. You know that the UK has always represented 10% of your online sales despite your company not having a genuine "UK version" available.
During the past 5 years, UK visitors would typically land on the English, international version of your website and order from there. Given the positive feedback provided by the sales figures from the UK, you decide to test whether adapting visuals to mimic UK-specific trends and displaying prices in pounds affects conversions from British visitors.
You run a test between a control version of your best seller's product page and a variation that features currency in pounds and updated visuals.
After a month, the test shows a 20% increase in conversions and increased traffic through social media shares, showing the value of geo-targeted content. 
In today's world, people expect seamless user experiences that are tailored to their needs. A one-size-fits-all approach no longer works when it comes to increasing engagement and conversions. Geo-targeting is an essential technique to add to your marketing toolbox.
 Check out our client stories to read real-life examples of CRO successes.
A/B Tasty is a complete CRO solution that allows your team to gather meaningful data from your visitors and create powerful tests to improve your conversions.
Did you like this article? Feel free to share and check out our other in-depth articles on website optimization.