Most customer experience professionals are well aware of the merits of personalization. We've heard the virtues of savvy segmentation extolled over and over – better customer engagement, more relevant experiences, higher ROI. Most of us have, 'create better personalized experiences' on our to do list in some form or another.
In one sense, this is good news – it means that a tried-and-true Conversion Rate Optimization (CRO) tactic has firmly taken root. But the fact that (website) personalization has entered the vernacular might also have a downside. Namely, we've become blasé. Let me elaborate…
We all know that personalization campaigns rely on customer data and audience segmentation. But how does one hit upon a relevant audience segment? How does one learn what scenarios to create? How granular of a segment to create? With the abundance of tips, use cases and dos and don'ts from all corners of the digital marketing world at our fingertips, I wonder if individual marketing creativity has been stunted.
Are we really digging into our customer data, consumer trends, and overall business strategy to create relevant audience segments? Or do we cede to the temptation of merely looking at what our neighbors are doing? Running with the most top-of-mind personalization ideas because they've been approved by the masses?
This is only a hunch, of course. But for the sake of 'new perspectives', and at the risk of appearing hypocritical – this is just another blog article, after all! – we've provided a fresh angle on audience segments that you may not yet have considered.
Political Affiliation
We have no doubt you know that somebody's age, income bracket and interests will affect what they shop for. But what about how they identify when it comes to political party?
Recent research published in the Harvard Business Review by Nailya Ordabayeva draws a very clear link between how one self-identifies politically (Liberal vs. Conservative) and what one shops for:
…we found that consumers' political ideology shapes how they choose to differentiate themselves from others in the marketplace…In our work, we find that conservative and liberal ideologies lead consumers to systematically choose different strategies to distinguish themselves in the marketplace.
Nailya Ordabayeva, referring to research with colleague Daniel Fernandes
Would you choose Ralph Lauren over Urban Outfitters? Chances are you lean conservative, and vice versa, according to Ordabayeva and Fernandes' work. We won't go into the details here, but the article is a fascinating look at how consumers' brand preferences are often expressions of a broader outlook on politics and social order.
Gender
The increasing comfort of Millennials with gender fluidity notwithstanding, most e-commerce professionals are already personalizing according to sex – displaying menswear to men and womenswear to women, as a start.
But if we dig into a common stereotype – that men and women's attitudes towards shopping differ radically – how much truth would we find? Are men from Mars and women from Venus, as the old trope goes, when it comes to consumerism?
Recent studies suggest a frustratingly ambiguous, yes…and no.
For example, the 2015 Myth of the Mansumer study asserted that gender has little impact on how one prefers to shop:
"Data collected by The Future of Commerce and hybris software reveals that gender differences don't have much effect when shopping. The Myth of the Mansumer study found that when evaluating the shopping experience, the differences between men and women are virtually nonexistent. The study surveyed more than 1,700 consumers."
And indeed, a further 2015 Retail Perception Report would seem to back up those findings:
But the study did go on to find some areas where there were notable differences according to sex: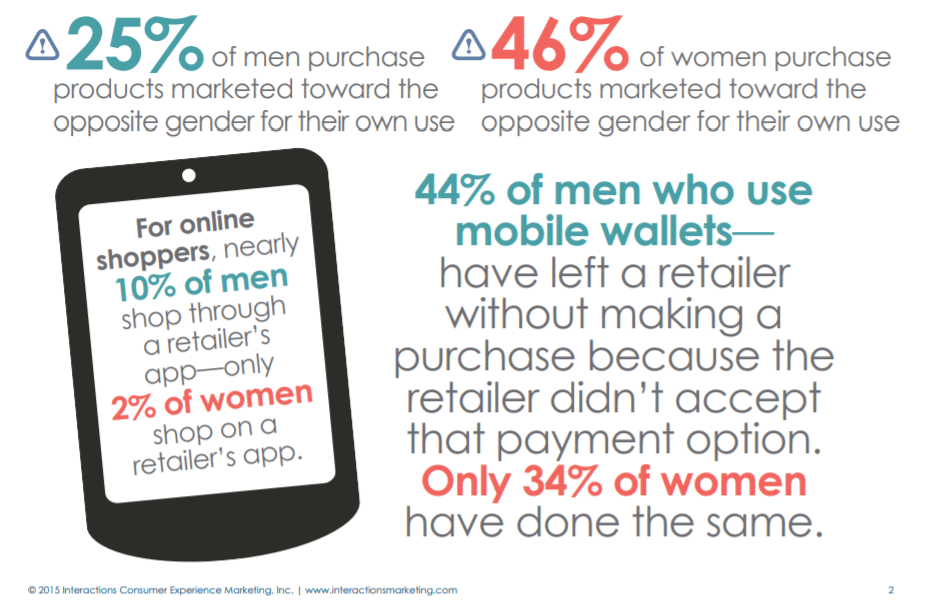 Indeed, the topic of gendered shopping has attracted the attention of many an academic, such as Shelly Rodgers and her work, Gender and E-Commerce: An Exploratory Study.
The issue is complex and not without controversy, but there's surely more to personalization according to sex than gendered product recommendations.
This is part one of a two-part article. Interested in learning more? Stay tuned for part two next week!