On average, 23.8% of emails are opened during the first hour after delivery. And after 24 hours, the chances of them being opened drops below 1%. Know what that means? That you shouldn't randomly be sending your marketing emails. It affects the open rate, click-through rate (CTR), and ultimately traffic and conversions.
Now you're probably guessing which day and what time you should really be sending emails, if I'm not wrong? If you think there's a straightforward answer, you're in for a disappointment—because no single day wins hands-down.
Having said that, and despite conflicting information, a majority of studies point to a trend which can't be overlooked. Keep reading to find out.
Best Day To Send Emails
GetResponse analyzed 21 million emails and found that the majority of inbox activities happen on Thursdays. As it turns out, it's also one of the top days for every metric: percent sent, open rate and CTR. What's more, in another study where they analyzed over 300 million emails, they discovered that Tuesday won for best open rates.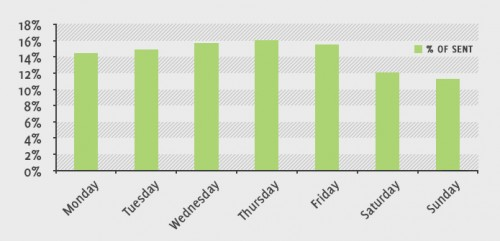 MailChimp also observed high open rates on Thursdays and the second highest on Tuesdays. Although, if you look closely, there's a marginal difference between weekdays.
Does this mean you can send marketing emails any day of the week? Well, let's just say it's too soon to jump to conclusions.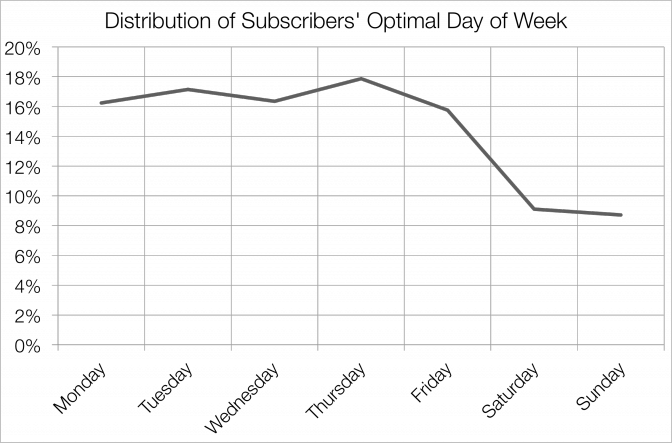 According to a HubSpot report, Tuesday is an ideal day to send emails, followed by Monday and Wednesday.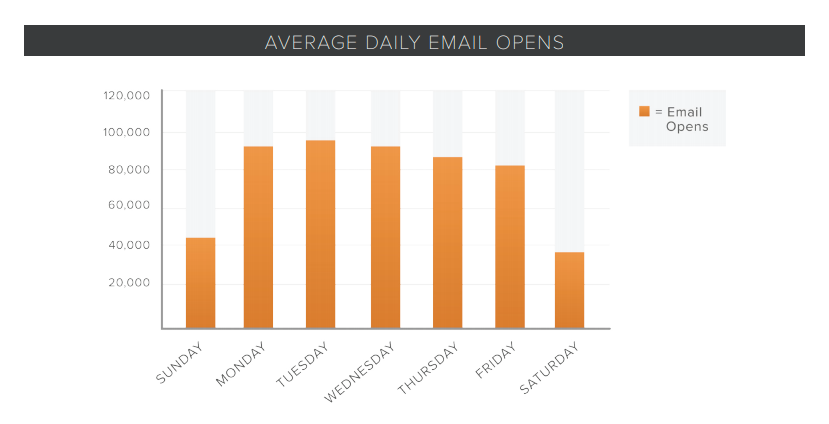 Tuesday was a popular day in MailerMailer study results as well, with Wednesday taking the second spot for email open rates.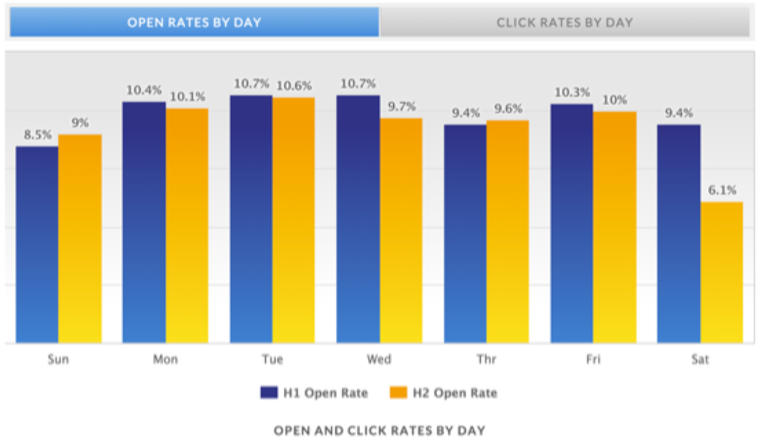 At least now we have a clear winner? Yes, we do. For higher open rates, send emails on Tuesday followed by Thursday and Wednesday.  In fact, folks at CoSchedule say that if you're sending emails twice a week, then send the second one on Thursday.
Going forward, does this mean weekends are off-limits? Not necessarily.
According to Dan Zarella's research, email open and click-through rates shoot upward on Saturdays and Sundays.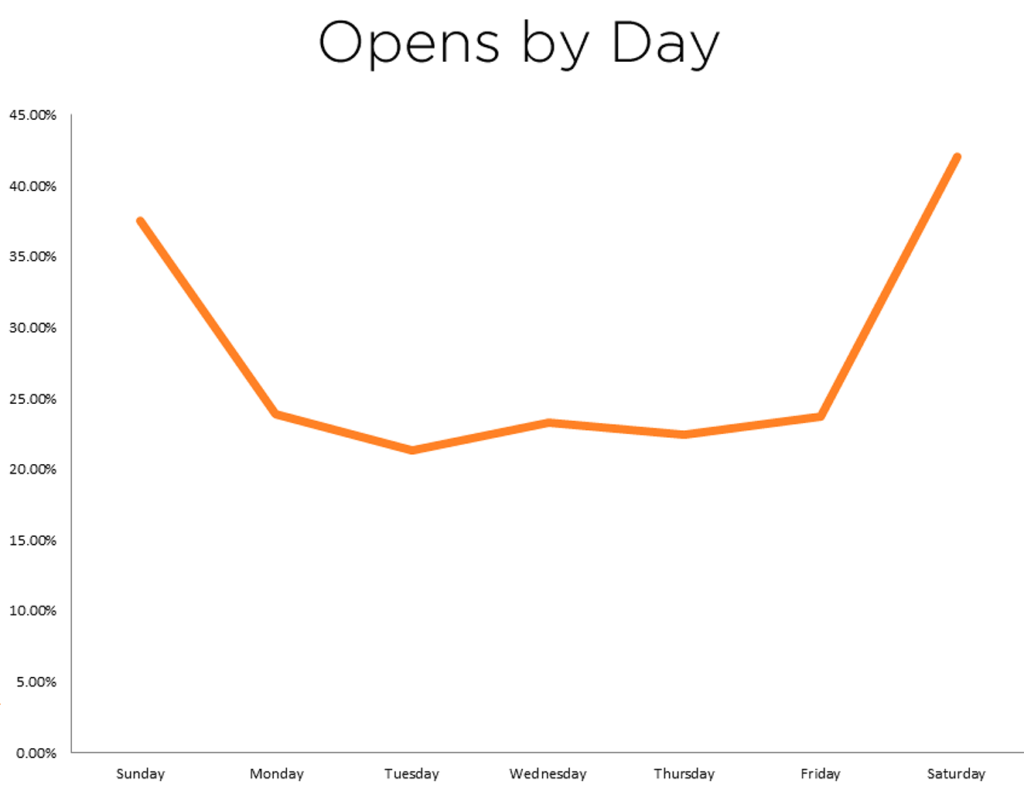 MailChimp data also suggests that compared to B2B content, recreational email content performs better on weekends.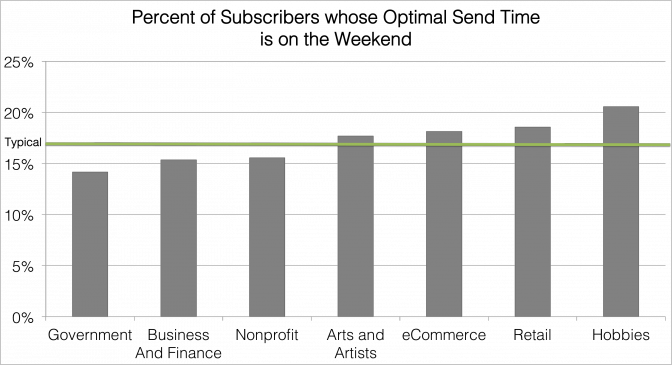 Should the Tuesday, Thursday, Wednesday verdict be overturned?
No. Markedly, and as email experts interpret the trends, there's still ideal days to send marketing emails. 
That being said, it isn't a rule to be followed to a T. Just think of these days as a good starting point and run A/B tests.
Best Time to Send Marketing Emails
Campaign Monitor recommends sending emails during work hours. According to their data, 53% of email opens occur between 9 a.m. and 5 p.m., excluding lunch time. But if you look closely, you'll notice that email opens peak between the 9 a.m. and 11 p.m. and pick-up post lunch only to peak around 4 p.m.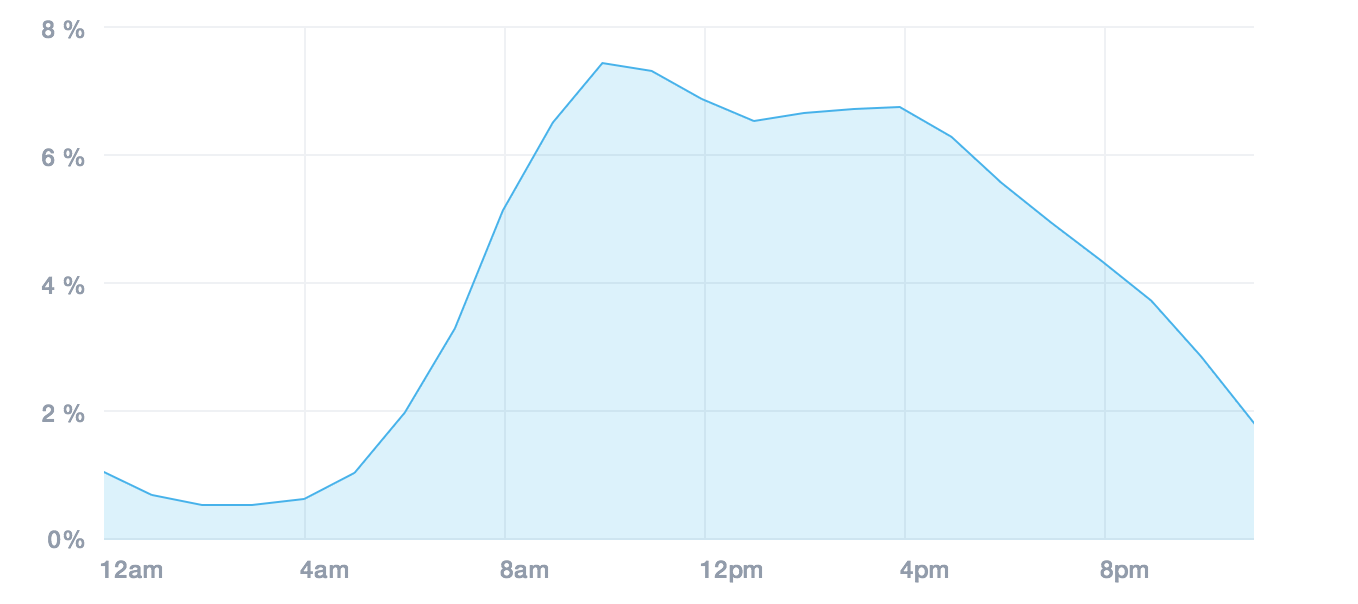 HubSpot confirms Campaign Monitor's findings as they found that the highest number of emails are opened at around 11 a.m. EST.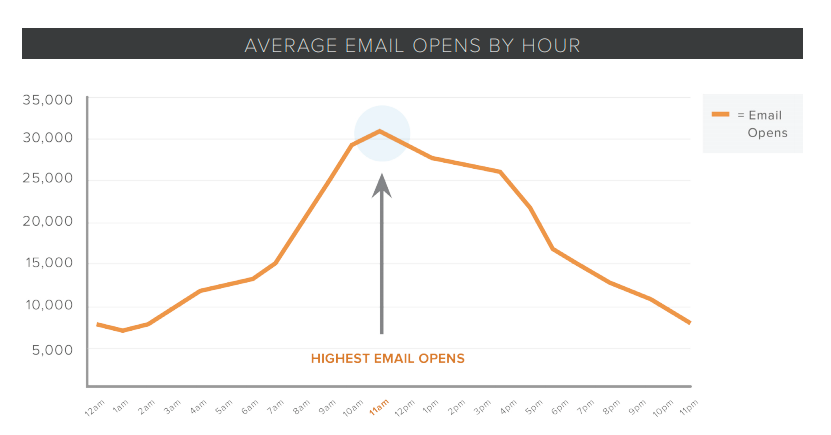 Then, there's data from MailerMailer stating that 10 a.m. is when maximum emails get opened.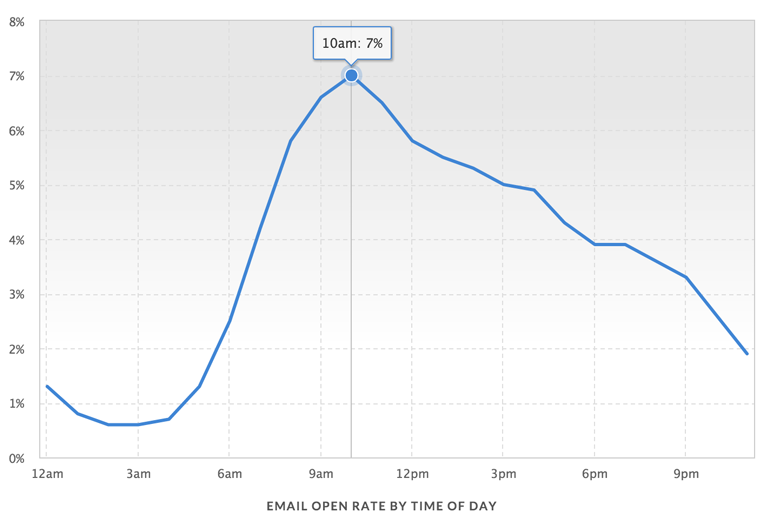 MailChimp too found 10 a.m. in the recipient's own time zone to be a good email send time.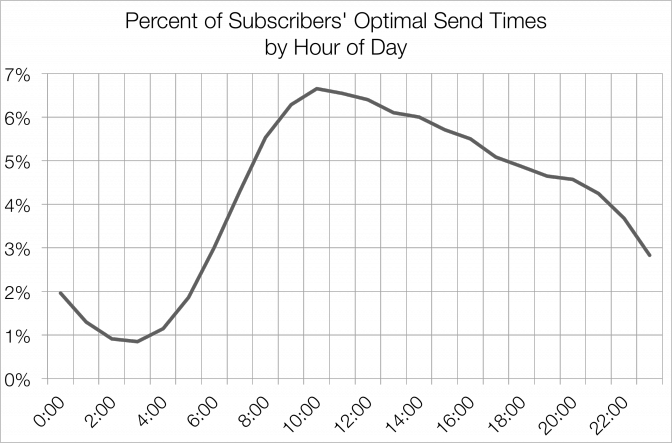 But not everyone checks emails in the morning. Recipients are more likely to open emails late afternoon, after 12 p.m., according to SuperOffice. College-going kids, for example, check their emails between noon and 2 p.m.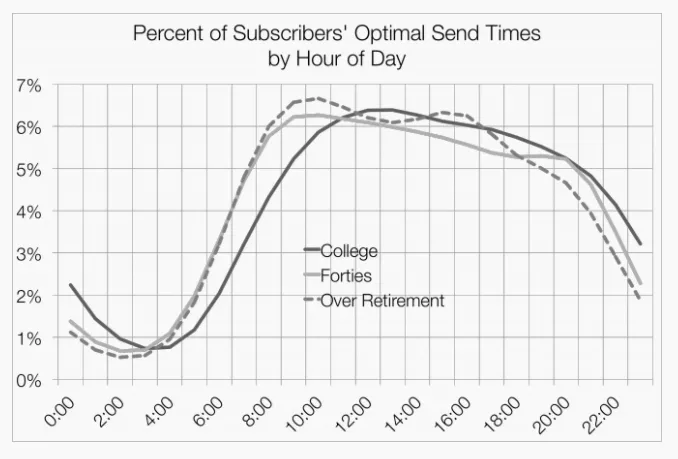 Ryan McCready's findings show that of the 500 email newsletters he'd received, none of them were sent during the 11-12 p.m., 1-2 p.m., and 3 p.m. slots. This is when his inbox saw no activity.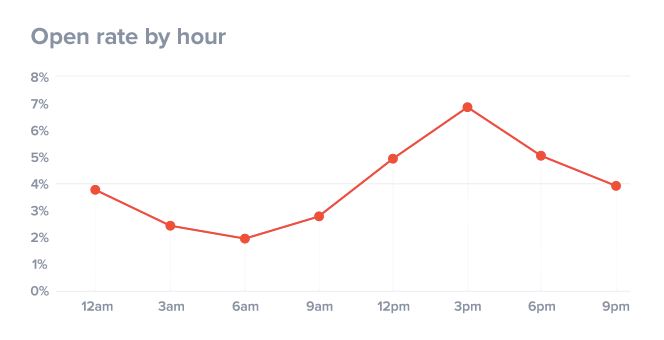 And while it's true the data is from one recipient only, it's worth noting that you can actually exploit these so-called unpopular, golden hours. Ryann roots for the 2-3 p.m. slot when checking your email might seem like a good excuse, in Ryann's words, to procrastinate!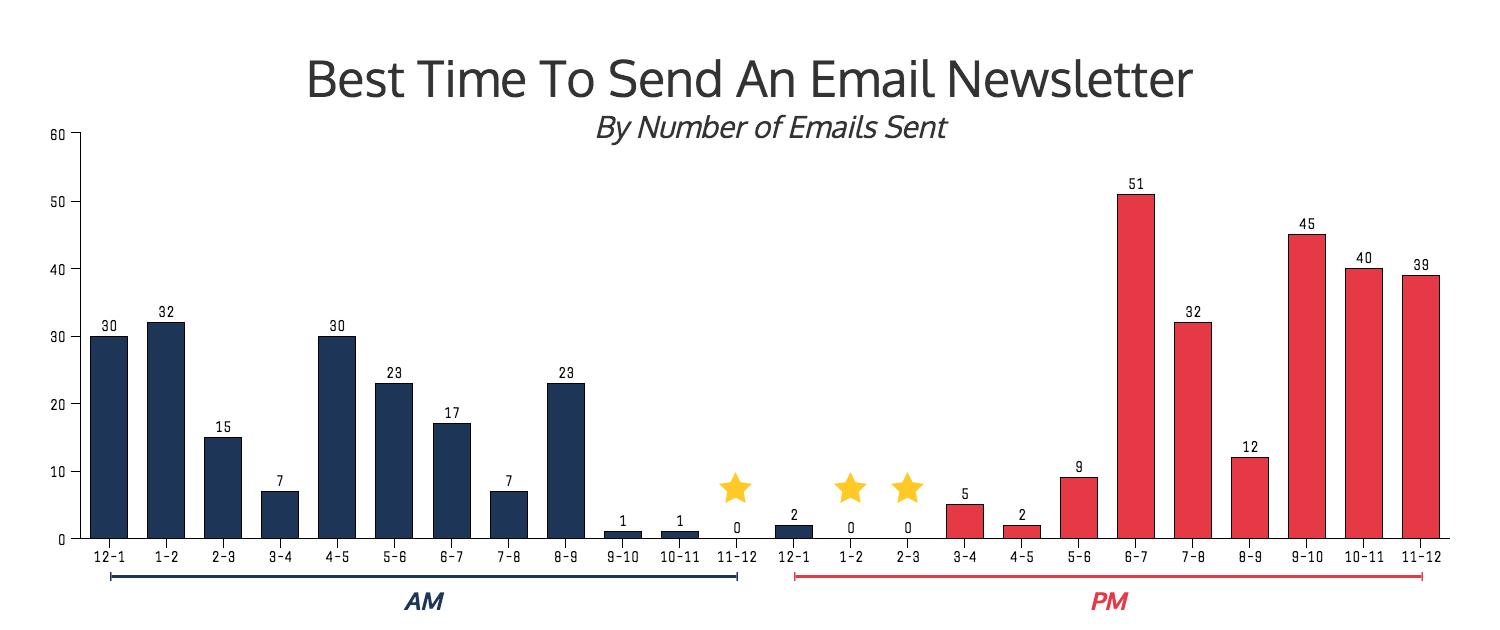 Not convinced? Customer.io found email opens to be the highest from 8 p.m. to midnight, with the second peak between 4 p.m. and 8 p.m. Moreover, the highest engagement also occurs between 8 p.m. and midnight. Yes, people check emails at night (surprise, surprise!).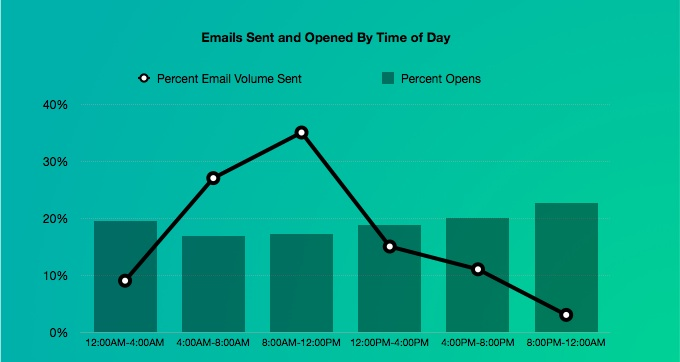 Then there's Dan Zarella's research analyzed by GetResponse. The data suggests 6 a.m., followed by late evening from 8 p.m. to midnight are when open rates and CTRs are the highest. This could very well be because people prefer checking emails when they least interfere with their office hours.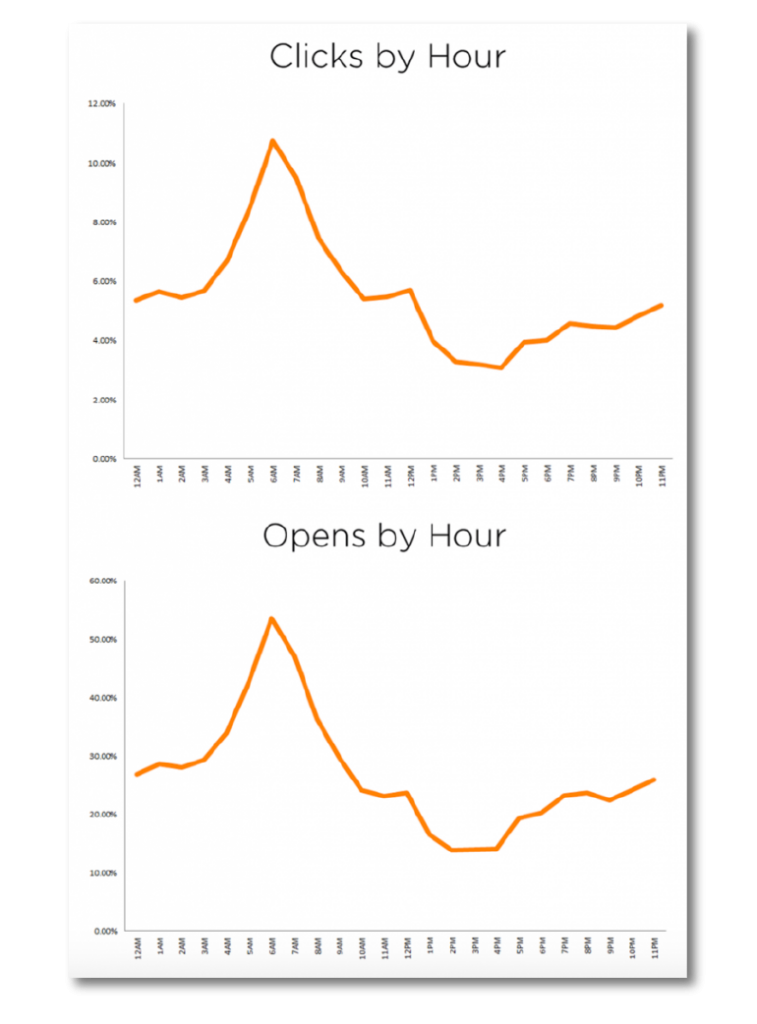 So, do we know what's the best time to send emails? 
10 a.m. tops the charts, as that's when people have settled in at work, followed by 8 p.m., 2 p.m., and early morning around 6 a.m., which is when people literally open their eyes to their phones.
But it's also when your competitors will send emails, right? How do you make sure you stand out in a cluttered inbox where every unread email is vying for attention?
Well, as I'd said earlier, these statistics are only to give you an approximate idea. In reality, it's your target audience you should be keenly observing. Let them be your North Star!
Think about what their average day looks like. Are they an entrepreneur, small business owners, have they retired, etc. What time does this audience pool wake up? How does their day progress? When are they most likely going to check their email?
Once you've answered these questions, conduct A/B tests with different email send days and times. Depending on when your list of subscribers engage with your emails the most, slide into their inboxes!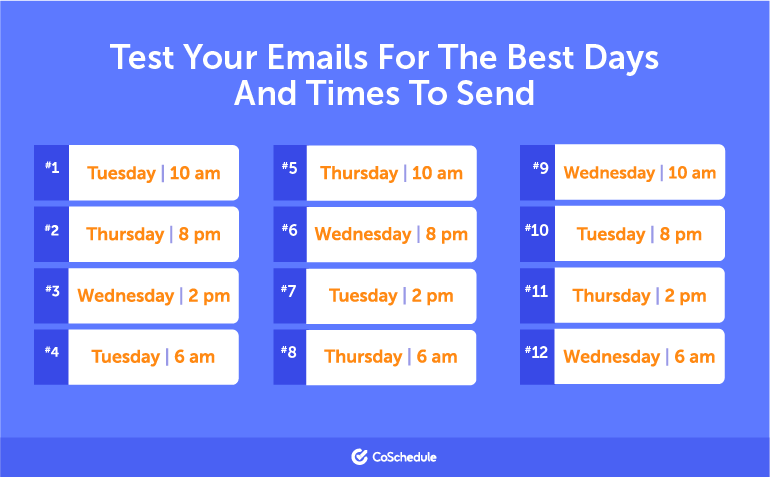 Moving on, other than best days and times to send emails, there are a few variables that contribute to better email opens and clicks. What are these? Find out below.
Other Factors Influencing Your Email Marketing Success
List Segmentation
Segmented email campaigns have an open rate that is 14.32% higher than non-segmented campaigns. They also generate an 8% CTR compared to general emails that generate a mere 3% CTR. Any guesses why? Because no two people on your list are the same, nor are they at the same stage of the buying cycle.
Long story short, start segmenting your audience based on their online behavior, demographics, psychographics, and location. The data will help you reach the right people and sell more efficiently. Isotoner increased their email marketing revenue by 7,000% by segmenting their list based on products their customers were browsing on their website.
Another advantage of list segmentation is that it helps you write marketing email copy that resonates with every kind of subscriber on your list. This way, when they read your email, they don't have to think much, rather immediately respond to your call-to-action. Besides, because your email was relevant to them, you'll see fewer unsubscribes.
A few do's and don'ts when writing email copy:
Use a friendly tone of voice.
Pay special attention to content hierarchy and use of white space.
Add alt-text to your images for visually impaired readers and to give context in case images don't load.
Avoid industry buzzwords, rather steal your prospects' words to create familiarity.
B2B  brands must categorically flaunt their understanding of prospects' pain points. No hard sell.
CTAs text must trigger an emotion. For example, Curioos entice their readers with the promise of getting lost in a dreamy world.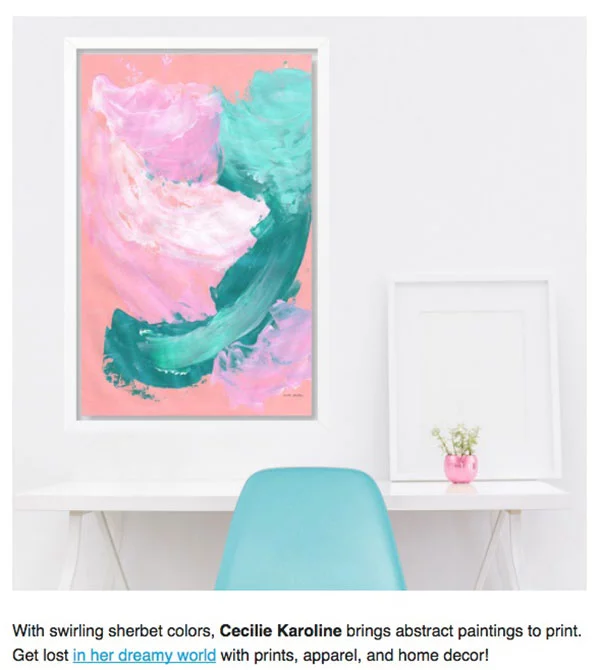 Email Subject Line
Creating bespoke email subject lines—every single time—can be tricky, though not if you have all the pieces of the puzzle in one place. Let's see what these are:
Preview text
It's literally an extension of an email's subject line and you can either use it to build-up the subject line or use it independently. Whatever you choose, together, if they don't hook your newsletter subscribers, the chances of your emails being read plummets.
Then, comes the sender name, which is obviously one of the first things that come to a recipient's notice. Which is why it's a good idea to familiarize your customer with one person they'll keep hearing from. In addition to putting them at ease you'll also lend a personal tone to your email.
Tip: Test which sender name along with the kind of preview text lifts open rates.

Personalize
Emails with personalized subject lines are 26% more likely to be opened than non-personalized ones. To get started, take advantage of the Barnum Effect and focus on making your email subject line sound exclusive.

Use urgency, scarcity and social proof
When you play upon the fear of missing out, people usually give in. In fact, there's no harm in admitting that you've been there too! It's just how our mind works, isn't it? So why not leverage it to improve your email response rates?
For inspiration, check out some of the examples below. Or, later, head to a comprehensive list of 101 email subject lines compiled by the folks at Optinmonster.
Add emojis
They add an element of fun 🎉, allow you to convey email content in as few words possible. and ⬆️ email open rates. Experian reports that 56% of brands using emojis in their subject lines have a higher email open rate. ✌️
At the same time, it's also true that 30% email subscribers find emojis annoying. 😒 So don't go overboard using emoticons + always A/B test to know how they're impacting your conversion goals. 💡
Experiment with the length
Assuming that you're an email marketer of few words, 17-24 characters is a sweet spot. But if you're writing a long subject line, Joanna Weibe says, front load with the most interesting stuff to get noticed.
That said, since mobile email open rates are increasing, optimize email subject lines by identifying your audience's top mobile email client. Because here's the thing: if your email campaigns aren't mobile-optimized, you'll miss out lots of conversion opportunities.
Final Thoughts
Knowing when to send your emails, combined with segmenting your audience, and sending more targeted emails can distinguish you from your competitors. Your subscribers will thank you for not wasting either their inbox space or their time.
But (yes, there's a but!) that won't happen unless you A/B test. So how about you don your optimization hat and give the tactics shared in this article a try?
Do share what works for you, or tip us on any other strategy which proved useful for you in the past.