A central element of digital marketing is conversion rate optimization (or refining the user experience on webpages, campaigns, and so on) so visitors are more likely to complete a desired action. This action, which is often referred to as a conversion, could be completing a form, downloading a white paper or even making a purchase, depending on what goal a company is focused on measuring at that point in time. 
If you're new to the world of conversion rate optimization, the digital marketing industry, or just want to brush up on your knowledge of CRO, we've listed nine great books from industry professionals and thought leaders in this field to help.  
These books are fantastic resources packed with guidance and tips that can help create successful campaigns that ultimately increase the number of conversions for your business. 
Time to update your reading list. 
1. Landing Page Optimization: The Definitive Guide To Testing and Tuning for Conversions by Tim Ash
Considered a voice of authority when it comes to landing pages, SEO, and all things search marketing, the author and marketer Tim Ash has put pen to paper to share his knowledge on creating high-converting landing pages. Despite originally being published in 2008, Tim's advice has stood the test of time and remains highly relevant for anyone reading it today. It's a top recommendation from us.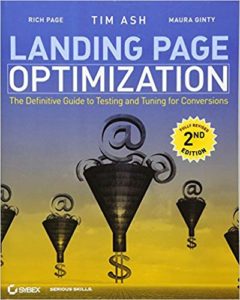 Get the book here, or check out this dedicated section of our blog for more on refining landing pages.
2. Making Websites Win by Dr. Karl Blanks and Ben Jesson
This book is a collaboration between two well-known marketing whizzes—Dr Karl Blanks and Ben Jesson—who have spent their professional lives deeply involved in the world of digital marketing and run a company called Conversion Rate Experts. It's safe to say that reading this will place you in great hands. The two marketers decided to write down their very own customer-centric methodology they've spent years applying with excellent CRO results. This book is bursting with tips and suggestions they've learned along the way, along with reflections on mistakes they made (so you can avoid them). This is a great book to consult when it comes to defining CRO strategy or when looking for mentorship on how to succeed in this field.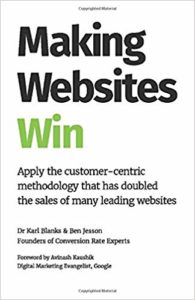 Get the book here, and check out our own advice for taking a customer-centric approach to blogging to help get those CRO wins.
3. Don't Make Me Think (revisited) by Steve Krug
While this book incorporates some great advice on improving conversion rates, Don't Make Me Think is a must-read for designers, user experience specialists, and digital marketers. Steve Krug examines how users navigate websites and the science behind creating a web page that converts. Steve says the secret to success is giving users all the information they need upfront and removing the need for them to think, which in turn creates more intuitive interfaces and overall easier user experience. 
This is a great read for anyone wanting to improve their UX and gain more insight into how people typically browse.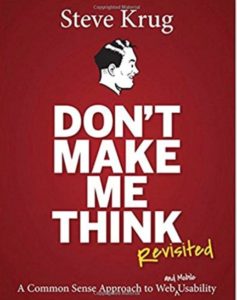 Check it out here.
4. Website Optimization: An Hour a Day – A Conversion Rate Optimization and A/B Testing Guide by Rich Page
Rich Page outlines all the basics when it comes to improving conversion rates and optimizing your web campaigns.  This book breaks down CRO tools, metrics, and important elements on a webpage to test, referencing an hour a day approach for professionals looking to deepen their understanding. Rich dives in to email marketing, search optimization, and personalization, imparting his own wisdom from spending years in this industry. 
This book is a great investment for anyone who may be new to the world of conversion rate optimization and is looking to get up to speed.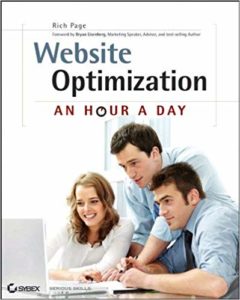 Here's the link to check it out.
5. Conversion Optimization: The Art and Science of Converting Prospects to Customers by Khalid Saleh and Ayat Shukairy
Another collaborative success on the topic of conversation optimization, this time from the co-founders of Invesp: Khalid Saleh and Ayat Shukairy. Both Khalid and Ayat have spent many years working in the digital marketing sphere and come together to help other professionals work out the science behind a well-performing, high-converting webpage. The Art and Science of Converting Prospects to Customers covers everything from establishing customer personas, how to understand your current web usability, and how to spot and overcome current issues that may be staving off conversions.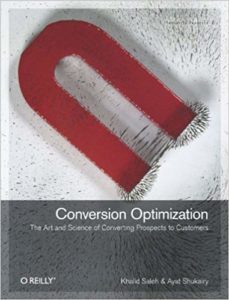 Get it here.
6. Tested Advertising Methods by John Caples
One of the defining features of AB Tasty is our dedication to experimentation. We are strong advocates of testing, and have seen time-and-again the precision it brings to optimization. Which is why we highly recommend reading John Caples' Tested Advertising Methods. 
While it was originally released in 1932, this book has been revised many times throughout the years, with Fred Hahn providing the latest version for marketers in the digital sphere. Testing Advertising Methods is more content-focused, honing in on what copy engages consumers and ultimately convinces them to act. Reading this book will certainly incentivize you to start A/B testing your messaging (if you haven't already) while also shedding light on some timeless principles for effectively reaching your target audience.  
It may be an oldie but it's definitely a goodie!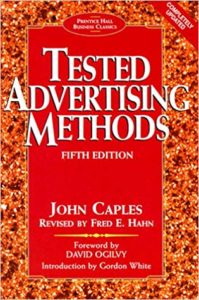 7. Web Design for ROI: Turning Browsers Into Buyers and Prospects Into Leads by Lance Loveday and Sandra Niehaus
This book dives into the role of design in sales and lead generation (with the authors saying the right design can increase these two metrics by 10—50%, potentially). Both Lance and Sandra have a wealth of experience when it comes to creating high-performing websites, and the pair have come together to share their wisdom. 
This book covers a range of tips and tricks that look specifically at improving conversions online as well as increasing a digital presence—explaining how design needs to go beyond aesthetics and also take into account metrics and business goals.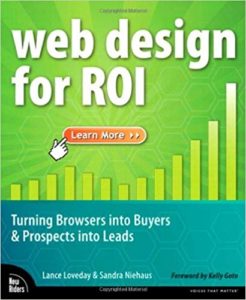 Here's the link.
8. Kill Your Conversion Killers with The Dexter Method™ by Joris Bryon
The nod to fictional TV serial killer Dexter in the title gives a glimpse into Joris Byron's style of writing and overall intent: to talk about the common pitfalls of conversion rate optimization in an engaging, conversational tone. 
Joris quickly gives readers a framework for applying great conversion rate optimization tactics, and highlights common practices that could actually be a detriment to your strategy. Joris spent three months on a sabbatical writing his books, Kill Your Conversion Killers offers great insight into his own experiences while working agency-side. If you're looking to expand your knowledge on conversion rate optimization (and want to be able to prioritize which tests to run, for one example) this is the book for you!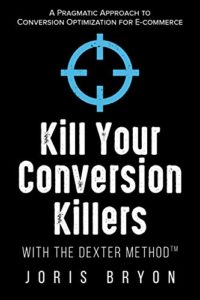 Get it here.
9. Predictably Irrational by Dan Ariely
Last (but by no means least) on our list of top CRO books to read is Predictably Irrational—a book that looks at the sometimes irrational way humans make decisions and applies these insights to the world of marketing. Author Dan Ariely intended to help his readers change the way they thought about marketing and their understanding of what consumers want.  
While this book was released in 2008, it's still very relevant to anyone wanting to better understand (and communicate with) their target audience with Ariely's fun, experimental approach making the material a fun, thought-provoking, read!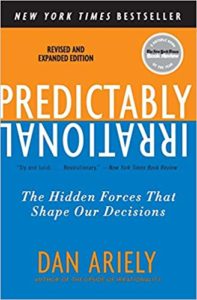 Wrapping Up
Developing your professional skill-set is essential for growth, and these books promise to provide key learnings and important perspectives on the multi-faceted discipline of conversion rate optimization. Whether you're an experienced marketer or new to the industry, it's important to be open to continuous learning, and even revisiting the basics through the lens of your real-life experience. These books are a great place to start.