André Morys shares the key to a thriving business in today's market: a fearless attitude toward innovation and experimentation
André Morys has been involved in the field of experimentation for almost three decades. The CEO and founder of konversionsKRAFT discovered the importance of the user experience upon launching his e-commerce optimization company in 1996. He followed the evolution of high-end UX measurement solutions and AB testing throughout the 2000s, turning his focus entirely to experimentation and experience optimization in 2010.
Powered by his fascination for measuring the outcomes of the customer and user experience, including the financial impact of optimizing them, André uses his expertise to guide his clients through the experimentation process in a clear and efficient manner.
AB Tasty's VP Marketing Marylin Montoya spoke with André about cultivating an experimentation mindset – that is, how to build a culture of experimentation that embraces failure and risk-taking – in order to innovate in competitive markets as an experimentation-driven company.
Here are some of the key takeaways from their conversation.
Risk and failure are integral components of innovation
Many risk-averse companies hesitate to implement experimentation due to their mindset around failure. When adopting a culture of experimentation, it's essential to understand the fact that, despite prior research and preparation, failure is a part of the innovation and testing process. Most tests will produce negative results … but this shouldn't be interpreted as failure.
Overcoming our personal beliefs and shame around failure and encouraging managers to lead by example will allow companies to embrace the experimentation process. This means discussing and deducing insights from failures within a team setting and allowing it to be a learning opportunity. Experimentation offers the chance for teams to evolve in how they see, feel and talk about failure and to focus on being solution-oriented rather than striving for perfectionism.
André also explains that while experimentation may seem risky, it is actually a way to control the level of risk linked to innovation. With experimentation comes feedback, allowing you to gauge the success of a particular feature or improvement, as opposed to naively rolling it out without any prior experimentation and simply hoping for the best.
Experimentation should always be linked to strategic goals and measured
The ROI of experimentation comes in many forms. André uses a "digital experimentation framework" to implement the experimentation process and measure progress. In relation to his "Iceberg Model", while the tip of the iceberg represents the metrics that are measurable, many important factors lay beneath the surface and are difficult to measure, resulting in people underestimating the value of experimentation.
"You cannot measure the influence of experimentation towards your company's culture and how big and…sustaining this effect will be. It will be maybe 10 times more important than the actual uplift you create," says André.
Once discovering the process, many managers agree that a shift in culture, inventiveness and velocity is more powerful than an improvement in metrics. Meaning, there is a shift toward changing what's below the surface (company culture) in order to have a bigger long-term impact, rather than focusing on the tip of the iceberg (metrics).
A frequent mistake that companies make is not aligning their goals of experimentation to their strategic goals, creating the possibility that their experimentation might be irrelevant. Using the experimentation framework to optimize the process with shared goals from the beginning will produce the best outcome.
Use gamification to engage teams and build a culture of experimentation
Overcoming resistance within companies to jump into experimentation doesn't have to be difficult; in fact, it can even be fun!
Involving teams with guessing games and placing bets on which test won, for example, is a simple yet effective method to educate people and to create a pull towards experimentation. This technique also creates a sense of humility and allows people to realize that their hypotheses may fail and the customer could have a differing opinion.
Documenting the experimentation process and results is also important for encouraging cultural change. Connecting people to the outcomes enables learning and better engagement with the experimentation process, which in turn increases motivation to further improve. Rather than pushing people towards experimentation, you can create a natural attraction to it and a sense of personal investment by using metrics as feedback and creating a flywheel.
An experimentation dashboard is key to showing the health of your experimentation process. André highlights the importance of running effective tests, being sure to focus testing on the right areas, rather than striving for high velocity and volume of experiments. The goal should be experimentation quality, not quantity, and ensuring that important metrics are stored on a dashboard to facilitate cultural change.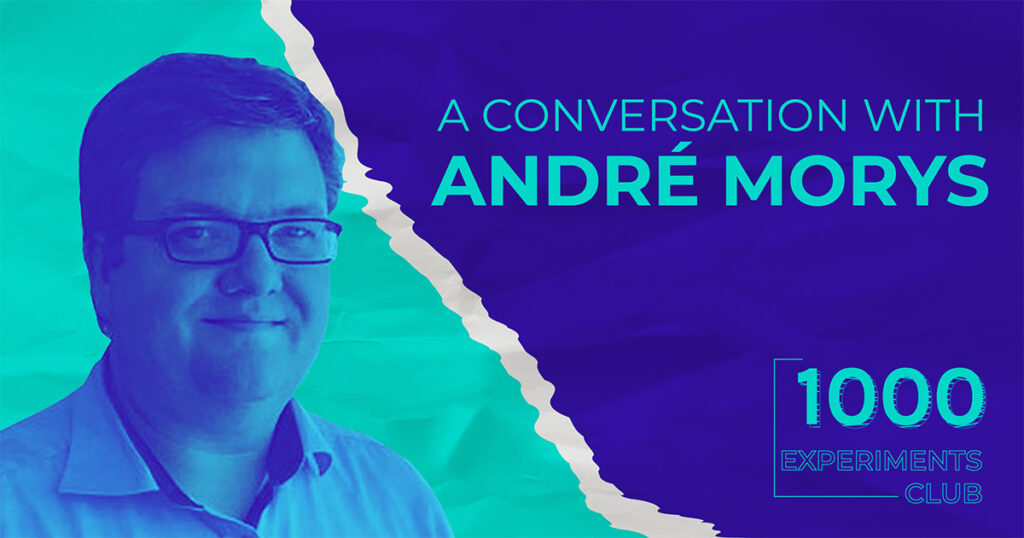 What else can you learn from our conversation with André Morys
The three catalysts for innovation and why experimentation is a key component
How perfectionism blocks experimentation and the evolving experimentation culture in Germany
The status quo bias and why management might resist change within an organization
How the pandemic shifted companies' focus towards digital growth
About André Morys
André Morys has almost three decades of experience in digital growth and business optimization, founding konversionsKRAFT in 1996. Today, his company is the leading business optimization consultancy in the DACH region, with more than 80 consultants, designers and conversion experts.
Specialized in research, consulting and lecturing, André combines qualitative research, consumer psychology and behavioral economics with data and experimentation to deliver the most effective growth programs for enterprise clients.
André's reading recommendations:
"Experimentation Works: The Surprising Power of Business Experiments" by Stefan H. Thomke
About 1,000 Experiments Club
The 1,000 Experiments Club is an AB Tasty-produced podcast hosted by Marylin Montoya, VP of Marketing at AB Tasty. Join Marylin and the Marketing team as they sit down with the most knowledgeable experts in the world of experimentation to uncover their insights on what it takes to build and run successful experimentation programs.