Carlos Gonzalez de Villaumbrosia is equipping the next generation of product leaders with data-driven strategies powered by experimentation.
Experimentation has paved the way for Carlos Gonzalez de Villaumbrosia, founder and CEO of Product School. Faced with a long career in coding after completing his degree in computer science, Carlos opted instead to continue his education at business school in Silicon Valley only to discover it lacked the hands-on practicality that he so enjoyed.
With his engineering and business school experiences, Carlos saw an opportunity to fill the skills gap between the two and launched Product School in 2014. Today, Product school is a leader in product management training with a community of over one million product professionals and a network of instructors from top global organizations such as Google, Meta, Netflix, Paypal, Uber and Amazon.
AB Tasty's VP Marketing Marylin Montoya spoke with Carlos about the purpose, accessibility and implementation of experimentation as well as the growing need for product managers (PM) within organizations and how to succeed in this role. 
Here are some of the key takeaways from their conversation.
Normalize experimentation within company culture
When we break experimentation down to its most basic level, we see that its purpose is to understand each user and provide a personalized experience that caters to their needs. There are no limits to this quest. Once you start experimenting, you can continue to refine the process, learn about different users and leverage the data to improve their experience. 
This mindset should apply to the entire company culture, with both a top-down and bottom-up approach. Experimentation is not only reserved for engineers, designers and product managers. High-level executives should also be experimenting with business models, new offerings and new markets.
Being a data-driven company which supports experimentation at all levels is important because most experiments will fail. While that might sound intimidating, it's actually necessary to embrace failure during the experimentation process in order to gather valuable feedback and improve. 
Carlos suggests running multiple experiments simultaneously over a short period of time, as it allows you sift through the results and double down on the ideas that are working.
Having the support of the organization's leadership team offers the psychological safety necessary for employees to really experiment. This sense of freedom is what enables the best ideas to surface and leads to better products and overall business results. 
The democratization of experimentation
The scope for digital experimentation has expanded. Once reserved for engineers, experimentation is now accessible to product, marketing and content teams with the help of simplified tools. 
With the rise of product tech came an increased need for product management and a greater demand for low-tech tools to facilitate independent experimentation. This advancement in technology means that various teams within an organization can run small sets of experiments without involving engineers and data teams. 
While some scenarios may require a deep dive with the help of engineers, others may just call for minor tweaks and these low-code or no-code tools allow non-technical teams to advance autonomously. When teams are empowered in this way, they are able to ship a better product, faster. 
These tools are also bridging the gap between large and small companies. It's no longer necessary to employ an entire team of data scientists or engineers to run experiments. Technology enables creators to be self-sufficient and make changes of varying complexities from color and copy to page formatting in order to offer a personalized experience to the user, gauge their response and continue to adapt accordingly. 
The key to success as a product manager
Product management is a multi-faceted leadership role, whose key responsibility is to hone in on the best ideas to improve a given product. Rather than conjuring the idea yourself, this involves gathering data and facilitating conversations within your team to bring these ideas to the surface. 
With an increased demand for data products, there have never been more product management roles to be filled. Product managers find themselves positioned at the intersection of business, design, engineering, customer success, data and sales. If you're looking to succeed in this role you need to be competent across the board. 
Experimentation is a key skill to master as a product manager, alongside road mapping, data, analytics and prototyping. With a cohesive plan, the engineering and design teams can advance while you prepare the next iteration. 
When considering which company to join as a product manager, there are a few factors to consider. What is the structure of the product team? What are their biggest experimentation failures or successes? What is the CEO's attitude and background? How are business decisions made? Is the company data-driven? 
Asking these questions will help you gather an understanding of the company culture, find out whether experimentation is supported by the top levels of management and identify how you can make an impact within the organization.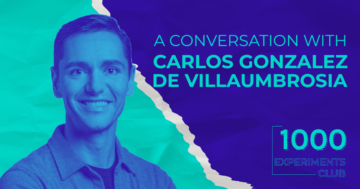 What else can you learn from our conversation with Carlos Gonzalez de Villaumbrosia?
Build vs. buy: how to allocate your resources for internal collaboration tools.

How Product School teaches experimentation.

 

How the integration of specialist tools in the tech ecosystem improves user experience

The future of product management: the next generation of PMs.
About Carlos Gonzalez de Villaumbrosia
Carlos Gonzalez de Villaumbrosia has been building global companies and digital products for the past 12 years. Following his higher education in Global Business Management and Marketing, Computer Science and Industrial Engineering, he founded Floqq, which was the largest online education marketplace in Latin America. In 2014, he founded Product School, the global leader in Product Management training.

About 1,000 Experiments Club
The 1,000 Experiments Club is an AB Tasty-produced podcast hosted by Marylin Montoya, VP of Marketing at AB Tasty. Join Marylin and the Marketing team as they sit down with the most knowledgeable experts in the world of experimentation to uncover their insights on what it takes to build and run successful experimentation programs.