Is experimentation for everyone? A resounding yes, says Jonny Longden. All you need are two ingredients: A strong desire and tenacity to implement it.
There's a dangerous myth lurking around, and it's the idea that you have to be a large organization to practice experimentation. But it's actually the smaller companies and start-ups that need experimentation the most, says Jonny Longden of performance marketing agency Journey Further.
With over a decade of experience in conversion optimization and personalization, Jonny co-founded Journey Further to help clients embed experimentation into the heart of what they do. He currently leads the conversion division of the agency, which also focuses on PPC, SEO, PR — among other marketing specializations.
Any company that wants to unearth any sort of discovery should be using experimentation, especially start-ups who are in the explorative phase of their development. "Experimentation requires no size: It's all about how you approach it," Jonny shared with AB Tasty's VP Marketing Marylin Montoya.
Here are a few of our favorite takeaways from our wide-ranging chat with Jonny.
.
The democratization of experimentation
People tend to see more experimentation teams and programs built at large-scale companies, but that doesn't necessarily mean other companies of different sizes can't dip their toes in the experimentation pool. Smaller companies and start-ups can equally benefit from this as long as they have the tenacity and capabilities to implement it.
You need to truly believe that without experimentation, your ideas won't work, says Jonny. There are things that you think are going to work and yet they don't. Conversely, there are many things that don't seem like they work but actually end up having a positive impact. The only way to arrive at this conclusion is through experimentation.
Ultimately, the greatest discoveries (for example, space, travel, medicine, etc.) have come from a scientific methodology, which is just observation, hypothesis, testing and refinement. Approach experimentation with this mindset, and it's anyone's game.
Building the right roadmaps with product teams
Embedding experimentation into the front of the product development process is important, but yet most people don't do it, says Jonny. From a pure business perspective, it's about trying to de-risk development and prove the value of a change or feature before investing any more time, money and bandwidth. 
Luckily, the agile methodology employed by many modern teams is similar to experimentation. Both rely on iterative customer collaboration and a cycle of rigorous research, quantitative and qualitative data collection, validation and iteration. The sweet spot is the collection of both quantitative and qualitative data — a good balance of feedback and volume. 
The success of building a roadmap for an experimentation program comes down to understanding the organizational structure of a company or industry. In SaaS companies, experimentation is embedded into the product teams; for e-commerce businesses, experimentation fits better into the marketing side. Once you've determined the owner and objectives of the experimentation, you'll need to understand whether you can effectively roll out the testing and have the right processes in place to implement results of a test.
Experimentation is, ultimately, innovation
The more you experiment, the more you drive value. Experimentation at scale enables people to learn and build more tests based on these learnings. Don't use testing to only identify winners because there's much more knowledge to be gained from the failed tests. For example, you may only have 1 in 10 tests that work. The real value comes in the 9 lessons you've acquired, not just the 1 test that showed positive impact. 
When you look at it through these lenses, you'll realize that the post-test research and subsequent actions are vital: That's where you'll start to make more gains toward bigger innovation. 
Jonny calls this the snowball effect of experimentation. Experimentation is innovation — when done right. At the root, it's about exploring and seeing how your customers respond. And as long as you're learning from the results of your tests, you'll be able to innovate faster precisely because you are building upon these lessons. That's how you drive innovation that actually works.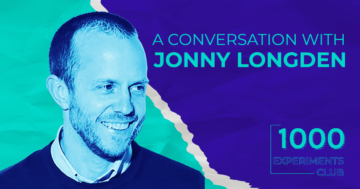 What else can you learn from our conversation with Jonny Longden?
Moving from experimentation to validation
How to maintain creativity during experimentation
Using CRO to identify the right issues to tackle
The required building blocks to successful experimentation
About Jonny Longden
Jonny Longden leads the conversion division of Journey Further, a performance marketing agency specializing in PPC, SEO, PR, etc. Based in the United Kingdom, the part-agency, part-consultancy helps businesses become data-driven and build experimentation into their programs. Prior to that, Jonny dedicated over a decade in conversion optimization, experimentation and personalization, working with Sky, Visa, Nike, O2, Mvideo, Principal Hotels and Nokia.
About 1,000 Experiments Club
The 1,000 Experiments Club is an AB Tasty-produced podcast hosted by Marylin Montoya, VP of Marketing at AB Tasty. Join Marylin and the Marketing team as they sit down with the most knowledgeable experts in the world of experimentation to uncover their insights on what it takes to build and run successful experimentation programs.