Editor's note:  This is a guest blog by George Mathew.
Often ignored, colors and fonts can have a major impact on conversions. Undoubtedly, colors affect emotions and some colors have been proven to improve moods. There's a science that works behind how colors impact conversions.
How to use colors the right way?
Fashion stores often play it right with colors. They concoct moods in customers with their choice of colors on the site.
Often clothing/fashion sites are designed for people to easily arrive at the purchase decision.
The specific use of colors and tones convey attitude – ranging from this is for teens and youngsters to this is for savvy business women. It's incredible to see how colors can set the right tone and convey what the site sells in a few minutes of someone landing on to the homepage.
There are colors that can build trust
When it comes to buying online people value trust.
Facebook, one of the most popular sites in the world, uses a light blue color throughout. Aside from the fact that it's easier on the eye, Blue color is also known to improve trust. With so many people using the site to exchange conversations in secret, blue does seem to cultivate trust.
In a survey, people were asked to choose the color they associated with particular words or emotions. The study revealed some impressive insights.
Trust: Aligned with earlier studies, most people associate the color blue with trust (34%), followed by white (21%) and green (11%)
Security: Blue came out on top (28%) for security, followed by black (16%) and green (12%)
Speed: When it came to speed red was the top choice. (76%)
Cheapness: Most people associated cheapness with the orange color (think Amazon's big orange button and the subtle undertone of the color throughout) (26%), followed by yellow (22%) and brown (13%).
High Quality: Black was the clear winner (43%), then blue (20%). Most fashion stores predominantly use black.
High Tech: Here black was the top choice (26%) and blue and gray second (both 23%)
Reliability: Blue was the top choice (43%), followed by black (24%)
Courage: People associated courage with Purple (29%), then red (28%), and finally blue (22%)
Fear/Terror: Red came in first (41%) followed by black (38%)
Fun: Orange was the top choice (28%), followed closely by yellow (26%) and then purple (17%)
There are several case studies that illustrate the impact of conversions when different colors were used.
For example let's see the case of CareLogger, a health & fitness app. Initially, it spotted a green call-to-action. They tested it against a variation, that of a red button and got 34% more conversions with the new one.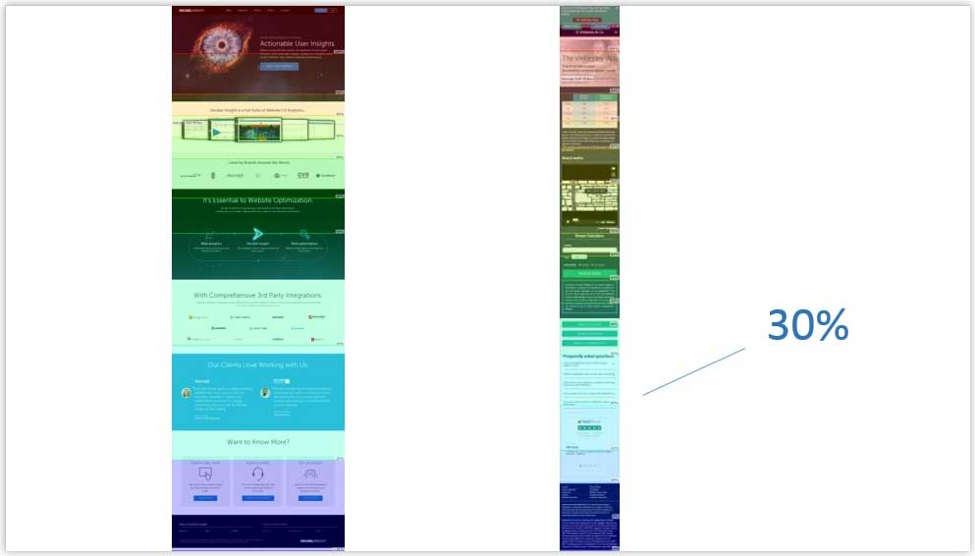 In the case of Performable changing the CTA button color from green to red saw the site getting an increased click-through rate of 21% increase its click-through rate by 21%.
So am I concluding that red is better than green for conversions?
Not so. You should test everything and see which one works for you. It isn't dependent on the color of the button.
One of the reasons why changing the color from green to red worked was because of the stark contrast it presents. If the whole site is designed with red as the major theme then a red color CTA wouldn't stand out at all.
Hence contrast should be taken into consideration before making any changes.
Again, don't go overboard with things. It's essential to make the website a pleasant user experience. Bad fonts, too many bright colors, a flash website contributes to poor user experience and that's the last thing you'd want.
Typography and its impact on conversions
Typography is often ignored when it comes to writing for the web. It's almost sad. Everything you read online is set in some typography and this is one facet that is paid the least attention to.
For starters, people reading online like bigger fonts. It's already difficult staring at a screen for an extended length of time. No one wants to top that off with a small font.
At the same time even though sans-serif fonts are the most commonly used over the world, it isn't necessary to stick to them.
Here's what I mean.
Michael Martin's study takes a closer look at the different typographic patterns on some well-known websites. The study was first published in 2009 but three years later witnessing the shifting paradigm updates were made to the article.
Martin finds interesting similarities and dissimilarities for font choices in 2009 and 2013 and also the preferred choices for the top 50 sites.
Serif is the preferred choice for body copy but the web is tending towards equally using serif fonts and sans-serif fonts for both body and headlines. That's a major break from what was witnessed in 2009.
It could be that web publishers want to experiment and see if different fonts result in better conversions. This could also be one of the ways of setting your website apart from many others.
Non-traditional font choices are becoming the tradition even though Georgia and Ariel fonts are favored by most web publishers.
On the other hand, back in 2009, traditional choices were the ones to be seen almost everywhere.
Also, keep in mind that fancy fonts can take up a lot of bandwidth and slow down the speed with which your site loads. This can cost conversions.
Keep font purpose in mind
Another important consideration is font purpose. Let me illustrate this with an example.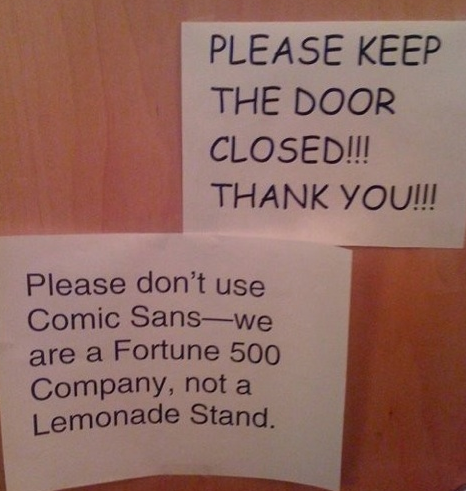 For hundreds of years, scientists obsessed over what gave the universe its mass. Even though matter consisted of electrons, protons, and neutrons, none of these constituent factors accounted for the mass of matter.
When CERN lab was finally able to get experimental evidence of a particle they called Higgs Boson, supposedly the particle that gave everything mass, they announced this news with the laughable font "comic sans".
The most important breakthrough in over a century announced in comic sans resulted in the internet breaking out with one troll after other.
To sum it up, "Rather, we were blown away by the fact that a team made up of some of the most undoubtedly brilliant people in the world believe that Comic Sans is an appropriate font for such a historic occasion."
Concluding thoughts
There's no doubt that colors and fonts can make a big impact on conversions. It would be wise if you can understand the trends and try to incorporate changes into your call to action buttons and typography based on what gives more conversions. And, always remember to test.
About the guest blogger: George has been writing for the web for the past 5 years. You can hire him here for your writing needs.