Eurosport is the go-to network for sports coverage in Europe. Working with AB Tasty since 2016, stakeholders across their Product, Web Analytics, and Digital Marketing teams have quickly excelled at more nuanced experimentation that leverages personalization and precise targeting to create relevant experiences for the company's international clientele.
Challenge
The Australian Open, like all Grand Slam tournaments, is a huge event for Eurosport. Coverage is comprehensive to meet the demand of its viewership, spanning best-of-the day replays, clips of press conferences, and interview-style videos of athletes sharing insights. But, as one would expect, the main attraction is consistently the real-time streaming of matches. These high-profile events will always be top performers when it comes to traffic and streams. But Eurosport wanted to more concretely evaluate the quality of its coverage from viewers' perspectives—using these insights to drive and refine their larger live event strategy.
Campaign
Using AB Tasty's NPS widget, Eurosport set up a short campaign in which a survey pop-in would appear for desktop users in France, the UK, and Italy who viewed any Australian Open content. The first pop-in asked users to rank their satisfaction with the Australian Open coverage on a scale that ranged from "Very Satisfied" to "Not at all Satisfied." After making this initial selection, a second pop-in would ask users to explain their reasoning in a write-in field.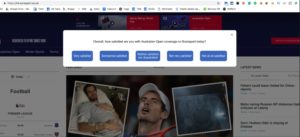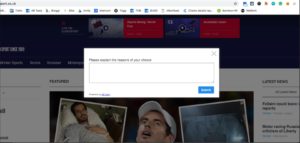 Results
At the end of the two-week experiment, roughly 5,000 written insights were collected from users—invaluable information on the strengths of Eurosport's coverage and what could be improved (and how these sentiments varied between regions). But, two key reasons why this test succeeded was the timing and the targeting. Eurosport adapted the pop-ins to suit three different markets, which were strategically chosen for this test. They then ran the experiment during peak viewership as there was an increased likelihood of responses.
Takeaway Tip
As a pan-European company, Eurosport saw an opportunity to gain international insights on its viewership by running a survey during the Australian Open. This is one of the pillars of conversion rate optimization: sending the right message at the right time. While surveys and/or NPS pop-ins will always be valuable, maximize their potential by launching them during peak traffic times or high-profile events