While we live in an era of digital marketing, the significance of word of mouth can never be denied or overlooked. But how can digital marketing be linked to word of mouth? Well, have you ever heard of the term 'online reviews'? I'm sure you have, thus showing how word of mouth and online reviews are already intertwined.
Online reviews are publically generated opinions of the products and services being offered by your business. Since business organizations have switched from the traditional method of selling goods to an electronic process, it has tremendously transformed the way we shop.  Online consumer reviews are now more important than ever.
In the recent past, numerous review sites like Yelp, Tripadvisor, or G2Crowd  were working proficiently for the production of customer reviews for companies.  Now, social media platforms are also playing a vital role in this regard, allowing businesses to build trust with their clients, increase sales and yield significant revenues, as the following chart suggests.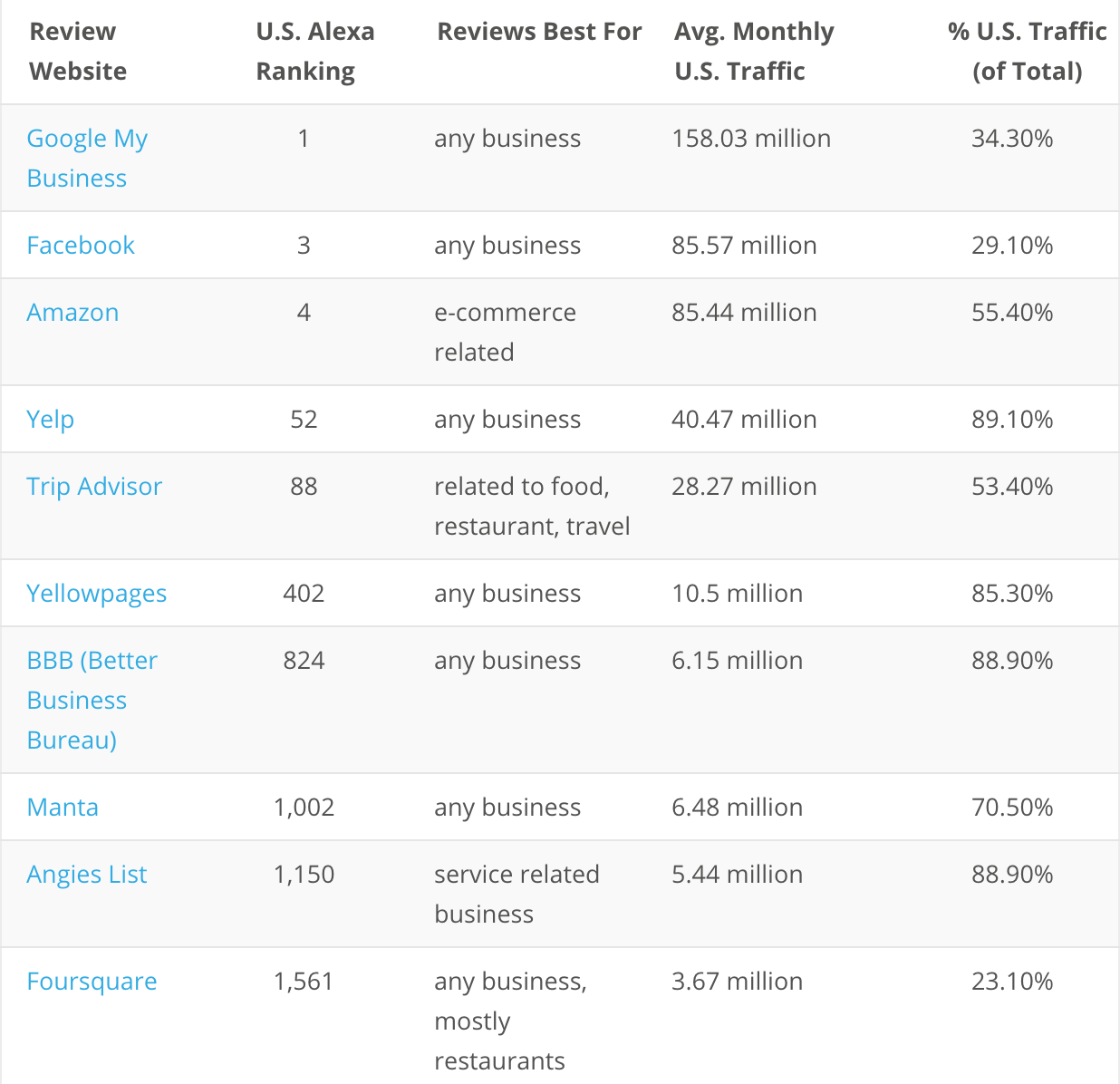 Source: Vendasta
The Impact of Online Reviews: Good Reviews vs. Bad Reviews
Consumers nowadays rely on the product reviews posted either on your websites or other platforms to inform their buying decisions as well as the idea they form of the reputation of your business. But, as we know, not all reviews are created equal.
Good reviews
Positive reviews with 5-star ratings definitely compel potential clients to contact you, as they will feel comfortable and more confident about the products or services of your business. The more customers you satisfy, leaving good reviews, the more people will be interested in buying your products.
According to Local Consumer Review Survey, positive reviews make 73% of consumers trust a local business more.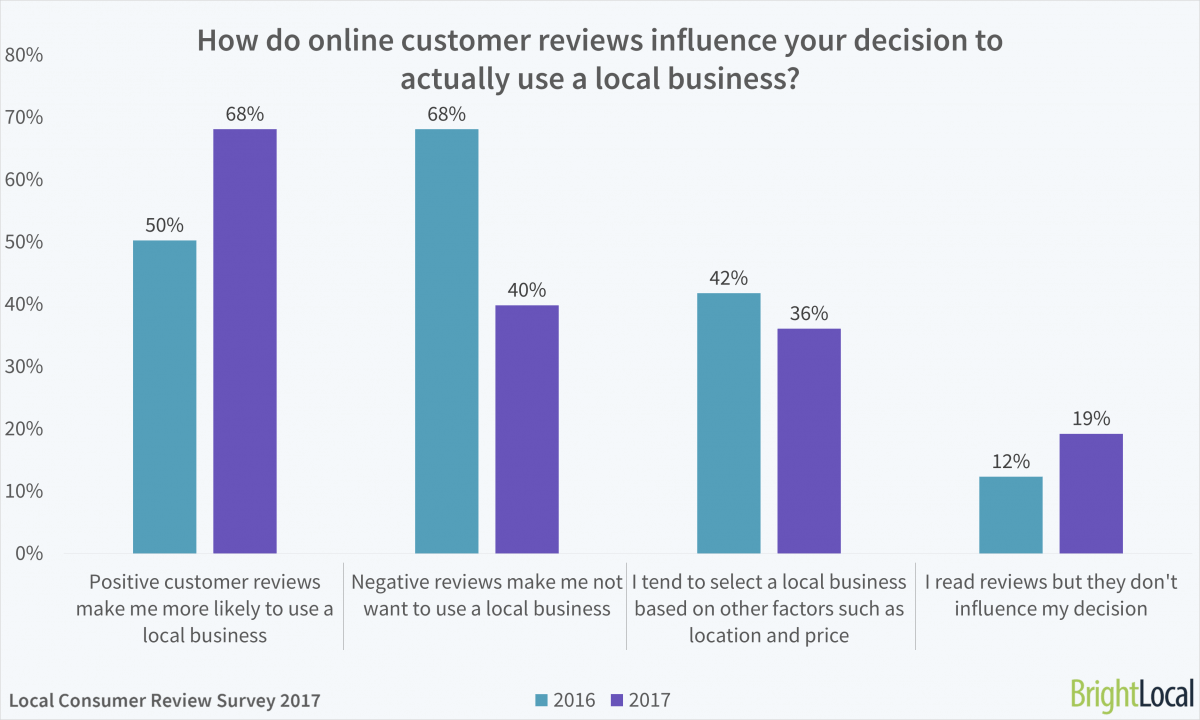 Source: BrightLocal
Bad reviews
Now, nobody likes a bad review, and you would be tempted to think that a business would be happy to have absolutely zero negative reviews. However, we know that nothing in this world is perfect, and a few less than perfect reviews can actually be a sign to consumers that your business is open to hearing from all consumers, happy and unhappy, in an effort to be completely transparent.
Indeed, David Anderson, the author of IHateWritingEssays, said: "And remember, if you read nothing but glowing positive reviews, it's almost certainly FAKE. Even legitimate businesses can't satisfy all of their customers, so a complete absence of negative reviews should immediately raise a red flag."
Stimulating brand awareness
Your brand image is everything, and your online company reviews are one of the factors that play a significant role in shaping it. Either website reviews or getting the idea from the other podiums, online shoppers trust reviews that they read online, and they play a big role in deciding whether they want to buy your product or not.
With more favorable appraisals, customer reviews strengthens your brand awareness as well as boosts customer's loyalty towards your product, increasing customer retention. Therefore the customer will be more likely to come back, increasing sales and overall profits. Moreover, sharing their views will encourage other buyers to place their trusts in your business.
Enhanced search engine results
Other than creating a better relationship with your clients, online reviews work towards improving your rankings in search engines like Google, Yahoo or Bing. Positive website reviews increase the activity on your site, thus cultivating your brand's search engine visibility.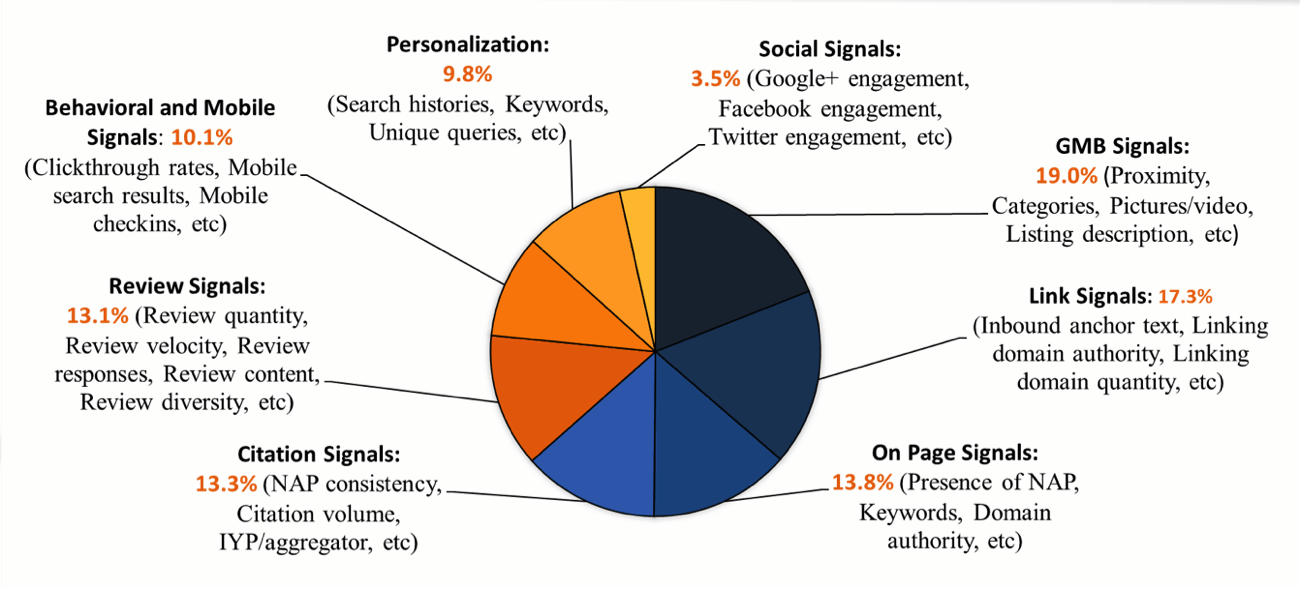 Source: Chatmeter
The more people talk about your brand, the higher it will appear in the search engine results which of course encourage people to get their hands on your products, thus helping drive sales and grow your business.
Constructive criticism and suggestions
No matter how harsh the words are, allowing customers to voice their opinion helps you rectify your mistakes and overcome the weak areas of your businesses. It all depends on how you react to the negative online reviews. If you take negative comments as real pieces of advice, you can actually turn a negative review into something positive. Indeed, keeping customers at the heart of your business strategy is key in this customer-centric era.
Conclusion
Companies greatly benefit from online reviews. Positive or negative, in both cases, opinions and suggestions help businesses to bring about healthy changes, attract customers, boost conversion rates, promote their brand and take an extra leap to grow productivity and sales of their products and services.
---
This is a guest post by Carol Duke. Carol is very keen on teaching new, effective ways of learning. When not freelancing and blogging on marketing and education-related matters, Carol enjoys traveling. She takes immense pleasure in visiting new countries.