Until recent years, a politician's chances of winning an election could be predicted, largely, based on one decisive element: the amount of money put towards his or her campaign. While there are some notable exceptions, more often than not, the winning candidate is also the better-financed candidate.
In this age of ALL DIGITAL EVERYTHING, however, money is no longer the key determinant in election results. No, no, today we trade in a new currency: Data.
In this increasingly wild year of 2017, the candidate or party with the more sophisticated data analytics, testing and personalization tools is likely to gain the upper hand.
Nothing furthers this point more than the words of the man in many ways "behind" Brexit – Dominic Cummings, the Vote Leave campaign director. According to Cummings, "The future of political communication is data scientists, not bullshitting charlatans."
Last week, I represented AB Tasty at Nudgestock 2017, a festival of behavioral science that took place in a quirky clifftop pavilion in Folkestone, UK.
To a room filled with some of London's biggest names in marketing, behavioral science, psychology and consumer behavior, Cummings described with a chilling eloquence, the starkly mathematical and scientific processes used to orchestrate Brexit.
He talked about the use of data throughout the campaign, detailing how Vote Leave used machine learning to transform polling done during the lead up to the referendum by using a much larger sample than traditionally used in election polling. The Vote Leave campaign then used a sub-sample of their polling sample to plug data straight into Facebook and target specific individuals to test the impact of messaging on different micro-demographic groups.
Their data-driven approach included hiring a team of physicists to look at campaigns from around the world that successfully used various persuasion tactics. Based on this research they built a scientific model, the purpose of which was to exploit different themes and tactics identified in these successful campaigns.
The Vote Leave campaign divided the UK population into three groups. Those who were set on wanting to remain inside the European Union, those who wanted to leave the EU, and those who would maybe like to leave the EU, but thought that the prospect of leaving was "scary".
From here, they identified five major themes to focus their campaign around and split test messaging around each theme, with an extreme and targeted focus on the third group; individuals they had the best chance of influencing.
Cummings claimed that the campaign was successful in large part because they focused their efforts on influencing only the specific voters they needed to shift, rather than trying to convince or shift the opinion of the media or the public as a whole. They also worked almost entirely in the digital space, putting 98% of their marketing budget into digital marketing, leaving almost nothing for "traditional" forms of marketing.
"The Remain camp lived in a bubble and never tested key messages sufficiently," says Cummings. He explained that the Remain campaign was slow to find key messages and only worked on one major theme, while Vote Leave focused their efforts on testing many lines of attack.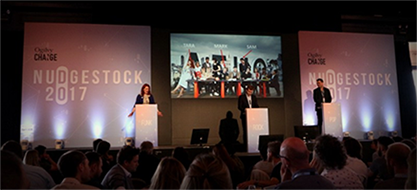 Cummings explained how the overarching theme of the Leave campaign was "Let's take back control". Based on research on public opinion of the EU, the campaign identified that "keep control" was an important theme. They then tested variations of this message – discovering that by including the word "back," in the messaging, they evoked rage in people. "Back" triggers loss aversion, playing into the strongly evolved instinct that we hate losing things, especially control.
Focusing on this idea of "taking back control," Leave tried to push the message that staying in the EU was "riskier" than leaving it. They thus focused their messaging around the idea that the EU is a "nightmare" with high unemployment rates and substantial debt, that the Euro is a failing currency, and that YOU will be picking up the bill for the EU's debts.
They also focused on the idea of immigration, creating campaigns around the idea that Britain won't have any say over the next accession round for EU membership (with a focus on Turkey joining).
They used scare tactics to catastrophize all of these things, painting the picture that "it's safer to take back control" (and leave).
Through smart use of machine learning, big data and extremely targeted and personalized digital ads, Vote Leave was able to identify key concerns facing the UK population and create campaigns that spoke directly to these concerns, targeting the right demographic of people for whom these concerns were most relevant.
Regardless of your views on the Brexit result, one thing is certain: Vote Leave harnessed the powers of persuasion through use of the CRO tactics we champion every day at AB Tasty – focused efforts on research followed by A/B testing and multi-variant testing of messaging and campaigns, and finally niche targeting and personalization of micro verticals and demographics.