What is a Call-to-Action Button?
We all know what a 'CTA', or call-to-action is. Actually, if you're reading this article, this means you must have clicked on hundreds or even thousands of calls-to-action during all the time you've spent on the internet. Have you ever signed up for LinkedIn, Facebook, WordPress or Dropbox?
You probably signed up because you came across an effective CTA that enticed you to click, sign up, read and buy.  All of these actions can be prompted using a good CTA.
Even though we're familiar with the topic, most of us probably don't really understand how they work or the psychology behind CTAs.
What makes a CTA good? Why do we click? Why does wording matter so much?
We don't know why we click for a very simple reason:
The call-to-action isn't limited to a simple button, banner or image. It's, in fact, the entire psychology and storytelling behind it that makes it irresistible.
Let's think about this for a bit: do you often click on a 'pop-up' from a brand you've never heard of? The answer is no: you try and close this untimely window as fast as possible.
It isn't some magical combination of three words that make people click.
Your visitors click on a CTA in response to the right mix of three elements:
What your visitors have learned about you (past)
What your visitors feel as they browse (present)
What your visitors expect after they click (future)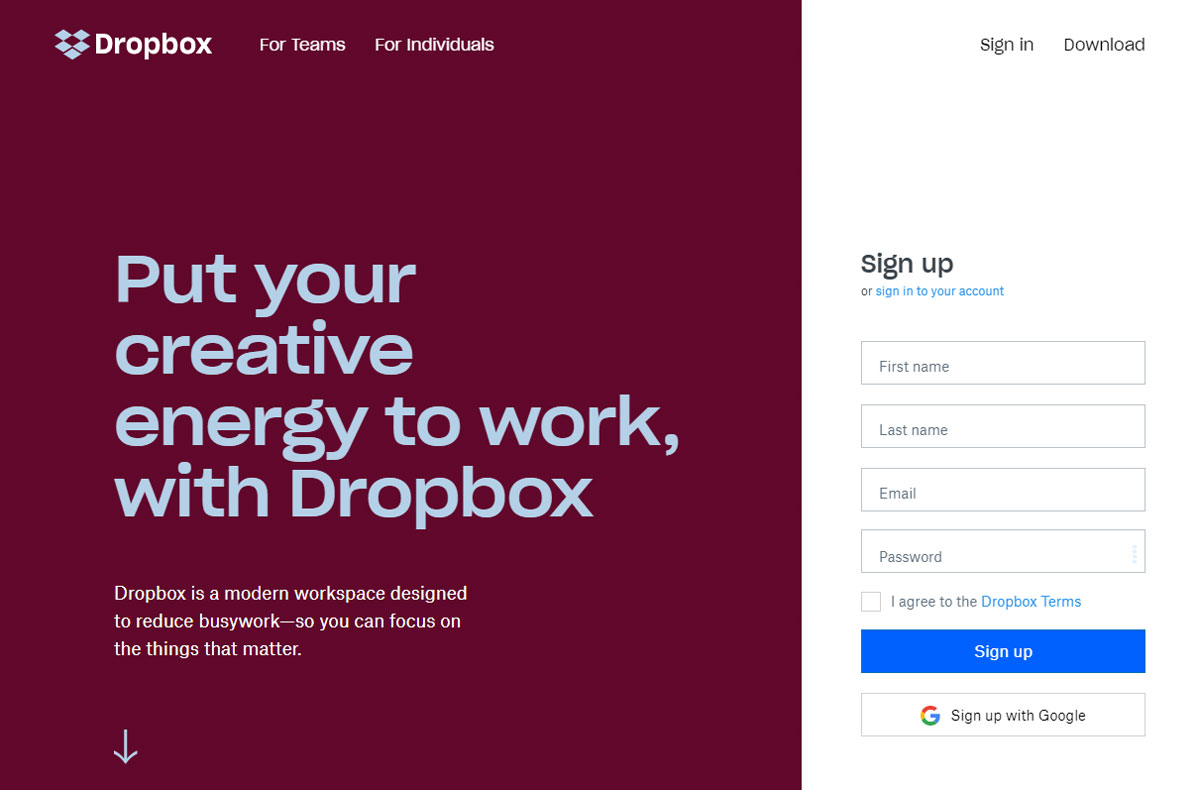 On Dropbox's website:
I know that a lot of my coworkers use it and I've seen their ads a lot before (past)
I like the clean design and their value proposition: store my data in the cloud in order to save me time, clear out my storage and give me peace of mind (present)
When I click, I notice that the basic account is free: I sign up! (future)
If you're still reading, you're probably asking yourself how you yourself – who isn't head of Dropbox – can write and put in place call-to-action buttons that convert.
Luckily for you, we're about to tackle that very subject.
How to Create an Effective Call-to-Action
As described above, a call-to-action isn't one single button, introduced without any introduction to your visitors. A good call-to-action should be considered a culmination of sorts. It should be understood as being part of an 'action phase' following an introductory phase, or even an entire campaign.
This might include:
Asking for an email address after an article is read
Offering an audit after someone has viewed a demo video
Suggesting someone purchase something after they viewed a product page
Suggesting a free trial after a certain page is viewed
In reality, the quality of your call-to-action is directly related to the relevance of your purchase funnel: where do my visitors come from? How should I engage with them? What steps do they go through before the desired action?
If at this point you're totally lost, we highly recommend you check out our E-commerce Conversion Funnel Survival Guide.
However, there are certain tips and best practices for creating effective CTAs that are sure to boost your conversion rates.
Visual. Absolutely essential, your visuals need to be attractive. You should also avoid images that are too 'salesy' and go for ones that are more personal or original, and even opt for a video format, which often leads to a higher CTR.
Wording. Keep it short – around 5 words is ideal. The value proposition needs to be short, sweet and convincing. Obviously, adapt the message to the audience you're targeting.
Action. Using action verbs and creating a sense of urgency are two widely used techniques that allow you to increase conversions. By highlighting the time-limited or exceptional nature of an offer, you up the pressure on your audience.
Placement. The placement of your CTA should feel natural, and it should appear naturally in the context of the rest of the page. You should, therefore, avoid putting it in illogical places where it won't be seen.
Colors. To create the highest level of impact, it's recommended to design your CTA in a different color than the rest of the page. This having been said, you should make sure the color doesn't clash with the rest of the page, either.
Size. It should be visible enough that it doesn't get overlooked (so don't be ashamed to show it!) but it shouldn't be so big that it distracts from the content of the rest of the page. Your visitors are there for a reason, so you shouldn't get in the way of their browsing or reading.
Understanding. Your value proposition should be clear and easy to understand. Clearly explain the benefits your visitors will gain by clicking on the link.
5 Examples of Calls-to-Action That Work
Because an image is indeed worth at least a few words, we suggest you have a look at these 5 examples of what we consider to be 'good CTAs'.
Squarespace
If you agree that Squarespace has a great home page, it's because they knew how to embody the idea of simplicity. The design is immaculate, and the value proposition is clear: Make your own website.
The best part? The black CTA button. It fits with the theme and stands out – it captures our attention in a second. The magic touch? The phrase 'No credit card required' that accompanies the button. We know right away that we won't have to pay.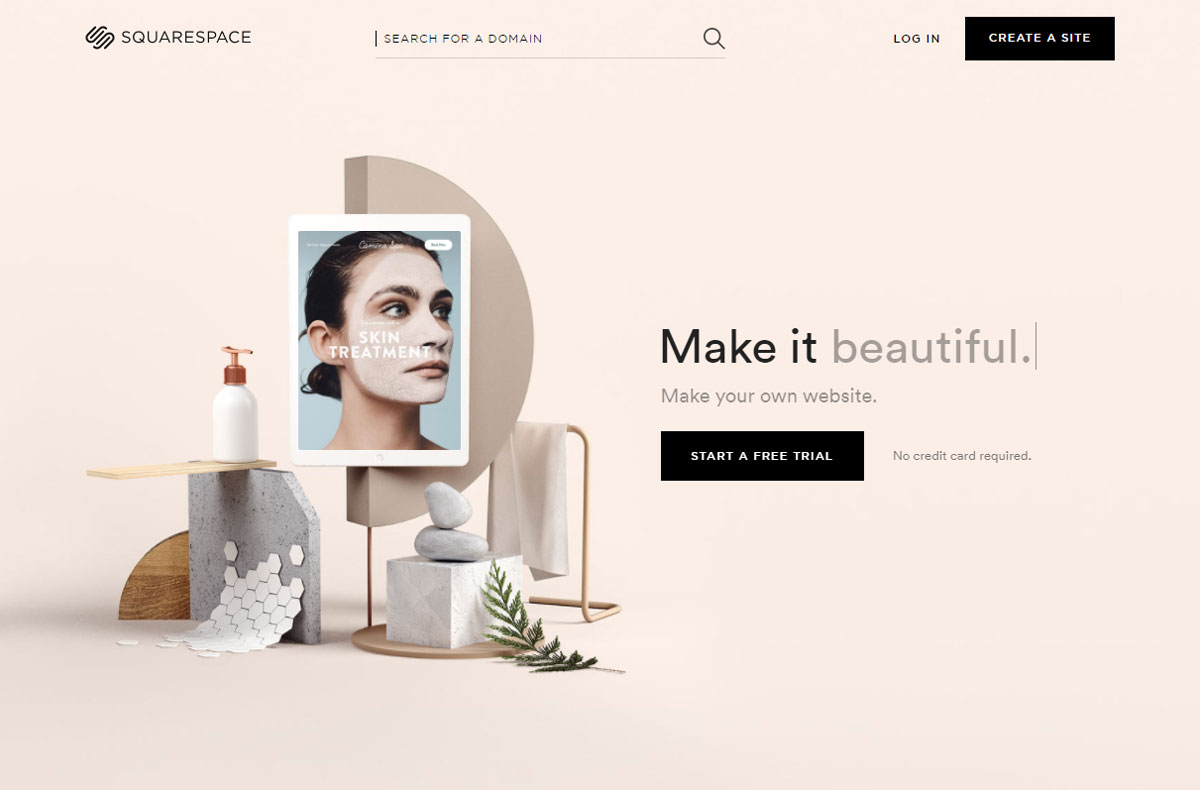 AdEspresso
A lot of things stand out on AdEspresso's home page. The value proposition is clear: Optimize your Facebook ads as easily as making your morning coffee.
Even better, the site's color scheme subtly reminds you of Facebook's, which is the platform they claim to be experts about.
Finally, the green CTA button cries out at you, grabbing your attention immediately: it also reassures the viewer with the 'No Credit Card Required' message.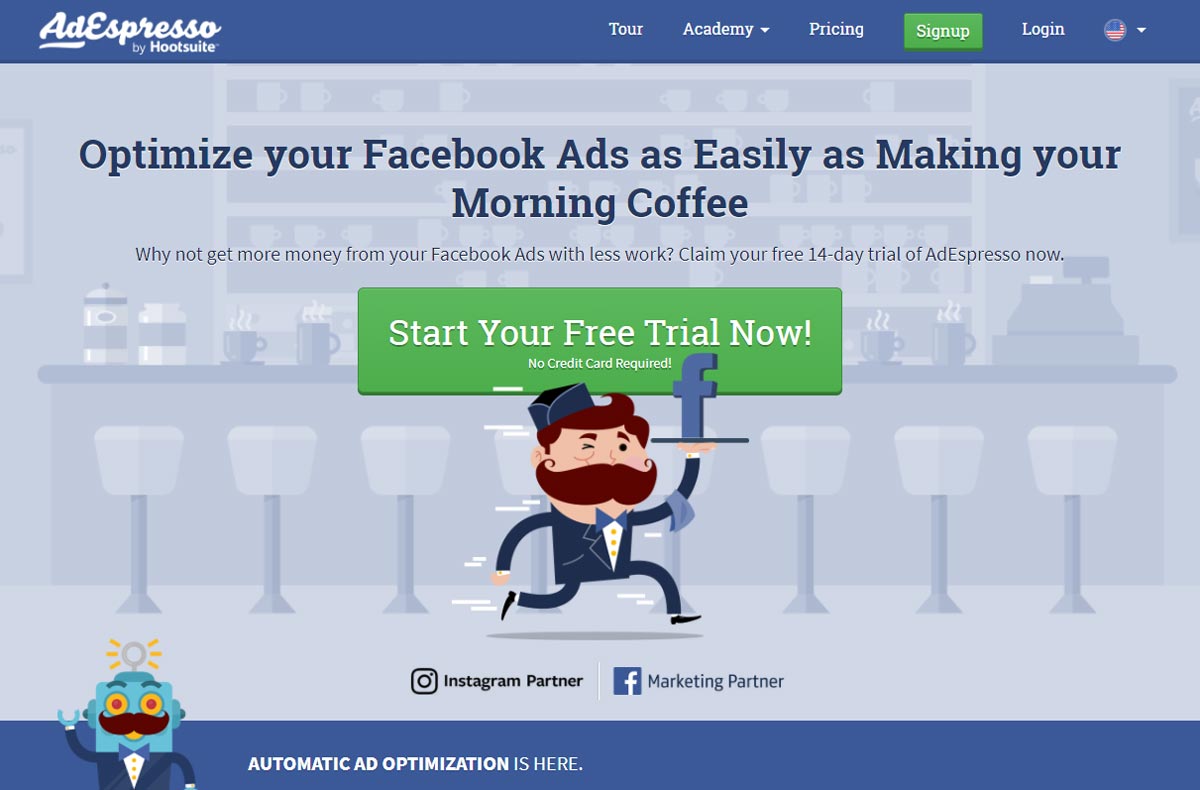 LinkedIn
On LinkedIn, the home page includes the appearance of a form with interesting wording.
The first sentence 'Be great at what you do' creates a sense of urgency: LinkedIn offers a service that can allow me to stand out, so I miss out on something if I don't sign up.
The second sentence, 'get started – it's free' incites you to action: it's free, what do I have to lose? The form is intentionally short so as not to discourage people.
Finally, at the bottom, there's a 'find a colleague' feature. This enables LinkedIn to include 'social proof' of their added value, personalized according to the person using the search engine.
Kickstarter
For the crowdfunding site Kickstarter, social networks are a key acquisition channel. In the Facebook ad below, there are a few elements that make the call-to-action powerful.
First off, the wording works well with the tagline. 'This is the most funded project on Kickstarter right now' resonates with 'No wonder everyone on Kickstarter loves this watch'.
Secondly, the image they chose is very attractive – the overall effect is that it makes the reader really curious. They just want to click.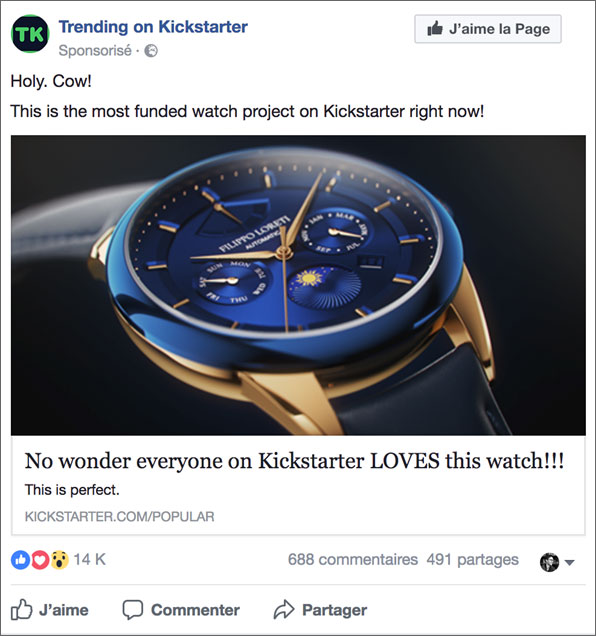 Udemy
When you come across the site Udemy, the tagline grabs you right away:  'This year I will'. The rest quickly draws you in contextually: 'Turn your New Year's resolutions into action'.
What's interesting is that the wording for the call-to-action is in the form of a question: 'What do you want to learn'?
This means you can have a CTA free of the usual 'salesy' formulations like, 'sign up'. We can note that the offer is time-limited (the banner at the top), which creates a sense of urgency.
Optimize your calls-to-action using A/B testing
After these rather convincing CTA examples, you should keep something in mind: there's no magic formula that works for everyone.
It's true, these companies found good ways of highlighting their value propositions. But they've also built coherent purchase funnels and communities they can call on.
Actually, just kidding. There is indeed a magic formula for creating CTAs that convert.
Test, test, and test again.
In the real world, behind every successful campaign, every effective call-to-action, are dozens or even hundreds of A/B test runs.
You can read up on the subject here: Download our ebook on A/B testing!
The idea behind testing one's CTAs is to experiment with all kinds of combinations until you find the perfect one for your site or product.
Let's take a look at the different conversion rates for these two wordings: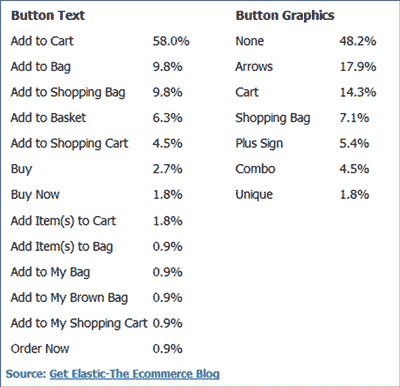 A/B testing helps you experiment with different CTA ideas by using the different components you have at hand:
Colors
Wording
Placement
Format
Size
So…what results do you get with your CTAs?