When it comes to hitting revenue goals, marketers will often try and convince customers to spend more, to increase their Average Order Value 💰. Indeed, selling to a nurtured customer is much cheaper than pitching to and acquiring a new one.
So What is Average Order Value?
Average order value is the average amount of money a customer spends per order. To calculate AOV, divide your total revenue by the total number of orders received. 
AOV = Total revenue / Total number of confirmed orders
Why Care About Increasing Your Average Order Value?
It's a no brainer. A high AOV means that you're earning more per paying customer, over the same time period. So basically, you're not only recovering the money spent on customer acquisition but also becoming a more profitable business. 🥁 
Another reason AOV matters is because you can gather insights, such as how your customers interact with your website, products that interest them, what they end up buying, and how much they actually spend per order. With this kind of intel, you can improve your customer acquisition strategy as well as identify opportunities to continue increasing your customers' average spend per order. 
For example, let's say you know which traffic source is driving the highest revenue, you can then allocate more resources to those top-performing channels and increase your AOV.
10 Must-Try AOV Optimization Techniques
Listed below are a few AOV optimization ideas. Regardless of which you implement, never stop thinking from a customers' standpoint. Put another way, get them to spend an amount they are comfortable parting with. Anything more than that can force them to abandon their carts.
#1 Cross-sell
So what exactly is cross-selling? It involves recommending products that complement the stuff your customer is considering buying. Take Mango for example. They cross-sell not one product but a complete look, because they know that consumers can be enticed to mix and match various items to construct a uniform look.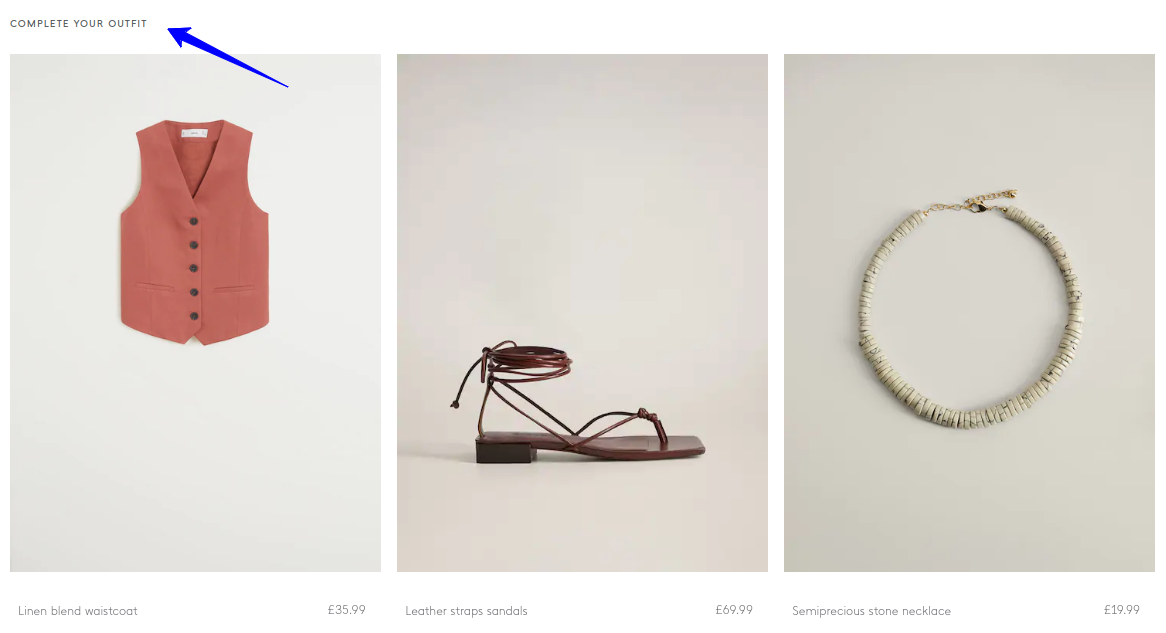 #2 Upsell
With upselling you can play upon your customers' fear of missing out to encourage them to opt for a more expensive item. However, the value for money needs to be clear in the offer.
So as a rule of thumb, keep the price increase noticeably low in comparison to their original budget, preferably keep the increase smaller than 25%. At the same time, don't overwhelm them with many options as it could create a choice paradox situation.
Let's take a leaf out of Levi's book – or product page, as the case may be. They create upsell opportunities of only slightly more expensive jeans: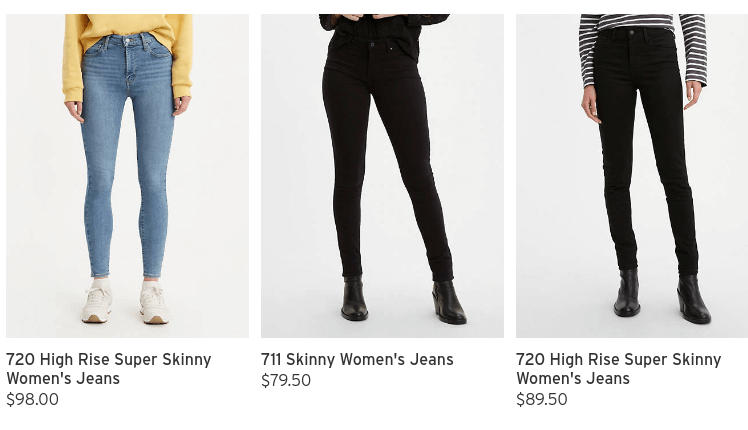 Note: Cross-selling and upselling are not to be confused. In the above example, had Levi's wanted to cross-sell, they'd have shown t-shirts, shirts or even shoes that complete and complement the whole look.
#3 Bundle Products
Bundles are a combination of products that make for a great deal by creating a value-for-money perception in customers' minds. But for it to work, you should be careful about which products you package together. E-commerce brands usually either sell more of the same product at a discounted price, or create a pack of complementary products.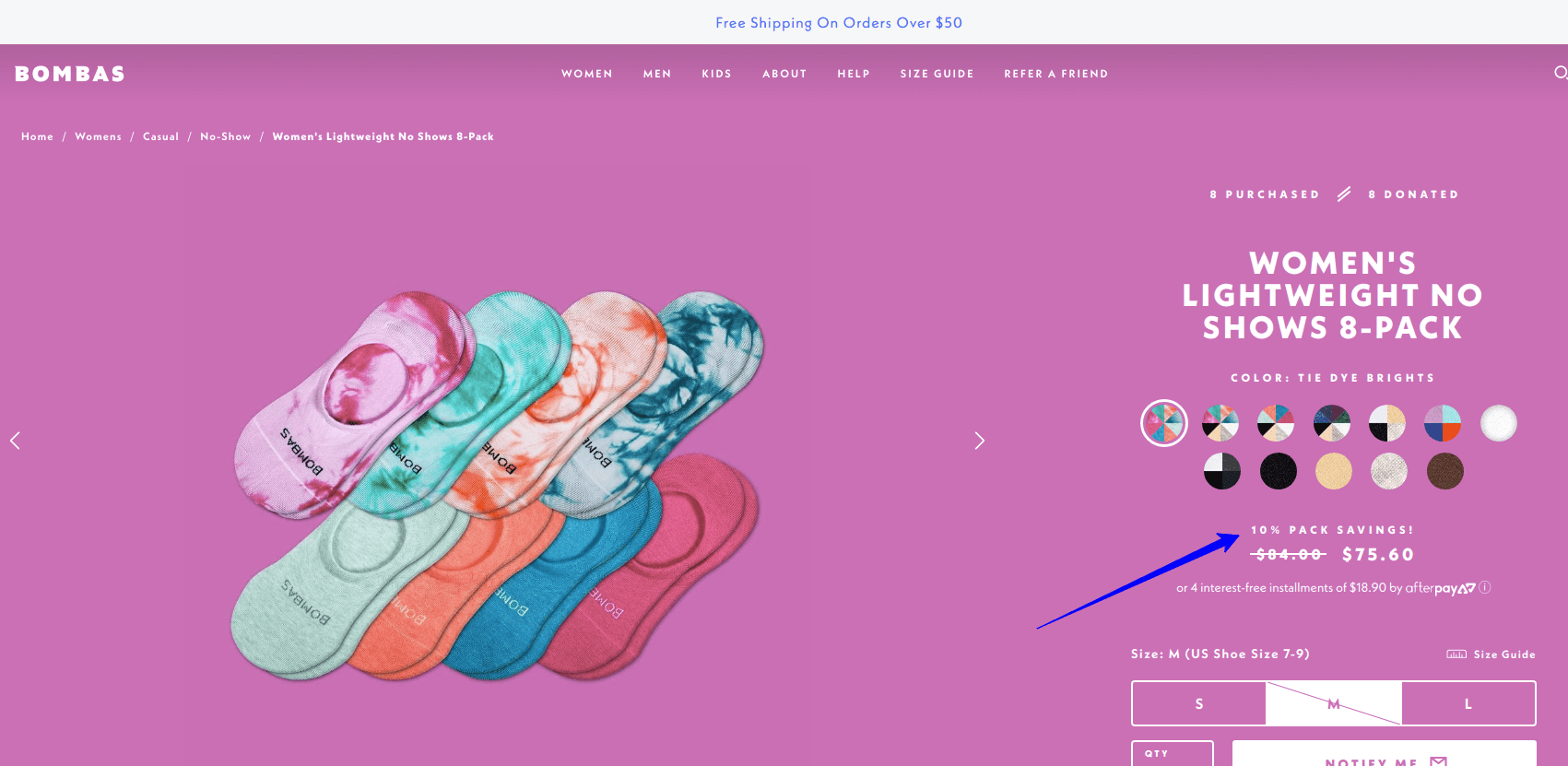 Other bundling tips: 
For the expensive 'subscribe and save' bundle offers, give customers the option to pay in installments.
Let customers take control over their decision-making by letting them create their own bundle. 
Sell products individually as well as by the bundle. This flexibility to compare prices, if they were to buy them per unit, will make them circle back to buying by the bundle.
Anchor them with the discounted price to activate loss aversion. The moment they start thinking there's a lot at stake, they'll grab your discounted offer.
Refrain from selling a high-quality, premium product with an inexpensive one. It compromises the perceived value of the bundle.
#4 Make Room for Customization
On Etsy, sellers capitalize on customization to increase their order value. It works because shoppers co-create products to their own liking and they ultimately end up with a product that's uniquely theirs.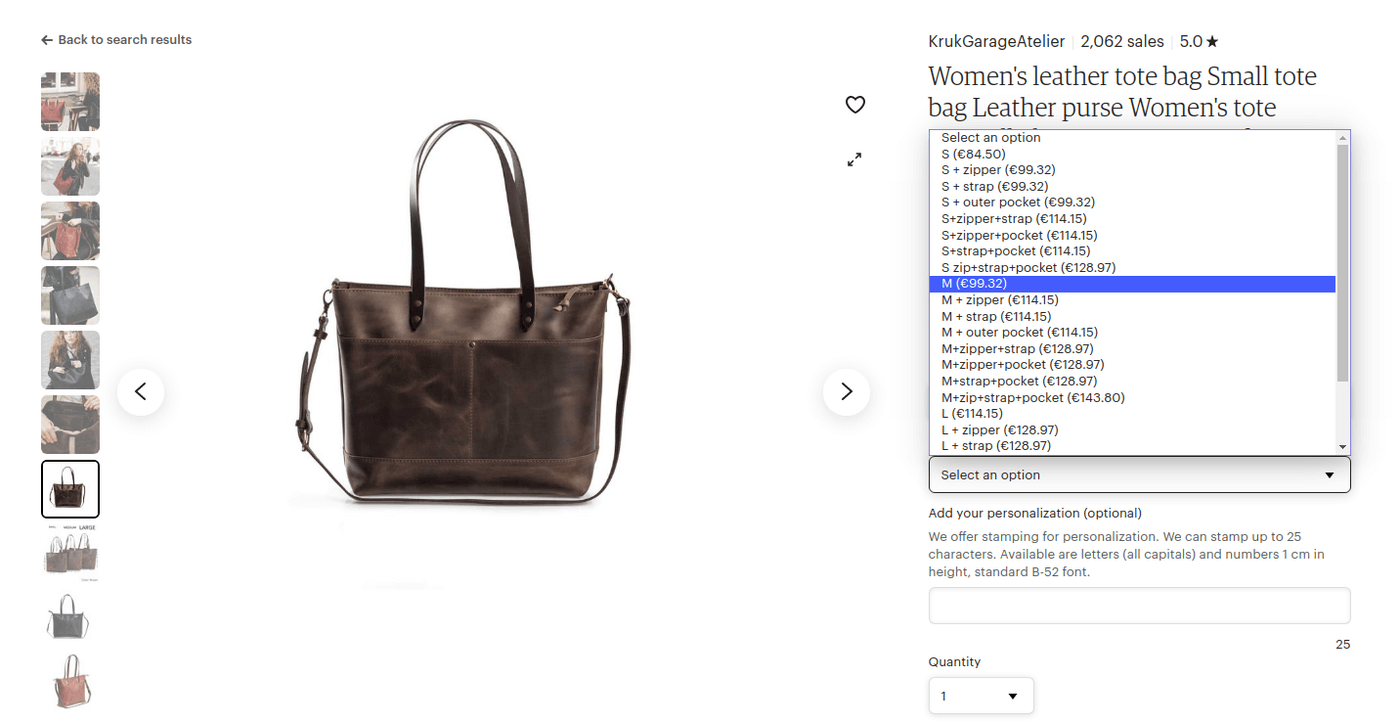 Another example that comes to mind is Nike By You. Through their virtual workshop, customers can put their creativity to use and bring their own, custom shoe designs to life. 
#5 Run Limited Time Offers 
When you offer time-sensitive discounts, you create a sense of urgency among your customers. As a result, they immediately start evaluating whether buying right now is a good decision. In most cases though, especially where brands are careful not to run sales all year long, customers buy right away, because the regret of not having acted soon enough is too much to bear later on. 
Here's an example of how Carter's Clothing goes big on triggering the 'act right now' emotion in peoples' minds.

#6 Give Freebies on a Minimum Order Value
At the very outset, the idea of giving gifts might seem absurd but it works because of the element of surprise attached to it. And because of that, when you ask customers to spend more to get that gift, they happily comply. 
Kiehl's was able to increase their revenue by 31% by giving a free gift. What they did is optimize their basket page with a message and a barometer (for visual impact) to remind the shopper about how close they were to receiving a free gift.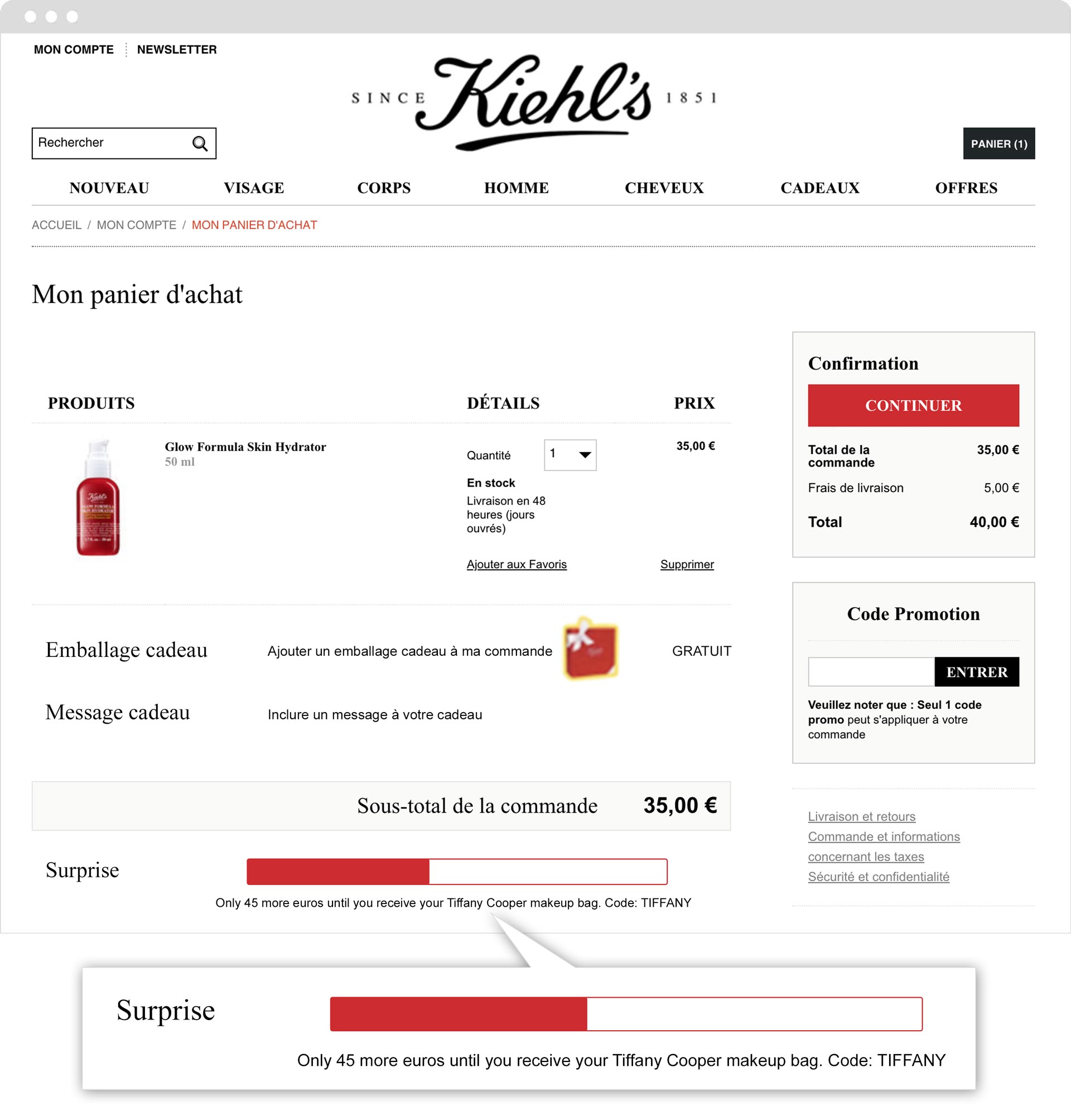 #7 Create a Free Shipping Threshold
Using free shipping thresholds, where you deliver for free above a certain amount, creates a perception in the minds of shoppers that shipping is indeed free. And so they load their cart with more stuff. 
To zero in on your magic number, find out your current average order value. Let's assume it's $50. Now run tests to see if a $65 free shipping threshold increases your average order value or not. If yes, then keep testing to know how high you can raise this threshold without it affecting your conversion rate and profits. 
Then, you can insert the free shipping message on the promotion banners or checkout page. This way, and as can be seen in the example below, customers will be repeatedly reminded of the free delivery perk waiting for them.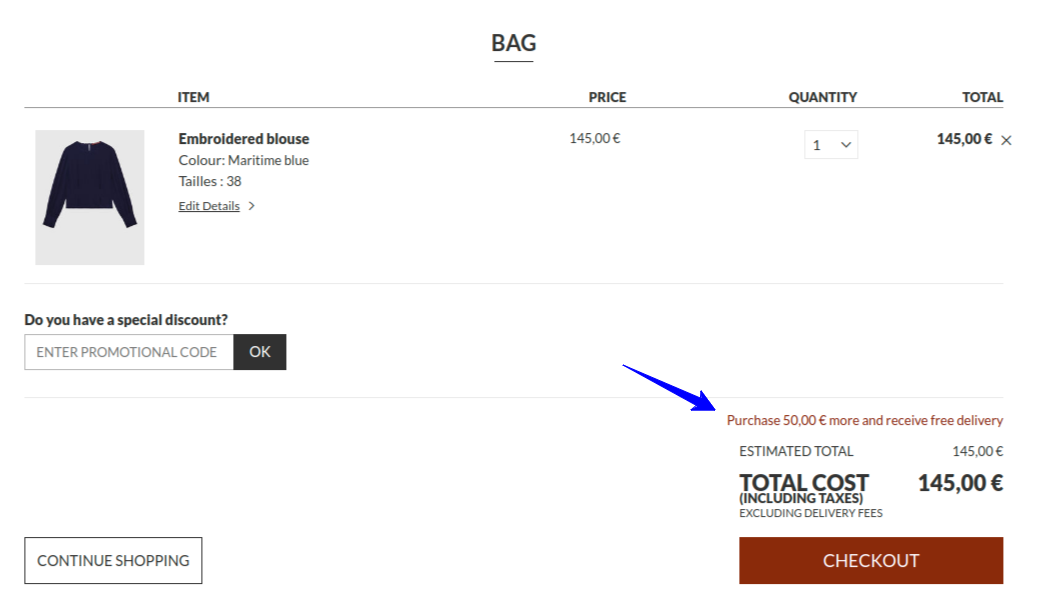 #8 Set Up Enticing Loyalty Programs
People sign up for loyalty programs because they get to enjoy exclusive benefits. But running loyalty programs in itself doesn't increase the average order value. You must actively engage members and remind them of the exclusive benefits. For starters, it's a good idea to notify them of how much reward points they have and how they can graduate to the next tier to snag more benefits. 
If you have a refer a friend scheme, you could use pop-ups to remind them of referral points they can earn. And during sales, send targeted email campaigns to get them to redeem their points and make bigger purchases to refill their account with more points.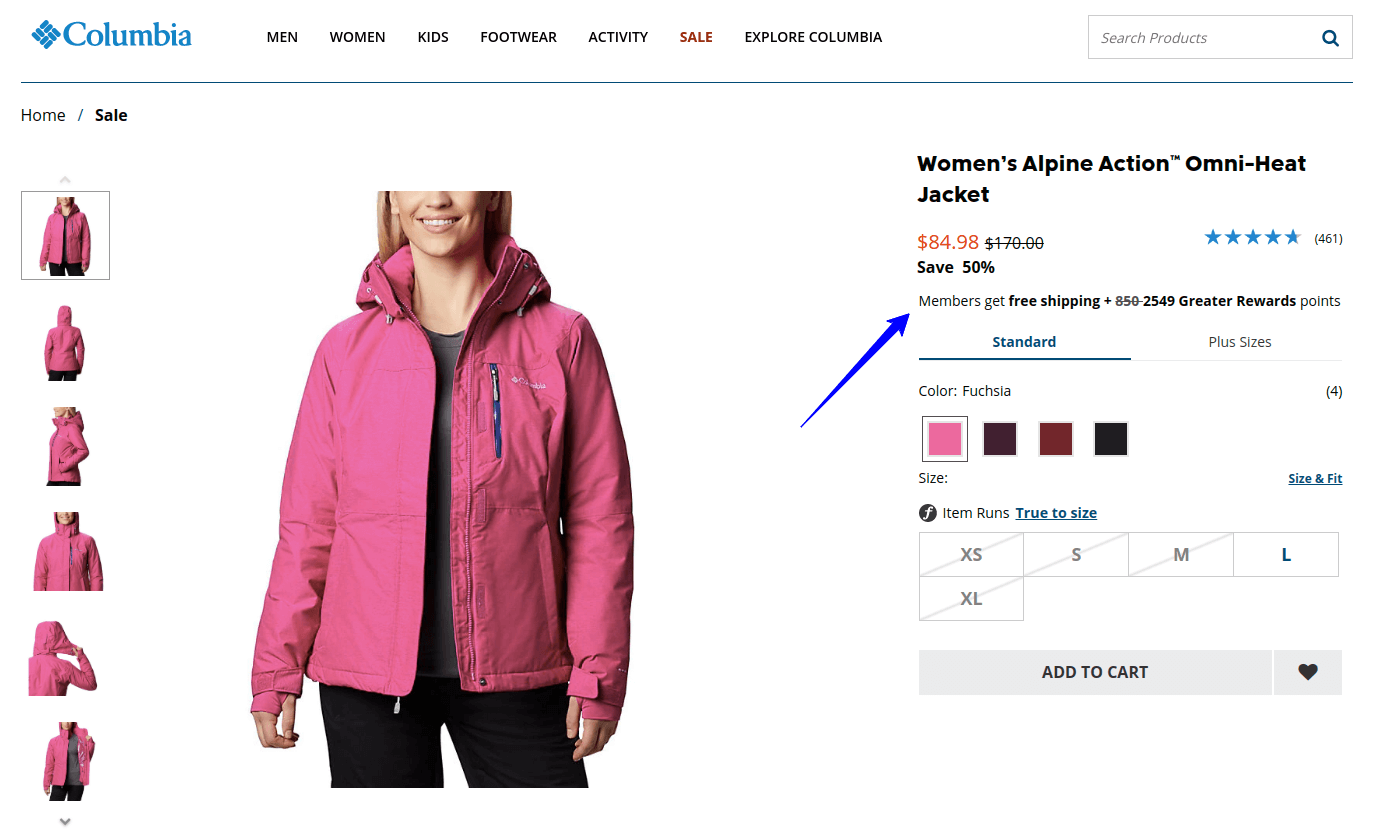 #9 Use Social Proof
According to Search Engine Land, a whooping 88% of consumers trust user reviews as much as recommendations from people they know. What's even more striking is that 94% of consumers will only buy or use a business service if it has at least a 4-star rating.
Suffice it to say, having social proof on your website is a persuasive conversion strategy. It inspires trust in you, and once you've built a solid rapport you can become the brand they'll buy from, not just once but many times over. Long story short, it can positively impact your AOV.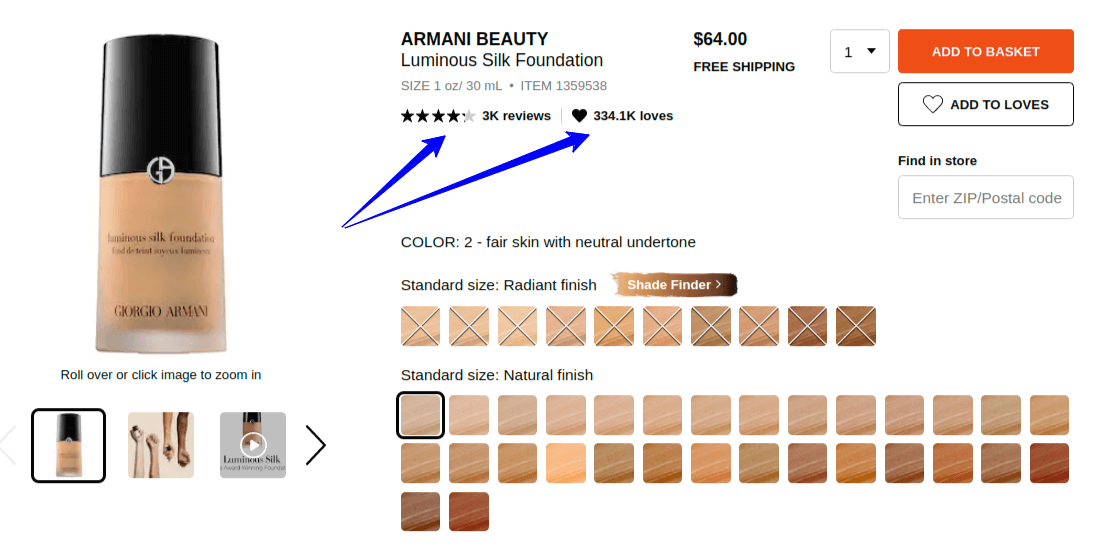 #10 Support a Non-Profit or Charity
When customers see you donating a part of your earnings to a social cause, they will likely buy from you. That's because, through you, they'll feel they've fulfilled part of a social responsibility of making the world a slightly better place. 
Toms, for example, for every $3 they make, donate $1 and remind their customers about the same throughout their website, including the checkout page.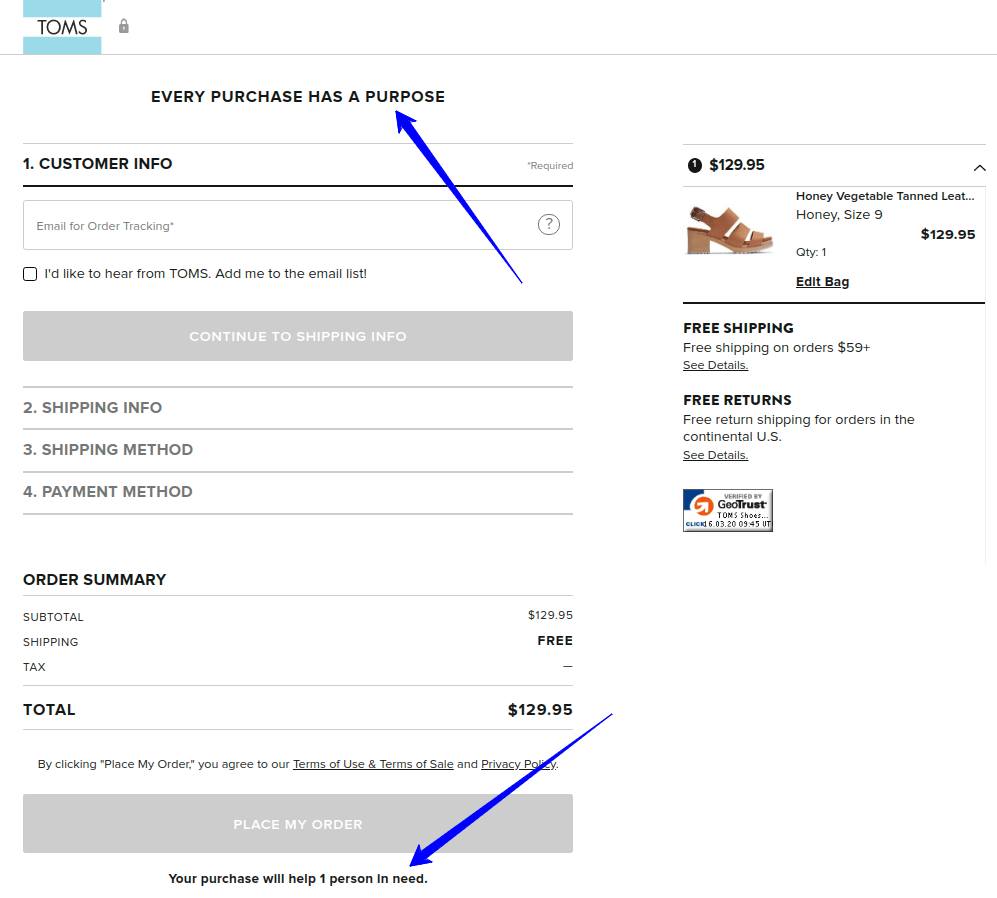 Wrapping Up
Increasing AOV is a brilliant way to supercharge your revenue stream.  So rethink your conversion strategy, set up a few widgets and tweak your messaging and watch the needle move!