In western countries, freedom is said to be synonymous with welfare. When it comes to purchasing, freedom of choice is a way of expressing individuality, personality, and character. It should, therefore, follow that extensive product choice and optional customization would meet this need and lead to the most suitable product.
Major retailers sell their own products, not simply relying on marketplaces, and 150 million products are now available on Amazon UK. The result is an overlap in the attributes of various products and increasingly blurry product individuality. Many items cater to near-identical needs, with little to distinguish between competitors or sometimes even the same brand range of products. It stands to reason, then, that understanding the differences between products is becoming harder.
Visitors are also being asked to step up their involvement and make new choices on size, color, fit, text and so on. This complicates the purchasing process and slows down order completion.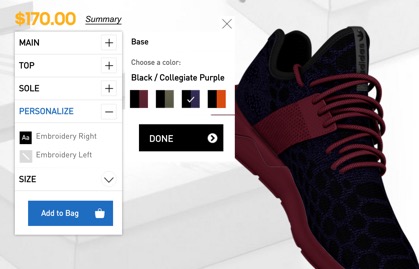 In 2004, American psychologist Barry Schwartz argued that offering more choice to customers makes them anxious, leading to "choice paralysis". Consumers want the freedom to find exactly what they're looking for but perfection is often unattainable as there's always the chance that a better product is just around the corner. A host of attractive features convince them that another product may be better and they become fearful of making the wrong decision. It gets so distressing that giving up becomes the most attractive option.
Online, this paradox of choice is especially true because technology has led to huge product catalogs accessible anytime, anywhere—not just for you but for your competitors too. Visitors are continually switching between stores, evidenced by bounce rate and abandoned carts. In 2014, the Baymard Institute revealed an average bounce rate of 68.5%.
The good news is that there are ways to streamline the decision-making process. A more personalized e-commerce experience for consumers will guide them to the right products and increase the profitability of the site. Consumers visiting your page already chose to browse your products by navigating to your website from Google's results page. The challenge from this point on is to keep their interest and encourage them to make a purchase.
Avoid making visitors over-think
One should bear in mind that visitors are lazy and have a very low attention span. Your product may well have plenty of advantages you would like your visitor to be aware of, but displaying too much information all at once is tedious for the visitor to process and keeps them from continuing.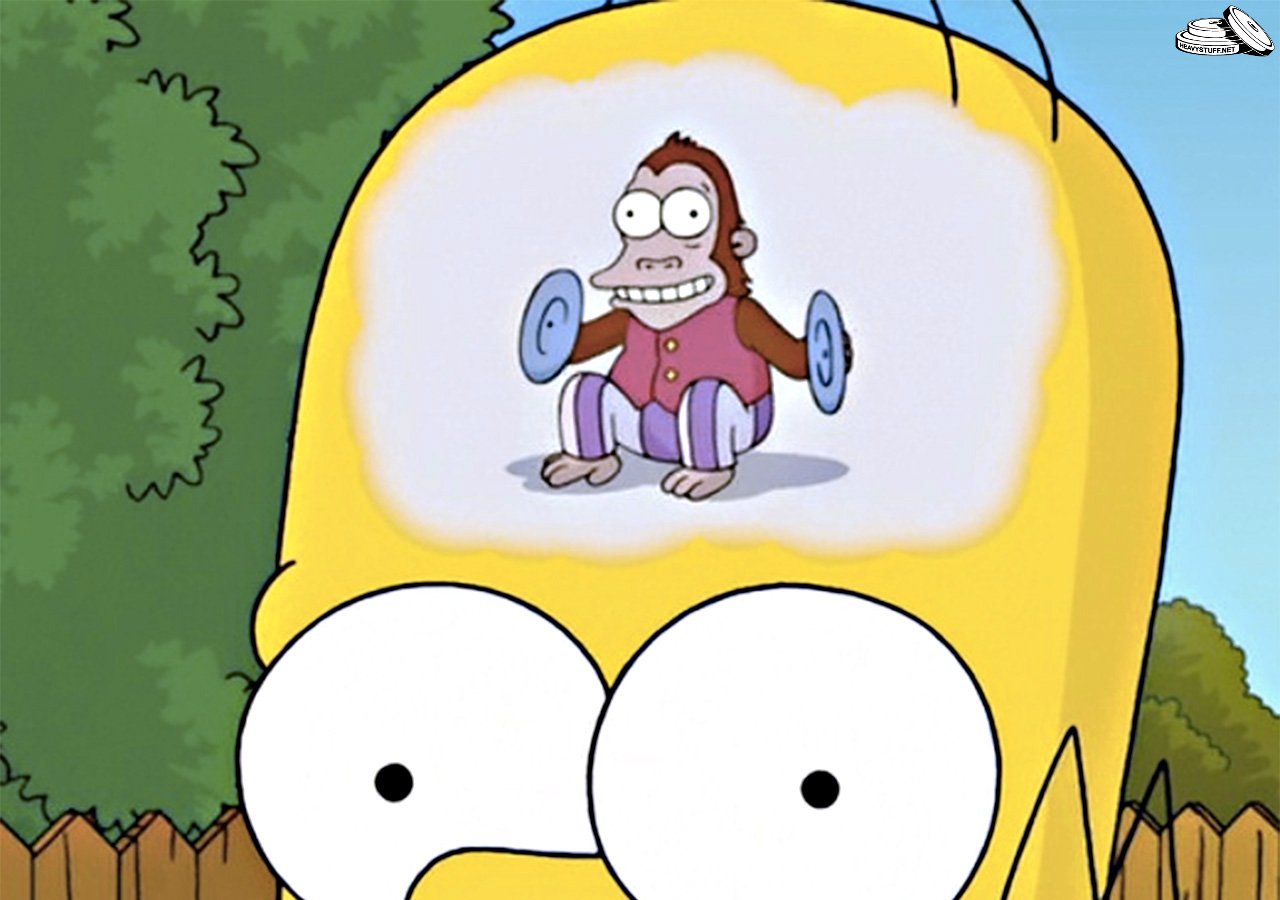 At the same time, providing appropriate information is essential. While the visitor would rather leave than read and analyze too much information, having to hunt down information is even worse. The solution is finding a happy medium between too much and too little information.
Therefore, the most important and accurate information should be displayed in a way that makes it as easy to analyze as possible. The page's purpose should be clear at a glance without having to think about it. Titles must be concise and sum up the rest of the page. Where long texts are necessary, they should be restricted to specific areas (product description, etc.).
Product names and titles must highlight differences between products. When searching for a product, the results often show very similar products next to each other. When the difference is unclear (for a color, a material, etc.) or unnoticeable, the choice becomes harder to make.
Since it's time-consuming, visitors only read 20% of a web page's text on average, according to NN group. Images and videos are much faster to process. If chosen well, they can get a message across significantly faster and leave more time for the visitor to navigate on the page. Product videos and pictures also let visitors see the product in use, and help allay fears that the product won't be as good as said on the website. They also help answer practical questions; for example, on the Marshall Major headphones picture, the hand provides a reference by which to judge the product's size, the length of the wire, etc.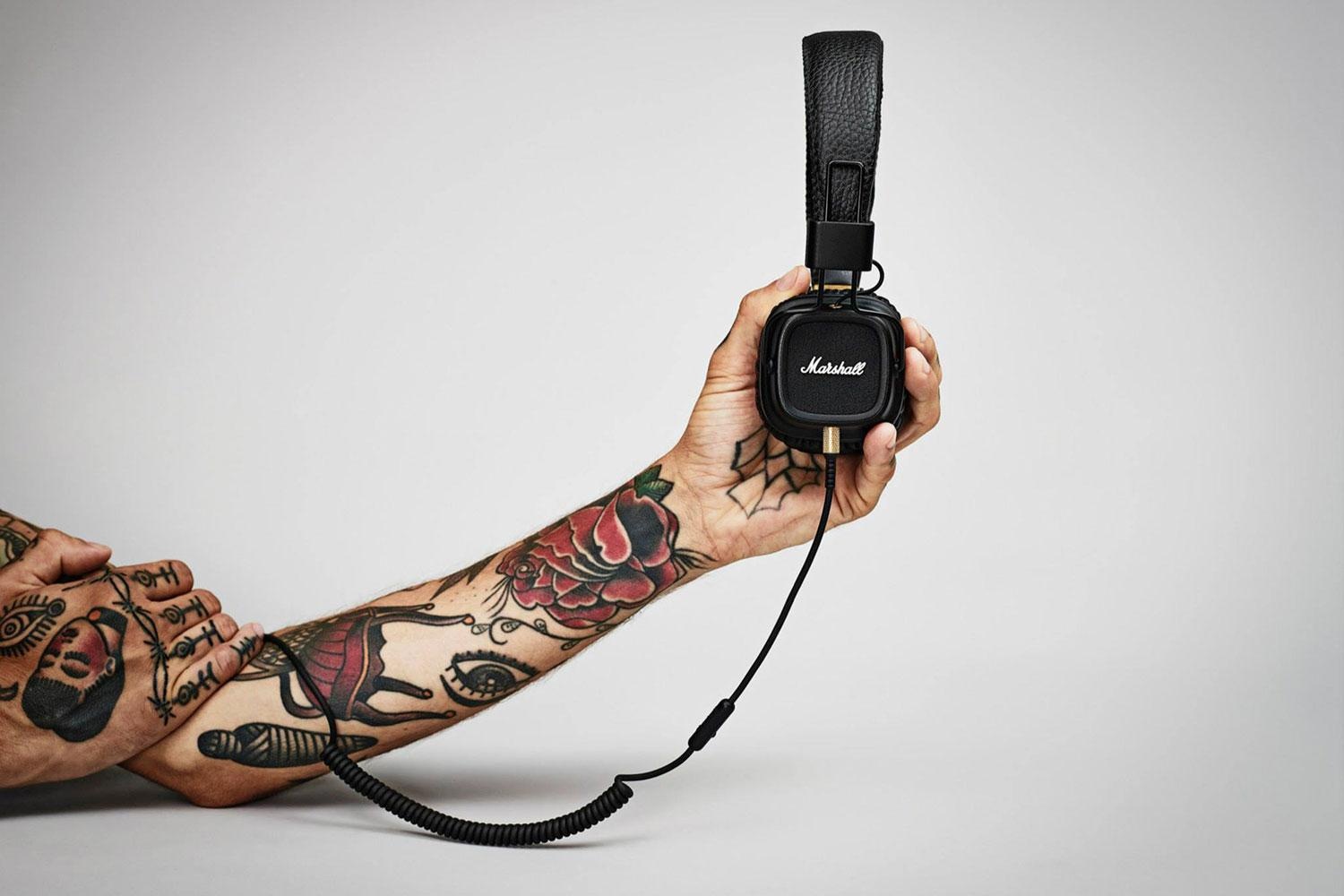 Make navigation smooth and products easy to find
First of all, there is no need to be original and break with design conventions. You should do your best to abide by design standards as they have been used so often that they have become instinctive and require little thought from visitors. A shopping cart in the upper right-hand corner, navigation links on the left, a call to action to the right, and breadcrumb links are among the more traditional conventions. When a complete redesign breaks habits and user experience, it can perform worse than the previous design.
To make navigating products easier, think of implementing simple features for finding products and saving them for future reference, such as a "sticky on scroll" header, a smart search field with auto-completion, relevant filters, wish lists, or a "save cart" feature.
The call-to-action must be visible and clear. To attract attention, its design has to differ from the rest of the website. Its wording must be explicit and correspond exactly to the intended action. Centerparcs, one of our customers in the travel industry increased its global conversion rate by 13.7 % just by changing "Book now" to "Check Availability" as it was too early in the visit to ask the prospect to commit to a booking.

Reduce noise
On a web page, the "noise" is everything extraneous that distracts the visitor from the page's goal. A classic example is the navigation menu in the order funnel. Many websites such as Amazon UK remove the main menu from the order funnel to keep the visitor's focus on the action at hand and move them to the next step. Amazon's funnel is particularly minimalist since it provides absolutely no links to the catalog or products. Visitors must use their browser's back button if they want to return to a previous step.

Apart from the funnel, the product page is also an area of potential improvement. Ecommerce product pages contain a lot of specifications, especially for technical products such as laptops, but when a visitor lands on the page, he isn't looking for the camera's resolution just yet. A short description above the fold is good enough, with the possibility of showing more detailed specifications further down. Some websites, such as Asos, have chosen to remove any secondary information. Here is a comparison of their product page in February and in September 2015. The amount of text has been drastically reduced.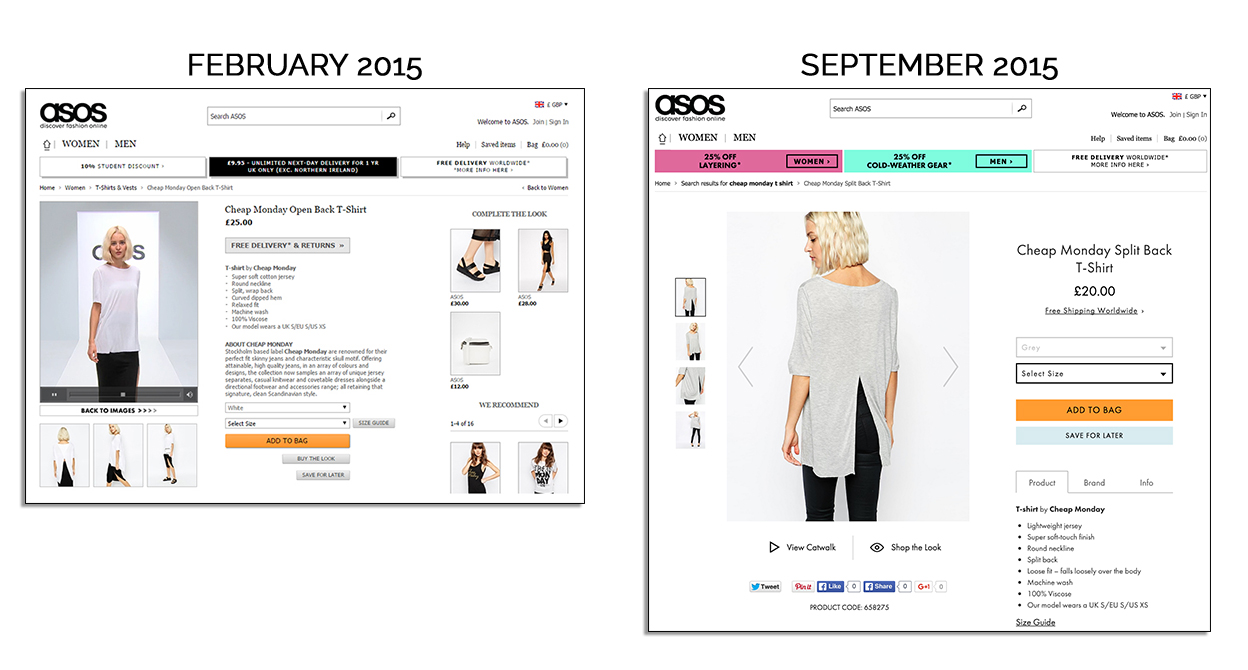 Highlight reputation and trust
Highlighting a product's perceived reputation is a great way to take some weight off of a visitors' shoulders when making a choice. Making a difficult decision with other people is easier because it shares the risk of a potential mistake.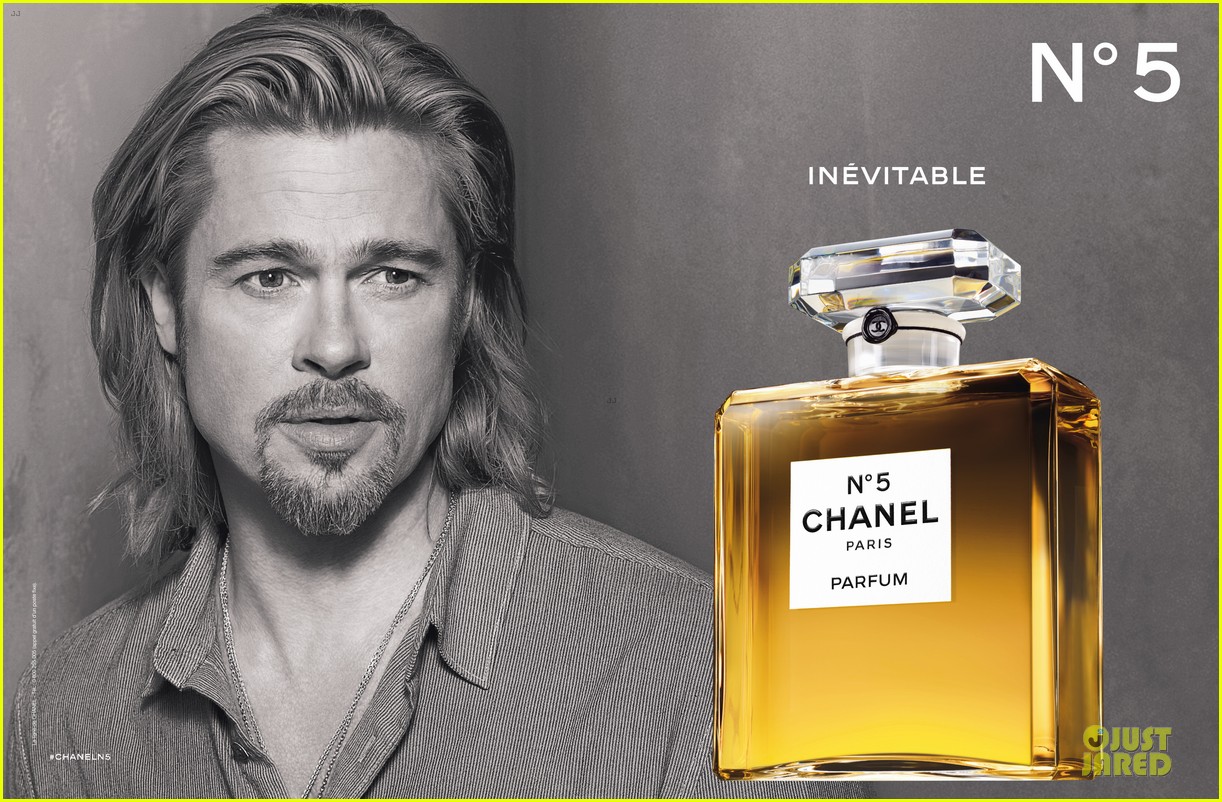 One of the clear ideas behind this ad is that if someone as exacting as Brad Pitt made this choice, then you can safely make the same.
Some products or brands already have a great reputation in their industries after previous worldwide success. They are the easiest to choose because millions have made the same choice in the past. Many people won't doubt the reliability of their products. For example Lacoste Shirts, Levi's Jeans, etc.
Of course, it would cost too much to have Brad Pitt advertising everything for you, and you don't sell only world-famous products. Fortunately, there are other ways to highlight reputation.
Product reputation and trust actually rely for a large part on the community. Building a strong community is sometimes even part of the advertising strategy (Apple versus Microsoft). Tools that foster online communities around brands or products on social networks, consumers' reviews, or ratings are easy to put on the website and help build visitors' trust.
Playing on urgency
The fear of missing a bargain is often used to counterbalance the fear of making a wrong choice. The latter stops the visitor and makes him doubt whereas the former leads to a quick decision. The most common form of displaying on-site urgency is showing a countdown to the end of a special offer. The image below shows how PC World puts pressure on the visitor to become a customer.

Conclusion
The effort of finding a product and the fear of making a wrong decision cause visitors to abandon their cart and hinder online sales. From this perspective, a website's goal is to alleviate this fear by building a clear, accessible and logical path to conversion, without any unnecessary information.