Every visitor shopping online wants to find a product that precisely meets their expectations quickly and efficiently. To achieve this, you can offer your potential customers purchasing advice to guide them throughout their buying journey.
In this article, you will discover the different forms of virtual shopping assistants available in e-commerce and the advantages they bring to you and your customers.
What are virtual shopping assistants?
Virtual shopping assistants, enabled by shopping engagement software, provide your shoppers with support in their product selection through an interactive and personalized exchange. By asking precise questions, your customers can find products that align with their wishes and needs more quickly.
This approach is based on the purchase advice provided in brick-and-mortar retail, aiming to overcome the impersonal components of online shops and enhance the individual user experience.
How do virtual shopping assistants differ from faceted search?
With faceted search, your customers can filter their search results in the online shop to view the products that interest them. For example, when searching through an e-commerce apparel shop they can use faceted navigation to select features, such as women's blue capris in size 40, providing a user-friendly experience.
However, customers need to already know exactly what they want to buy to filter accordingly. If a customer is uncertain about their purchase or unsure about the specific product features they desire, they require support in the form of virtual shopping assistants.
What kinds of virtual shopping assistants are available?
There are various formats of virtual shopping assistants in e-commerce that can be integrated at different points of the customer journey. Let's take a closer look at two categories: person-to-person communication tools and automated tools that can handle multiple customer inquiries in real time.
Virtual shopping assistants with human-to-human communication
Below, we present two examples of virtual shopping assistants that utilize human-to-human communication:
Live chat
Live chat is a messenger tool that allows your customers to directly contact an employee of your online shop. Typically integrated as a pop-up window on the company website, it facilitates one-to-one communication, resembling the experience of brick-and-mortar retail.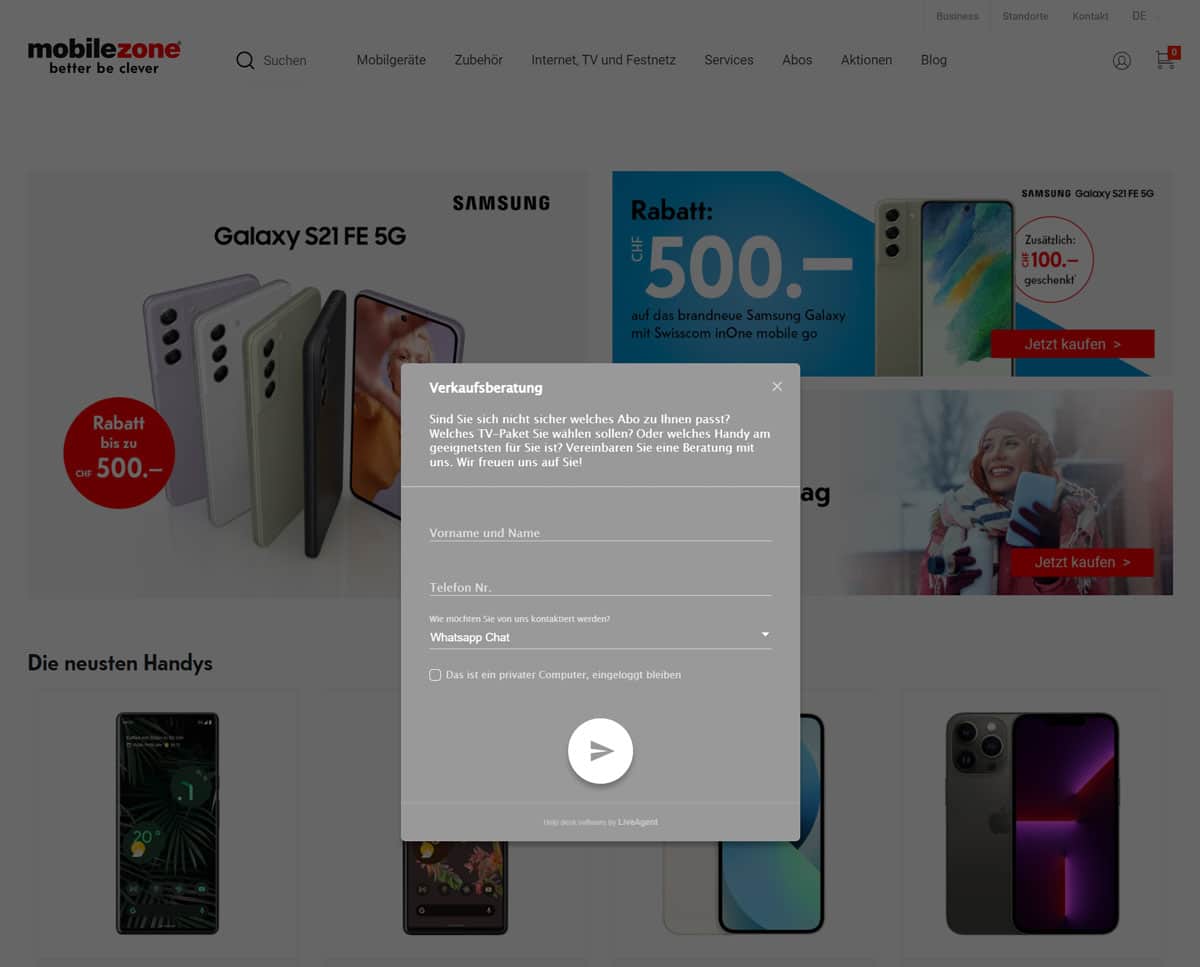 Video consultation
Video consultation is a rising trend in the e-commerce industry. 
Customers visiting your e-commerce site may still be exploring their needs, making phone, chat or email interactions insufficient. With video consulting, customers can engage in face-to-face conversations with an employee of your online shop, ask questions, and receive individual advice on your products and processes. 
For instance, customers can share their screens and present their ideas and inspiration to the sales representative, leading to a more targeted sales pitch. This combination of online shopping with personalized attention replicates the experience of boutique purchases and ultimately boosts customer loyalty and satisfaction. 
The advantage: Your customers receive immediate, personalized answers to their questions about products and processes while they browse your shop. Especially for complex products that require explanation, customer-oriented live chat can positively influence purchase decisions. Additionally, you can offer appointments for individual purchase advice.
Virtual shopping assistants with AI-based tools
Now, let's explore two examples of online consulting software that utilize AI-based tools for real-time interactions with multiple customers at once.
AI-based chatbots
Chatbots using artificial intelligence can respond to hundreds of customer inquiries simultaneously and in real time. 
With the emergence of large language model chatbots such as OpenAI's ChatGPT and Google's Bard, brands have the potential to revolutionize how they engage with their customers online.
Depending on how the tool is programmed, it can recognize natural language, generate suitable answers from text blocks and databases on your website, and even escalate queries to a human employee if necessary. This enables personnel-friendly automation of various processes. 
Guided Selling
Guided Selling involves guiding your customers through the product selection process to facilitate a confident purchase decision. This is particularly useful for potential buyers who may not possess enough knowledge about the products to make an informed choice.
For instance, when it comes to purchasing a stroller, expectant parents can feel overwhelmed by the countless models available. Guided Selling assists them in narrowing down the selection through targeted questions, leading to the ideal stroller. This can be seen in the example from babymarkt.de, who uses Guided Selling from AB Tasty to provide better shopping experiences for their customers.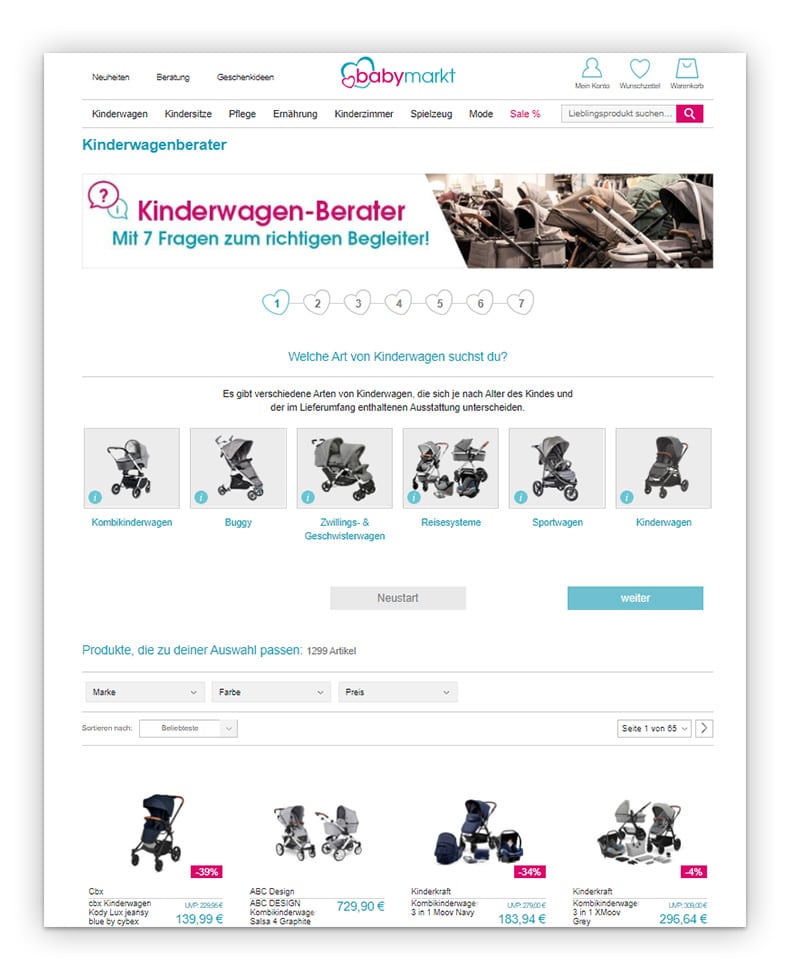 This form of assistance, where a customer is guided step-by-step through the consultation process based on specific questions, is especially suitable for products that require explanation and mirrors the experience of a sales pitch in brick-and-mortar retail. Guided Selling can also be used for self-explanatory products, where customers can find the right product selection by selecting certain tags.
What makes Guided Selling special is that the results can be personalized to display suitable products based on the individual click and buying behavior of your customer. This ensures that your customer receives not only products that match their desired features and requirements but also their unique preferences.
Why is good customer engagement important in e-commerce?
Customers who feel well-advised are happy to come back. This applies to both brick-and-mortar stores and e-commerce shops. In addition, there are other reasons for using shopping engagement software like virtual shopping assistants.
Personalized shopping experience
When potential buyers walk into a brick-and-mortar store, they can approach the on-site sales consultants to find the right product. 
By integrating this service into your online shop in the form of live chats, video advice or Guided Selling, you enable your customers to recreate the feeling of an interactive, personalized shopping experience.
Shoppers become customers
Virtual shopping assistants help you convert potential buyers into customers. By putting customers in direct contact with your team or catalog, they get answers to their questions that can positively influence their purchase decision. 
For very personal products such as mattresses, a virtual shopping assistant tool helps visitors to find the one that exactly meets their needs from the multitude of models. 
A better user experience
Your visitors appreciate positive experiences throughout their customer journey. 
Support through virtual shopping assistants gives them a secure feeling when choosing a product and more frequently leads to a purchase decision. In addition, virtual shopping assistants make shopping easier: You present your customers with suitable solutions, they feel understood and the positive user experience is anchored in their memory.
Higher conversion
With virtual shopping assistants and shopper engagement software, you can reduce lost sales opportunities and thus increase your conversions. Sometimes potential buyers leave a shop because they didn't find a product that is actually there. If they can easily ask a sales representative about the product via live chat, it will improve their shopping experience.
Your potential customers have already added products to their shopping cart, so why are they abandoning the checkout process? One possible reason: They had a question about a process that was not answered quickly enough. With an AI-based chatbot available during the checkout, these questions can be solved quickly and efficiently.
Higher customer satisfaction
The personalized service of a virtual shopping assistant creates an intimate atmosphere – a 1:1 exchange reminiscent of brick-and-mortar experiences. This not only strengthens potential buyers' trust in your company but also their satisfaction. And satisfied customers turn into loyal customers. 
Fewer Returns
Implementing virtual shopping assistants in your shop reduces the risk of returns. The two most common reasons for returns are either that the product didn't fit or they didn't like it. 
With personal, targeted advice, you can help your customers to choose the right products that meet their wishes and needs as precisely as possible. This reduces your costs and makes your returns management easier.
Conclusion: Virtual shopping assistants make e-commerce more human
Virtual shopping assistants are a must-have in e-commerce. It offers advantages for you as an e-commerce marketer as well as for your customers. 
Live chats or chatbots, video advice and Guided Selling make it easier for potential buyers to select a product and improve their user experience. In a 1:1 exchange, they receive personalized answers to their questions – the online shop becomes more human. At the same time, you benefit from higher customer loyalty and fewer returns, which means you can increase your sales.