Introduction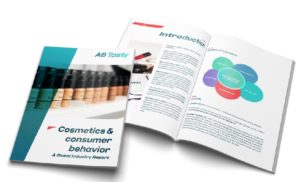 The Cosmetics Industry is valued at $532 billion. It's an industry that appears to remain constant even in the face of disruption (the so-called "Lipstick Effect" helping secure its reputation as being "recession proof"). This report takes a closer look at the trends shaping and elevating the Cosmetics Industry, from the influence of digitally native brands to how artificial intelligence is shaping everything from product formulas to hyper-personalized customer experiences.
Challenge
How is the Cosmetics Industry adapting in the face of unprecedented digital advancements and the global disruption of Covid-19?
What you'll learn
The link between conscious consumerism and cosmetics
The relationship between digitally native brands and large corporations
How artificial intelligence is helping create highly personalized experiences
…If there's one underlying theme this industry report should spotlight it's the necessity of relevance. Consumers want tailored experiences and custom products. They want products and regimens that adapt with them, and artificial intelligence can be the conduit to smarter cosmetics.