rides The Forrester New Wave™ to the top
Flagship, the feature management platform by AB Tasty, has been named a leader in "The Forrester New Wave™: Feature Management And Experimentation, Q2 2021."
The independent analyst firm's report gives an overview of the emerging market: breaking down their overall findings into four categories: challengers, contenders, strong performers and — lastly — leaders.
The Forrester New Wave
Feature Management and Experimentation, Q2 2021
Flagship was among seven vendors that Forrester identified as "most significant providers" in the emerging market for feature management and experimentation: ConfigCat, Featureflow, LaunchDarkly, Optimizely, Split and Unleash.
The report evaluates the emerging market for feature management and experimentation by analyzing seven vendors against 10 criteria.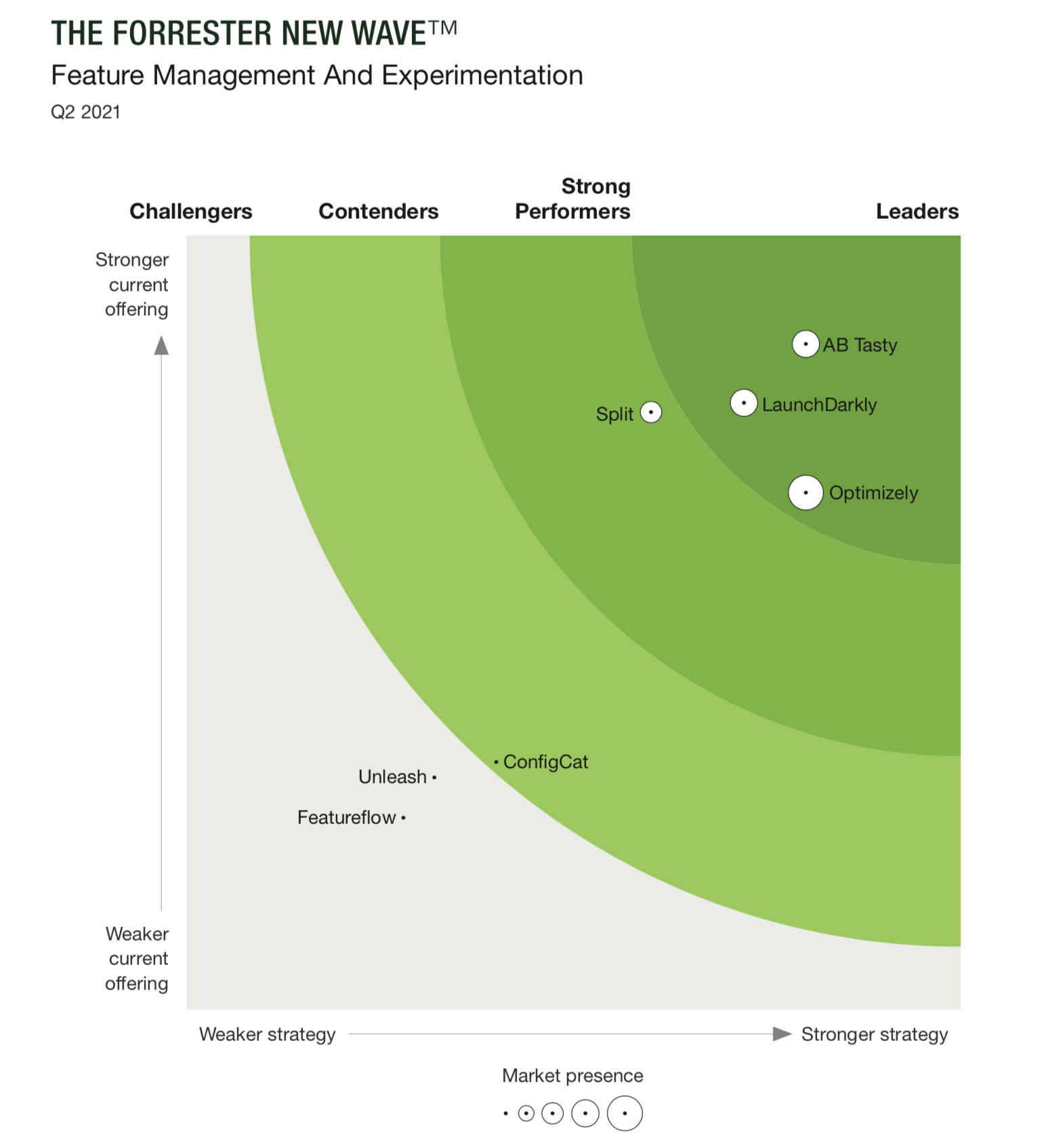 The 10 criteria for evaluation in feature management and experimentation
According to Forrester, AB Tasty is among the leaders in this market — thanks to our differentiated ratings in feature management,  audience targeting, security and privacy, architecture and vision criteria.
Flagship's "cloud-native architecture balances feature management and A/B testing capabilities, serving app dev and product leaders equally well. It also has robust security featuring independently verified penetration testing and certifications," the report states.
Clients trust us with feature management
Built especially for enterprise product and engineering teams, Flagship equips them with the right tools to accelerate delivery of validated ideas via simple implementation, such as KPI-triggered rollbacks or decoupling of code releases from feature releases. Our feature flagging platform ensures teams have full control over how features are released and their impact on the end user experience as well as business KPIs.

Flagship is made for the modern engineering and product teams.
Want to ship with confidence?