When it comes to gin, the Gin Kiosk team knows it all. A new project from the founders of Gin Foundry, a UK based online hub for those who seek out more information about the spirits they're drinking; Gin Kiosk is an online shop and vagabond pop-up stall that brings a personal touch to gin selection, and where spirits enthusiasts can purchase a variety of gins, tonics and vermouths.
Challenge
Having lots of product reviews on your online kiosk is usually a good thing. For Gin Kiosk, however, paragraphs of consumer opinions were taking up considerable space on each product page, pushing the page's 'related products' bar farther and farther down. The team thought that this reduced visibility was preventing clicks on related products – and therefore reducing potentially lucrative cross-selling opportunities.
A/B Test Idea
The AB Tasty CSM team had an idea. What if they simply moved the related products bar up above the blocks of reviews? Would simply reducing scroll time increase CTR on similar products? And, crucially, would this in turn boost sales overall? Or were reviews so essential to purchase that obscuring them would have a negative effect on net transactions and revenue?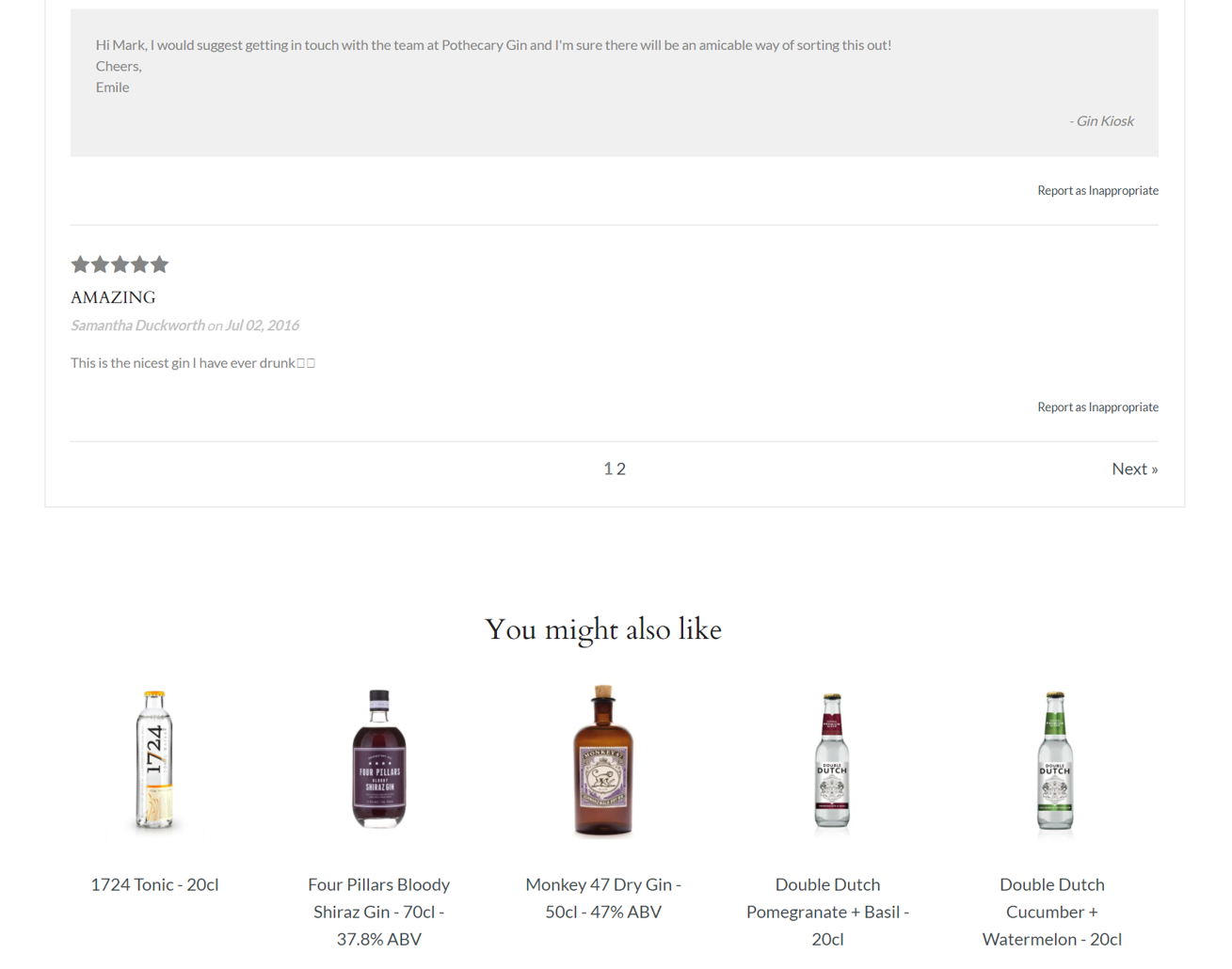 Implementation
Gin Kiosk decided to test and find out. With a little help from the AB Tasty CSM team, they set up a simple A/B test via the AB Tasty platform. Using their original site as a control, they modified all their product pages on the kiosk to show the 'related products' bar above the reviews section. During the test, half of their website visitors would see their original product pages, and the other have the variation. Specifically, they were interested in seeing if this change would increase CTR on the related products, as well as boost transactions and revenue. They only needed an hour of setup time, and they let the test run for three weeks.
Results
The results were significant: Gin Kiosk experienced a +27% lift in revenue, +30% increase in transactions and +28% boost on cross-selling bar clicks during the three weeks of the A/B test. Results were so conclusive that their developer immediately hard coded the variation changes using their CMS.
Takeaway Tip
This test not only shows that increasing the related product bar's visibility boosted its CTR, it also demonstrates the impact of its visibility on overall transaction rates and revenue, as opposed to the visibility of product reviews.
Gin Kiosk learned that privileging cross-selling opportunities on product pages could have a real impact on their bottom line.