Havas Voyages and AB Tasty began working together in 2015. After putting considerable effort into optimizing the user journey through their site, Havas Voyages is today focusing more on using their Conversion Rate Optimization (CRO) expertise to integrate sophisticated personalization campaigns into their optimization strategy.
Challenge
Created in 1938, Havas Voyages today includes 335 agencies across France, as well as 1,200 Travel Planners who help their clients prepare their trips. The agency is part of the tourism group Marietton Developpment, which generated 1.2 billion euros in revenue in 2016. Havas Voyages is a forward thinking and innovative company in the travel industry, both in regards to their brick-and-mortar locations as well as their digital presence. Relying on their solid agency network as well as their strong e-commerce activity, Havas Voyages has two main objectives: maximizing online transactions and attracting more foot traffic to their agencies. The particular challenge with this personalization campaign was to serve up a personalized message – sent using geo-targeting – to encourage online users to visit the agency nearest them.
Personalization Idea
This personalization campaign revolves around serving up the right message at the right time, according to the webpage and the visitor's on-site behavior. Two campaigns were put in place:
– On the homepage, a retention pop-in is shown to website visitors whose behavior indicates they are about to leave the page. The message encourages them to go see a Travel Planner in the city nearest to where they are currently browsing (image 1).
– On search and product pages, Havas Voyages wanted to integrate a sidebar to make it easier to get in touch or book a meeting with a nearby Travel Planner (image 2).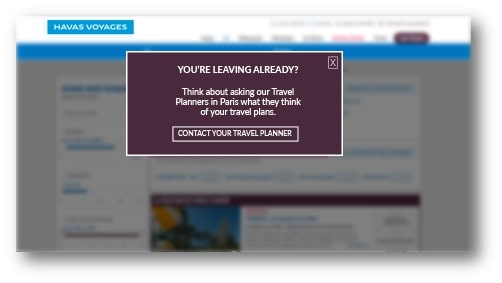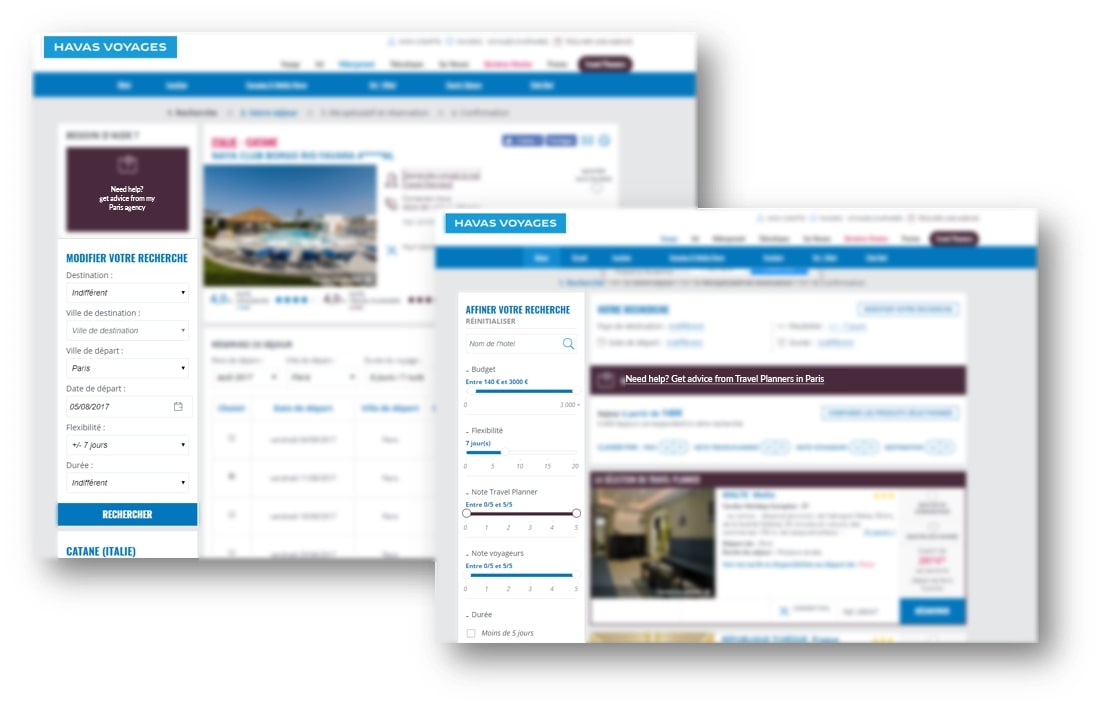 Results
The preparatory work done by the team at Havas Voyages of very precisely cataloging all of their agencies allowed them to deliver clear, accurate and relevant messages according to the target audience's geographic location. In total, nearly 3 million unique visitors were exposed to these two campaigns.
Following the campaign, Havas Voyages noticed an average increase of 20% in the number of phone calls to their call centers, without seeing a decrease in the number of transactions on their website. Even though it wasn't possible to precisely follow the number of internet browsers who physically visited agencies after the personalization campaigns, the use of geo-targeting in these campaigns was considered a total success, since they increased offline interactions without being detrimental to online performance.
Takeaway Tip
Sometimes seen as competitors, brick-and-mortar agencies and websites of the same brand are more often that not actually compatible with one another. Havas Voyages has shown how personalization allowed them to optimize their drive-to-store strategy to further improve the customer experience, in addition to improving the synergy between their physical locations and their website.