Hodges Badge Company is the leading manufacturer in the U.S. of custom ribbons, medals, plaques, sashes, and buttons to celebrate achievements across athletics, academics, equestrian shows, and more. Founded in 1920, and family-owned to this day, Hodges Badge Company has a near-century long standing as the top provider in this field.
Challenge
The Hodges Badge team believed that adding customer reviews to its product pages would cultivate a sense of trust among online visitors and incentivize them to make a purchase. Working with EXCLUSIVE (which specializes in e-commerce growth), the team at Hodges Badge decided to test their theory and experiment with how customer reviews were displayed on these pages.
Split Test Idea
EXCLUSIVE used the AB Tasty platform to set up a split test on the Hodges Badge website. The test divided traffic equally between the original version and two variations, which pulled in the top 5 customer reviews that had been left on a third-party platform. (In the original version, customer reviews were not displayed on product pages.)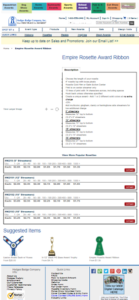 Original
In variation A, reviews were added below the carousel of suggested items at the bottom of the page. In variation B, the reviews were displayed above the suggested items.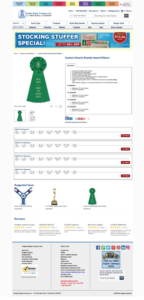 Variation A
Results
While both variations outperformed the original, displaying customer reviews below suggested items was ultimately the winner: increasing conversion rates by 38% and revenue per visit by 67%. EXCLUSIVE found that, while customer reviews do have a positive impact on conversions, how they're displayed is a key component to their success. For instance, when reviews were displayed below recommended products, engagement with this carousel increased by 18% and contributed to 12% of total orders. But when reviews were placed above suggested items, interactions with recommended products decreased by 57% (and accounted for 3% of total orders). So while this variation did perform better than the original, it also unintentionally limited the customer: distracting visitors from similar items that could have increased their basket size.
Takeaway Tip
As this split test shows, you don't need a site-wide redesign to see big gains like increasing revenue per visit by 67%. Even subtle modifications, like where you place elements on a web page, can significantly impact user behavior and transaction rates. Optimization isn't focused on making drastic changes, just the right changes, which can be big or small.