Founded in 1856, Hunter is a progressive British heritage brand renowned for its iconic original boot and holds two Royal Warrants of Appointment to HM The King and HRH The Duke of Edinburgh. The brand has a rich history of innovation and continues to design to protect from the elements and perform on varied landscapes.
---
The Social Proof Hypothesis
"Social proof is one of the most useful tools of persuasion a brand can employ. Used well it can enrich the customer experience and help customers make an informed decision based on what others are doing" explains Beth Hodge, Head of Optimisation at Conversio. "Working together with Hunter Boots and AB Tasty we wanted to measure whether social proof can improve the experience for Hunter customers and ultimately drive incremental value. Importantly we also had to consider how to serve a message that aligned with the Hunter brand and how it should be applied to different geographic segments considering Hunter Boot's broad international customer base"
 To do this Conversio defined a strategy to test and measure AB Tasty's social proof capabilities and individually measure the impact on UK and US customers. Conversio's detailed data-first approach wanted to establish which messaging and metrics most resonate with the customer, which pages and locations social proof has the highest impact and the optimum thresholds that define exposure. "It's critical that when launching social proof you optimize all the elements of the experience to maximize your results, it's about the continuous refinement of the experience" adds Beth.
About Conversio
Conversio is a leading independent optimization and analytics agency, headquartered in London and partners with AB Tasty. They are down-to-earth e-commerce experts who use data, insight, and continuous experimentation to sustainably grow your business
IMPLEMENTATION
After an initial proof of concept and refining the experience with optimized messaging and positioning social proof demonstrated a +9% conversion rate improvement for the UK site and +6 for the US site.
"What was clear from our analysis of those customers exposed to social proof was that we needed to apply specific tactics and design by market to maximize the value of this feature, for example, it was clear that product view data had a bigger impact on US customers than it did in the UK" explained Beth.
Hunter Boots now had a solid foundation on which to grow and expand their use of social proof.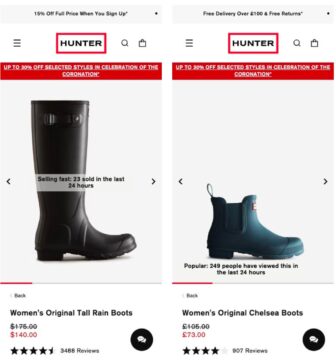 As part of Conversio's approach to further refining the customer experience of social proof they worked closely with the AB Tasty team to make use of the social proof API. This gave Hunter Boots greater flexibility about where and when to serve these messages to their customers. This included intelligently rotating two different social proof metrics on the product pages vs. a single message which had shown the initial promising results. This further improved on the conversion uplift already seen by 2% in the UK and 1% in the US.
Next Steps – Building on the success
"We are pleased to see the addition of social proof resonating so well with our customers, we have worked with Conversio to ensure the messaging feels on-brand while still highlighting product popularity. This is especially impactful for the rollout of new footwear product categories like commando boots and sandals as customers are less knowledgeable on these products. Social proof really helps us drive newness, and supports conversion rate across our well-known rubber boots. We are excited to see where we can optimse this experience going forward"
 Bryony Longden – Head of eCommerce Operations
Conversio already has plans in place to trial social proof badging on the product list pages as well as using it in the post-add-to-bag experience. Providing extensive experience and end-to-end conversion expertise, applying pre-eminent data analysis, insight and testing methodology to the optimization of e-commerce businesses by means of continuous improvements to their website performance and efficiency.
TAKEAWAYS
The implementation of social proof on Hunter Boots' website proved to be a successful tactic, resulting in a significant increase in conversion rates for both the UK and US sites. A data-first approach and optimization strategy allowed for the refinement of the social proof experience, tailoring it to specific markets and product categories. It provided Hunter Boots with greater flexibility and opportunities for further optimization.
This success serves as an example of how social proof can be a valuable tool for brands to enrich the customer experience and drive incremental value.