Inspired by other brands in the L'Oréal Luxe portfolio, such as Lancôme, Biotherm, Urban Decay and YSL Beauty, the digital teams at Kiehl's started working with AB Tasty in January 2018. With the help of Léa Benquet, their dedicated Customer Success Manager, the team was even able to surpass their initial targets.
Challenge
Our e-commerce clients often have the same main KPI: maximize the total revenue generated on their website. As for Kiehl's, they have an impressive success story to tell: the brand began selling their products in stores such as Colette (in 1997) before opening their own boutiques (almost 15 in France). Naturally, their proprietary website's performance is particularly vital to the brand.
In order to tackle this challenge head on, the digital teams at Kiehl's decided to concentrate on the basket page. The idea? Create a visual that would be presented to the shopper before they finalized their purchase, encouraging them to take advantage of a free gift over a certain basket amount. For the brand, the advantages are numerous: increase the average order value (interested shoppers will increase their basket size in order to receive the gift), as well as strengthen client loyalty with exclusive, branded Kiehl's gifts!
A/B Test
Kiehl's decided to implement a sort of visual gauge on the basket page that indicates how much more the browser has to add to their basket in order to get the gift (in this case, a free product).
AB Tasty's WYSIWYG editor made it easy to implement this visual barometer. In order to determine how well the test performed, different KPIs were measured, such as the click rate, access to the rest of the purchase funnel, number of transactions and the impact on the average basket size.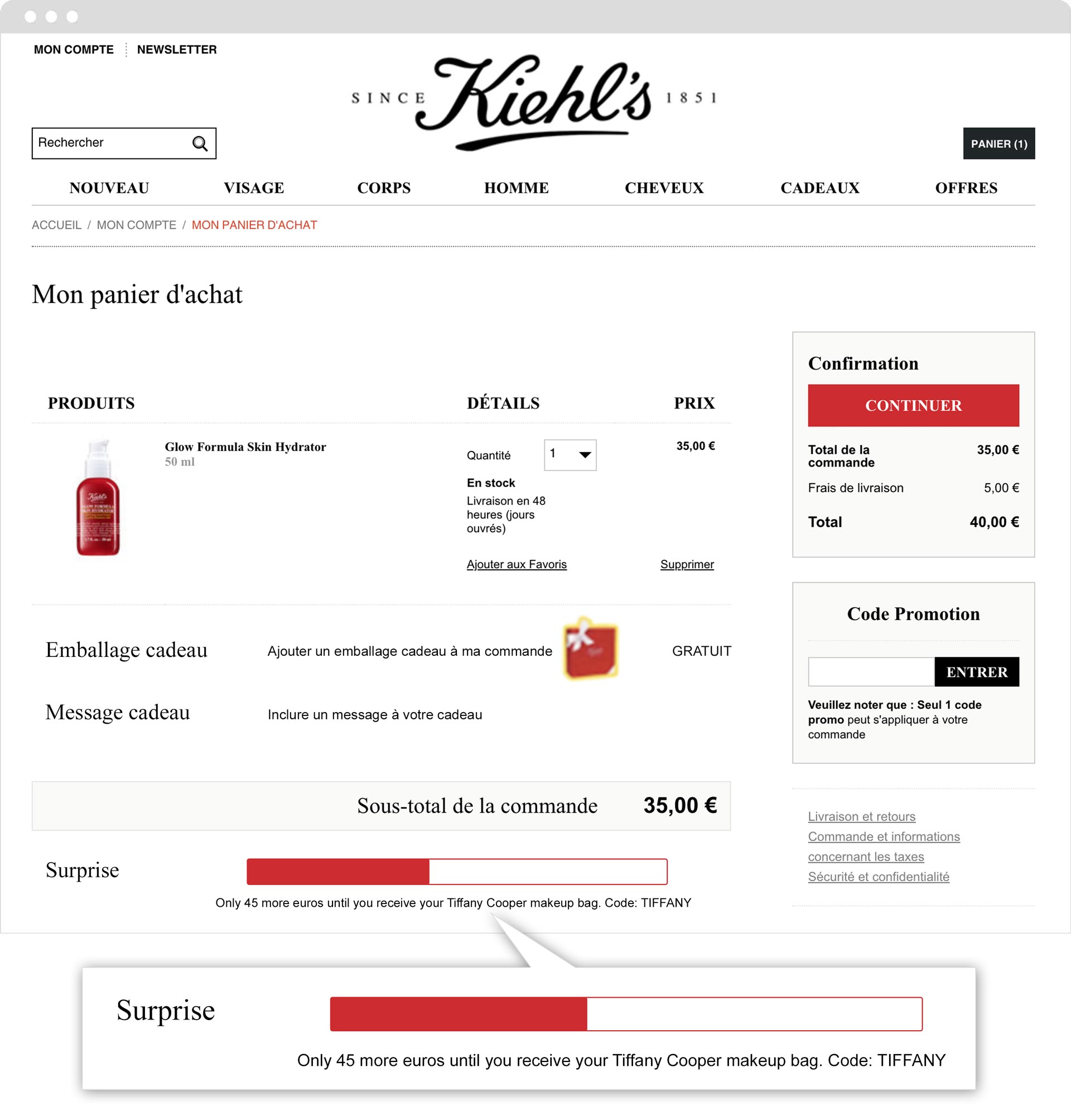 "One of our e-commerce clients' biggest expectations is to be able to increase their average basket size per visitor. With Kiehl's, our main challenge was to find a way to optimize this KPI by combining agility, scalability and a visual effect. We consider our work here a success since this campaign's positive performance inspired other brands in the L'Oréal group." – Léa Benquet, Customer Success Manager at AB Tasty
Results
Kiehl's website visitors were particularly receptive to this barometer. This very visible incentive led to 7% more clicks on the CTA 'continue', and importantly, it also led to an increase in the average basket size of almost 5%! We also were able to report an increase in total revenue of 31%, with 25% more additional purchases and 31% more revenue per visitor.
Takeaway Tip
The urgency principle is being used more and more frequently. However, it needs to be applied intelligently. The trick is to find the right balance between creating anxiety in the shopper, while at the same time offering them a substantive incentive (free shipping, exclusive gift, etc.). Showing how much one needs to spend before receiving a free gift isn't enough anymore: it's the visual aspect – the barometer – that makes the message truly impactful. The image allows one to better retain the message. A semantic incentive, coupled with a relevant visual, is the perfect combination for prompting an internet user to make a decision at this stage in the purchase funnel.