La Redoute is a leading French e-retailer in fashion and home decoration. Known for its typically French style, the brand has a strong international presence, including in the UK, Belgium, Switzerland, Russia, Spain, Portugal, Italy, and Poland.
Challenge
When the Portuguese branch of La Redoute began working with AB Tasty, their aim was simple: increase revenue per visitor. However, the means were less than obvious. As a widely international brand, the team at La Redoute's headquarters noticed that consumer behavior varied significantly according to country.
La Redoute Portugal knew, for example, that their visitors had smaller average order values (AOV) than their French counterparts, and purchased less frequently. In order to increase their revenue per visitor, what would be the best approach? They decided to use a simple A/B test to find out.
A/B Test Idea
The Portuguese team knew that their customers had less spending power than consumers in France. They liked to window-shop, for example, and would often abandon their cart without finalizing their purchase. Based on these insights, the team decided to test using a free shipping incentive on purchase pages, to see if it would positively affect AOV, and potentially revenue per visitor.
They tested two different versions against their original site (with no free shipping messaging): The first variation read 'Free shipping over 30 euros', and the second would inform browsers how much more they had to add to their cart before hitting the 30 euro free shipping mark.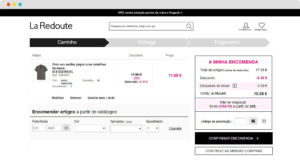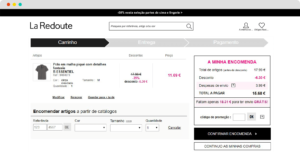 "In an e-commerce context, increasing revenue per visitor is all about finding the right combination of messages and incentives along the purchase funnel. For some audiences, opting for promotional offers works best. For others, it's stress marketing techniques, or free shipping messages, like for La Redoute. The only way to know for sure what approach is effective – and how to perfect that approach for maximum impact – is to test it." – Alexandre Anquetil, Customer Success Manager at AB Tasty
Results
Website visitors were clearly incentivized by the free shipping messaging. The first test version boosted revenue per visitor over the 6-week test by an impressive 2.7%, and the second version by 1.9%. This was accompanied by a jump in AOV of 3.7% for both versions. And the difference in revenue? The first variation brought in an extra 11,600 euros during the six weeks of the test alone. Over a year, that could translate into roughly 100,500 euros!
Takeaway Tip
Insights surrounding user behavior and mindset are the starting point of any good website optimization campaign. Start with analytics and insights tools, internal surveys and client feedback to get to know your customers.