Melvin & Hamilton began as a men's shoe label in 1988, and quickly grew to include a women's collection and accessories in the 1990s. Today, the brand can boast a robust digital presence and distribution network across Europe, with a centralized office running e-commerce operations based in Paris, France.
Challenge
Originally distributed in only brick-and-mortar locations, for Melvin & Hamilton, transitioning to e-commerce presented its own set of challenges. One critical issue was how to optimize the navigation and transaction rates of product pages.
In physical locations, shelf arrangements, knowledgeable salespeople and store layout go a long way in ensuring products are shown in their best light. But in the digital space, it's all about UX. Melvin & Hamilton wanted to discover the optimal product page design to maximize transaction rates, and of course, revenue.
A/B Test
Melvin & Hamilton were already working with Nosto, an AB Tasty partner that specializes in online product recommendations. Items identified by Nosto were given pride of place on product pages – above the traditional filters that let users browse by category, price etc. However, the team was convinced they could further optimize the design of the page to increase clicks on products, elevate transaction rates and boost revenue.
They decided to run an A/B test on their women's shoes product pages. They wanted to see if by pulling up the row of recommended products, they could focus consumer attention on these high converting items. They could do this by simply removing a prominent hero image from the top of all these product pages. In addition, to help browsers situate themselves, they also decided to bring up the navigation thread to sit just below these recommended products.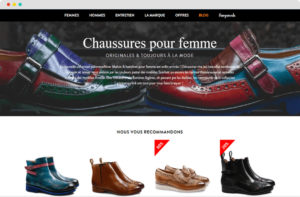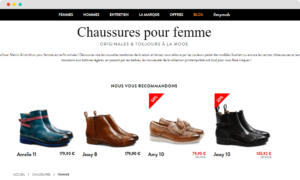 Within half an hour, the team had set up the test, without any IT involvement, thanks to the AB Tasty WYSIWYG editor.
"I was confident we could improve click-through rates by tweaking page design. What surprised me was how one simple A/B test with AB Tasty could have such a direct, significant effect on sales." – Lucie Piriou,
Communications & Development at Melvin & Hamilton Digital SAS
Results
After letting the test run for one month, the team at Melvin & Hamilton saw significant results: a +16.5% increase in clicks on the recommended products, a +24% increase in transaction rates, and an impressive +34% increase in revenue. This revenue lift translated into a 6,700 euro increase – that could hypothetically mean an extra 26,800 euros of revenue, annually! Needless to say, Melvin & Hamilton wasted no time in hardcoding these changes into their site to match the new design.
Takeaway Tip
Product pages are an essential part of any e-commerce site, and their UX needs to be impeccable. Making simple changes to limit distractions and focus user attention on products that are most likely to convert can have a major, immediate impact on revenue.