What's the promise of French online marketplace Pour de Bon (literally 'For good')? That modern epicureans can do all their shopping from the comfort of their couch, and receive their fresh goods from a variety of France's best farmers in one single delivery. Fresh produce, cheeses, fish and meats, not to mention beverages and spices…Pour de Bon connects French farmers and artisans with consumers who relish buying quality products from every corner of the Hexagon.
Challenge
In a country that puts such emphasis on culinary excellence, and in which there are so many different ways to eat well – from local markets to five-star dining – Pour de Bon had every reason to fully optimize the experience of browsing and buying on their website.
They were particularly eager to emphasize one of their competitive advantages – their quick shipping times, and the fact that a shopper can order from multiple farmers and receive all their various goods in one single delivery. This makes menu planning and keeping a kitchen that much easier.
Working with their dedicated Customer Success Manager Aude Id-Hammou Aubert, their digital team decided to run a series of tests focusing mainly on these aspects. They wanted of course to increase key metrics like transaction rates and CTR, but they were also looking to learn more about their website audience's preferences. In the end, Pour de Bon deployed three rounds of campaigns, each with multiple tests focusing on various aspects of the purchase funnel.
This rigorous and extensive methodology meant that the team could build on each experiment, refining their strategy until they had made truly significant gains.
Round One: Experimenting with Pop-Ins, Banners and CTA Wording
The first set of experiments played around with adding some simple pop-ins, banners and CTA wording changes to see if this would improve performance. The new additions all centered on showcasing Pour de Bon's strong points, namely a potential for two hour shipping and flexible delivery dates.
Though not every experiment was a success, they learned valuable insights that they could apply to a second round.
ADDING A POP-IN UPON ENTERING THE SITE
Would website visitors buy more if they knew right off the bat about Pour de Bon's attractive delivery policy? The team wanted to find out, so they ran an A/B test. For the variation, a pop-in like the one shown below was displayed to all users after 5 seconds on the site.
However, the results weren't impressive. The messaging came too early in the purchase funnel (visitors weren't yet in a buying mindset), and the information was too generic to be impactful. The lesson learned? Your key messages need to be contextual and in the moment.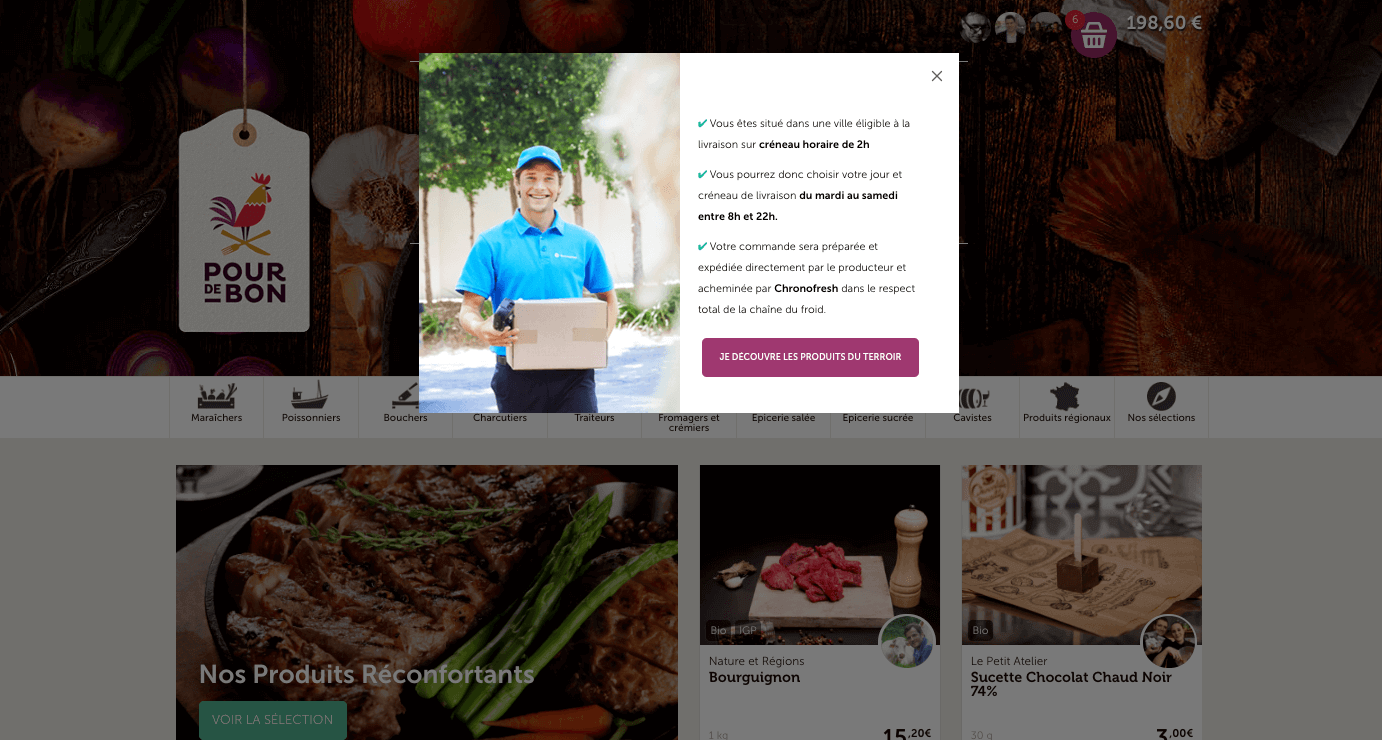 ADDING A BANNER TO PRODUCT PAGES
In a similar vein, the team was eager to see if a bright red banner announcing delivery benefits on all product pages would increase the click-through rate on the 'Add to Basket' CTA.
The team ran another A/B test, and again struck out – the results were neutral. The conclusion? Though the benefits were very real, the flashy red color used to display them had too many negative connotations for viewers. The feeling of 'error', 'warning' or 'problem' so often associated with crimson coloring on a website cancelled out the positive messages. Another theory? The banner was again not contextual enough, since it was still removed from the actual purchasing pages.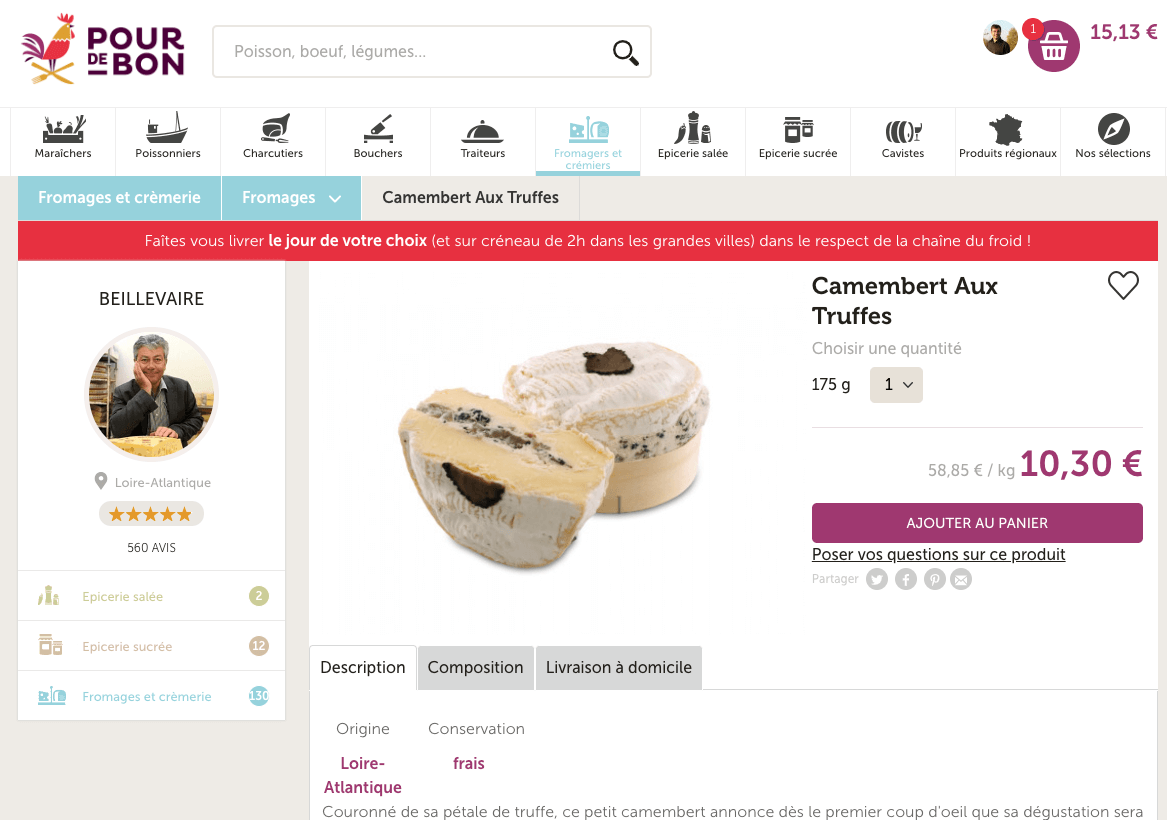 SOFTENING CTA WORDING
The last test in this round was the most successful, increasing CTA clicks by 23%, and account creations by 2%. On the basket page, the team simply tested changing the purchase CTA wording from 'Confirm my Order', to, 'See Delivery Times,' which was less of a commitment. Referring to delivery times on these pages was also a good use of contextual messaging – again, this is the stage in the purchase funnel where consumers are really thinking ahead about when exactly they'll need and use the product.
Round Two: Getting Contextual
Building on the insights from their previous experiments, Pour de Bon set out to do a second round of tests – and this time, struck gold.
They knew that, to be impactful, the messaging around their competitive advantage had to be displayed in the moment – and that the form had to match the content. To this end, they decided to add a line of text in green lettering on their basket page, reminding shoppers of their free delivery policy (when applicable). They also showed a 'slashed' price that the consumer would have paid had they gone through another supplier – a nice use of the framing effect. The results were encouraging. Not only did the transaction rate increase by 9%, but the total revenue jumped by an impressive 19%.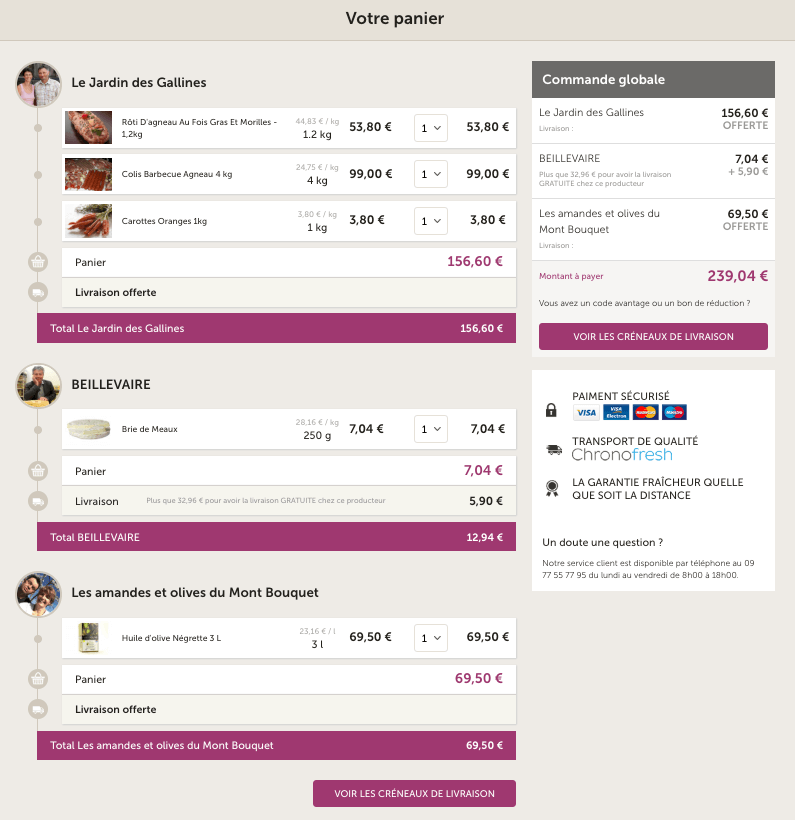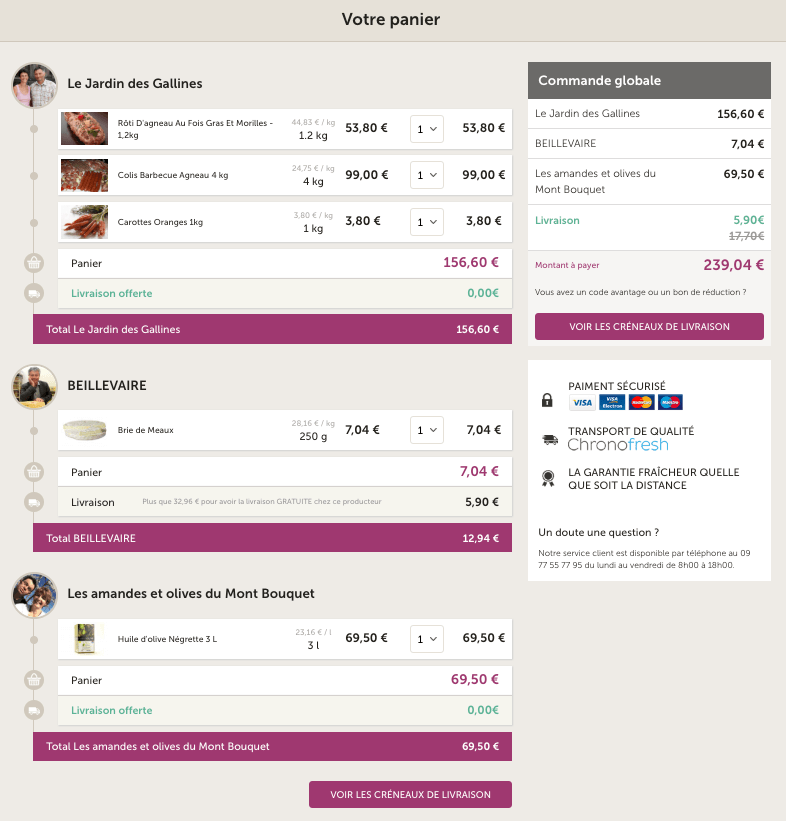 Bolstered by their success, the team tried a similar test, and with equally impressive results. By adding a line promoting two hour delivery – again in green – next to the product images on product pages, the team increased total revenue by 13%, not to mention increasing transactions by 12% and clicks on the 'Add to Basket' CTA by 10%. This was clearly a winning formula.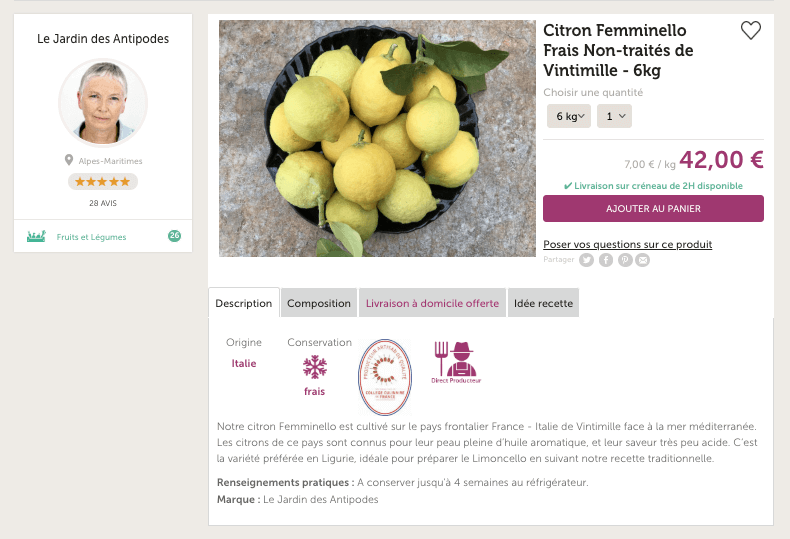 Round Three: Reassure Shoppers to Increase Conversions
The best, however, was yet to come. Pour de Bon's digital team also wanted to see if reassuring shoppers on the delivery pages about their shipping policies would have a positive impact. After all, this was contextual, relevant and in the moment messaging they had seen work elsewhere.
So, again in the same green letters, they added a few visible bullet points on the delivery page, just below the 'Continue to Payment' CTA. Again, the results were impressive: 10% more clicks on 'Continue to Payment', 12% higher transaction rate, and most importantly, 25% more total revenue. Clearly, they had found their winning formula.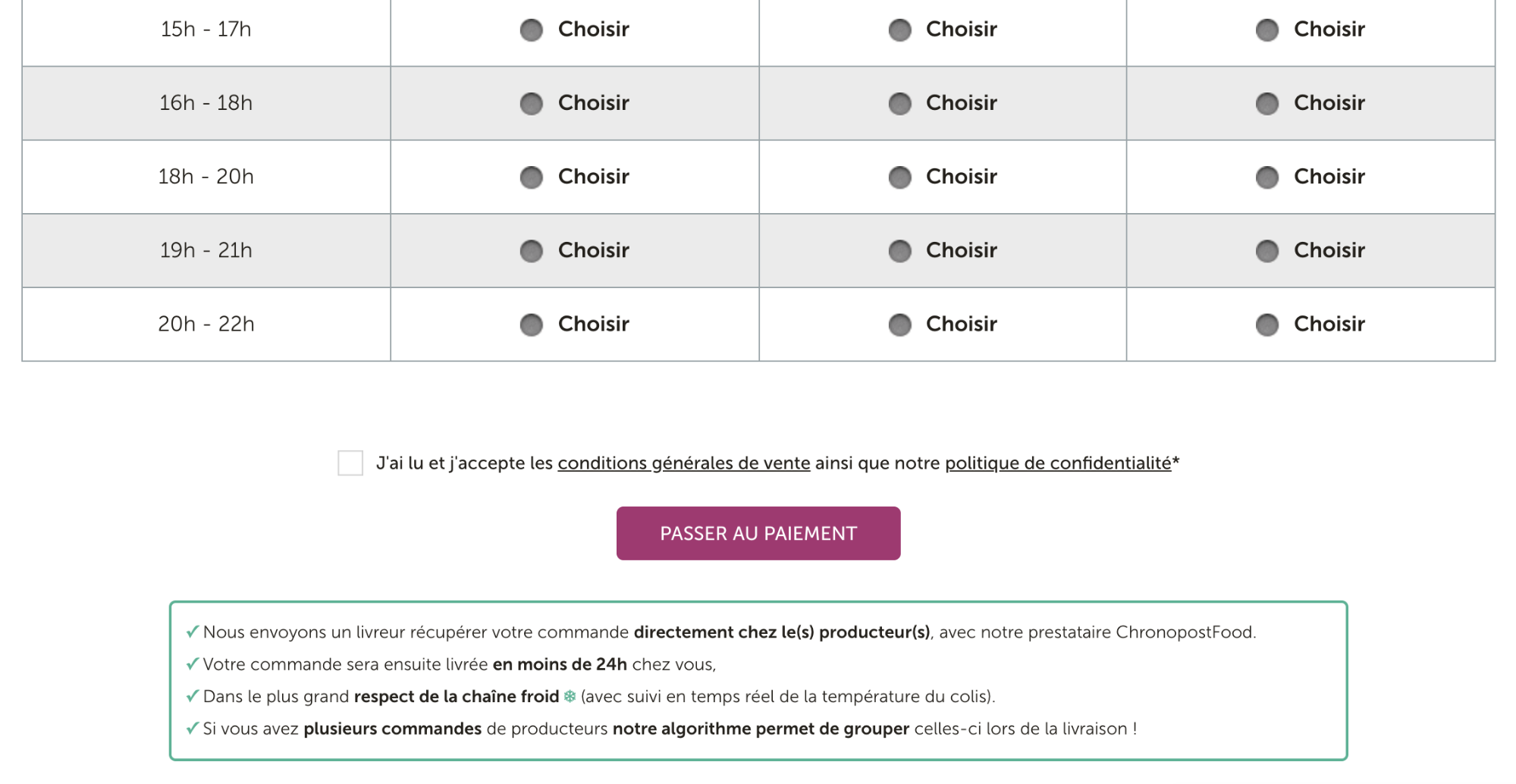 Takeaway Tip
Pour de Bon learned that their customers respond to reassuring, contextual and in the moment messaging. Perhaps more importantly, they also learned the benefits of building on their insights, and that a neutral or negative test isn't without merit – it's always a stepping stone to future, more impactful experiments.