Iberojet is an online travel agency specialized in long-distance trips, travel circuits, and vacations in the Caribbean. It belongs to the Ávoris group, which dates back to 1931, when the Autocares Barceló company was founded in Mallorca, Spain.
From then on, Ávoris has experienced an impressive evolution, and currently has over 3,000 employees, 665 points of sale and a grand total of 23 brands, such as B the travel brand, Catai, and the aforementioned Iberojet, among others. Thanks to the Test & Learn approach, these brands' websites play an increasingly relevant role when it comes to attracting new customers.
This is particularly true in Iberojet's case, since it doesn't have any brick and mortar points of sale. That being said, how is it possible that their results improve continuously? Just as many other companies still do, Iberojet usually modified its website according to the team's opinions and insights, the industry's best practices… which inevitably led to arguments about which changes would generate the most benefits. These were settled according to the HiPPO method – in other words, the person with the highest rank decided which modifications would be implemented.
At one point, they realized that this method was neither sustainable nor efficient, and turned to AB Tasty. Their main objectives were to reduce their development team's workload, switch to a scientific method, put an end to the constant arguments, and increase the revenue their websites generated. Before long, Iberojet had adapted perfectly to the new  Test & Learn approach, which consisted of making constant and gradual modifications, instead of major ones, in order to boost conversions regularly. With this approach, they were able to run 3 to 4 tests a month with a success rate of 58%. Let's check out a few examples of their successful A/B testing campaigns.
Experiment #1: Hero Image Search Bar
Challenge
Tabs are useful for dividing your website's content into specific sections, guiding users through the pages and, as a result, noticeably improving UX! Keep in mind that the first thing you should present the user with should be relevant to them… which brings us to the importance of the tabs' order.
Test Hypothesis
The team decided to change the order of the tabs ('Holiday Packages' and 'Travel Circuits and Long-Distance Trips') on the homepage, based on the browsing history of the users on Iberojet's website. They believed this would increase the number of users who would take the first steps down the conversion funnel.
Results
The numbers speak for themselves: for this test, there were 25% more clicks on the 'Search' button, and the clicks to switch tabs decreased by 22%. Overall, since Iberojet teamed up with AB Tasty, clicks on the 'Search' button have increased by 40%.

Experiment #2: Urgency Optimization Messaging
Challenge
There was a banner in the availability page which was designed to trigger a sense of urgency in the site's users, but it was going unnoticed by most of them.
Test Hypothesis
The team hypothesized that changing the color of the text box for a more conspicuous one would manage to catch the users' eye, thus allowing the message to work its magic and nudge them to buy without them thinking it through any further.
Results
The new design generated a 45% increase in reservations, after establishing that the color pink was the one which worked best for capturing visitors' attention and nudging them to buy.
Experiment #3: Automatic Scrolling
Challenge
Excessively long pages, especially those where the user is forced to scroll down to find what they were looking for, have exceptionally high bounce rates. How could Iberojet increase the clicks on the product pages and, simultaneously, reduce the bounce rate?
A/B Test Idea
When users search for something on the site, they wish to be guided directly to the results; but if they run into unrelated elements (especially if they're "above the fold"), they'll quickly lose interest and abandon the page.
Results
After activating the automatic scrolling feature, quickly guiding users to the search results, Iberojet watched the clicks increase on the product page, and saw a 14% boost in the number of pages which were visited.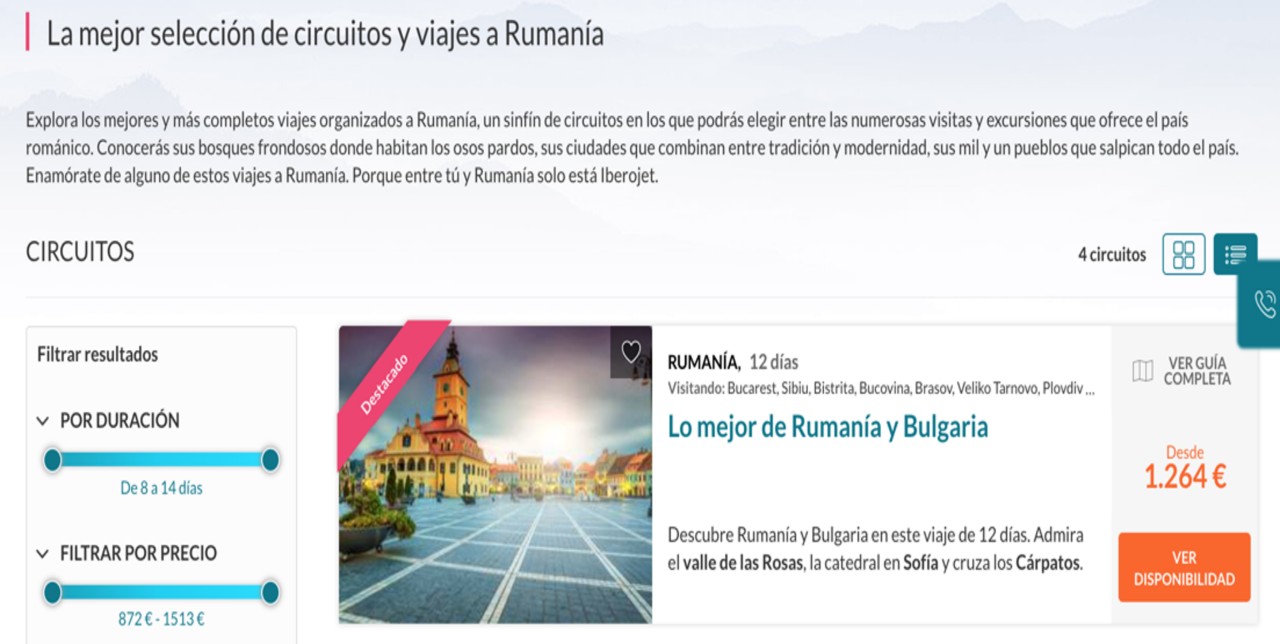 Takeaway Tip
Iberojet adopted the continuous optimization Test & Learn approach with AB Tasty and discovered a new world full of opportunities to edit and optimize their website. By leaving behind the tendency to follow all the best practices in their industry, they accepted that every company is unique (just as the strategies which work for each one) and adopted a sustainable and efficient optimization strategy. Since they started using AB Tasty, their revenue has increased by 103%, and their transactions, by 104%. In this way, Iberojet has managed to decrease its teams' workload and noticeably boost their website's effectiveness and conversion rates.