Part of the L'Oréal Luxe brand portfolio, Yves Saint Laurent Beauty is known around the world for their luxurious skincare, makeup and fragrance products for men and women.
Challenge
As with the other brands in the L'Oréal Luxe portfolio, YSL Beauty products are sold in both online third party boutiques, as well as on their own proprietary website. For this reason, optimizing every aspect of the homepage and checkout funnel is key to making sure consumers purchase on the actual YSL Beauty site.
One of the crucial questions that needed answering was, what is the best order of the menu bar tabs? As a high end fashion house, YSL Beauty has plenty of news and products to showcase – but they still didn't know what to emphasize on the homepage menu bar to maximize transactions.
A/B Test Idea
AB Tasty's consulting team proposed a simple A/B test – switch the positions of the 'New Products' and 'Exclusive Offers' tabs to see if this would impact sales. By putting the 'Exclusive Offers' tab first – which takes browsers to current offers and gifts with purchase – instead of the 'New Products' tab, they aimed to test the appetite of website visitors for special and exclusive offers over new releases.
The test was easy to configure – with the WYSIWYG editor, the new version of the homepage and the parameters of the test were up and running in 30 minutes.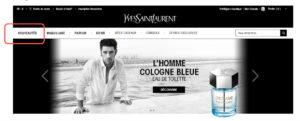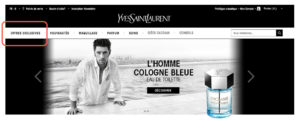 Results
After letting the test run for a month on over 150k visitors, the results were conclusive: emphasizing the 'Exclusive Offers' tab had a visible effect on sales. Not only did access to the basket page shoot up by 9%, and to the checkout page by 13%, but overall transactions enjoyed a 10% increase. The team wasted no time pushing 100% of the test's traffic to the winning variation and hardcoding these changes into their website.
Takeaway Tip
For high-end brands like YSL Beauty, accenting exclusive offers, over and above new products, proved to be especially effective. This is probably because shoppers of luxury brands are particularly susceptible to messaging about rarity and exclusive treatment. These consumers are likely to appreciate a product that's shown to be exclusive and generous offers (reminding them of the 'high end' nature of the brand).