Jeremy Epperson explains why startups should leverage conversion rate optimization to maximize growth.
Jeremy Epperson is about to change the way you approach growth in your business. The chief growth officer at ConversionAdvocates, a top-ranking CRO agency specialized in data analysis, takes a data-driven approach to identify the roadblocks in testing and optimize these processes for maximum effectiveness.
Over the past decade, he has launched CRO programs for 150+ growth-stage startups, creating a repeatable proven process for conversion rate optimization that can be implemented across different verticals and business sizes. By collating the insights gained from the different businesses, notably the common mistakes, Jeremy has gathered the expertise to facilitate CRO programs and avoid the steep learning curve that comes with launches.
In his conversation with AB Tasty's VP Marketing Marylin Montoya, Jeremy delves into the granular level of data analysis and takes on topics that most people in CRO steer clear of.
Focus on customer experience optimization to catapult business growth
In today's digital landscape, the old-school ideology of branding and push marketing is no longer an effective strategy. These days, customers have easy access to online reviews, forums and price comparison websites to inform their purchasing decision.
Rather than trying to control the customer journey, Jeremy recommends optimizing the experience of each of its four phases, using a data-driven, scientific-testing approach. This leads to the creation of different processes and reshapes the idea of optimization: The game-changing idea is that agility (allowing companies to move, learn and improve faster) can trump exorbitant budgets, thus allowing smaller companies to take market share from giants.
Passionate about being involved with teams on the ground level to "iteratively work through the entire process," Jeremy touts CRO as the best mechanism and catalyst for growth, which challenges teams to rethink and rebuild processes and workflows, break down silos and build communication. Jeremy says this team-building aspect is more valuable from a CRO perspective than any individual winning test.
All data is equal: the value of wins, losses and flat tests in post-test analysis
When it comes to testing, certain results are deemed more "sexy" by marketers, and others are often swept under the carpet. However, Jeremy explains the utility of all test results, be that a win, a loss or a flat result, for informing how testing should evolve.
A string of inconclusive tests means that the testing has not been focused on what is actually blocking the conversion. "If we're not targeted in on the things that are blocking them (users) from converting then we're not going to see big movement in the conversion rates, so that's really important," says Jeremy.
When test results show big changes in the conversion rate, positive or negative, this indicates that an important part of the customer experience has been impacted. While winning tests are celebrated and losing tests shied away from, Jeremy advises that in both cases, the next step should be to double down on test variations to fully resolve the problem, creating at least three variations for each of those hypotheses.
Understand your customer and remove their purchasing roadblocks
Oftentimes, marketers, especially in smaller businesses, are reluctant to spend their budget on research and insights, opting for customer acquisition strategies involving ads and content. However, according to Jeremy, investing in research to better understand the customer can bring us closer to answering one question that's key to creating the right growth strategy for your business: Why does your customer buy or not buy your product?
Research and testing can offer 360-degree insights into customer behavior such as their buying criteria, decision-making and their buying process in order to remove any conversion roadblocks. It could be as simple as creating an FAQ page to clarify primary questions, resulting in a 23% lift in lead conversion, as Jeremy exemplified.
Jeremy explains that businesses will naturally experience growth when they focus on offering a better customer experience, eliminating customer frustrations and roadblocks, which would otherwise cause them to abandon their purchase. This customer-centric mindset will actually have a direct positive impact on revenue and growth.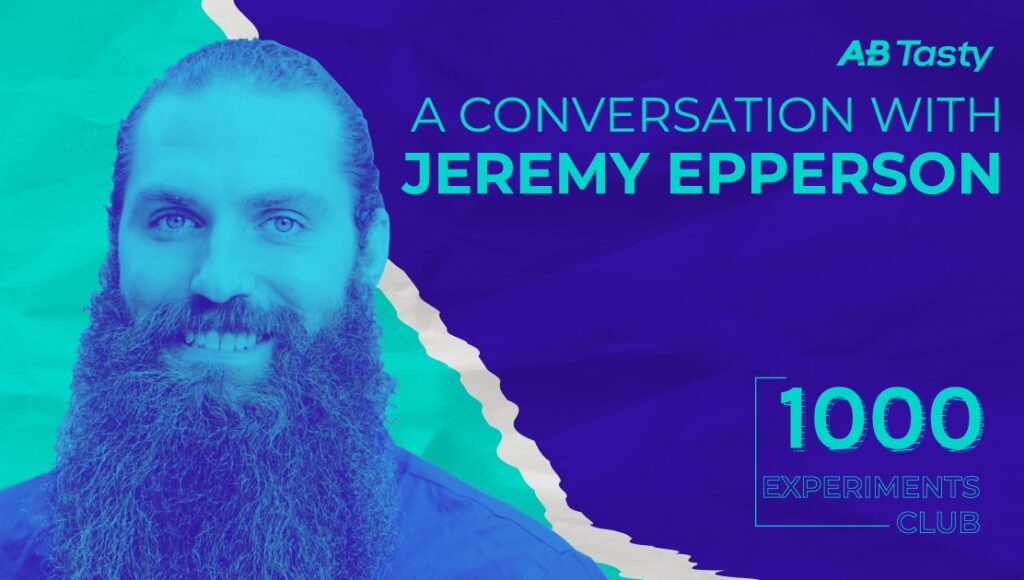 What else can you learn from our conversation with Jeremy Epperson
How to combine research and testing in CRO to double the average validated win rate
How to encourage teams to embrace the CRO process and cooperate across verticals
The inutility of customer personas and how to replace them
How to implement CRO for the first time
About Jeremy Epperson
Jeremy Epperson, chief growth officer at ConversionAdvocates, has worked in the field of startup growth and conversion rate optimization (CRO) for 14 years, as a consultant in his own businesses as well as part of digital agencies. Jeremy is passionate about researching, building and implementing processes to generate growth and has launched CRO processes within more than 155 growth-stage startups. He also specializes in customer journey mapping, CRO maturity assessments and marketing and customer research.
About 1,000 Experiments Club
The 1,000 Experiments Club is an AB Tasty-produced podcast hosted by Marylin Montoya, VP of Marketing at AB Tasty. Join Marylin and the Marketing team as they sit down with the most knowledgeable experts in the world of experimentation to uncover their insights on what it takes to build and run successful experimentation programs.