You know it best: shaping the customer journey on your sites or apps from search to cart has become key for conversions. That's why you're using state-of-the-art tools to collect data, run campaigns as well as experiment and personalize experiences. But these are just tools that help you execute your plan. A big part of your job is to think about and play with ideas to tackle your business goals around loyalty, conversions, and turnover.
Did you know that you can rely on your stack for shaking your ideation process and detecting ROI-driven business opportunities?
If you're using AB Tasty, enjoy now tailored sources of inspiration available for you, such as the Audience Recommendation, available for websites in English and French.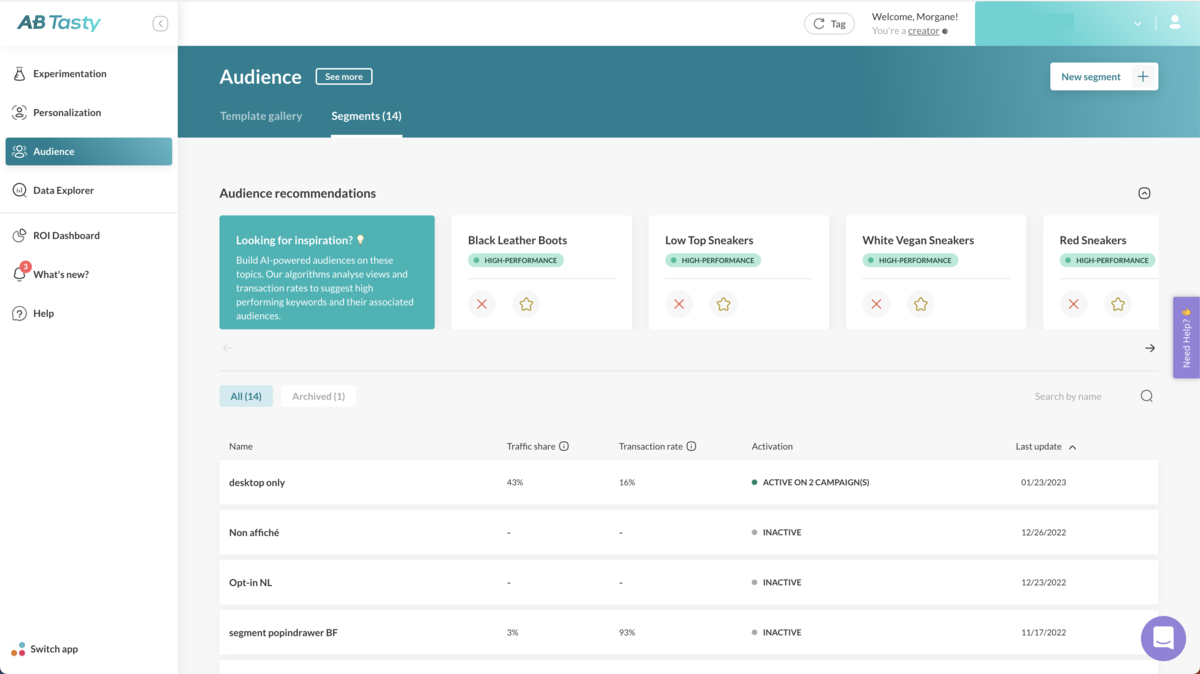 Dedicated to letting your good ideas take flight, Audience Recommendation will quickly identify segments of customers that are likely to be leveraged efficiently in your conversion strategy. Once connected to your site, it will suggest ideas of audiences based on your visitors' interests that are likely to be converted into a thematic journey.
But that's not the only way to quickly find opportunities and turn them into wins.
Read this article that suggests 5 ways to detect personalization journeys that will help marketers meet their business goals.
1. Engage your consumers based on the content they like
Let's say you're in charge of an e-commerce website: clothing, shoes or books. Think about the wide range of products or services that are available. Thousands of references. Do your buyers browse your entire catalog before adding items to the cart? We doubt it. We rather assume on the one hand you deal with bestsellers items, and on the other you have niche, premium or overstock that have trouble selling. How do you handle them today in your conversion strategy?
Our suggestion: Come play matchmaking with AB Tasty's Content Interest. Identify key audiences that are sensitive to content found on your site – and combine topic-interested visitors with these items that make perfect sense for them. Our in-house AI suggests building segments based on browsing and transaction history thanks to Natural Language Processing. And that enables you to think about customer experience differently, aligning visitors' interests and business needs in deeply personalized campaigns.
But even better: you will always be aware of current trends on your site – therefore able to adapt quickly to these always-changing consumers' needs.
Let's take a look at a typical online store such as a shopping website for shoes, on which our AI runs for content interest. You can see below an example of content segments and the volume of views and transactions it represents.
Wearers of black leather boots? Or rather low-top sneakers? Associated views and transactions help you make decisions about campaigns you could be inspired about. Of course, content-based messaging, with relevant offers such as targeted discounts, free shipping, or loyalty points, is very likely to be effective.
2. Build the journey based on visitor engagement
Looking to seduce newcomers to engage with you? Or to reward those who are loyal to your brand? But there are also those who come regularly and never shop. Do you already have a strategy in place for your different groups of visitors?
With AB Tasty you can target shoppers based upon the profile they have with your site. Here again, our AI comes into action. It will automatically allocate traffic into 4 logic groups of users: Disengaged, Wanderers, Valuable and Loyal consumers. That means you can have a dedicated strategy for each group and deploy it easily, combined with dedicated triggers to increase even more campaign success.
Like these newcomers, you don't want to scare them right? Let them browse a bit or take action before displaying your campaign. Timing is key!
A good use case? Kiehl's Australia decided to display a specific message for those visitors that are navigating and revisiting but not buying, these are wanderers. "Still deciding?" Discover our latest limited time offers". Using stress marketing and acknowledging the uncertainty of these shoppers combined with deep targeting options resulted in an uplift of 2,26% in transactions for the brand.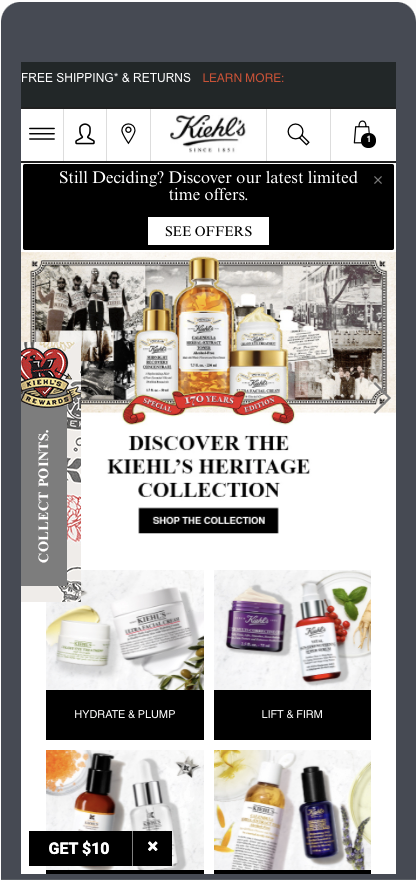 3. Seize the low-hanging fruits
They started shopping with you but left – and are now back on your site! Within AB Tasty you can very easily build campaigns based on abandoned carts, that target – as the name already says – those who were just one step away from completing their purchase journey. You can decide to target them all, or you could do different scenarios depending on cart value or numbers of items in the shopping cart.
Our secret tip for these? Experiment! Find out whether shipping costs, promo code or components of your checkout page can be leveraged to optimize conversions and re-engage on cart abandonment. You can trust our experience there: there's nothing like A/B testing to know best what ideas work and what ideas don't work.
Then, only you can really define what elements contribute to retaining abandoners on your site.
4. Rely on your experimentation strategy
We just mentioned it. Seems obvious, especially if A/B testing is part of your strategy, but analyzing campaign results in depth allows you to detect…ideas.
When you test ideas, while this idea might not prove consequently winning regarding the output on the entire audience, it still might be a large win for certain audiences, e.g. for mobile users against desktop users. Or for returning visitors rather than new ones.
When reading A/B test reportings, don't forget to filter and narrow down to detect these opportunities. Because statistics can prove that the magic you were trying to achieve for everyone is at least working for certain groups of people.
5. Use the force of your datalayer
Segment, Google Analytics 4, Tealium, Mixpanel, …. No matter what solution you use to analyze, understand and follow your customers, you might have identified already interesting audience segments from your first-party data. Why not use these to run your personalization strategy directly on AB Tasty? Once you have connected your preferred solution there, you can launch campaigns on these segments (or cohorts or traits) and couple them with further targeting and triggering options.
Example? Imagine a site offering holiday flats to rent. They know when their loyal customers usually book their holidays. That's why they run campaigns targeting either those who enjoy Summer or on those – in the screenshot below – who like booking their vacations when Santa is around. In the same spirit, we could also couple that targeting with a weather trigger – snow or sea alternatives when it's raining on the favorite destination.
We could even make it snow on the screen with AB Tasty's no code snowflake widget, but that's a question of idea.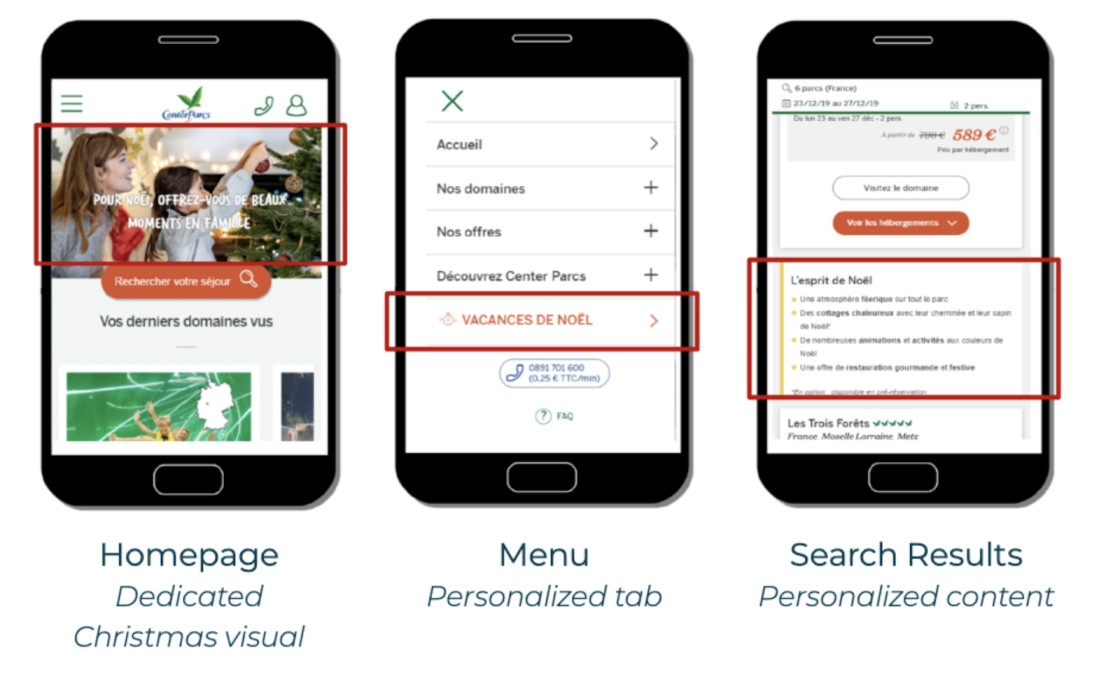 Looking for further campaign inspiration? Check out the 50 tests you should know or see for yourself the AB Tasty app in action!