Running an online store can be a highly lucrative business strategy. But despite its advantages, a downside is being unable to physically guide your customers through the buying process like in a brick-and-mortar shop. 
Not only do customers feel less obligated to follow through with online purchases, but there's also no one to offset any hesitations that could lead them out of the sales funnel. There's a high chance your customers leave your site before they finish the purchase (a.k.a. an abandoned cart.)
Why Customers Abandon Shopping Carts
Understanding shopping cart abandonment is important to capture missed opportunities. There are many reasons why someone might leave before finishing their purchase. According to Statista, the most common reasons for cart abandonment are:
Cost of shipping

Total price

Hassle of item return

Not enough payment options

Security concerns 
Another cause of cart abandonment is having to provide an email for creating a new account before proceeding to the checkout process. In the world of online shopping, users may see this as an extra step and not want to do the extra work. 
However, abandoned carts are not the end of your business. They are opportunities to connect with your customers. When presented with this opportunity, an abandoned cart email sequence is one of the best ways to engage potential customers and guide them back to checkout.   
Why Are Abandoned Cart Emails Important?
There are ways to prevent abandoned carts. But when it does happen, well-written emails are a useful way to reclaim abandoned carts and interact with customers. Compared to other methods of cart recapture, such as retargeting, emails are more personal and straightforward since they are delivered directly to the customer's inbox. 
Email is an effective channel where brands provide customers with personalized messages and offers. Also, follow-up emails are an easy way to achieve targeting specifications.
Without an abandoned cart email sequence, you leave customers in an indecisive mindset. Often times, they forget about their carts, or they buy a similar product from your competition. 
It's easy to set up an automated abandoned cart email sequence. Many websites offer services for creating, scheduling and sending abandoned cart emails. All you need to do is to know the strategies to a perfect abandoned cart email that will reignite your customer's purchase desire.
9 Strategies to Write a Perfect Abandoned Cart Email
1. Write an Engaging Subject Line
The subject line requires the most attention because it's the first thing your customer sees. As an essential part of an abandoned cart email, it must catch your customers' attention and spark enough interest for them to open it. 
An attractive email headline is clear and precise. A case study by AWeber Communications showed that specific subjects have a 541% higher open rate than clever but vague ones. The line between articulate and catchy is thin, but not impossible to achieve. 
For example, the header in this ASOS email uses fun and personable language that reminds shoppers about their cart without coming off too strong.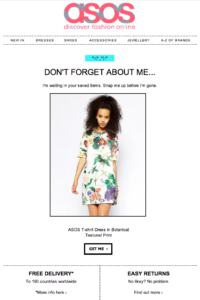 Discounts, promotions, something humorous or quirky, or an intriguing question are excellent examples of things to include in the subject line. If you want to know what subject line works best for your audience, A/B testing is a great way to find the headline with the best open rates.
2. Personalize Content
Creating personalized content is important because it grows trust and boosts brand recognition. You want to speak to your customers like they are your friends to diminish the sales-y nature of the message. 
Appealing copy and call-to-action buttons remind shoppers about the product and why they wanted to buy it in the first place. A good, personalized abandoned cart email has features like…
The customer's name

The abandoned item or service

Value statements that appeal to that specific customer
Additionally, the email should casually address the customer's original reasons for abandonment and attempt to put those objections to rest.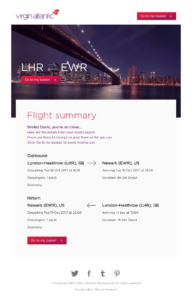 This example from Virgin Atlantic prompts customers to finish their purchase with engaging content and multiple call-to-action buttons. 
If you want more inspiration, check out Abandoned Cart Email Template Examples That Work.
3. Short, Sweet and to the Point
A concisely worded abandoned cart email leaves out irrelevant and distracting information.  It allows your customer to focus on the sole purpose of your email and increases the chance for them to finish the purchase process.
This abandoned cart email from 23 And Me is well-written and concise. A simple message that includes just the introductory and closing texts.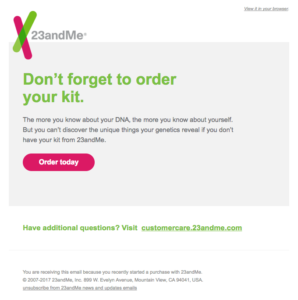 4. Use The Brand Voice
Developing a brand voice is an essential part of marketing and creating a fan base. Whether your company's tone is professional or playful, stick to it in every customer interaction, including abandoned cart emails. It boosts your respectability and professionalism as an online store.
Humor is one of the best ways brands can appeal to their audience. Not only do witty brand voices resonate with people, but it will also help your company to stand out, improving brand recognition. Using funny and entertaining content in your abandoned cart emails engages users and encourages them to finish their transaction. 
A great example of a humorous copy is this email from Dote. Not only is it humorous, but it's also concise and easy to scan.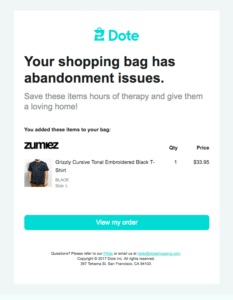 5. Social Proof
A study from CompUSA and iPerceptions found that 63% of customers are more likely to buy from an online store that has social proof. Social proof is important for building brand loyalty and trust while reinforcing your e-commerce store's reputation. 
Reviews are user-generated content to sway customer decisions. Testimonials from satisfied customers illustrate how happy they are and give a sense of encouragement to your visitors to complete their purchases.
Social proof is more than a marketing strategy. It's a legitimate, identifiable psychological event that occurs when someone makes decisions based on other peoples' actions. And it's an important piece for your abandoned cart email.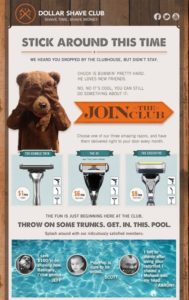 Dollar Shave Club capitalized on social proof by including testimonials at the end of the email while still keeping their brand voice.
Other forms of social proof include:
Certifications, badges, etc.

How many customers served

Opinions from industry experts

Number of likes, posts, or

tweets

Number of followers
Potential customers use reviews to look at previous satisfied customers for validation since they found value in the same product. Social proof puts consumers at ease and makes them more receptive when you give them a nudge.
6. Product Pictures
As visual creatures, people respond well to pictures. Putting product images in your abandoned cart email reminds shoppers of their unfinished transaction and prompt them to review what's in the cart.
You can take this a step further by adding product reviews along with the pictures. 
According to 88% of shoppers, most purchasing decisions were based on the item's rating. So while pictures remind people about specific products they were eyeing on, reviews help shoppers recall why they wanted it in the first place. Pointing out highly-rated reviews in your abandoned cart email makes the product more compelling. It motivates shoppers to complete the purchase.
In the same vein, if a cart has multiple items left in it, concentrate on selling one thing instead of all of them. Choose a best-selling product or one with great reviews. Then, highlight its specific benefits and why the buyer should finish the transaction. You can also address a few objections at the same time.

Adidas combined personalization, humor, reviews, and focused on a single product to create a great example of a persuasive abandoned cart email. 
7. Leverage Loyalty
Discount coupons currently are one of the most common techniques for recovering abandoned carts because it's an easy way to incentivize customers to follow through. The downside to discounts is that they eventually wear away revenue and become less useful tools since shoppers expect them. Similarly, they potentially lead to a decrease in your products' perceived value.  (See Strategy #9 – Use incentive correctly)
For businesses with strong brand loyalty, discounts are counter-intuitive. Repeat customers already have enthusiasm for your products and are willing to buy them, with or without a deal. Using coupons only hurts your sales.
So rather than coupons, take advantage of any loyalty and rewards programs you have in place. Here's how:
Find your global Average Order Value (AOV).

Look at the reward tiers in your loyalty program and decide the number of points necessary to receive a particular discount.

Segment loyalty members based on how many points they have. 

Send an abandoned cart email to subgroups eligible for a discount. Instead of offering a coupon, emphasize the fact that they can use their points to get a percentage off the product.
On the other hand, you can also send a general message to members reminding them of how many points they have as well as any perks. These strategies have high rates for recovery and conversion while also preserving your product's value.
Airlines have some of the best examples of how to leverage loyalty with rewards. 

8. Clear Call-to-Action (CTA)
Even if you have the most compelling abandoned cart email body, you can't assume that your customers know what to do next. That's why you show them the direct link to the checkout page. As mentioned before, one disadvantage of running an e-commerce store is that you can't ask your visitors directly for the sale. But you can ask indirectly with one (or more) well-placed and -written CTAs.
A complete abandoned cart email guides your shoppers to finish the transaction with a clear CTA and a direct link to checkout. You should make it as easy as possible for customers to return to your store. Sometimes companies include multiple CTA buttons throughout the email because it makes the link accessible for mobile customers to resume checkout without scrolling through the entire email.
You need to know not all CTAs are created equal. Remember the goal of an abandoned cart email is recovering an abandoned cart, so link directly to the check-out page instead of concluding the email with social media buttons.
There are different ways to make your CTA convert in an abandoned cart email, like this example from Google. Here, Google concludes a CTA to answer questions or subscribe to updates.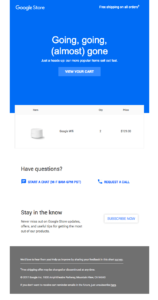 9. Use Incentives Correctly (Coupon, Discount…etc.)
Yes, discounts can be detrimental to your bottom line, but there are right ways to use them. 
Incentives create interest and make a purchase more compelling to your customers if you use it tactfully. Instead of sending one initially, wait until either the third or fourth email, or four to five days since the abandoned cart. Highly irresistible incentives often include one of these things:
A deep discount or offer that can't be beat

An element of FOMO by adding limited time or product availability.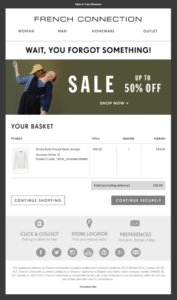 Here, French Connection offers shoppers up to 50% off their purchase. For many shoppers, this type of discount is too good to pass up.
Companies can personalize the incentive by using conversational language and humor. Alternatively, including extra freebies with purchase is also a good way to encourage your shoppers to "clear their cart".
Before You Start Your Abandoned Cart Email Sequence….
Timing is important. Keep the timing of each email in mind as you plan your abandoned cart email marketing strategy. Customers ignore or unsubscribe when companies spam messages, so finding the right balance is crucial. Here are some general rules for timing abandoned cart emails:
Send the first email 1 to 3 hours after the customer leaves the site and keep it brief. 

Send a second email 24 hours later to keep your brand at the top of the inbox.

Wait 24 hours between each abandoned cart email.
An Abandoned cart email sequence is an excellent way to generate enthusiasm for your brand and re-engage your customers. There are many strategies to make a great abandoned cart email. A strong, well-written message is the key to reclaiming more carts—and your bottom line. 
To recap, here is how to write a perfect abandoned cart email:
Write an engaging subject line.

Create highly personalized content.

Make the message clear and concise.

Use your brand voice to speak to your customers.

Use ratings, testimonials, and other forms of social proof.

Include product pictures, and keep the number of items mentioned to a minimum.

Leverage loyalty programs to entice purchases.

Guide customers to checkout with a clear CTA.

Understand how and when to use incentives, so you don't devalue your products.
Take the extra step by segmenting your audience and use A/B testing to find the best converting campaign so you turn these abandoned carts into hot opportunities.