This is a guest post by Charlie Brook, Head of Content at Photoslurp. Charlie is specialized in writing about social media, User Generated Content and e-commerce.
Gone are the days of ever-lasting brand loyalty. With the rise of e-commerce, building and rebuilding customer trust is a job of its own.
As new brands continue to enter the market with innovative and inviting tactics for getting their products into the hands of consumers, customer trust is no longer something earned and kept for life. Within the online sphere, brands can't afford to expose shoppers to a disingenuous or even uninspiring online buying journey. 
That's why we'd like to go over how online brands can build customer trust within each stage of the online buying process from discovery to getting customers onto your site to conversion – and even inspiring them to return. 
Here, we'll cover:
Attracting new customers in an authentic way, while grabbing their attention in a crowded market.

Funneling customers onto your online store with sincerity.

Using real customers to build trust in your online store for new customers. 

Personalization

and humanization that builds an honest customer/brand bond and gets customers to convert.

 And finally, the process of constantly improving your online journey to strengthen this trust.
Make your brand discovery authentic by leveraging digital word-of-mouth
Word-of-mouth marketing has long been the most successful way for new customers to learn about their next favorite brand. Unfortunately, there is little control to be had when it comes to word-of-mouth. That was until the age of e-commerce. 
With the growth of online shopping and social media, brands have an onslaught of new channels for reaching customers no matter where they are in the world. But the principle has remained the same: it's always more appealing to hear about a brand from someone else.
Luckily, when it comes to online marketing, you don't have to wait around for this magic to happen. It just takes a strategy of sincerity to leverage the power of digital word-of-mouth, and this sincerity begins on social media. 
Online conversations and fandom on social media have become more valuable to a brand than traditional marketing. As users share valuable information between friends, family, peers, and thought-leaders, they gain each others' trust and loyalty.
When brands are brought up in those conversations, then they are considered trustworthy too. 
Influencer marketing was generally considered the best way to get involved in these conversations in the past, and they certainly continue to be fruitful collaborations for many brands.
But social media users – growing jaded by the sponsored posts and #ad mentions – are often more inspired by normal users talking about a brand. And that's where a User Generated Content (UGC) strategy comes into play.
When it comes to UGC, accessories brand, CLUSE, has a strong approach which encourages Instagram users of all sizes to share content featuring their products. What started as a full-force influencer marketing campaign has since trickled down towards the average user due to their strategy of fostering these valuable relationships by reposting customer content.
This approach has been incredibly successful for the brand who no longer has to rely on influencer marketing but continues to receive fandom, attention, and high quality customer content from a wide audience. 
Using this sincere social selling strategy means that the discovery of a new brand feels organic, authentic, and trustworthy. And this establishes the brand as honest and dependable, which is the first step for setting up a successful customer experience from the start. 
Once a brand has been authentically discovered on social media, they can then continue to reinforce this trust throughout the online buying journey. 
Using your customers to build trust in your online store and beyond
Now that customers are landing on your e-commerce site thanks to an authentic discovery on social media, you can start to leverage a customer-centric strategy and, in doing so, gain enough trust to convert. 
Similarly to the sincere social selling approach, it's important to put the onus on people who actually use your products within your online store as well. In other words: use your customers to sell your products. 
This is the next step in the User Generated Content strategy, which brings interactions on social media into your online store. 
Let's use the same example of CLUSE, who takes their UGC strategy one step further by stretching it past social media and into their online store. 
By posting this content created by customers on social media into galleries on their e-commerce site, they are positioning their products as trustworthy and desirable – while also giving shoppers inspiration on styling their products as applied to the real world. 
By making the content shoppable, users go from browsing the latest looks on social media directly to the product for purchase. This strategy enabled CLUSE to experience a 19% increase in their conversion rate.
This social proof can be taken one step further with the addition of written UGC in the form of testimonials or other affirmations like Star-Ratings, which can even be published directly into a UGC integration as demonstrated by accessory brand Meller, below.
These kinds of actions, particularly when paired together, build the sense of social proof that encourages customers to trust a brand enough to convert. And the more digital social proof that you provide in your e-commerce store, the more reason you give to online shoppers to believe that your products or services really work. 
This can be added in a number of ways within the shopping journey through dynamic integrations and social proof messaging that enable customers to believe in the integrity of your brand. The strongest way to find the social proof that works best for your brand is continuously test until you find the messaging that works. 
This strategy helped Decathlon, who increased their clicks by 1.5%, transactions by 2.4%, and revenue by 1.3%, all from unlocking the potential of social proof through sincere messaging.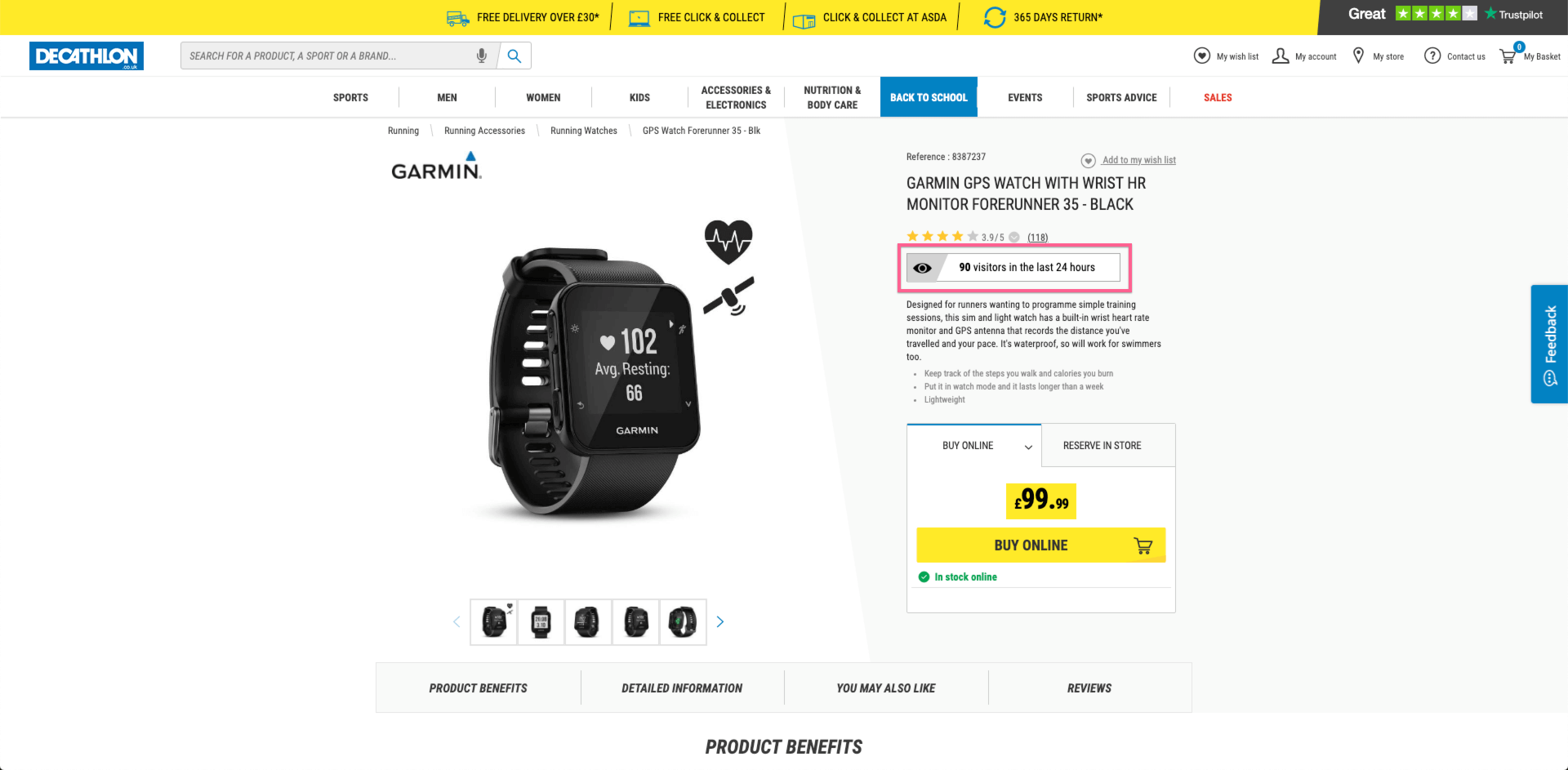 Follow this with a customer service integration that addresses customer questions and needs in real time, and you will have reinforced the brand's trustworthiness from all sides. With a mix of AI and human interaction, this technology adapts itself to each customer's specific journey, providing the same sincerity that customers will have grown to expect from your brand. 
Now that your customers are convinced that your brand is trustworthy, it's time to keep this trust as they move down the funnel. Here's where personalization steps in. 
Humanizing the brand to keep customers close through personalization
UGC, dynamic social proof, and reactive customer support have helped you to inspire and convert your customers. So what's next?
This is where we need to take your e-commerce strategy to the next level by providing every reason for your customers to get back onto your store. 
Do remember that customers are often overloaded with so much choice that decision paralysis kicks in, making shopping online a lot less engaging. But personalization is the perfect eye-catching antidote for any indecision that customers face. 
This is because personalization makes the shopping experience more relevant to the user, giving them more context for why they should choose your brand over the others out there. Plus, it rewards their loyalty and saves their time.
This can be seen from cosmetic brand Clarins, who used website personalization to give customers a customized game experience upon entrance to the website. 
This action increased their conversions by 89%. 
In this example, personalization enhanced the normal steps that customers have grown to expect from merchants, making them feel special, cared for, and connected with the brand.The personalization model can also be leveraged after they've left your store. With a personalized shopping cart abandonment email, displaying customized content of other customers using the product they almost purchased, shoppers will be inspired to come back.
Once you've infused your e-commerce with these strategies for building customer trust, there's only one more step to ensuring continued success. 
Constantly testing to improve your online journey and strengthen earned customer trust 
The final piece to the puzzle is going above and beyond to constantly re-earn customer trust over time. And the way to achieve this is to discover hidden value in your e-commerce with experimentation. 
Remaining stagnant in your online strategies could result in a loss of customer trust, as the human touch that you've worked so hard to create fades away. But by analyzing your performance regularly, you can keep improving every quarter to maintain a strong connection with your customers. 
By changing the messaging, they saw a 1.12% uplift in transactions and 2.39% increase in click through rates to their product landing pages. 
Rather than remaining complacent in their performance, CLUSE put in the extra time that it takes to unlock the full potential of their online store. Efforts like this maintain the high quality of their online funnel, while giving customers more reason to trust and buy from the brand. 
Building trust in your e-commerce store moving forward
When it comes to applying these theories to your own online presence, consider these key takeaways:
Foster real connections with normal users on social media and leverage their conversations on these platforms into digital word-of-mouth marketing. 

Use your customers to sell more on your website through both written and visual UGC. 

Enhance your converting power with dynamic widgets that up your social proof. 

Personalize your website to keep customers engaged, loyal, and trusting your brand. 

Continually test your messaging to ensure optimal performance. 
The power of customer trust should not be underestimated, so start leveraging these strategies today!