At AB Tasty, we understand the importance of personalization in reaching your audience. We also know that up to 80% of consumers are more likely to complete an online purchase with brands that offer personalized customer experiences.
We have worked extensively to enable businesses to dynamically customize website content, product recommendations and promotional offers based on individual user preferences, behavior and demographics.
However, website experiences have not lived up to customer expectations when it comes to feeling understood by brands. If brands can't bring relevance to their audience, at the very least they should reduce frustration and negative emotions.
The role of emotions
Emotions have a big impact on the entire purchasing journey. Brands not only need to understand customer preferences, but they also need to understand the emotional impact behind each decision. People are not always rational when it comes to making buying decisions – and not all people react in the same way.
Emotions play a huge role in how we make our decisions. In fact, once we start to think of the customer journey as a succession of micro-decisions (e.g. clicking on a CTA is one of them), we can easily understand how important it is to serve a personalized experience depending on emotional profiles. 
What if you can understand your customers beyond the surface level? To make concrete data-driven decisions based on the abstract notion of emotional needs in order to connect with audiences like never before? To be equipped with more knowledge and data on your customers' behaviors? To be able to use language to describe different shopper personalities? 
How can you optimize according to the distinct desires of each person?
The next step in digital personalization: AB Tasty's EmotionsAI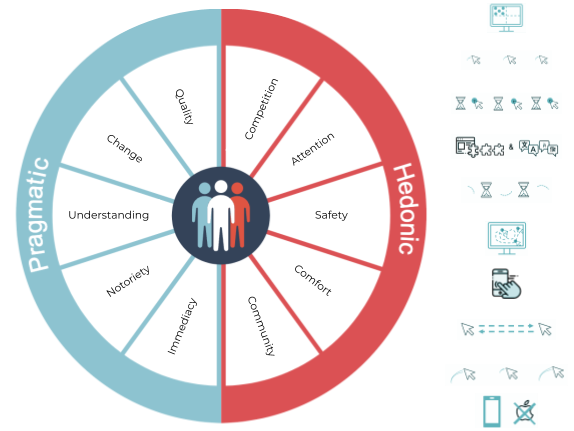 Hundreds of behavioral patterns uncover your buyers' emotional needs and train our EmotionsAI algorithm.
At AB Tasty, we love to push the boundaries of digital experiences which is why we are excited to launch our most recent acquisition. With EmotionsAI, you can experiment with unique, personalized messages for each visitor type, delve into data to understand their needs, conduct tests to identify effective messaging and construct personalized journeys targeting specific emotional needs.
Formerly known under the name Dotaki, this new technology is based on years of psychographic modeling, customer journey mapping and AI technology combined with real-time interactions on your site and device usage.
Brands are already using EmotionsAI and AB Tasty to:
Understand the emotional needs

of audiences to bolster their Experience Optimization roadmap with effective messages, designs and CTAs that activate their visitors.

Have more winning variations

by digging deeper into what works and for which type of personality with analytics.

Personalize campaigns

by targeting based on emotional needs in the AB Tasty Audience Builder.
Customer Segmentation By Personality Type
EmotionsAI can help you understand what type of visitor is on your site. For instance, if they were classed as a "Competitive" visitor, they would react strongly to either social proof or labels that indicated previous sales or limited stock on products. If they were considered a "Safety" visitor – they would be looking for a clear, secure payment system, with easy reassurance along the way. Pragmatic visitors, who are looking for "immediacy" want the quickest route to order completion, with as few blocking points as possible.
Results
Once you are able to classify visitors with EmotionsAI, you can then start using winning variations to address their specific needs.
You can instantly identify when a variation meets the emotional need of a portion of the audience. The impact on the test success rate is impressive: with EmotionsAI, it is possible to detect a significant impact on sales in 3 times more A/B tests. This opens the door to easily implement personalizations targeting visitors on the most relevant criterion: the emotional.
In addition, the emotional segments make it possible to identify which stages of the online journey do not respond well enough to the emotional needs of the audience and generate a shortfall. This gives you ideas for future tests, for example, adding a reassurance strip to a basket stage. A/B tests based on these emotional insights have a success rate twice as high as the average.
We have seen a massive increase in revenue from previous customers. More than 60% of test variations show a successful business impact compared to 10% without EmotionsAI. Additionally, personalization campaigns using EmotionsAI have driven revenue increases ranging from 5% to 10%.
Stay ahead of the curve with the next step in experience optimization by mastering emotional personalization with EmotionsAI. Let your audience be seen by incorporating learning algorithms to map customer behaviors for predictable buying profiles.
EmotionsAI is an AI-Powered Segmentation Tool by AB Tasty, allowing for better personalization and higher conversion rates.
Want to find out more? Get in touch with us today!